Biography
By Robert McManners and Gillian Wales

Norman Cornish is undoubtedly the most celebrated mining artist and one of the most sought-after contemporary painters in the country. For over 50 years his images of the miner's working life and his observation of social activities have intrigued an appreciative audience.
Norman Cornish was born on 18 November 1919 in Oxford Street, Spennymoor, where he lived until the family moved to Bishops Close Street – (a house with no bathroom or toilet) adjacent to the old ironworks and the gasworks. Norman shared the terraced house with his parents and his younger brothers Tom, Jack and Jim, and describes the housing conditions as primitive. It is not surprising perhaps that Norman was to contract diphtheria when he was seven.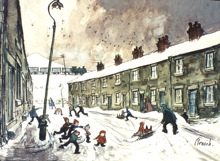 Spennymoor was a boom town in the latter half of the 19th century, created to supply housing for colliers and iron workers. The first mine was sunk in 1839 but neither the coalmines nor the ironworks were to survive. And by the second decade of the 20th century, when Norman was born, the town had no major employers. Most of the menfolk worked in the collieries in nearby villages. Coalmining was thriving at Ferryhill some three miles to the south and many pitmen were to tread the pit road through the allotments and across the fields to these pits - a footpath which was to provide the inspiration for several of Norman's mining images. When Norman was 14 his father was unemployed and, with the ambition of a college or university education thwarted, Norman left school and, like almost all his male contemporaries, he went to work as a coalminer in the nearby Dean and Chapter Colliery at Ferryhill.
All his life Norman has drawn and painted and his early memories influenced his lifelong passion with the local social scene. The already severe unemployment in Spennymoor was to be compounded by the deprivations of the General Strike of 1926 and Norman clearly remembers the street activities of the time musicians and dancers, knife-grinders and street vendors plying their trade from horse-drawn carts - scenes which were to be reflected in his later pictures. Norman's working life began on Boxing Day in 1933 and his first job was as an underground datal lad. The unexpected, hectic but ordered activity of the colliery yard made an immediate deep impression on the youthful Norman, an impression that was to be permanently recorded in his art.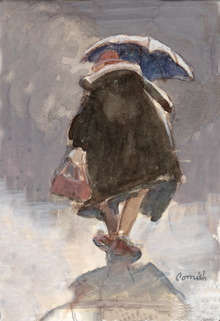 Shortly after Norman had started his mining career he heard of the existence of a sketching club in Spennymoor. This club was one of the many activities provided by the Spennymoor Settlement, inaugurated in 1931 as a recreational centre with art and drama groups. It also provided classes in practical skills such as joinery and shoe repair. The warden was Bill Farrell, a far-sighted social visionary, whose ethos was to influence, not just the men, women and children from Spennymoor, but also those from a far wider area. His aim was to provide a wide scope of education and interests to many - particularly the unemployed.

Norman was accepted as a member of the Settlement at the age of 15 and this gave him two focuses to his life - his work and his art. It was here that he met fellow miner and author, Sid Chaplin. They became firm friends. At the Settlement Norman exhibited for the first time in the annual art exhibition, alongside fellow miner Bob Heslop, blacksmith Jack Roache, decorator Bert Dees and, later, well-known mining artist Tom McGuinness. Norman tells us that although these men were amateur artists the standard of their work was quite professional.

The Settlement became known as The Pitman's Academy, and members sent pictures to other exhibitions including 'The Works of Artists of Northern

Counties', held annually at the Laing Art Gallery, Newcastle upon Tyne and considered by many to be the 'the Royal Academy of the North'.

At the outbreak of World War Two in September 1939, Norman found himself in essential war work - that of the coal-miner. The relative unpopularity of mining was demonstrated by the fact that in the second half of the war miners had to be conscripted as Bevin Boys because of the shortage of volunteer colliers. Norman was also, however, compelled to fire-watch. Despite these two essential wartime activities Norman continued to paint.

Immediately after the war he held his first one-man exhibition in the 'Green Room' at the People's Theatre in Newcastle upon Tyne. In 1947 five of Norman's paintings were bought from the Settlement by Dr Revans, the Director of Education for the newly formed National Coal Board, and were destined for Hobart House, the NCB offices in London. The sale resulted in Norman being asked to co-organise an exhibition, 'Art by the Miner', in London's Oxford Street.

Norman continued to exhibit nationally and locally. In 1950 he exhibited in the AlA Gallery near Leicester Square in 'The Coal Miners' - an exhibition which featured both professional artists such as Henry Moore and amateur mining artists displaying works on the common theme of the coalmine. At this time the Shipley Gallery in Gateshead continued its policy of holding exhibitions of contemporary art by local artists, and Norman's work was regularly featured.
In 1959 Norman first exhibited work in the Stone Gallery in St Mary's Place, Newcastle upon Tyne. This was to prove a fruitful liaison as the gallery actively promoted the work of artists with local connections. Among those featured were the Cumbrian artist Sheila Fell and Lawrence Stephen Lowry. Norman's relationship with the Marshalls, the owners of The Stone Gallery, was to last for 22 years. Edward Heath, one of their patrons, bought two of Norman's works and it is with some satisfaction that Norman, coming from a strongly socialist area, reflects that his pictures probably adorned the walls of No. 10 when under Tory incumbency.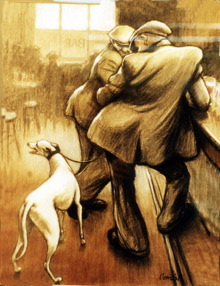 Norman's appeal as an artist with a keen observational eye for the interpretation of the everyday activities of the mining communities was recognised in 1962 when he was commissioned to paint a 30-foot mural typifying life in County Durham for the new County Hall in Durham City. This building was a showpiece, a symbolic act of defiance by a county whose livelihood was increasingly threatened by the escalating pit closures. The logistics of producing the mural were enormous - the locating of an extra-long canvas and the finding of a sufficiently large room. Norman was granted unpaid leave of absence to complete the commission. County Hall was officially opened in 1963 by Prince Phillip. Although Norman had been the subject of television documentaries previously, notably the Tyne Tees production 'Burning Heads' in 1960, it was in 1963 that his talents were broadcast nationally on the Monitor programme 'Two Border Artists', introduced by Sir Huw Wheldon. The production team was headed by the youthful Melvyn Bragg, and the programme contrasted the vigorous work of the expressionist landscape painter Sheila Fell with the humanist social observations of Norman's mining community and his fascination with its denizens.

In 1966, after 33 years of underground mining, Norman left the pits. This was partly expediency - he was suffering from a worsening back complaint. The decision meant that he had to find some means of supporting his family, although he was allowed to continue to live in his NCB house. Naturally Norman was concerned about his family's welfare and looked to retraining as a method of re-entering employment to provide a weekly wage. Whilst Norman had for some considerable time pondered leaving the mines to become a professional painter, nevertheless the reality of this way of life was daunting.
The confidence that Norman's wife Sarah exhibited in his artistic ability at this time was to prove immeasurable. She actively encouraged Norman to concentrate on his painting, reassuring him of her ability to cope with the finances and the needs of their two teenage children, Anne and John. Norman's increasing reputation as an artist enabled him to obtain a visiting lecturership for one day per week at Sunderland College of Art, and this, coupled with the sale of his pictures through The Stone Gallery, was sufficient to sustain the family through these times of necessary frugality. Thus Norman was launched rather abruptly into the world of the professional artist. Serendipity then played its part. Within a few months of becoming a self-employed professional artist, Tyne Tees Television approached Norman and asked him to spend a week in Paris critically appraising the art of the French capital through the eye of the northern artist. The resulting programme was screened as 'Cornish in Paris'.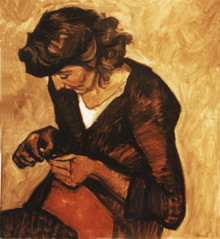 Spennymoor at that time was changing rapidly and many of the street scenes that Norman painted are the only record of a time and place that no longer exist. The value of Norman's work as a social-historical document as well as an artistic oeuvre was becoming apparent and his significance as a major contemporary artist was reinforced in 1974 when he was awarded an honorary Master of Arts degree from Newcastle University.

In 1987 Norman was inspired to write his autobiography, A Slice of Life, which was published to coincide with his 70th birthday in 1989. Melvyn Bragg wrote the introduction and, in the same year, Melvyn's 'Monitor' film of 1963 was relaunched and featured Norman in the distinguished company of Stanley Spencer and Graham Sutherland. In 1989 Norman held a major retrospective exhibition in the University of Northumbria Gallery. This was followed in 1992 by a one-man exhibition at the same gallery. This exhibition was to tour regionally. Further honours were to follow when, in 1995, Norman was awarded an honorary Doctorate in Civil Law from the University of Northumbria, to whom he presented a body of his work for their permanent collection in 1997.

Norman Cornish belongs to a generation of men who were denied the right of universal further education. Many men, and indeed women, of that era were forced by the financial hardships of the times to seek employment merely to sustain their families. This was not seen as altruism but as a duty. Perhaps despite this, but probably because of this, Norman observes the human condition through very humane and compassionate eyes. His characters are all drawn from life, not posed. They never show malice nor even disaffection. The characters he draws reflect the life they have lived. Their faces and figures map their experience.

Norman's canvas is, however, much wider and his images illustrate to us, the observer, a profound understanding of human behaviour and interaction; he is not merely chronicling life as he experienced it in a pit town but looks deeper into the visual relationships that constitute a society. The mellow, earthy tones of his finely veneered oils, the blended shades of his pastels, the comforting rounded forms of his principal characters and their interacting bodily positions, contrast starkly with our mental perceptions of the cold, forbidding clamour of the collier's lot - a lot that denied Norman a complete education but one that he has acutely observed, analysed and understood and that he has viewed with a warm and compassionate eye.

His images - from the greatest oil painting to the smallest pen-drawn vignette - are keenly observed extracts from life and are the vehicles through which he educates us. Norman is a true artist, expressing his thoughts, feelings and philosophy in paint. Norman continued to chronicle the everyday life of the people of Spennymoor – his particular 'slice of life', until he died in August 2014.
© Robert McManners and Gillian Wales