About Norman Cornish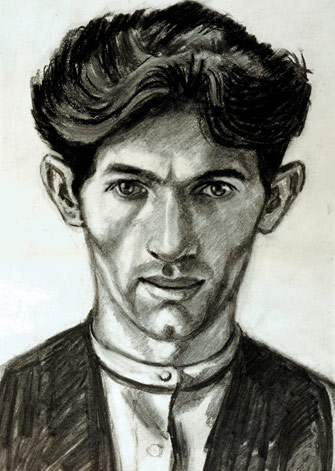 Norman Cornish, Self-Portrait
Norman Cornish is undoubtedly the most celebrated mining artist and one of the most sought-after British Artists of the 20th century. For over 50 years his images of the miner's working life and his observation of social activities have intrigued an appreciative audience.
Norman was born on the 18th of November 1919 in the small town of Spennymoor. At the age of just 14 Norman left school and began work as a coal miner. From a young age Norman had always been passionate about drawing and painting and he soon became aware of sketching club the Spennymoor Settlement. Norman was accepted as a member at the age of 15, giving him the opportunity to meet other likeminded artists and ultimately offering him the opportunity to exhibit his work.
Over the years Norman's work was exhibited more and more however it was only in 1966 that Norman chose to leave the pits and, with huge support from his wife Sarah, worked to become a professional painter. In the years that followed Norman became known as one of the most sought-after contemporary painters in the country. In 1974 Norman was awarded an honorary Master of Arts degree from Newcastle University and in 1995 awarded an honorary Doctorate in Civil Law from the University of Northumbria, to whom he presented a body of his work for their permanent collection in 1997. Norman also had a long-standing connection to the University of Sunderland, which was recognised in 2012 when he was awarded an Honorary Doctorate of Arts from the University.
Norman continued to paint until his peaceful passing at the age of 94 in August 2014. His work continues to be loved by people of all ages and backgrounds.
Cornish At Castlegate
In September 2017 Castlegate House Gallery hosted a spectacular exhibition showcasing many of Norman's unseen works. In the lead up to the exhibition gallery owner Steve Swallow organised this incredible video, looking at some of the iconic locations today and hearing from Norman's son, John Cornish.
This World of Mine - Gareth Davies-Jones
In July 2017 Gareth Davies-Jones released his album "The Beauty & The Trouble". The album includes the wonderful song "This World of Mine" dedicated to Norman Cornish and his work. Gareth gave the family of Norman Cornish permission to produce this video to accompany the music and highlight some of Norman's work. Find out more about of Gareth hand his incredible work at www.garethdavies-jones.com. You can purchase the full album and more of his music here: www.garethdavies-jones.com/music