Latest News
Bishops Close Street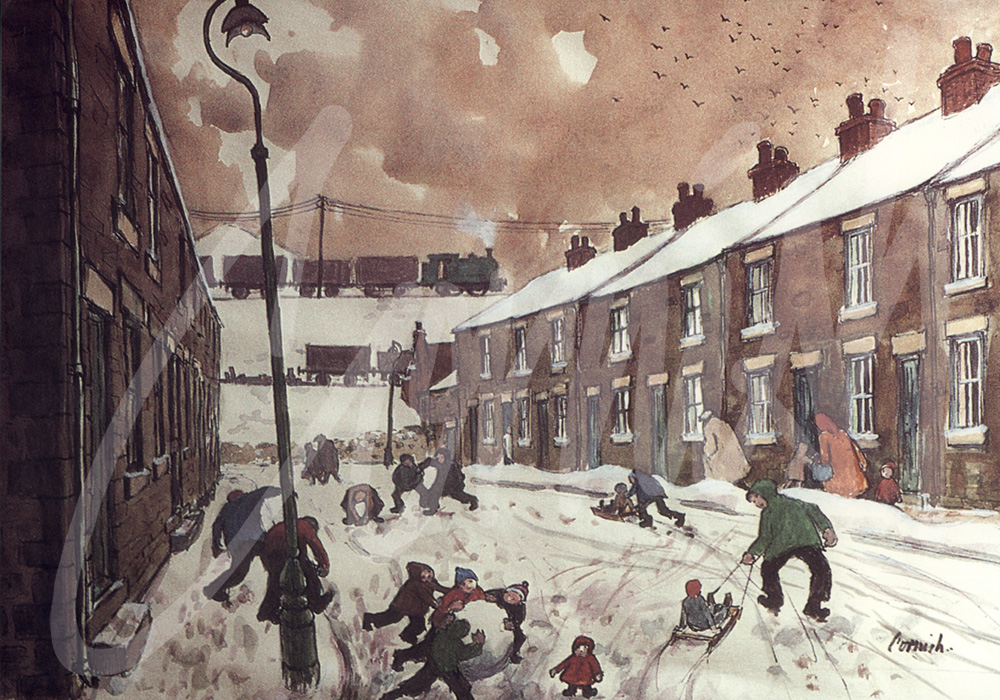 Cornish lived in Bishop's Close Street, Spennymoor for most of his childhood, moving there when only a few months old from nearby Oxford Street.
'It was a really old fashioned street. People tended to help one another. They had all known adversity'
During his youth the housing conditions on the street were primitive; there were no bathrooms, gardens or inside lavatories. The houses were illuminated by gaslight and a penny gas-meter. Epidemics of diphtheria, smallpox and scarlet fever were rife amongst the children.
Bishop's Close Street was surrounded by the old ironworks, the gas works and the railway line - a harsh industrial landscape. But as Cornish later recounted,
'to live next to a large slagheap mightn't sound very pleasant, but to our inventive young minds it became an adventure playground'.
After marrying Sarah in 1946, and living first in rented rooms, the pair moved to their own house on nearby Catherine Street in which Norman's grandmother had once lived. In 1953 they returned to Bishop's Close Street, to a Colliery house that was better equipped and more suited to family life after the arrival of their children, Ann and John. Here Cornish recorded the everyday life of his family in hundreds of deeply personal sketches.
The family remained in Bishop's Close Street until 1967, when more space was needed both for the growing family and for Cornish's painting. The move was made to Whitworth Terrace.
'I think of houses I once lived in, that I grew up in, that my early married life was spent in and that my children were born in, but they are all now gone. Indeed, the site of my last home in Bishop's Close Street is now occupied by swimming baths'
33 Bishop's Close Street has been re-created as part of the 1950s High Street at Beamish Museum within the 1950s town. Well worth a visit !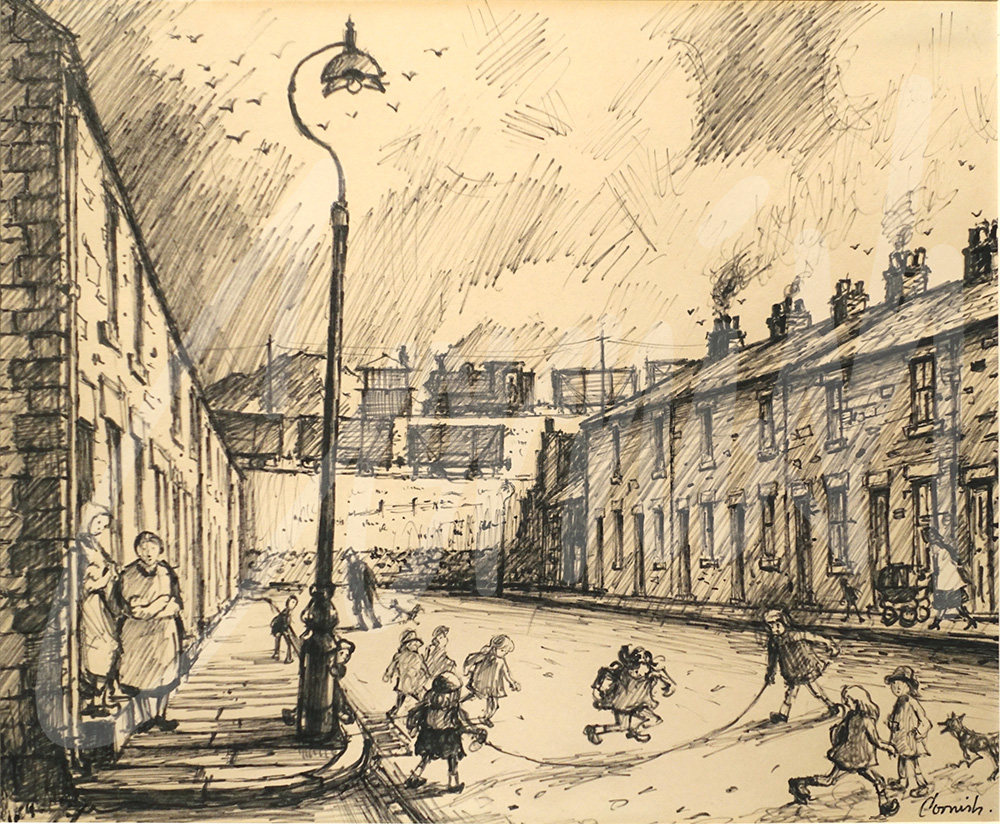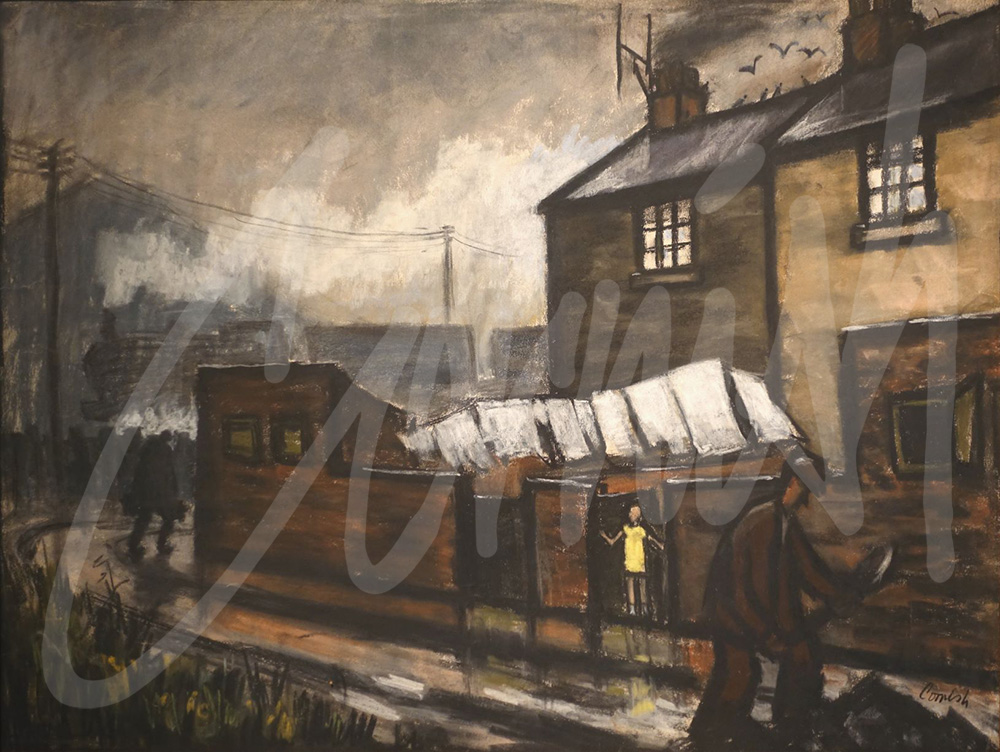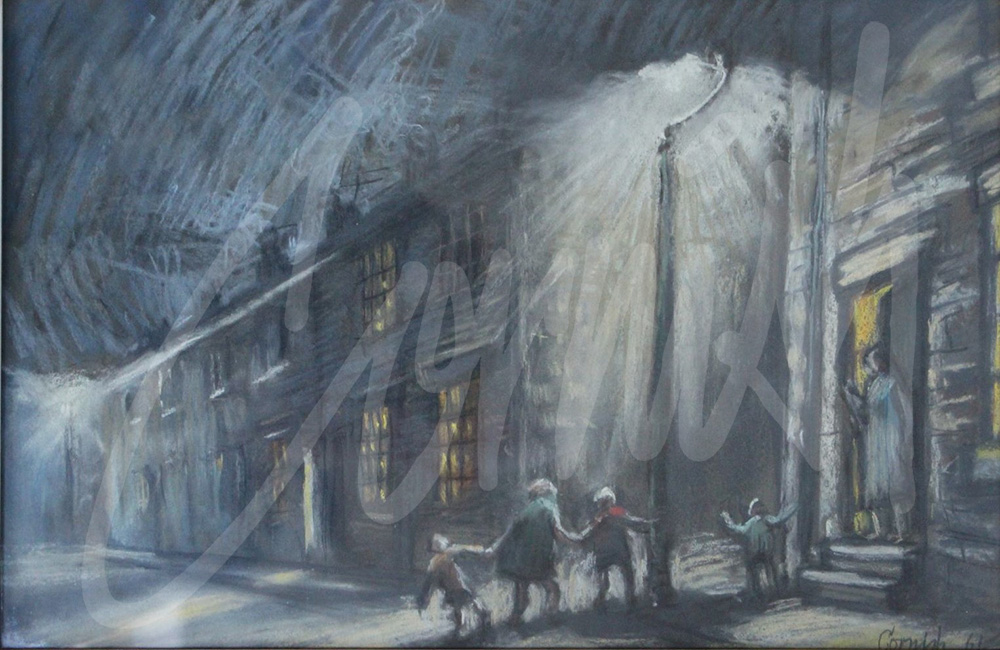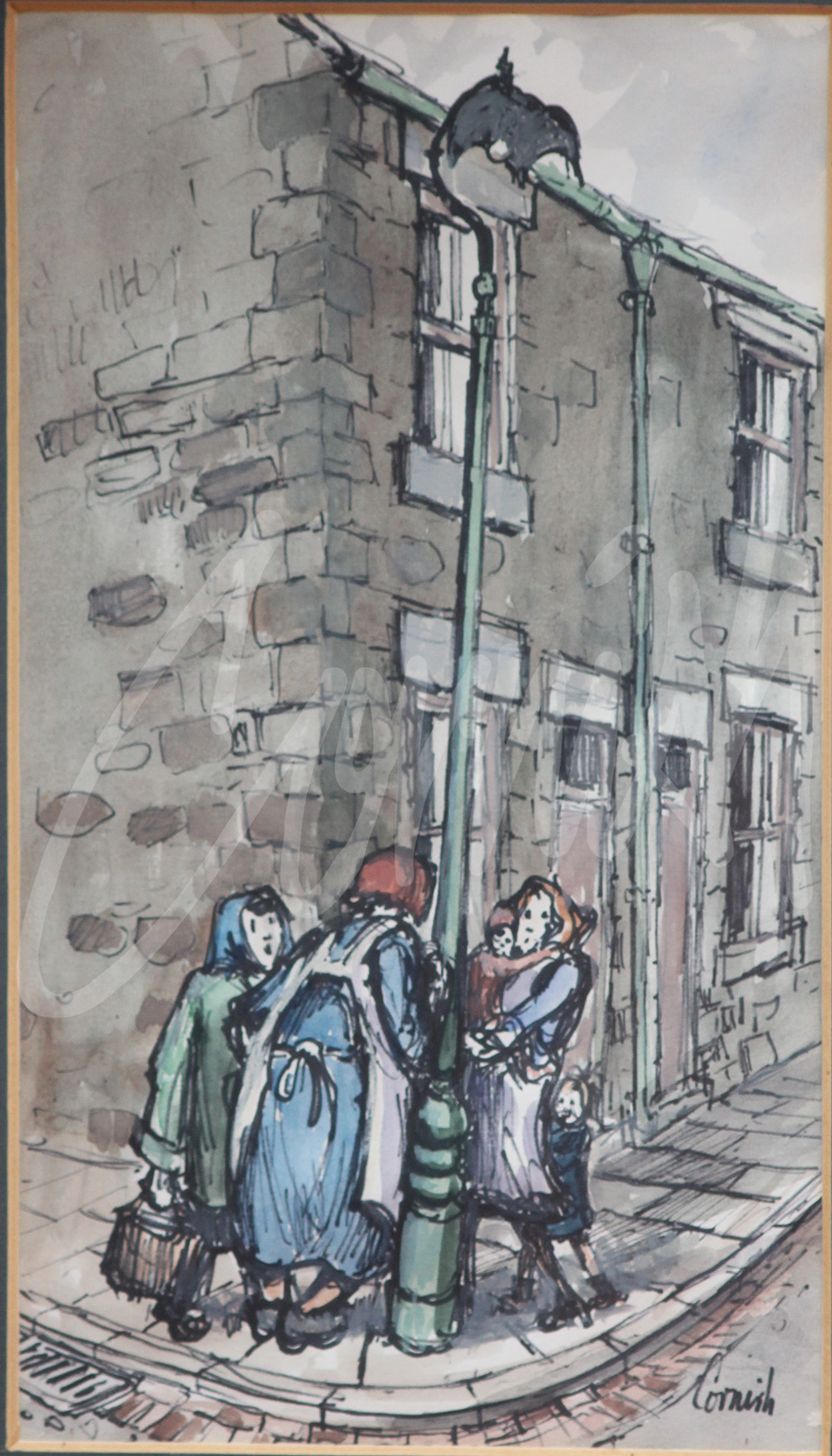 The Gantry: Part 2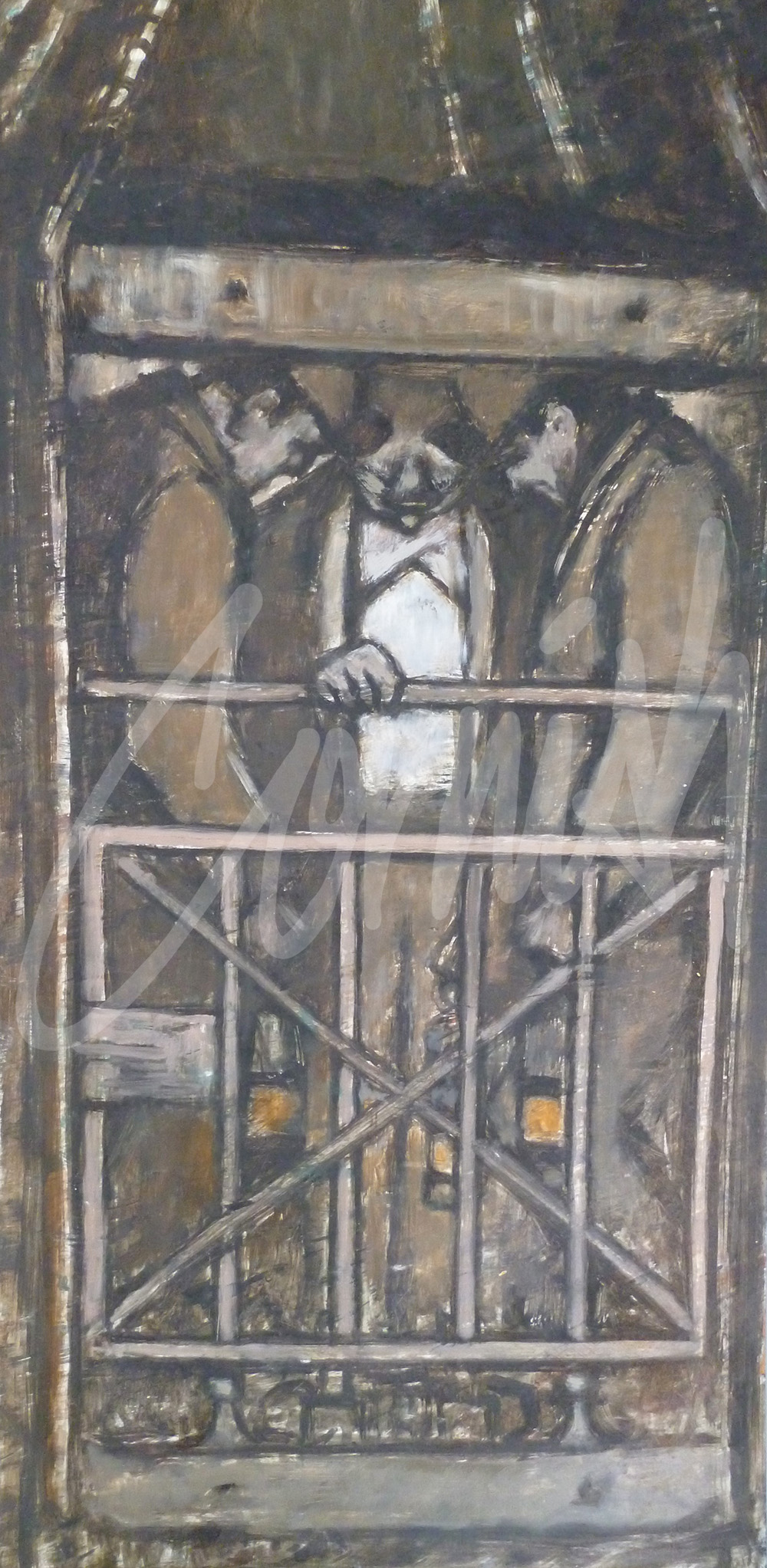 Cornish vividly recalls the first time he entered the cage on his first day at work.
In his own words:
As we stooped to enter the cage, which held 20 men at a time I was comforted by the fact that I was amidst experienced men quite used to the descent into the pit. The cage dropped very rapidly. About halfway down I felt that I was coming up-over. We finally landed at the shaft- bottom and I was relieved to find that it was well lit by electric lights. A tunnel curved away in the distance. My mining career had begun.
At the Stone Gallery exhibition in 1960, Cornish was introduced to Lord Lawson of Beamish, who was born in Whitehaven in 1881, moved to Boldon Colliery aged 9 and worked underground as a 'trapper' from the age of 12. Jack Lawson, a former miners' leader, was elected to Parliament in 1919 as MP for Chester-le-Street and became Secretary of State for War 1945-46. He was also Lord Lieutenant of County Durham 1949-58. Jack Lawson and his wife invited Norman and Sarah to tea at his home one afternoon and a car was sent to collect them. After tea he suggested that he and Cornish have a chat in their front room and Jack Lawson produced a copy of his autobiography, 'A Man's Life', which was a favourite of Cornish.
Lawson opened the book and read aloud the chapter describing the pit cage descending from the gantry, leaving Cornish with a much treasured memory. 'A Man's Life' was a firm favourite on the bookshelves at Whitworth Terrace and it was humbly inscribed to Norman Cornish, miner artist, from the author Jack Lawson.
The book also delves into the challenges faced by miners: to overcome prejudice, the disrespectful treatment by officials and lost opportunities to continue their education. In one of the chapters, there is a reference to a poignant moment under-ground, and in total darkness, when pausing between strenuous activity, two of Lawson's colleagues continue a conversation about the salient points in a specific Greek play.
Cornish worked hard as a miner but frustration crept in as he wrestled in his mind with the fact that a colliery was geared to coal production and not art appreciation.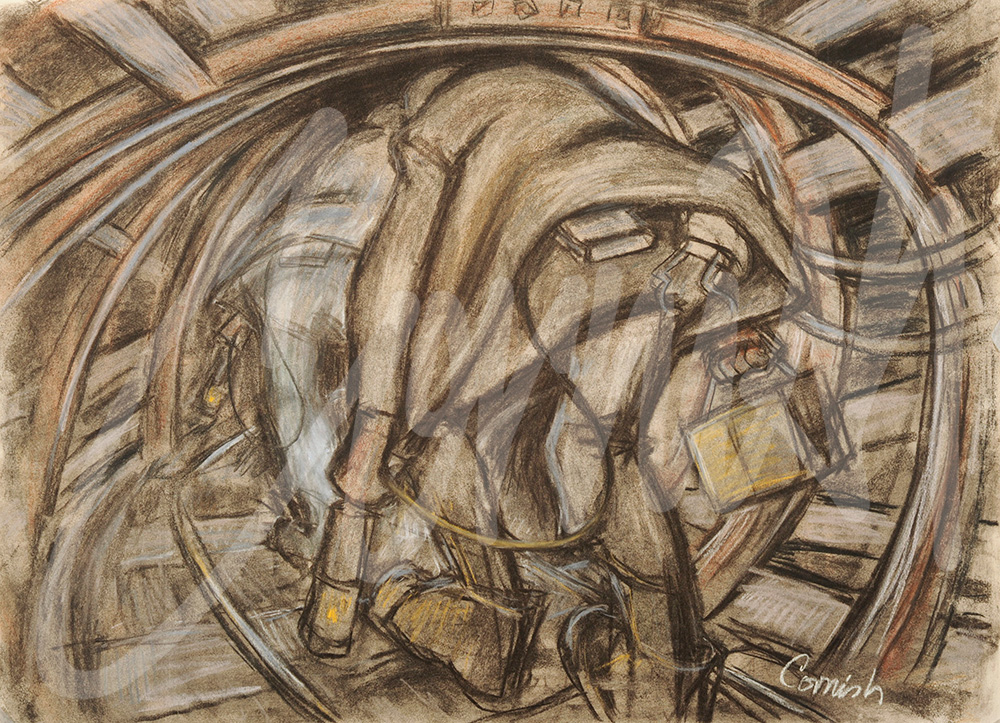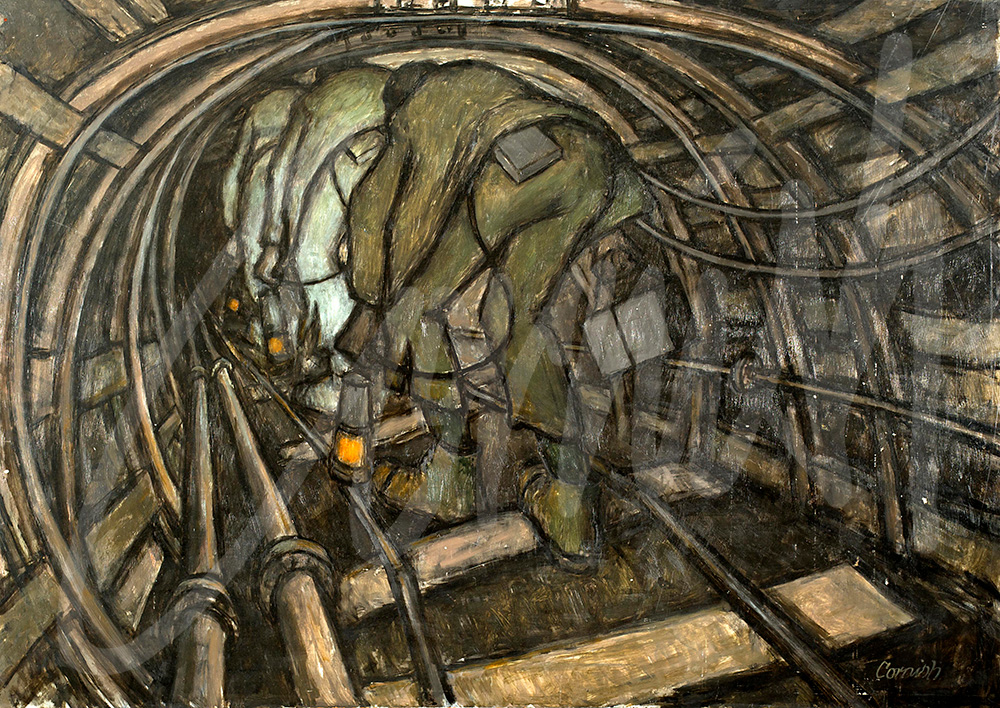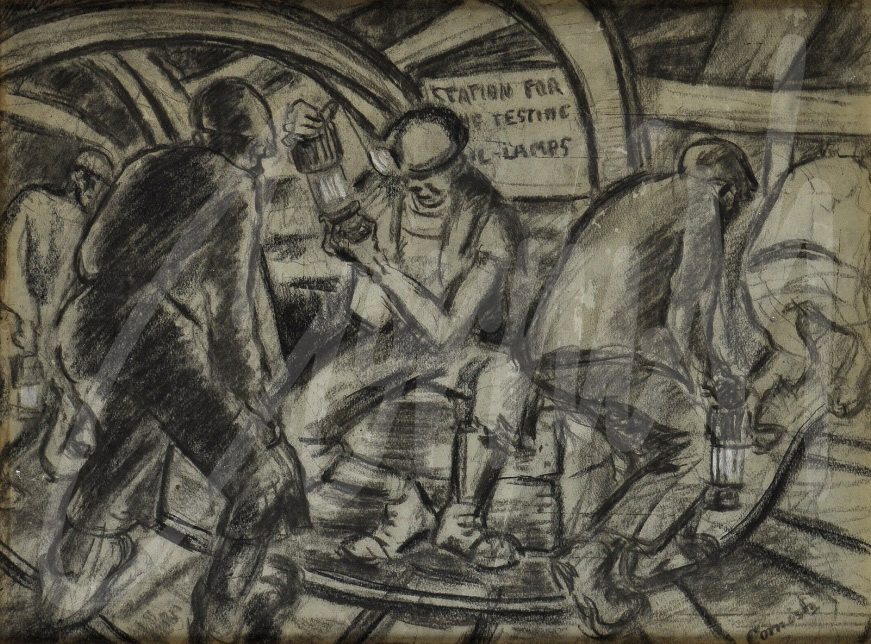 The Gantry: Part 1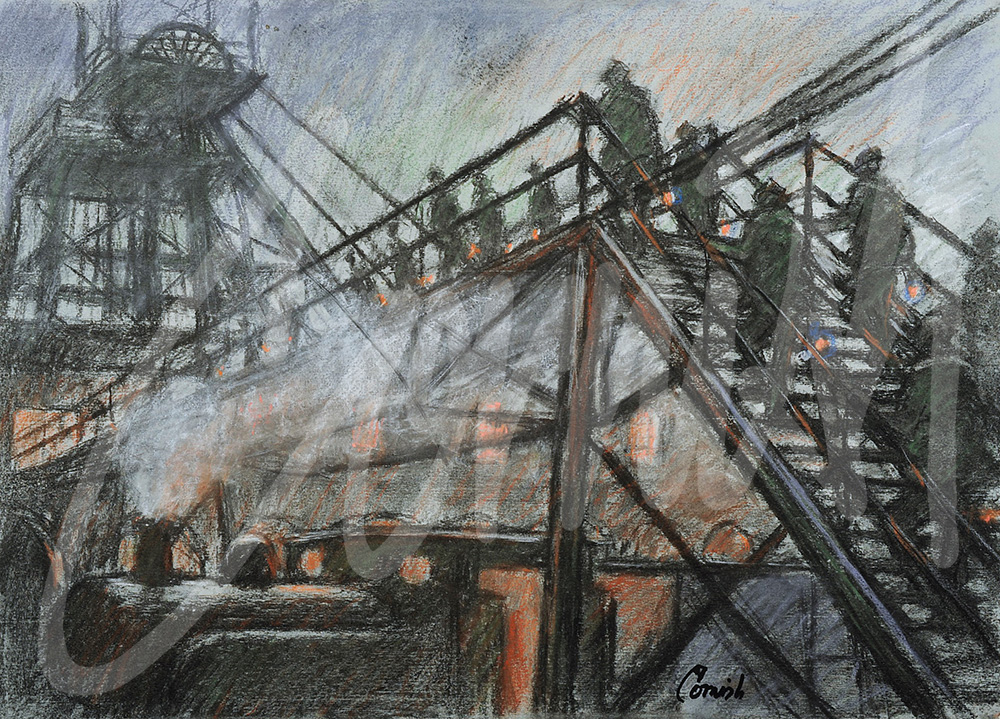 Cornish arrived cold and damp from walking over two miles in heavy snow to start work aged 14, at 2am, on Boxing Day 1933. He had no choice, and was denied the opportunity of continuing his education because he was the oldest in his family of five brothers and one sister.
There were over a hundred collieries and pits including quarries, brickworks and coking plants within a five miles radius of Dean & Chapter Colliery, at various stages or working, closing or dormant. The smoke and sounds of the railway engines hissing, coal trucks, colliery buzzers, and miners' boots on the steps combined to create an industrial cacophony. The impact upon the environment and the men was pervasive.
He was offered a job as an underground datal ( paid by the day) lad and when he signed on the dotted line the official said in his deep voice: "You've just signed your death warrant son." The pit was nicknamed locally 'The Butchers Shop,' owing to the number of accidents there. The records of 177 fatalities make for sober reading although there were no 'disasters' (officially five or more killed together, by gas explosion for example).In 1935 there were 2,135 men and boys working underground and 538 above ground. By 1937 the workforce was producing 3,000 tons of coal a day – a third of it machine - mined and the rest hand hewn.
On his first day he was given a lamp and a disc and moved out of the lamp cabin to be confronted by a flight of steel steps leading on to a gantry which crossed the mineral line. The gantry led onto the cage bank level which was at the opposite end of the gantry wheels and ropes. As the shunting engine passed below them, they became lost in a cloud of steam which reflected the arched window lights of the colliery like a cinema screen.
In his own words:
I went through the door and the first thing I saw was the gantry scene. The men were there with their orange oil lamps and they looked like fireflies. Then I saw a mass of steel railings, steps, girders and steel wires. I thought it looked like a great steel spider's web and when I saw the colliery behind, I thought it was like a giant big spider – moving towards us and then going to drop us down a great hole.
The picture is about feeling – what I felt and saw as a boy.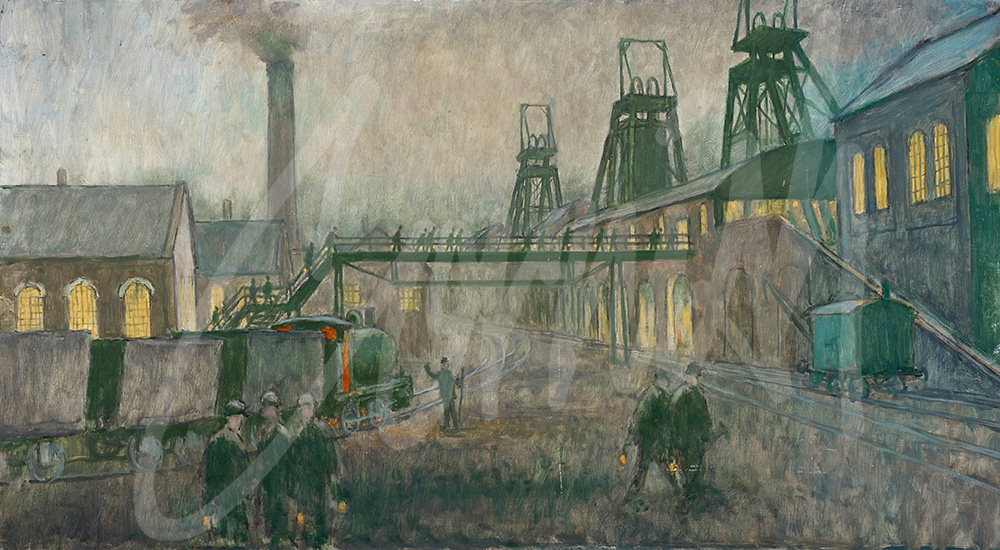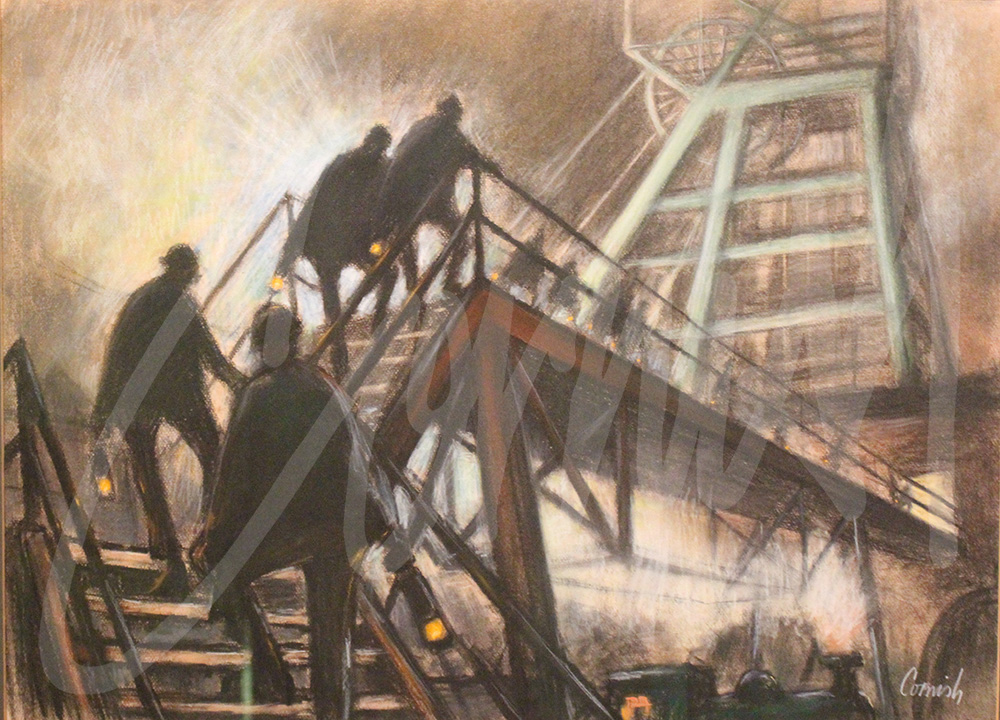 Behind The Scenes: The Norman Cornish Centenary' lecture 1919-2019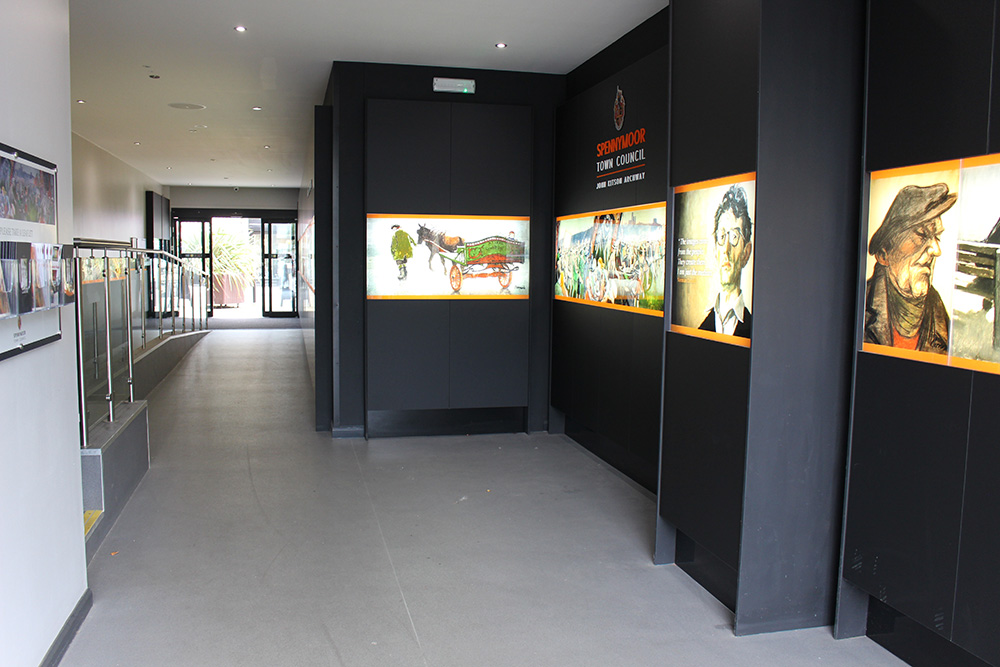 Spennymoor Town Hall 7-30pm Thursday November 3rd 2022 7-30pm
An illustrated talk by Norman Cornish's son – in law Mike Thornton
Tickets £ 5 From Spennymoor Town Hall Reception and also available via telephone in normal office hours Monday to Friday - 01388 815276
Norman Cornish MBE was perhaps the most significant artist to emerge from the North East of England in the 20th Century, and he recorded one of the most important passages in English history. Revealing predominantly unseen works, the talk covers many of the key moments in Cornish's career including commissions such as The Durham Miners' Gala Mural in 1962, Cornish in Paris in 1967 and two commissions for The Port of Tyne Authority in 1982. The talk also includes images of life in his family home from the 50s and 60s in Spennymoor, which has been recreated as part of the 1950s town at Beamish Museum.
It is a story of great determination and resilience to overcome adversity and prejudice on his journey to become a professional artist.
Please arrive early. Doors open from 7pm.
The Bob Abley Gallery including the current 'Coming Home' exhibition and Norman Cornish studio will be open between 6pm and 9-30pm
Free parking behind the Spennymoor Town Hall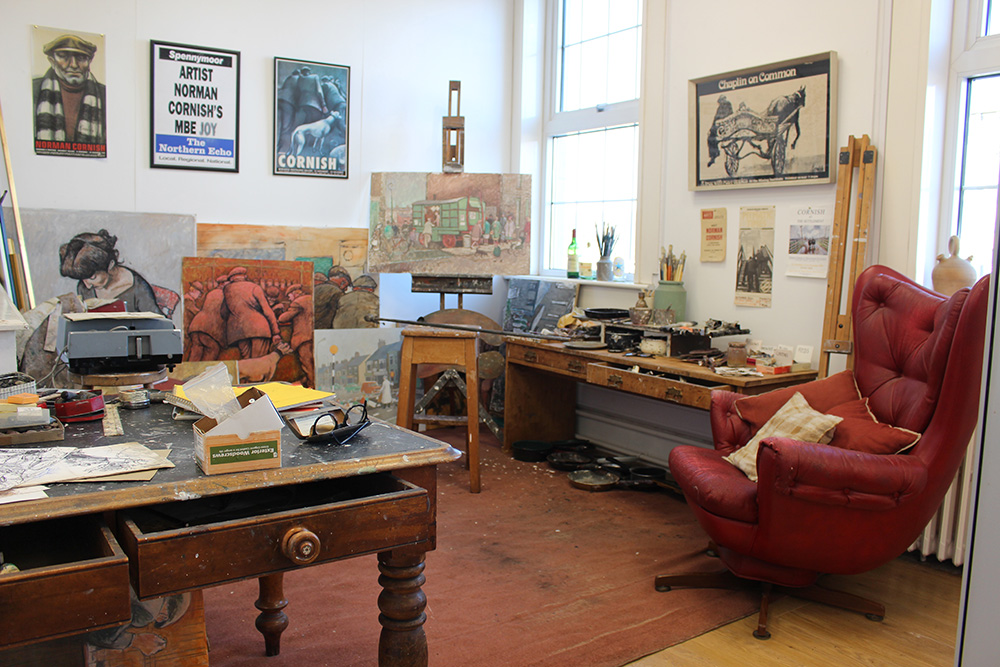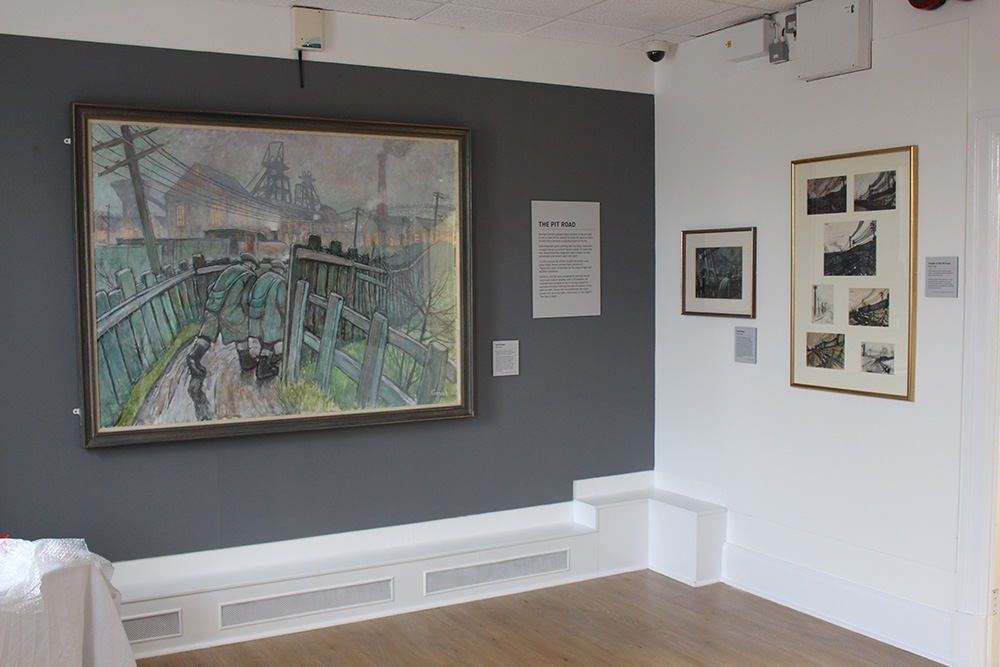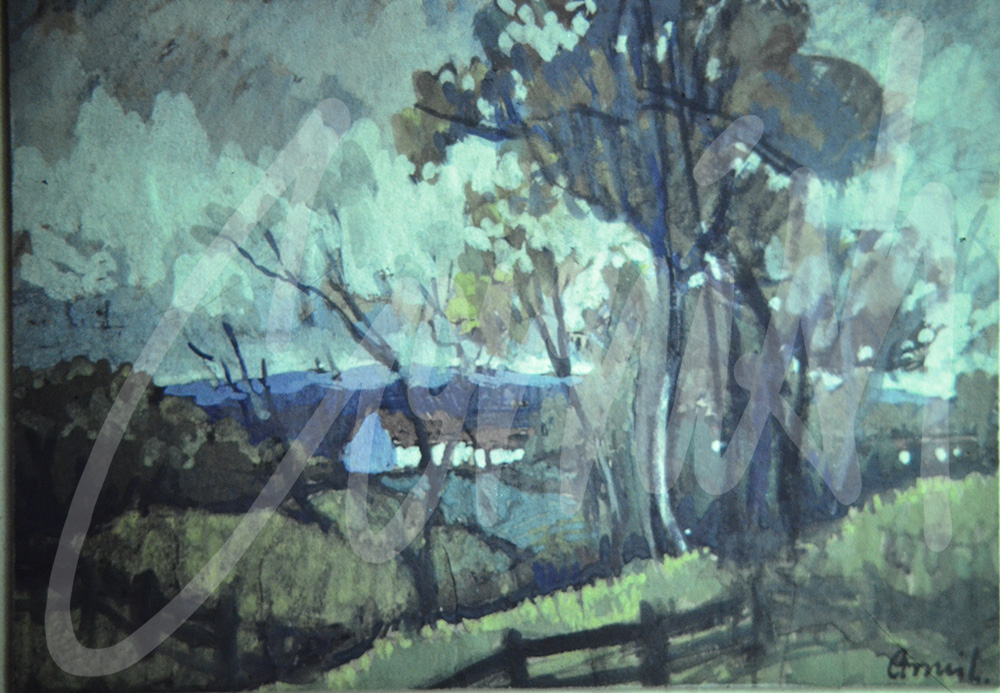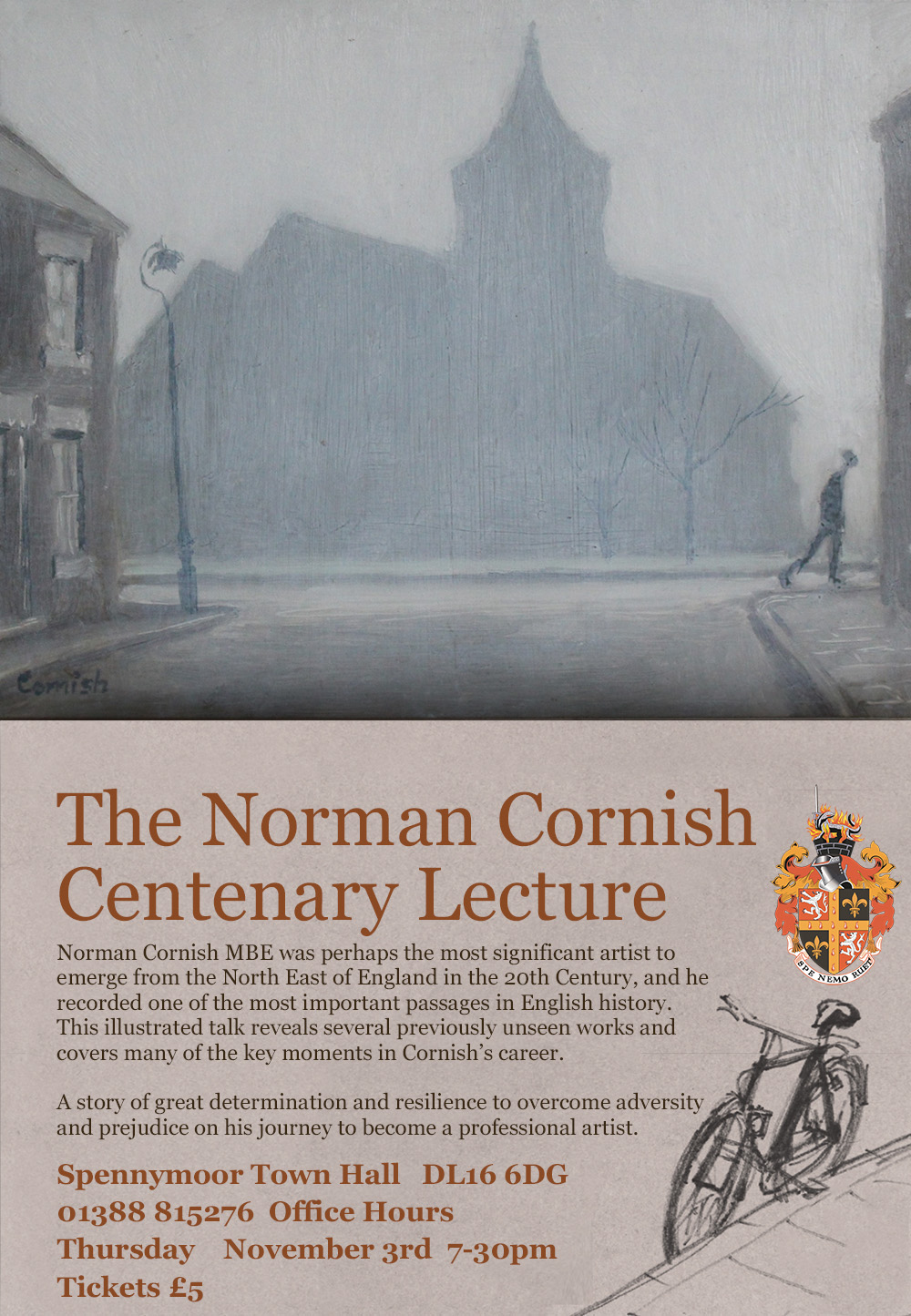 Behind The Scenes: The Bridge at Sunnybrow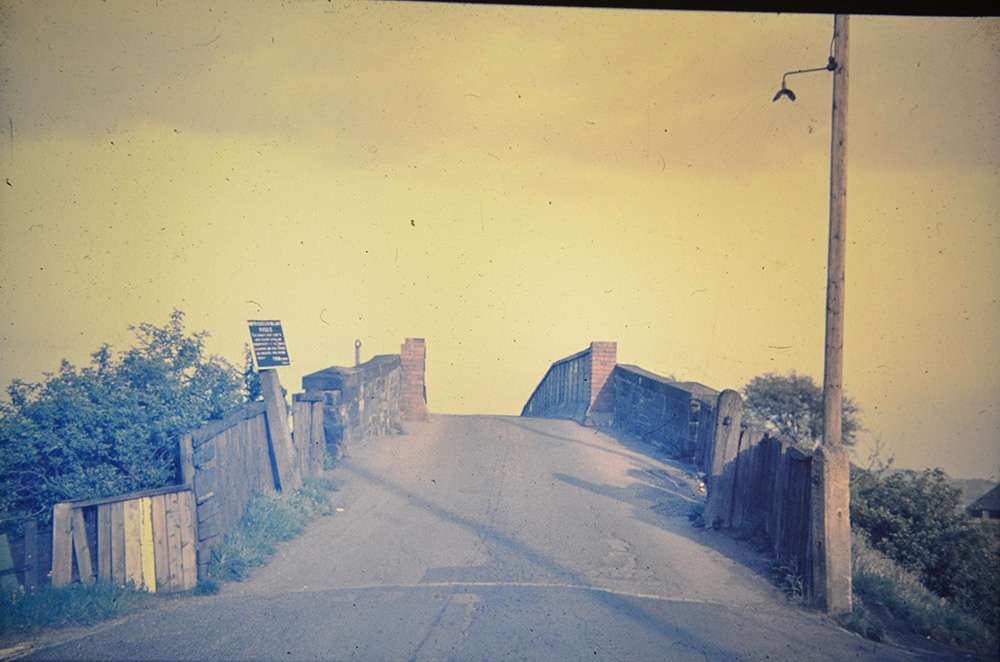 Cornish occasionally visited other villages in County Durham as well as places of interest across the region. The Pit Road theme was interpreted in several locations and the huge number of collieries provided other opportunities to develop this iconic theme which impacted the lives of thousands of other miners and their families.
Unable and unwilling to learn to drive, many places in the county would have been inaccessible to Cornish had it not been for his good friend Jack Savage who drove him in his Morris Minor to a number of villages and collieries.
In October 2011, Jack Savage's daughter, Anne Wood CBE (creator of The Teletubbies and a Children's TV producer) featured on BBC Radio 4, Desert Island Discs. During the interview, she spoke with warmth and affection about her family roots in Spennymoor and the influence on her life of Norman Cornish MBE 1919-2014.
Sunnybrow was a small colliery near Hunwick in the Wear Valley. The railway line finally closed in the 60s and this bridge was demolished. Originally it was the entrance to the village.
In his own words:
One wonders with the passing of time, when no present-day type pitheads actually exist, if pictures of them might one day be thought of as picturesque and as socially significant as old windmill pictures. They are both dominant shapes in the skyline; they both make big angular shapes against the sky; they both have big revolving parts. Also they both of them tend to have workers' houses built around them.
The Bridge at Sunnybrow is featured in the book, Behind The Scenes: The Norman Cornish Sketchbooks, in the chapter devoted to Mining Scenes. The other chapters show the development of his work in Street Scenes, Bar Scenes and Observations of People. Copies may be purchased by visiting www.normancornish.com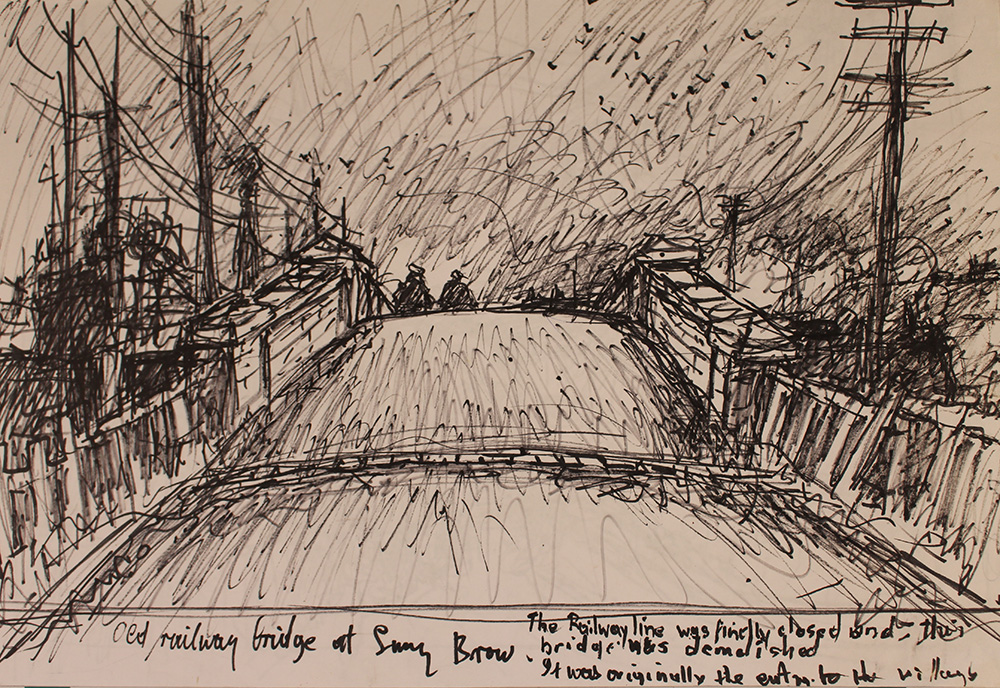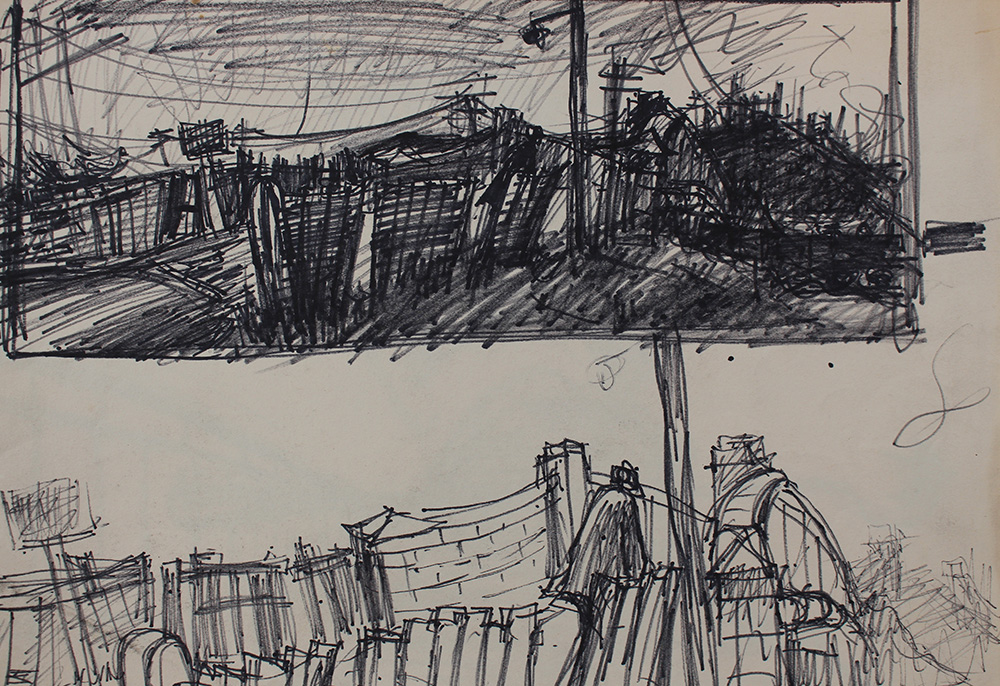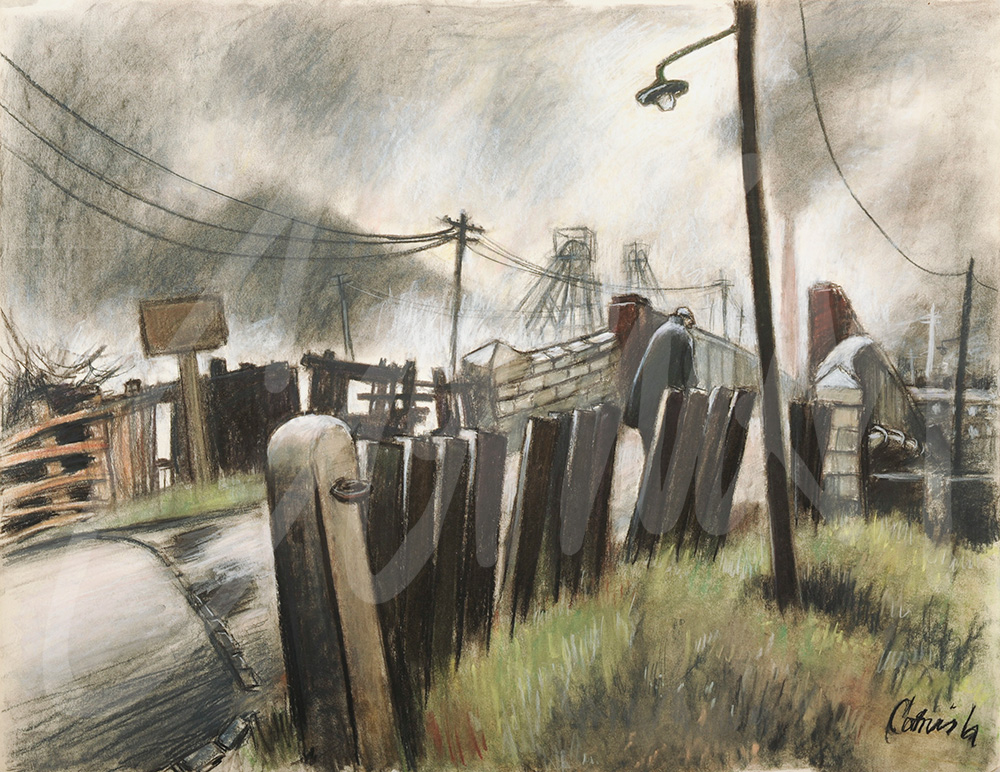 Cornish Centenary
Throughout the centenary year, an interesting range of themed exhibitions is planned in order to commemorate Norman's life and to celebrate his work.
If you would like to find out more click below:
Stay tuned via social media:
---