Latest News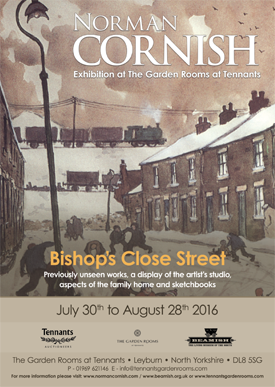 New Exhibition - Tennants Garden Rooms
Previously unseen works & sketchbooks prove a hit at new exhibition.
A sell-out Preview Evening on the 28th July launched Norman Cornish: Bishop's Close Street at The Garden Rooms at Tennants with a fascinating lecture by renowned Mining Art Historian and friend of Norman Cornish, Robert McManners OBE.
Exhibited alongside many iconic Cornish mining and bar scenes and his snap-shot depictions of life in Spennymoor is a series of never seen before intimate family portraits from his own private collection and vivid sketchbooks.
This exhibition is also a unique opportunity to see Norman Cornish's home and studio recreated alongside his paintings, many of which are for sale.
A constant stream of visitors have been delighted by the exhibition, and have gone away with an insight into the life of this extraordinary artist and life in mining towns in the North East.
Visitor comments:
'A superlative exhibition bringing back memories of a childhood in a pit village – Blackhall. We particularly like the reproduction of Cornish's studio and living room' JY (North Yorks)
'I found this such an interesting exhibition of a time, an industry, a place and a man. I find the warmth with which he draws people very moving' JB (Richmond)
'His pictures convey the inimitable character and atmosphere of the North East and its people' LG (London)
The exhibition is open 7 days a week until 28th August.
For further details please see the Tennants Garden Rooms website.
Cornish Centenary
Throughout the centenary year, an interesting range of themed exhibitions is planned in order to commemorate Norman's life and to celebrate his work.
If you would like to find out more click below:
Stay tuned via social media:
---