Latest News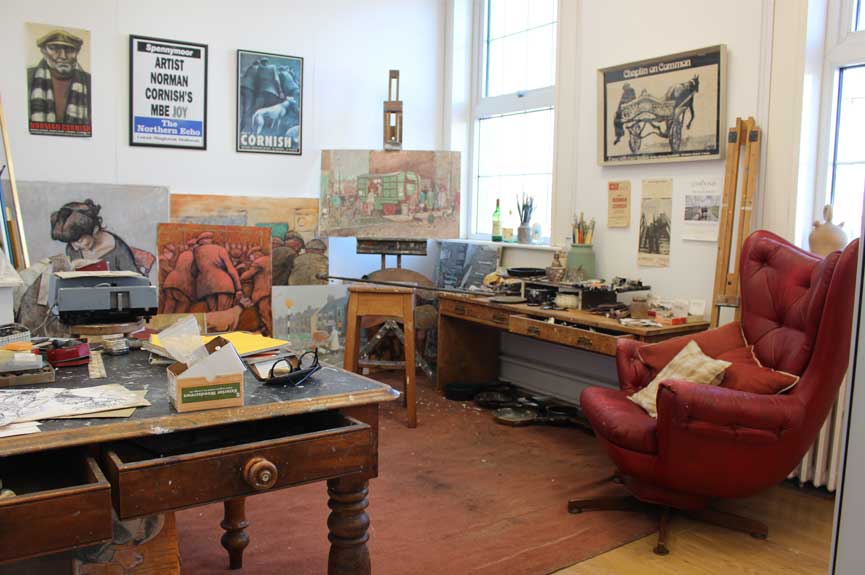 New at Spennymoor Town Hall - The Norman Cornish Studio
Earlier this year, The Coming Home exhibition of works by Norman Cornish MBE was opened in the newly designated Norman Cornish Room at the Spennymoor Town Hall Gallery. Over 3,500 visitors have enjoyed the exhibition this year from across the region, the UK and abroad.
The exhibition has now been enhanced by the installation of the Norman Cornish studio, courtesy of Beamish Museum, and refreshed with new artwork. The studio was gifted to Beamish Museum in 2014 and some aspects of the studio have been exhibited in the open stores area at the museum during the past two years.

Following the successful display of the studio at the Bishop's Close Street exhibition at Tennant's, Leyburn, during August, there was considerable public enthusiasm to see the studio on display in Norman's home town. The Cornish family and Spennymoor Town Council are particularly grateful to Beamish Museum for enabling the studio to be 'on long term loan' at Spennymoor Town Hall as a welcome addition to the popular Coming Home exhibition and the Mining Museum.

This is a wonderful opportunity to see the studio of a professional artist and the location where many iconic works were created. See attached details of the Norman Cornish Studio.

John Cornish: "We are delighted to have worked in partnership with the staff at Beamish Museum to preserve and display my father's studio for the benefit of those interested in his work. Rarely does this sort of opportunity come along and it provides a fascinating insight into the creation of his art. So much of the work seen in the studio is unfinished because he would often put work to one side, then return to it at a later date".

This development forms part of a wider legacy which, along with Beamish Museum, has been supported by Durham County Council and The University of Northumbria.
Cornish Centenary
Throughout the centenary year, an interesting range of themed exhibitions is planned in order to commemorate Norman's life and to celebrate his work.
If you would like to find out more click below:
Stay tuned via social media:
---