Latest News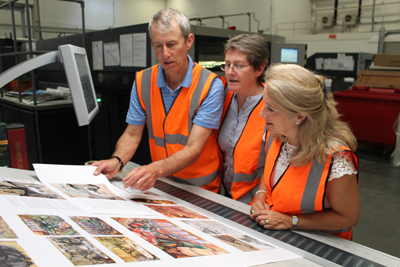 The Cornish family at Elanders printing
Behind the Scenes: The Norman Cornish Sketchbooks
We are pleased to announce that our new publication entitled: Behind the Scenes: The Norman Cornish Sketchbooks is now with our printers in Newcastle, with delivery confirmed for early September 2017.
We are also delighted to announce that the Foreword to the book has been written by Melvyn Bragg who is uniquely placed to comment about Norman's work and his place in 20th Century British Art. Melvyn's first documentary for BBC TV was in 1963, Two Border Artists, which featured the work of Sheila Fell and Norman Cornish.
There are four themes in the book covering: Mining, Observations of People, Bar Scenes and Street Scenes. The previously unseen sketches reveal the initial work developed to create his iconic images so typical of life in his era. Extracted from his sketchbooks and archive, Norman's own comments and thoughts feature throughout the book. There is also a section taking the reader into Norman's studio, as well as maps showing the locations of his most memorable images in his home town, together with the Pit Road which is featured for the first time. The essay contributions provide new insight and appreciation of Norman's work with direct references to the sketches, leading the reader towards a new understanding.
The book will be launched at the Durham Book Festival on October 14th with a panel discussion chaired by Michael Chaplin. There will be a follow up local launch at the refreshed Coming Home exhibition at Spennymoor Town Hall on Thursday October 19th at 7pm. The retail price for Behind the Scenes will be £30 and copies will only be available online at www.normancorish.com and selected outlets across the region and nationally.
Please direct further enquiries to: This email address is being protected from spambots. You need JavaScript enabled to view it.
Stay tuned via social media:
---
Cornish Centenary
Throughout the centenary year, an interesting range of themed exhibitions is planned in order to commemorate Norman's life and to celebrate his work.
If you would like to find out more click below:
Stay tuned via social media:
---