Latest News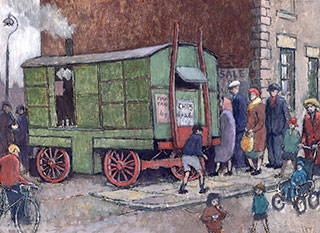 The Restoration of Berriman's Chip Van
Berriman's Chip Van was the subject of many paintings and drawings by Norman Cornish. The original chip van was recently restored by Staingate Restorations and Replicas, of Haltwhistle, Northumberland. If you would like to see the work they carried out click here.
We have already received some interesting Guest Book contributions about the Chip Van and we would welcome any information, memories and anecdotes for publication on the Guest Book page.
You can click on the Spennymoor map to see the location of the chip van before it retired.
Cornish Centenary
Throughout the centenary year, an interesting range of themed exhibitions is planned in order to commemorate Norman's life and to celebrate his work.
If you would like to find out more click below:
Stay tuned via social media:
---