Latest News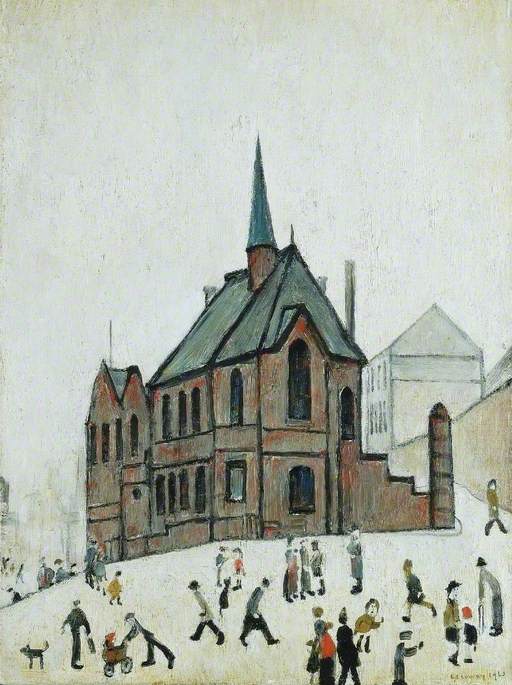 The Sailors' Bethel
The Sailors' Bethel opened in 1877 and can be seen at the Newcastle quayside. Bethel is Hebrew for 'House of God' and in the 130 years of its existence this building has served as a nonconformist chapel, a community centre, A Danish seamen's church and more recently as offices.
In the late 19th century regular trade between Newcastle and Danish ports resulted in cargoes of butter, eggs, and fresh meat arriving at the mouth of the Ouseburn, and the Sailors' Bethel was the ideal place for the Danish seamen to stay overnight whilst their cargo was unloaded.
During the 1960s the chapel became a subject of interest for both L.S. Lowry and Norman Cornish as contemporaries, exhibiting regularly at the Stone Gallery where Mick and Tilly Marsahll (owners of the gallery) acted as agents on behalf of both artists. Cornish used to visit the Stone Gallery at weekends and Lowry was a frequent visitor to the gallery although his accommodation was at the Seaburn Hotel near Sunderland. Both artists were active in and around Tyneside and the coast, deriving inspiration from people and places. Lowry painted his version of 'Old Chapel' in 1965 and the original is in the collection of the Laing Art Gallery. Lowry used his characteristic style, which he developed to suit the industrial and city subjects he generally painted, with a white background and limited palette of five colours: ivory black, vermillion, Prussian blue, yellow ochre and flake white.
Cornish first exhibited at the Laing Art Gallery in 1940 with his first portrait in oils, 'My Sister Ella'. His version of the Sailors' Bethel was only discovered in 2014 but was most likely produced during his journeys around Tyneside in the 60s.
Each version reflects the different styles and interpretation by both artists. With Cornish it is the rapid sketch capturing a moment in time using his Flo-master pen and watercolour added to the final version. With Lowry it was the attraction of the unusual architecture of the building. Similar subjects engaged both artists at different times in the Tyneside area, including All Saints church in Newcastle and the Groyne and Pier at South Shields.
According to Lowry, he generally invented the figures in his pictures. Cornish's sketchbooks contain dozens of observations of people in different settings who often appear at a later stage in his paintings. 30 of Cornish's drawings and paintings, inspired by locations in Newcastle and the pier at South Shields, feature significantly in Behind The Scenes: The Norman Cornish Sketchbooks which may be purchased at www.normancornish.com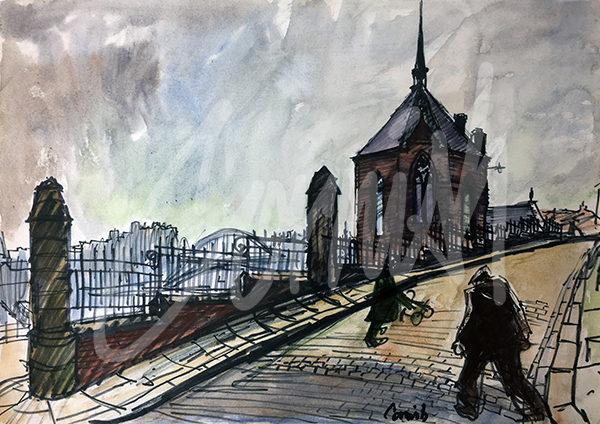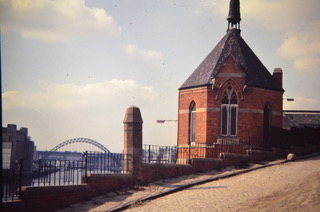 Cornish Centenary
Throughout the centenary year, an interesting range of themed exhibitions is planned in order to commemorate Norman's life and to celebrate his work.
If you would like to find out more click below:
Stay tuned via social media:
---