Latest News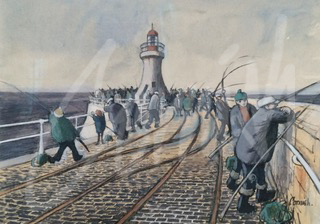 The Pier at South Shields
During the 50s and 60s the content of Cornish's creative output was dominated by the subjects in his immediate surroundings; the industrial landscapes, the journeys to and from work, the pubs in Spennymoor, street scenes, observations of local characters and his wonderful record of the cultural landscape. He also exhibited alongside the work of other regional and national artists via the exhibitions at leading galleries in the north of England such as the Laing Art Gallery in Newcastle, The Shipley Art Gallery in Gateshead, Tullie House in Carlisle and The Stone Gallery in Newcastle, which emerged as the leading commercial gallery in the region during this era.
As a frequent visitor to Newcastle it was inevitable that the sights and sounds of Tyneside would begin to exert some influence on his choice of subject material. His first painting of people fishing at South Shields appeared in the Stone Gallery exhibition of 1967 which was shortly after his step towards becoming a professional artist.
The pier at South Shields was an obvious attraction for an artist interested in people and places. In his own words:
" the people make the shapes, I am just the medium."
The south pier at South Shields is 1,570metres long and combines the interesting curvature of the feature, along with the rail lines used in the construction of the pier in 1854. The anglers watching and waiting after casting their lines, were irresistible to Cornish, and the subject became a favourite that also offered what he considered as "a different theatre of operations."
9 preparatory sketches of the pier and anglers in action, along with 3 completed paintings and a photograph including his wife Sarah, appear in Behind the Scenes: The Norman Cornish Sketchbooks. The preliminary work clearly illustrates the detailed research which he undertook to ensure technical accuracy as well as capturing moments in time.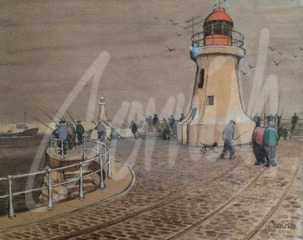 Cornish Centenary
Throughout the centenary year, an interesting range of themed exhibitions is planned in order to commemorate Norman's life and to celebrate his work.
If you would like to find out more click below:
Stay tuned via social media:
---