Latest News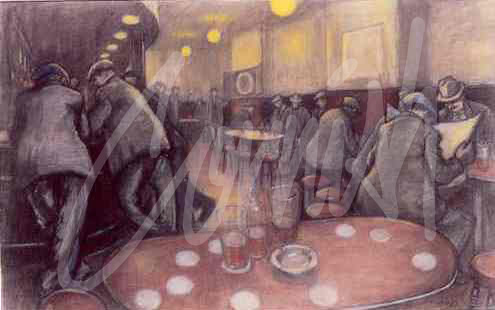 The Creative Process Part 4 The Crowded Bar
One of the popular questions at the end of public lectures about Cornish's life and work has always been about the process undertaken by Cornish to create his paintings and in particular his larger works on canvas. A popular misconception is that a completed picture is produced as a single exercise from beginning to end. The creative process is actually a very engrossing and mentally taxing exercise for the artist, demanding maximum concentration, and can often take days, weeks or even years to complete as the artist revisits the work several times. Cornish worked in silence unlike Lowry who listened to classical music as he worked late into the evening. Both artists delayed the acquisition of telephones until much later in their lives to avoid unnecessary distractions.
The pictures accompanying this feature provide a wonderful, example of the evolving steps to achieve satisfaction with the outcome of a subject re-visited on several occasions over the years. Coincidentally this approach was taken by both Cornish and Lowry with subjects repeated with minor adjustments in the search for perfection.
The Busy Bar provides a classic example and much thought would go into the underlying geometry of the images and their layout, which Cornish considered to be an abstract form in itself, giving rhythm and structure to the picture. Note for instance the development of the composition from the unusual angle viewed from behind the bar directly opposite the drinkers and then the angle becomes a diagonal. The diagonal undergoes some subtle changes including a higher viewpoint to reveal other men seated and then a detailed close up of the man with the newspaper.
Finally, the rationale behind the classic composition with underlying principles was discovered written by Cornish on a scrap of paper in his studio. 'Human drama based on gesture and attitude, monochromatic with the accent on atmosphere which contrasts the earthy humanism and mysterious glitter of the beer and the glasses.' This just about sums it up !
In 1989 the Busy Bar was purchased by Scottish and Newcastle Breweries for their boardroom. In 2007 the painting was donated to the Permanent Collection at Northumbria University for the 'public benefit' at future exhibitions.
Next week: The creative process Part 4.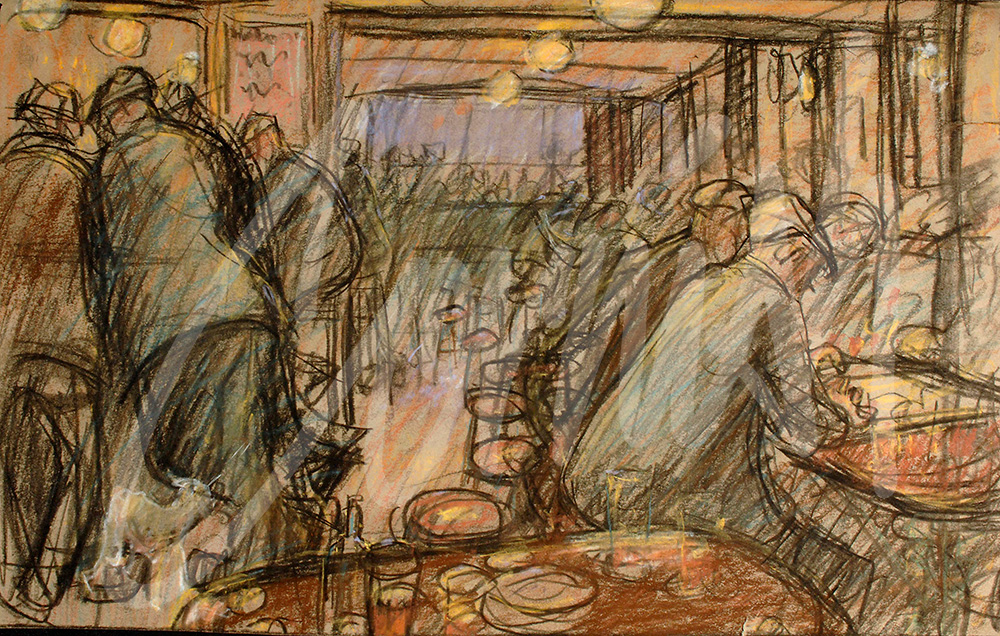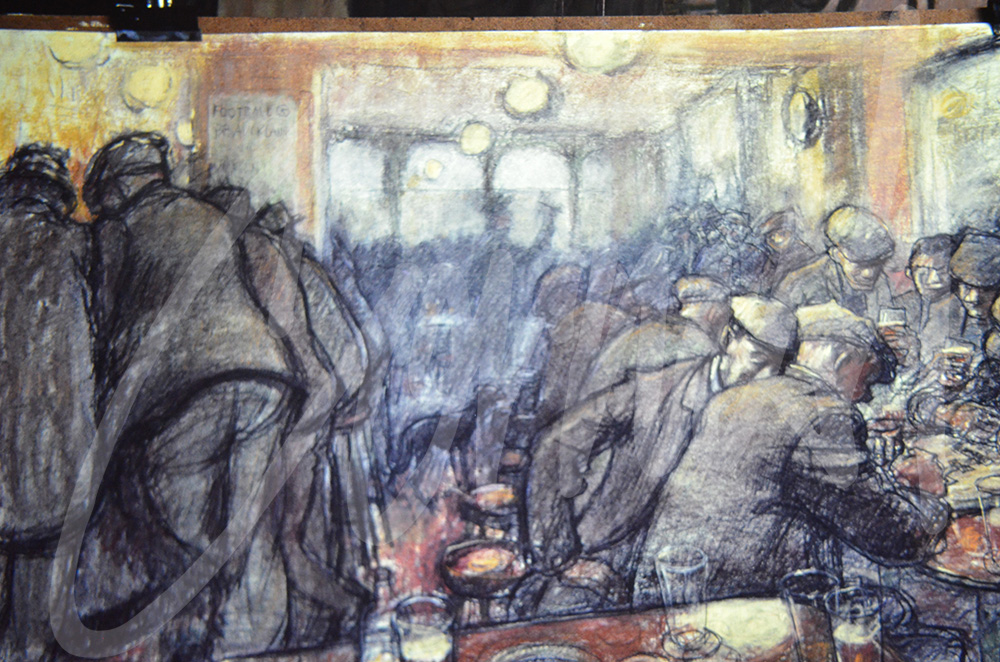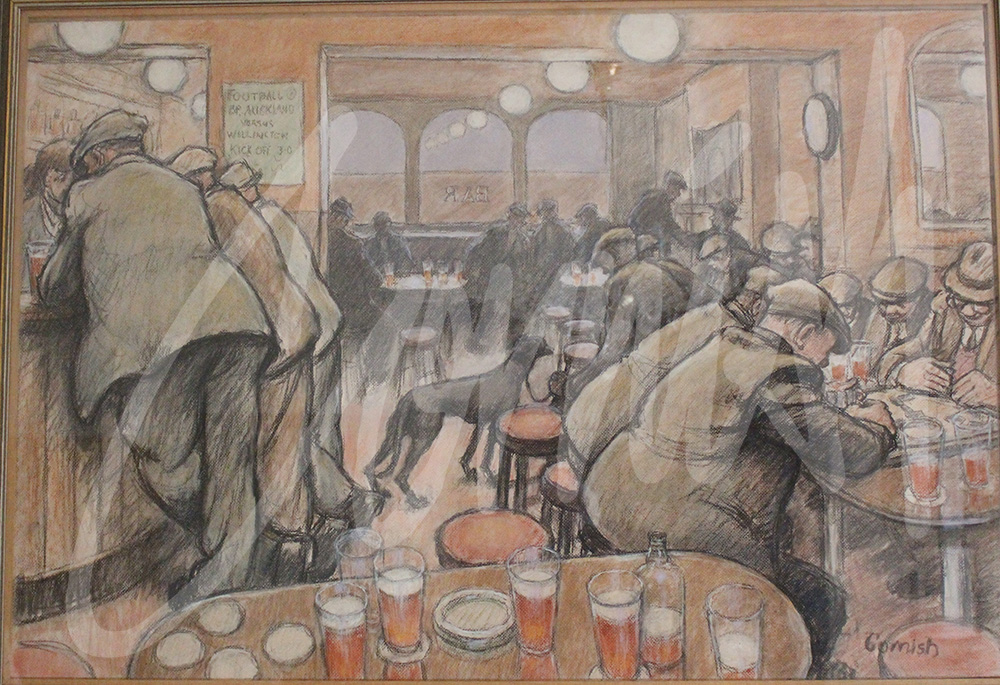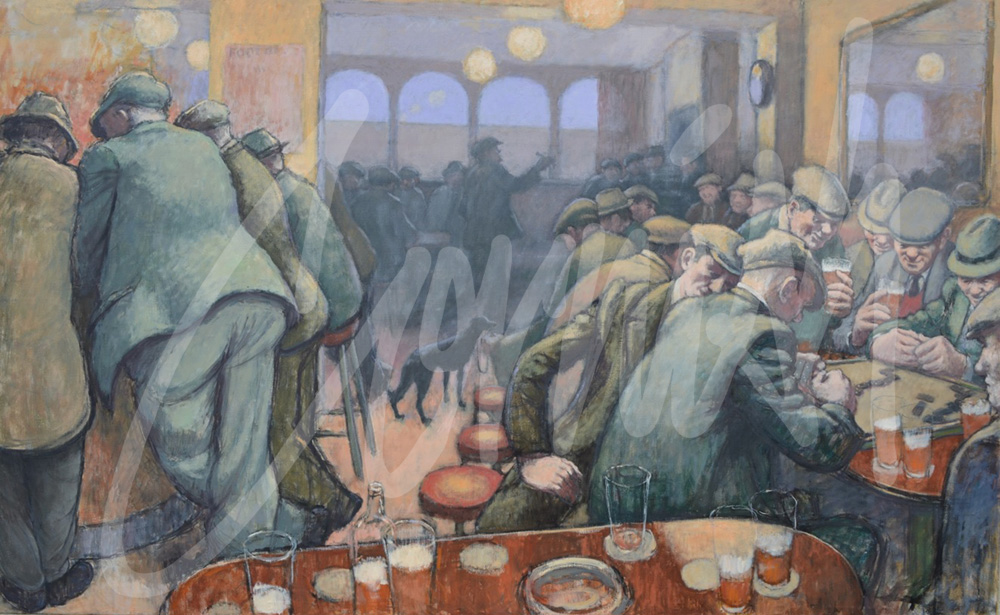 Cornish Centenary
Throughout the centenary year, an interesting range of themed exhibitions is planned in order to commemorate Norman's life and to celebrate his work.
If you would like to find out more click below:
Stay tuned via social media:
---