Latest News
The Gantry: Part 2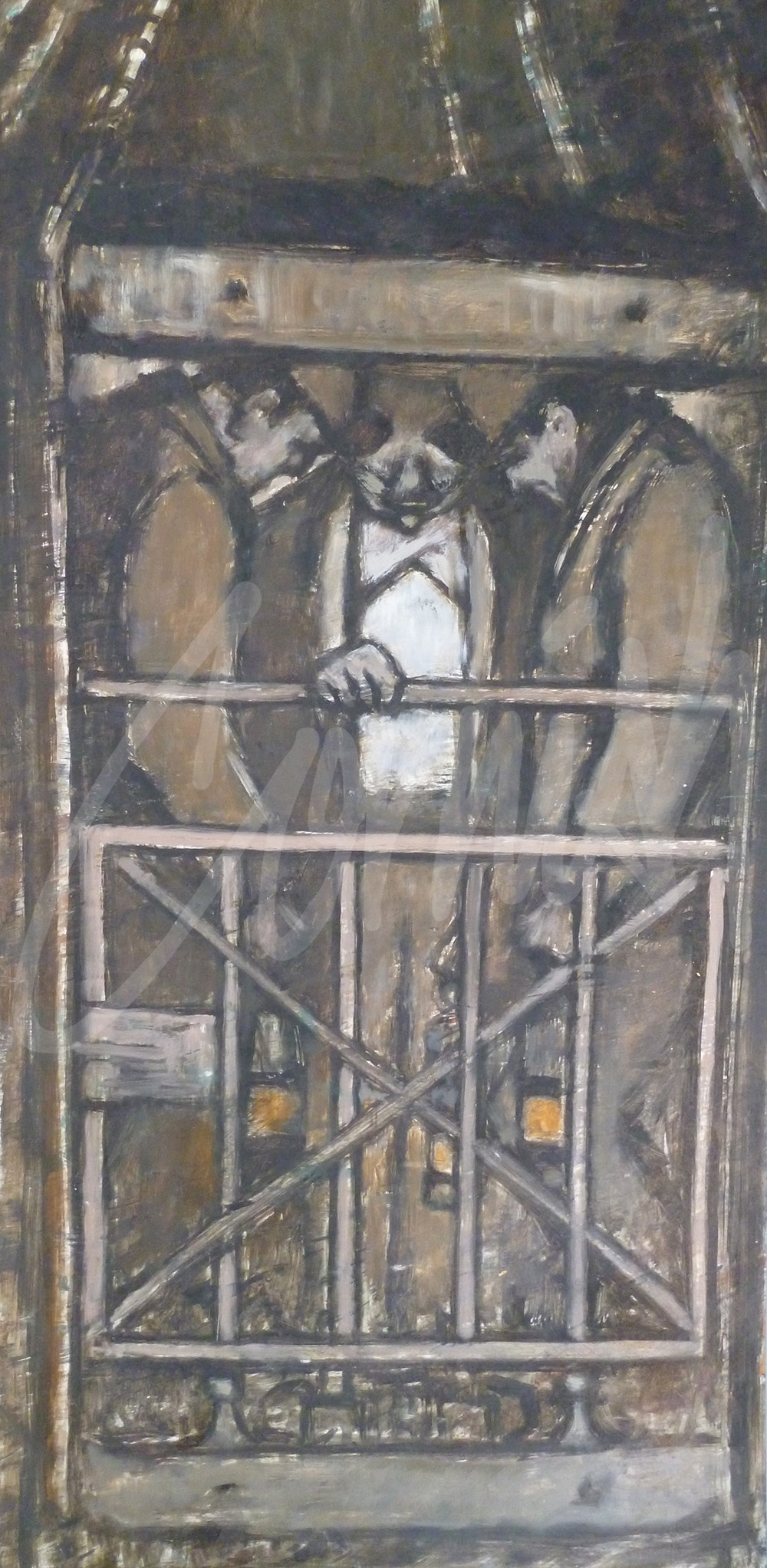 Cornish vividly recalls the first time he entered the cage on his first day at work.
In his own words:
As we stooped to enter the cage, which held 20 men at a time I was comforted by the fact that I was amidst experienced men quite used to the descent into the pit. The cage dropped very rapidly. About halfway down I felt that I was coming up-over. We finally landed at the shaft- bottom and I was relieved to find that it was well lit by electric lights. A tunnel curved away in the distance. My mining career had begun.
At the Stone Gallery exhibition in 1960, Cornish was introduced to Lord Lawson of Beamish, who was born in Whitehaven in 1881, moved to Boldon Colliery aged 9 and worked underground as a 'trapper' from the age of 12. Jack Lawson, a former miners' leader, was elected to Parliament in 1919 as MP for Chester-le-Street and became Secretary of State for War 1945-46. He was also Lord Lieutenant of County Durham 1949-58. Jack Lawson and his wife invited Norman and Sarah to tea at his home one afternoon and a car was sent to collect them. After tea he suggested that he and Cornish have a chat in their front room and Jack Lawson produced a copy of his autobiography, 'A Man's Life', which was a favourite of Cornish.
Lawson opened the book and read aloud the chapter describing the pit cage descending from the gantry, leaving Cornish with a much treasured memory. 'A Man's Life' was a firm favourite on the bookshelves at Whitworth Terrace and it was humbly inscribed to Norman Cornish, miner artist, from the author Jack Lawson.
The book also delves into the challenges faced by miners: to overcome prejudice, the disrespectful treatment by officials and lost opportunities to continue their education. In one of the chapters, there is a reference to a poignant moment under-ground, and in total darkness, when pausing between strenuous activity, two of Lawson's colleagues continue a conversation about the salient points in a specific Greek play.
Cornish worked hard as a miner but frustration crept in as he wrestled in his mind with the fact that a colliery was geared to coal production and not art appreciation.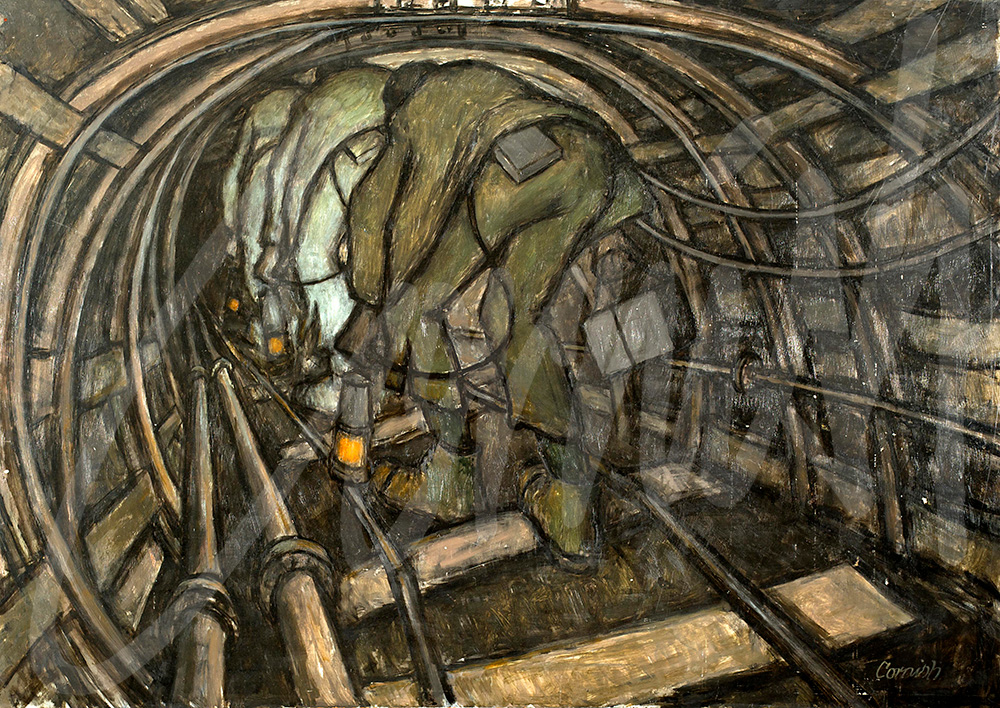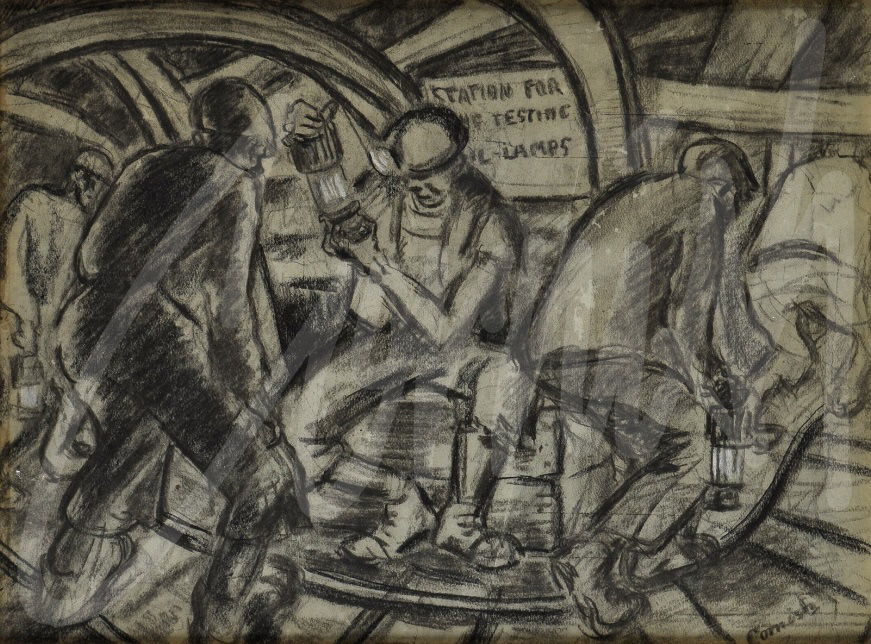 The Gantry: Part 1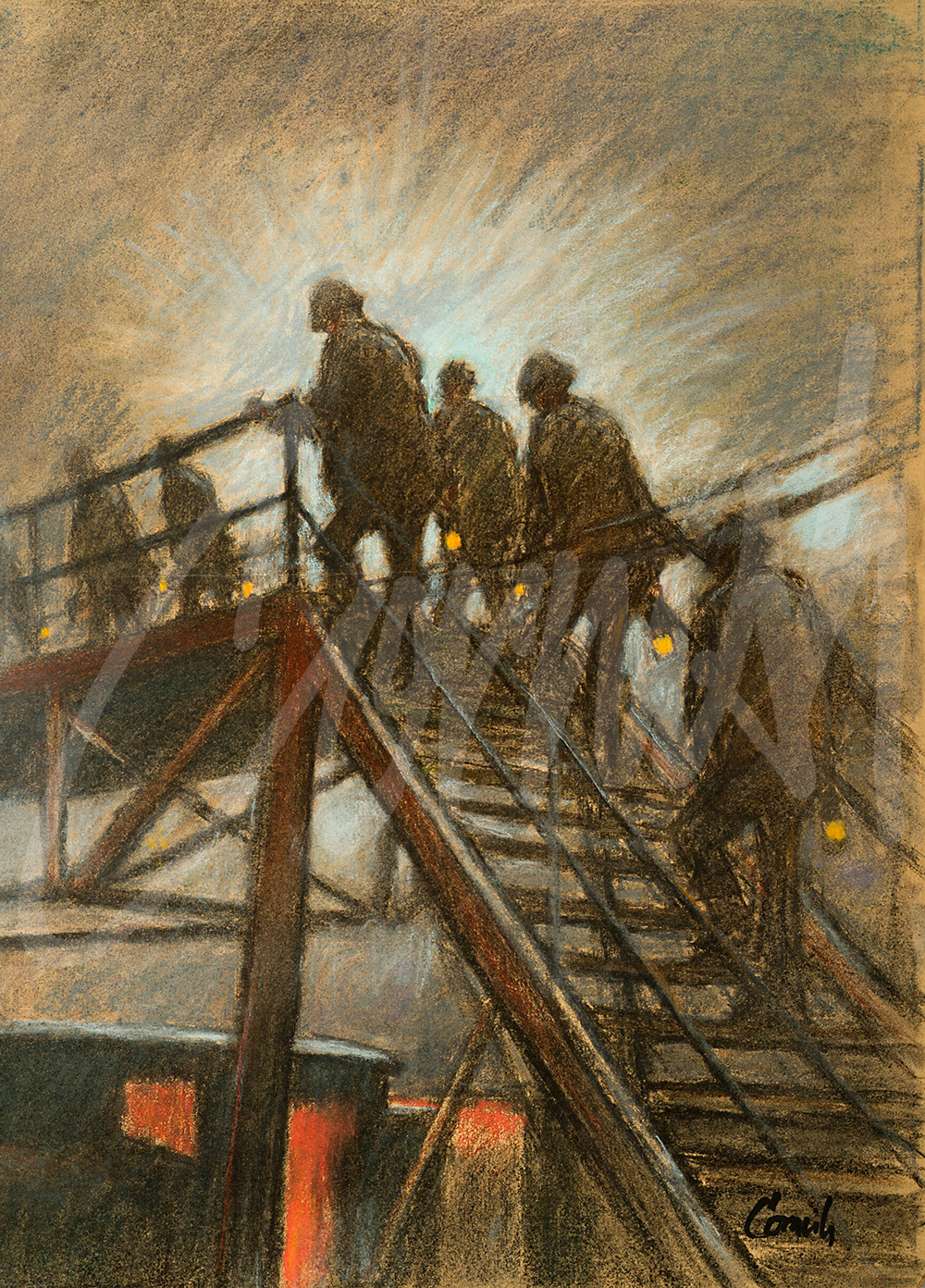 Cornish arrived cold and damp from walking over two miles in heavy snow to start work aged 14, at 2am, on Boxing Day 1933. He had no choice, and was denied the opportunity of continuing his education because he was the oldest in his family of five brothers and one sister.
There were over a hundred collieries and pits including quarries, brickworks and coking plants within a five miles radius of Dean & Chapter Colliery, at various stages or working, closing or dormant. The smoke and sounds of the railway engines hissing, coal trucks, colliery buzzers, and miners' boots on the steps combined to create an industrial cacophony. The impact upon the environment and the men was pervasive.
He was offered a job as an underground datal ( paid by the day) lad and when he signed on the dotted line the official said in his deep voice: "You've just signed your death warrant son." The pit was nicknamed locally 'The Butchers Shop,' owing to the number of accidents there. The records of 177 fatalities make for sober reading although there were no 'disasters' (officially five or more killed together, by gas explosion for example).In 1935 there were 2,135 men and boys working underground and 538 above ground. By 1937 the workforce was producing 3,000 tons of coal a day – a third of it machine - mined and the rest hand hewn.
On his first day he was given a lamp and a disc and moved out of the lamp cabin to be confronted by a flight of steel steps leading on to a gantry which crossed the mineral line. The gantry led onto the cage bank level which was at the opposite end of the gantry wheels and ropes. As the shunting engine passed below them, they became lost in a cloud of steam which reflected the arched window lights of the colliery like a cinema screen.
In his own words:
I went through the door and the first thing I saw was the gantry scene. The men were there with their orange oil lamps and they looked like fireflies. Then I saw a mass of steel railings, steps, girders and steel wires. I thought it looked like a great steel spider's web and when I saw the colliery behind, I thought it was like a giant big spider – moving towards us and then going to drop us down a great hole.
The picture is about feeling – what I felt and saw as a boy.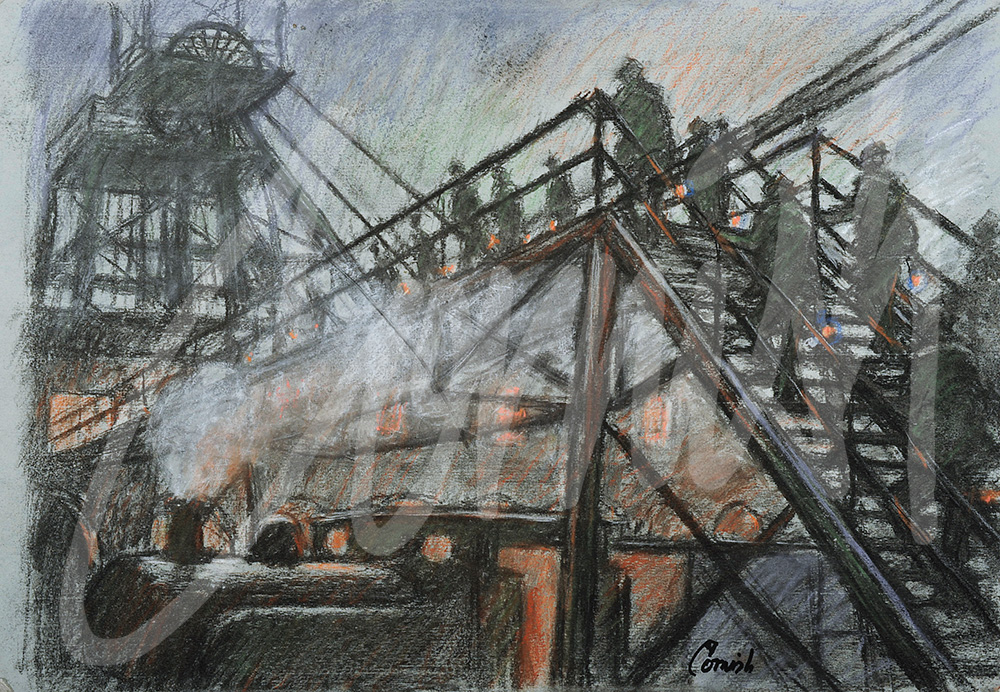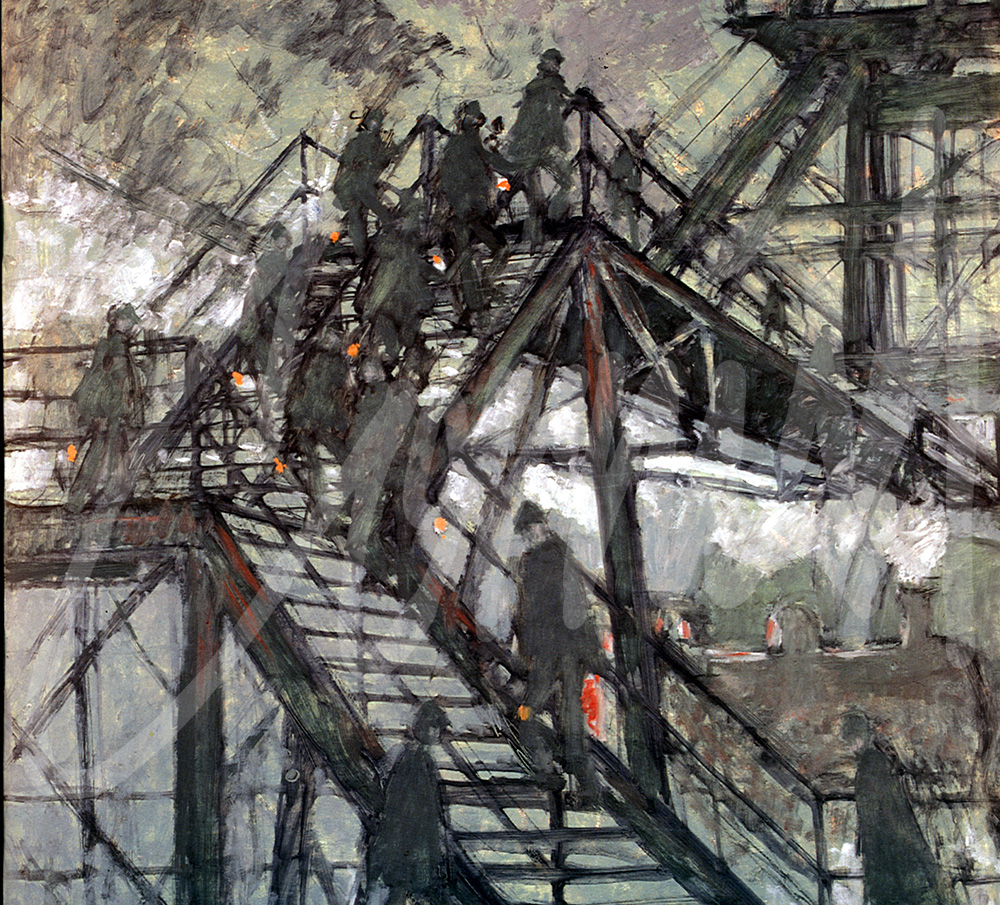 The Busy Bar: Human Drama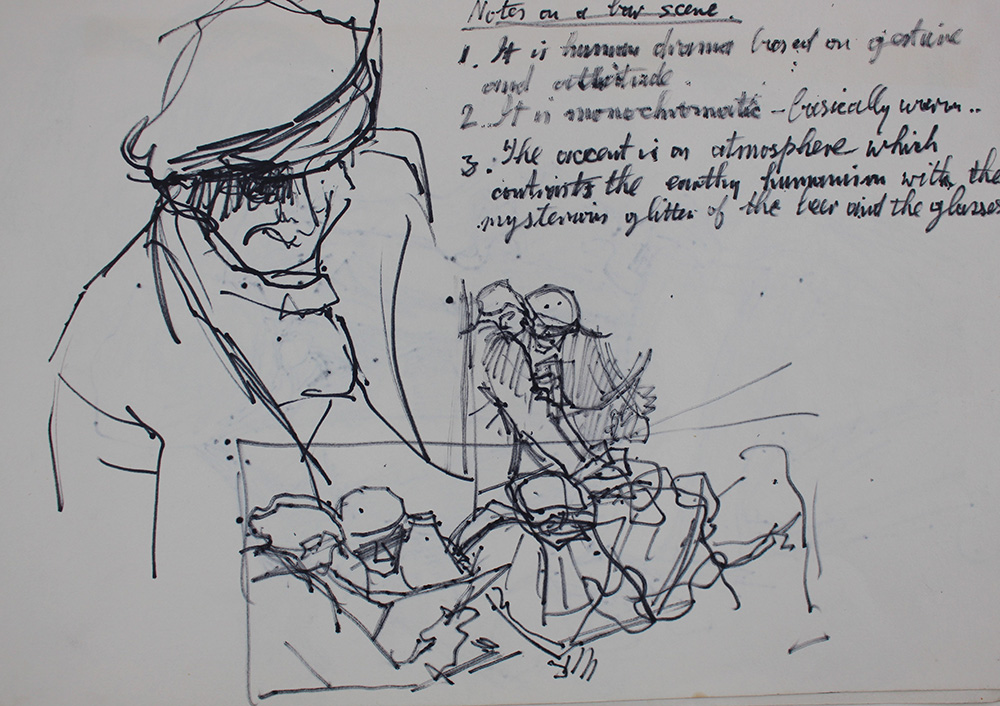 Norman Cornish's studio is currently on long-term loan from Beamish Museum to Spennymoor Town Council, and is the centre-piece of the Coming Home exhibition at the Bob Abley Gallery. In 2014, a scrap of paper was discovered in the back of a drawer in the studio table.
The scrap of paper revealed for the first time a preliminary rough sketch of a bar scene. More significantly, there were three statements setting out the underlying principles which Cornish employed to develop the composition of The Busy Bar, which became one of his most admired and appreciated paintings.
It is human drama based on gesture and attitudes.
It is monochromatic
The accent is on atmosphere which contrasts the earthy humanism with the mysterious glitter of the beer and the glasses.
A fascinating insight, which discloses his deep thoughts about the underlying geometry of the picture. A clear and carefully considered structure, with a highly complicated design and unusual perspective from the barmaid's view helps to invite us into this busy bar full of activity and animated conversation.
In his own words:
Again, the bar is a big diagonal shape – wide bar coming along half way up the right-hand side down to the section area of the base. Then, of course, there are other shapes teetering away from his hand, down to under the bar. It's not too obvious, but it is two diagonals, one against the other - rather like when you see someone playing a violin. You need a violin and you need a bow to cross in order to get music. If you don't do that, you don't get a lot of music – it helps to create feeling. Of course, the actual men themselves created circular rhythms within the group. The circular rhythms knit together like a jersey.
As an underground miner, Cornish was fully immersed in his community. The beer in Cornish's glasses gave him the passport to be able to share, observe and record the communal life in pubs because he was easily able to blend in and this gave him the opportunity to produce so many character drawings of his subjects.
In 1989 The Busy Bar was purchased by Scottish & Newcastle Breweries to be hung in their boardroom. In 2007, the painting was donated to The Permanent Collection at Northumbria University.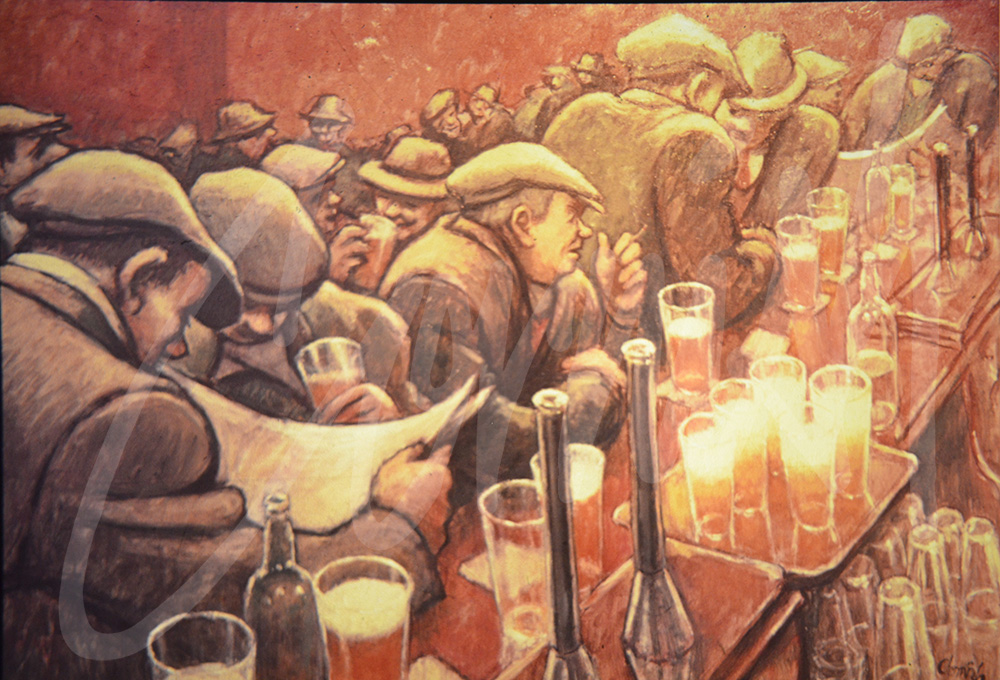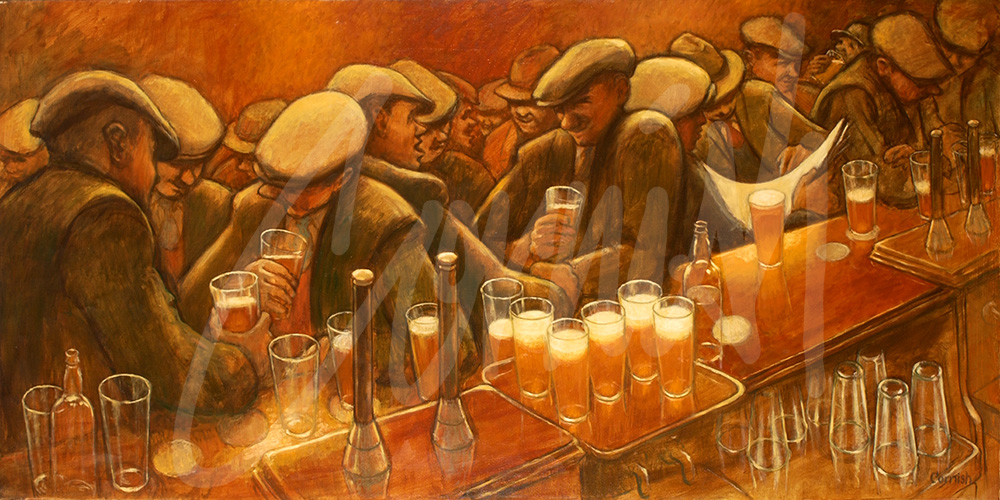 Eddy's Fish Shop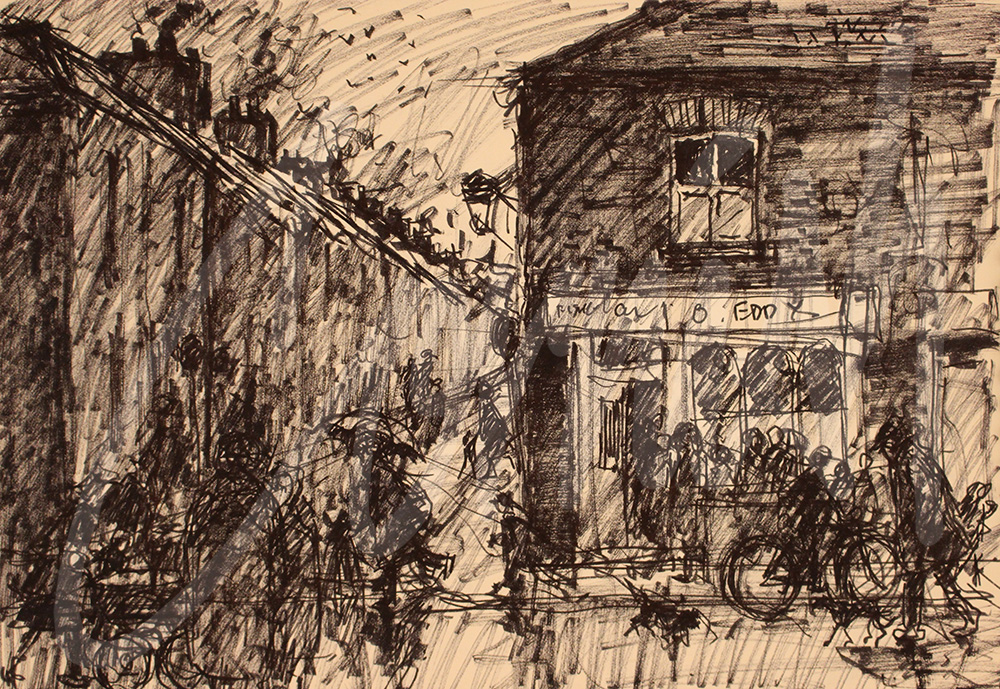 Eddy's Fish Shop, now demolished, was a focal point in the community. This was from a time when 'corner shops' were a common feature in many towns and villages.
Cornish's interest in Eddy's Fish Shop began one day in the early 60s when he called to see Stan and Mary Eddy in their shop and he asked the question:
'Stan, do you mind if I paint your fish shop?'
Stan and Mary Eddy originally owned fish and chip shops in Church Street and Villiers Street and there were other fish and chip shops in the town. Mary and Stan met in the RAF where Mary was a truck driver and Stan had returned from living in the USA. During a period of change in Spennymoor, the fish shop at the bottom of Craddock Street became available as Stan's brother Oswald approached retirement. The shop was surrounded by houses, pubs and The Rink Ballroom (formerly The Clarence Ballroom) where Norman first met Sarah in 1944 . Oswald's initial was retained on the sign outside and the location was perfect for brisk trade. It also interested Cornish who saw the potential for a scene which was to become one of his most admired subjects, evoking memories for so many people who grew up at a time when fish and chip shops featured with significance in communities.
The shop remained open until circa 1974 when it was demolished along with the ballroom and other unsafe buildings. The paintings and drawings are all about community and a particular slice of life. Stan and Mary's sons became popular stalwarts in the community - Ronnie as Chair of Governors at Rosa Street School, (located a short distance from the shop) and Gordon who served with distinction as a member of the Durham Constabulary for thirty years.
In his own words:
The local collieries have gone, together with the pit road. Many of the old streets. chapels and pubs are no more. A large number of the ordinary but fascinating people who frequented these places are gone. However, in my memory, and I hope in my drawings, they live on. I simply close my eyes and they all spring to life.
The final word from Ronnie Eddy:
'The chips were regarded as good, but couldn't touch the chip van!'
Eddy's Fish Shop is featured in Behind The Scenes: The Norman Cornish Sketchbooks, and the original location in Craddock Street may be visited as part of the Norman Cornish Trail. www.normancornish/trail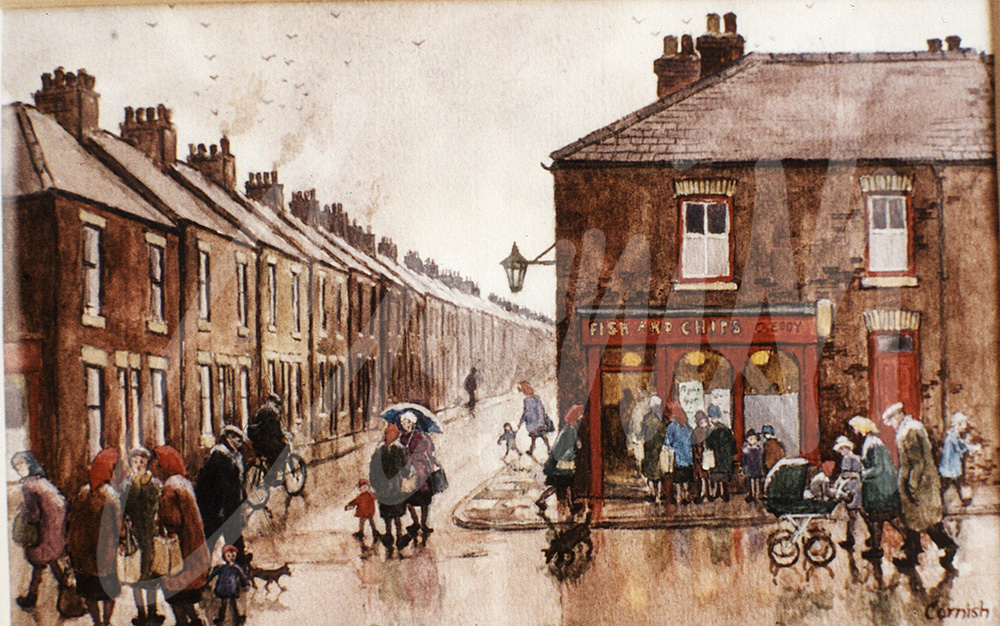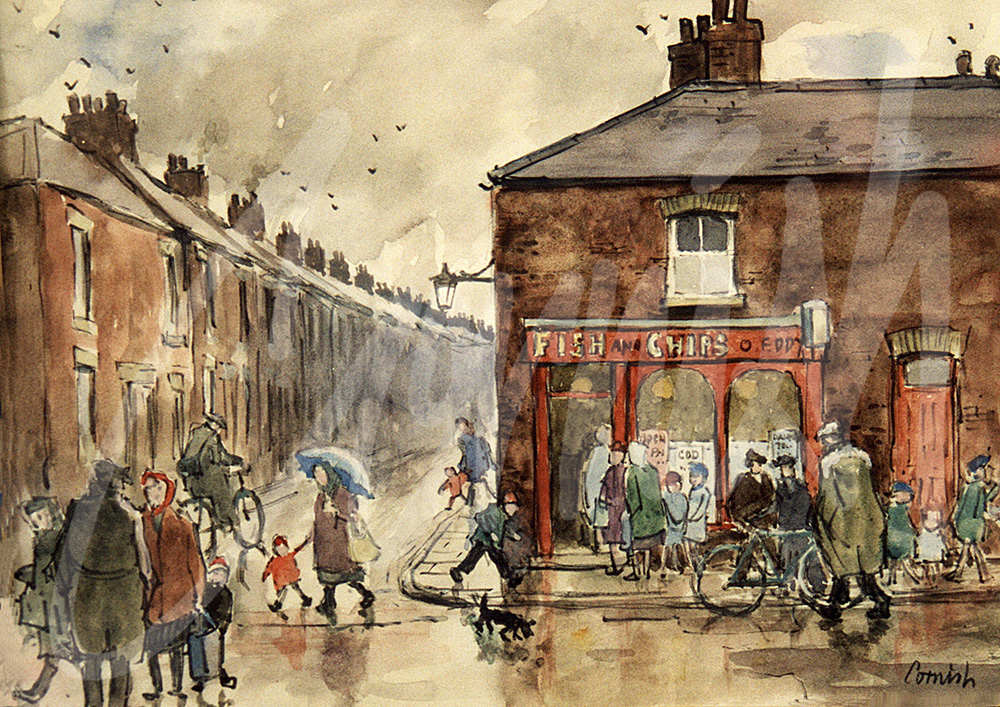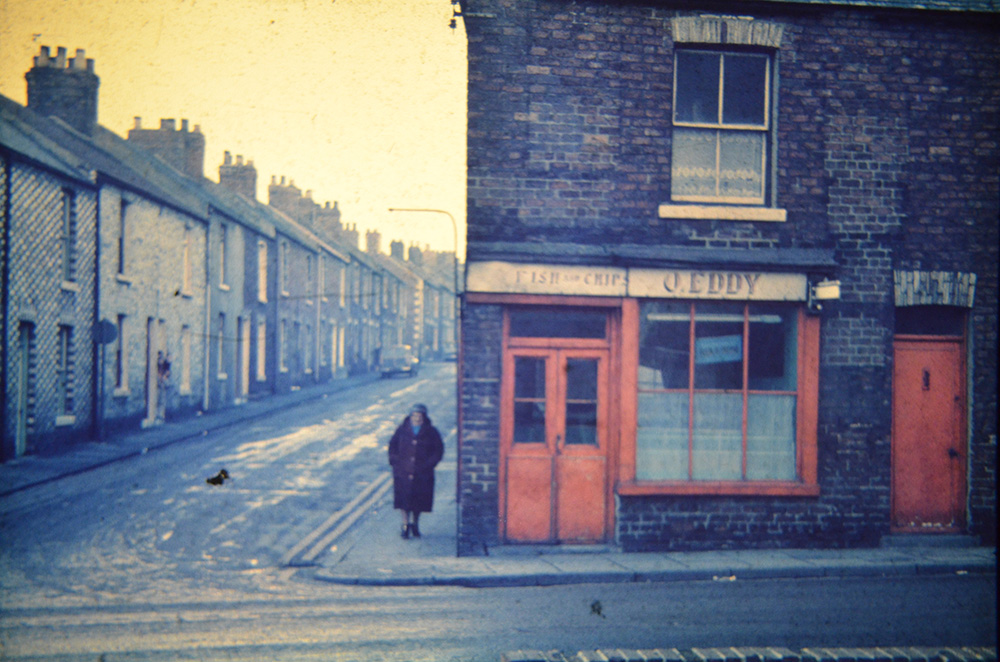 The Trimdon Level Crossing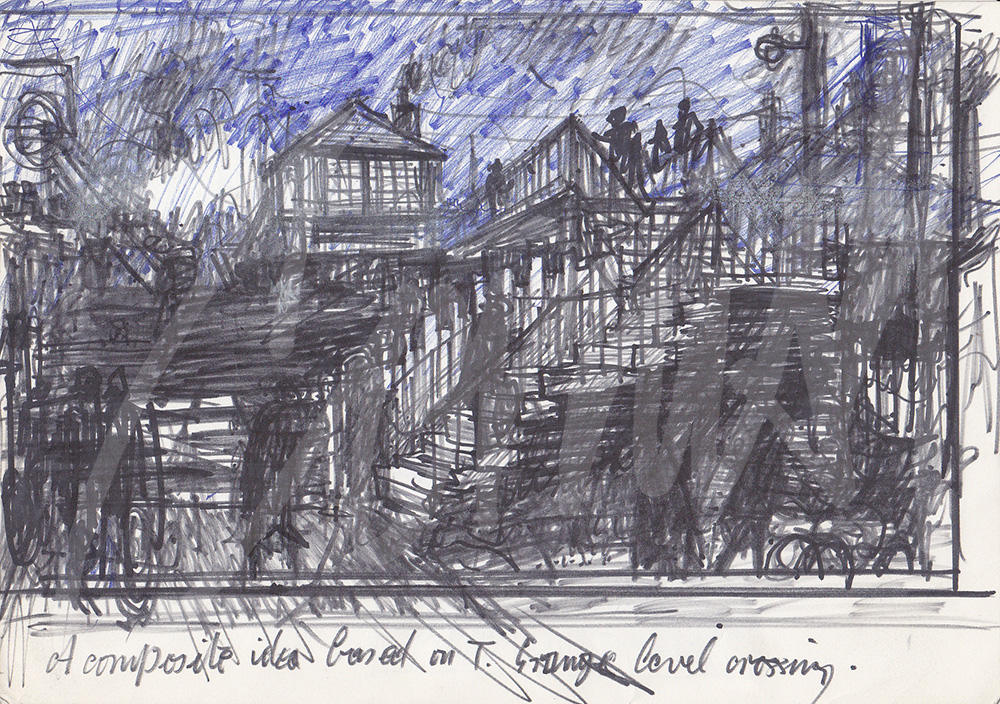 Cornish's evocative paintings and drawings provide an unrivalled social record, chronicling an important era in English history. His work is part of a deeper and more complex unravelling and re-evaluation of history.
His observations of people and places are a window into a world which no longer exists, but which he has immortalised for us all in moments captured in drawings and paintings. His journey, from former miner to professional artist, is a story of determination and resilience to overcome hardship and prejudice. Working class painters were deemed to be 'Sunday painters' and there was an assumption of naivety of such artists by the Arts establishment because of their occupation, as well as implied political associations. Cornish was unable to attend The Slade School of Art in London because he was in a reserved occupation in 1939. There are examples of prejudice and resentment from some of his contemporaries because he lacked an academic background. Cornish was the victim of an unfortunate example of prejudice during the 1940s which was to eventually lead to a positive outcome.
Cornish met Sarah Bartley in 1944 at a dance at the Clarence Ballroom in Spennymoor.. The courtship lasted for two years until they were married at Rose Street Methodist Chapel in Trimdon. Sarah Lived in Trimdon and was a nurse during the war years and also an accomplished pianist. Trimdon was 8 miles from Spennymoor and Cornish would spend some time at the family home with Sarah and her 3 brothers and 3 sisters. Her father was a former miner and her grandfather was a founder member of the Blackhall Colliery band.
Coal mines in every town and village had connecting railway lines to transport the coal to coastal ports such as Tyne Dock. Level crossings, which still exist today on some railway lines, were a feature in many parts of the county. Whenever a locomotive hauling dozens of coal trucks was on the move the level crossing gates would close to traffic to enable safe movement. Cornish travelled to Trimdon from Spennymoor on the TMS (Trimdon Motor Services) and on many occasions the bus would have to stop at the Trimdon Grange level crossing and, waiting patiently, Cornish would take out his sketchbook and pen to capture this moment in time. The scene showing the level crossing, steam train, terraced houses and folks going about their daily lives is typical of scenes throughout County Durham in this particular slice of life.
Prior to meeting Sarah Bartley, Cornish had been engaged to a different young lady. He was rejected by her family because he was a miner.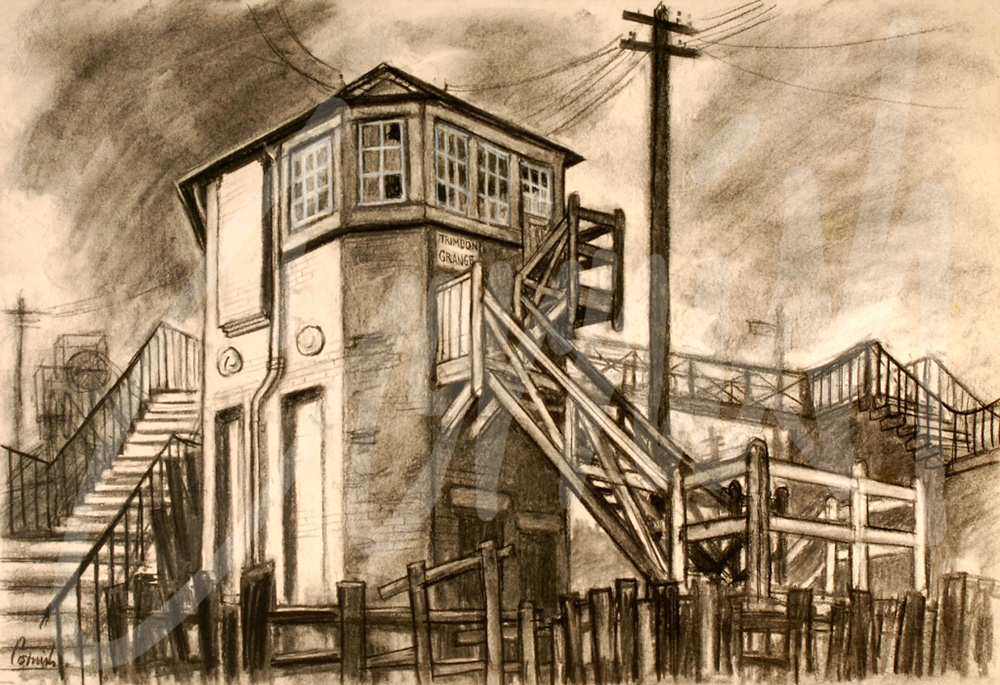 Cornish Centenary
Throughout the centenary year, an interesting range of themed exhibitions is planned in order to commemorate Norman's life and to celebrate his work.
If you would like to find out more click below:
Stay tuned via social media:
---