Latest News
The Railways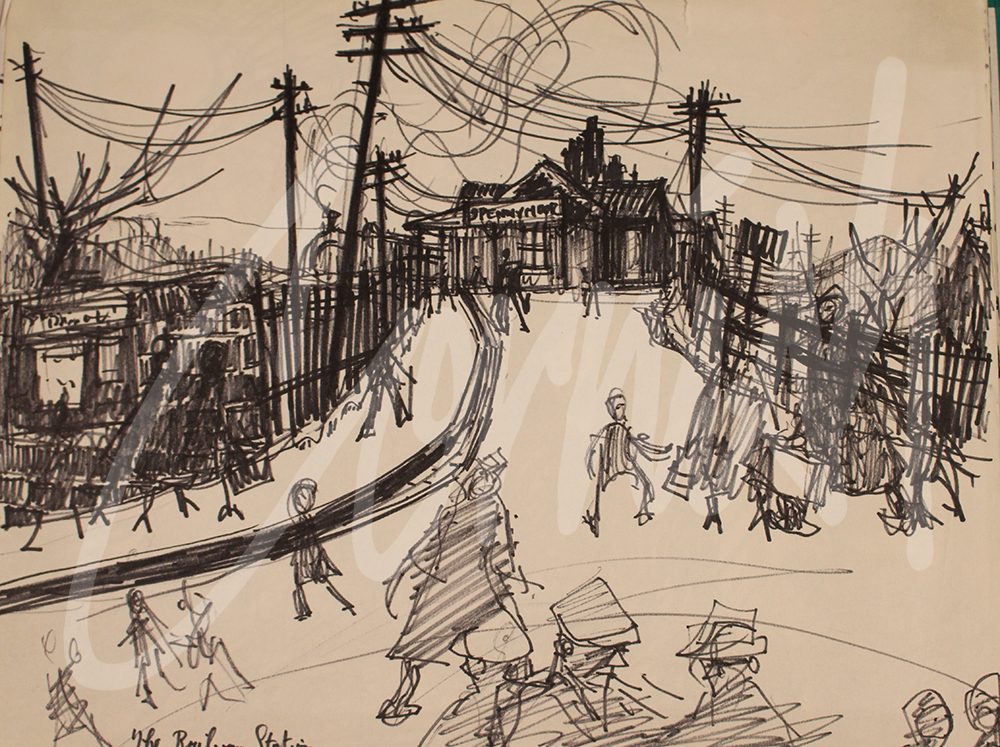 One day in 2007 Norman asked us if we could take him along to Locomotion, the National Railway Museum in Shildon, County Durham. The museum opened in 2004 and although the impressive collection of locomotives was appealing, he was actually interested in a different aspect of the exhibition. " I would just like to have a close look to check the details of the wheels of a tanky engine." A tanky engine was the popular name given to the locomotive used to haul trucks laden with coal from deep mines to Tyne Dock for onward shipment.
This above is an interesting anecdote but another example of Norman as an artist paying close attention to details for accuracy in his work despite having walked past trucks and engines for over 30 years as a miner. Interestingly, he was a professional artist for over 40 years, a fact often overlooked.
Prior to the 'Beeching Axe' in the 60s, which resulted in thousands of stations and tracks being closed, many towns in Great Britain were connected to the national rail network- including Spennymoor (image below). Cornish wasn't a frequent traveller by rail, preferring the bus to Newcastle to visit the Stone Gallery. It is most likely that he travelled by rail to London for his exhibitions there in 1950, 1952 and 1956. He also made several journeys to Carlisle via Newcastle, to address members of the Border Arts Society following a highly successful exhibition in 1951 at Tullie House, 'The Northern Realists' which provided his first contact with LS Lowry and other eminent artists from the north.
In his own words: "The railways, which are fast disappearing are such a compelling source of pictorial art in terms of human history or any other terms for that matter."
Included in 'Behind The Scenes: The Norman Cornish Sketchbooks' is a selection of the drawings which inspired Cornish until he was no longer able to paint and draw. At the time of his visit to Locomotion in 2007, he was 88 years old and in the twilight of his career- but still paying attention to detail.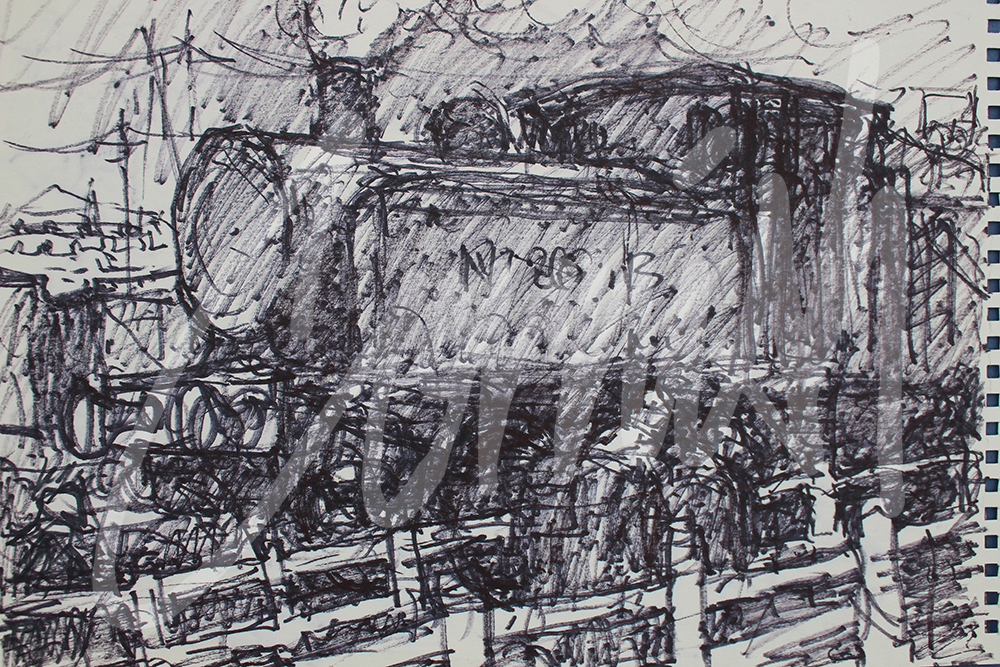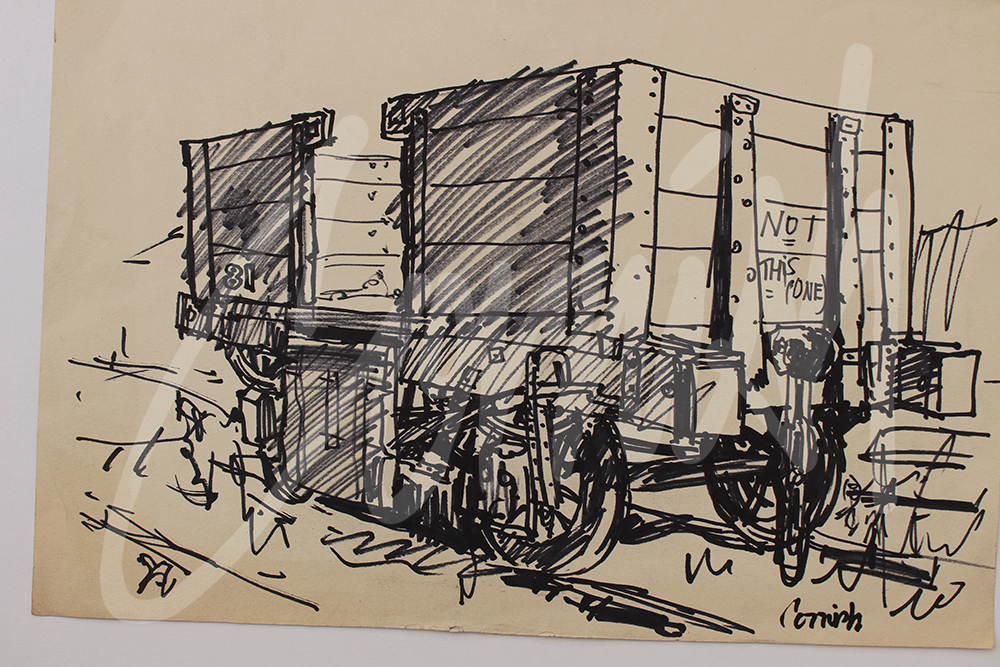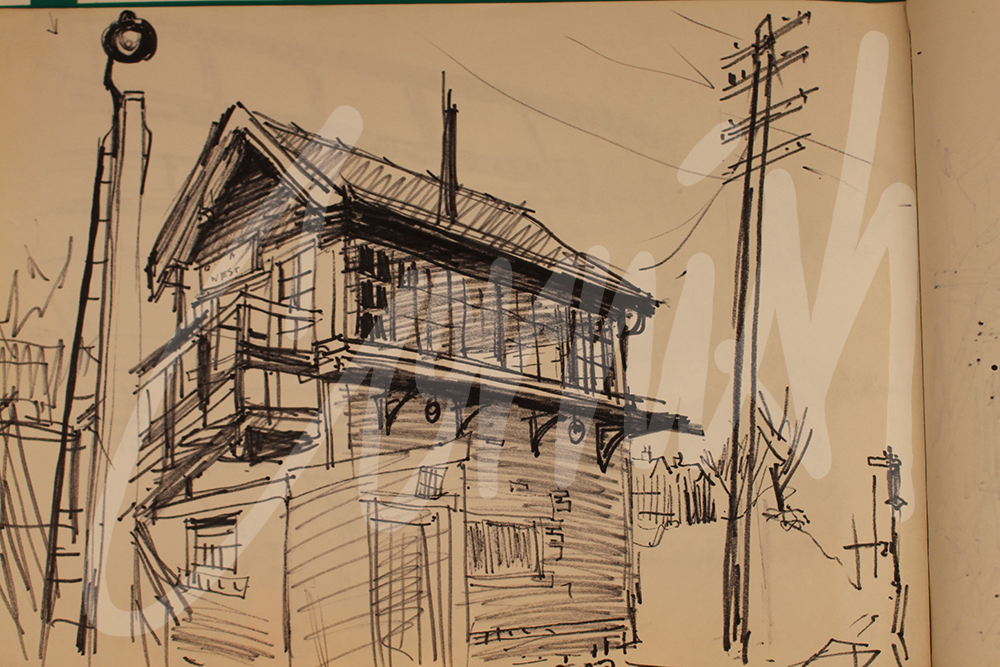 Norman Cornish: Behind The Scenes - Revealed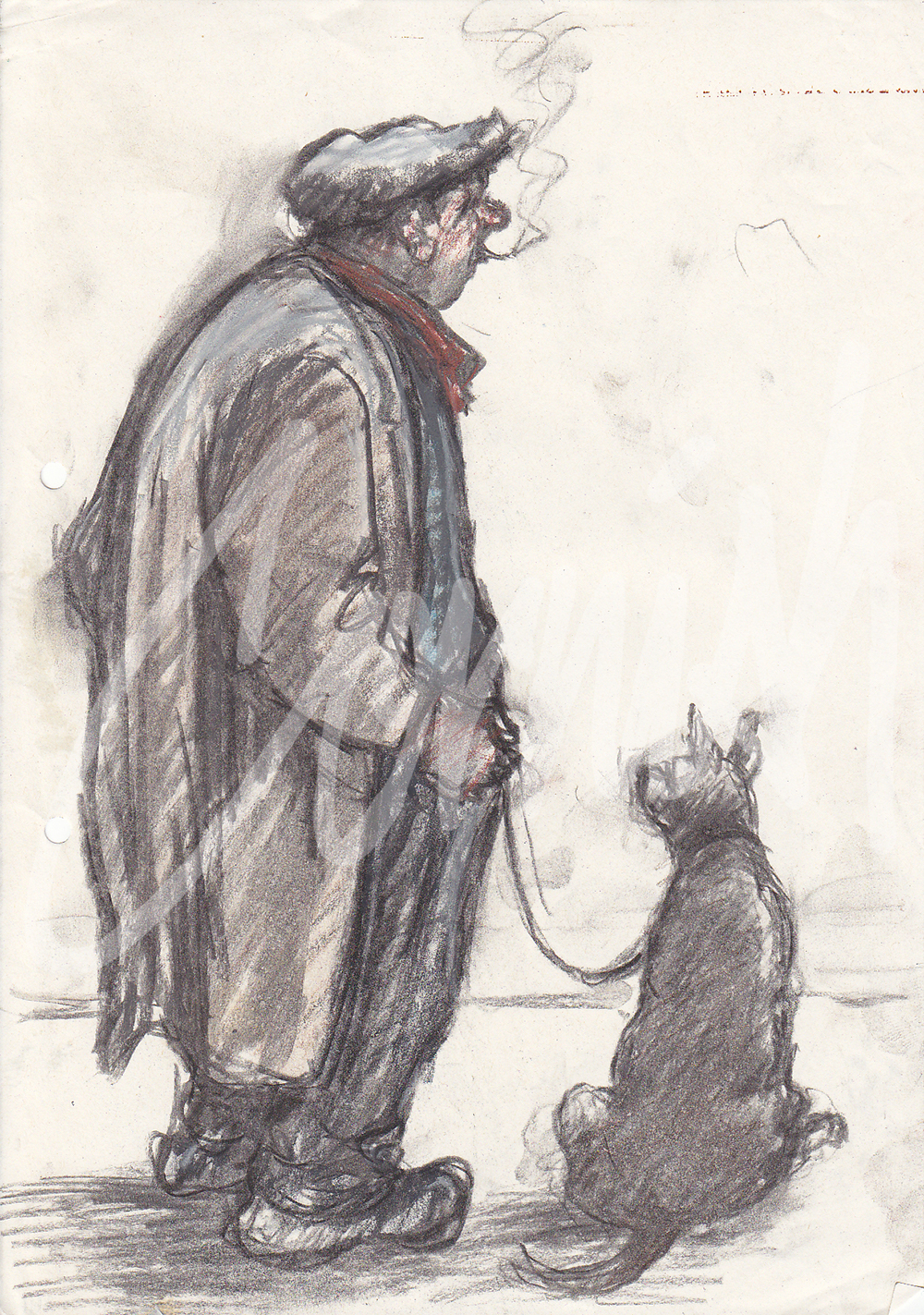 Castlegate House Gallery, Cockermouth , Cumbria.
September 18th to October 9th 2021
We are delighted to announce a new exhibition at Castlegate House Gallery which has represented the Estate of Norman Cornish since 2015.
It will be an eclectic range of works in mixed media, representing classic Cornish subject material; over-ground and underground mining scenes, character studies, observations of people, bar scenes and street scenes. All of the works featured in the collection of works for sale are also included in 'Behind the Scenes: The Norman Cornish Sketchbooks,' published in 2017. They are exemplar works illustrating his creative process during a period of prolific output during the 1960s.
Some of the works originally featured in the exhibition at Palace Green Library, Durham, during the Norman Cornish centenary year, but the majority of the works are previously unseen. This is a rare opportunity to acquire works from one of the leading British artists of the 20th Century.
Castlegate House Gallery was featured in The Times newspaper earlier this year as one of the top ten leading commercial galleries in England, of which only three were outside of London.
Steve and Christine Swallow will provide a warm welcome and receive enquiries.
Phone: 01900 822149 email: This email address is being protected from spambots. You need JavaScript enabled to view it. www.castlegatehouse.co.uk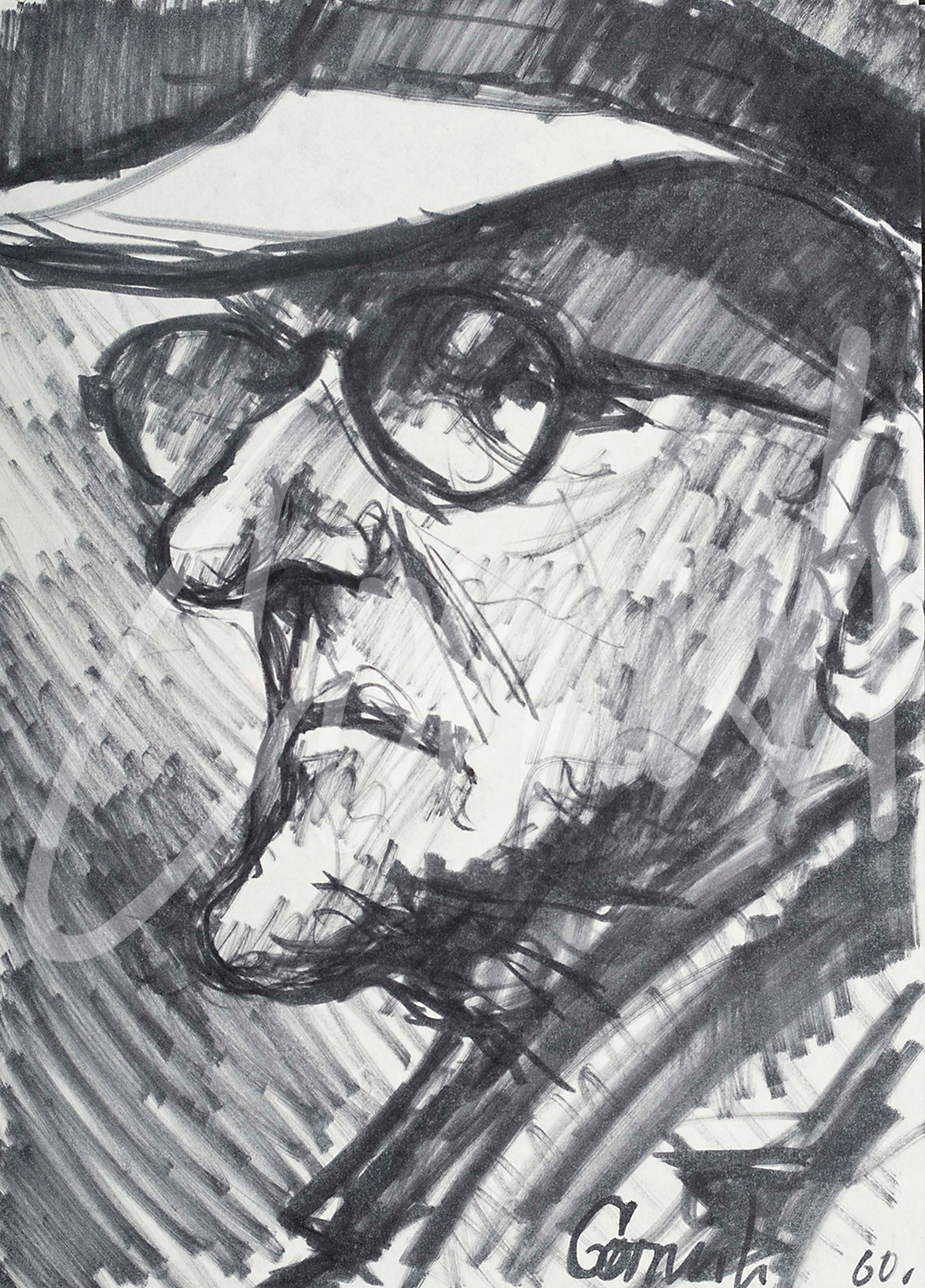 The Paper Sellers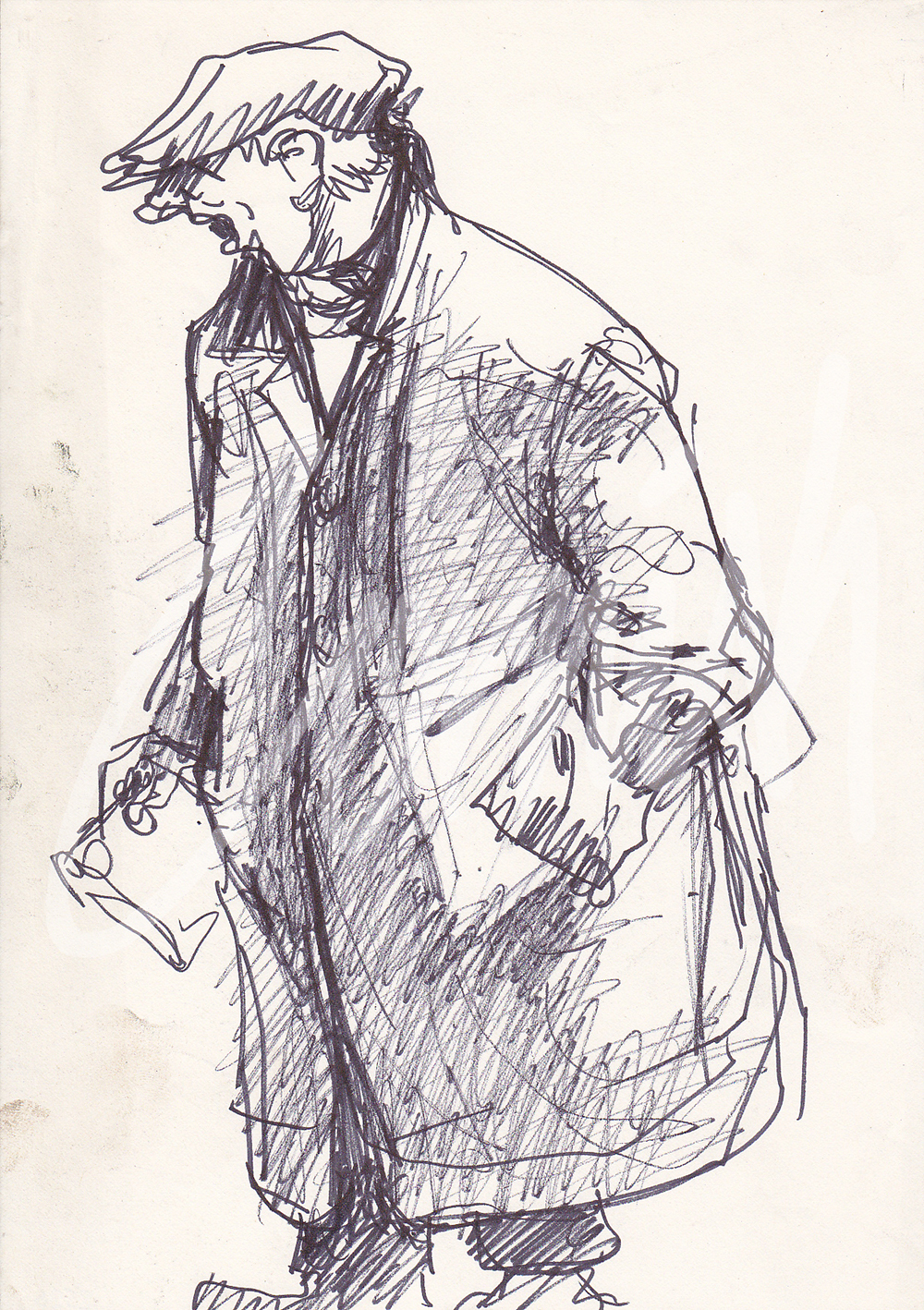 When Cornish lamented the gradual decline of the collieries, the pit road, pubs, chapels and many of the ordinary but fascinating people, we remain grateful that his 'slice of life' has provided a remarkable social record of those past times.
Who would have foreseen the transformational impact of television, the internet, and the myriad of radio (wireless) stations broadcasting from all points of the compass and at all hours of the night and day. One of the unanticipated casualties of this giant leap forward was the traditional street corner 'paper- seller.'
Paper -sellers (newspapers) were a common sight on the streets in towns and cities across the region and beyond. Cornish would often record the fact that piles of newspapers would be on the pavement, often weighted down by a brick or other heavy object. Many of his pictures also showed 'billboards' with headlines to catch the attention of passers-by. Busy locations in Bishop Auckland, Spennymoor, Durham and Newcastle near bus and rail stations were popular features of everyday life. The final versions of these pictures showed clear lines of composition and shapes, observing and recording a piece of social history, but developing into paintings where Cornish's inborn instinct of line or colour is seen.
Funky Truman (Flo-master pen drawing) was one such character who plied his trade, along with his girlfriend, outside of the Mitre pub in Bishop Auckland. Some paper- sellers also worked on Theatre Corner, or near the market place next to the early bus stands and town hall. The drawing of Funky Truman was used as the basis for the painting on page 62 in 'Behind the Scenes: The Norman Cornish Sketchbooks' where other examples of these observations of people have been published.
The piles of papers for the sellers would be 'dropped off' by delivery vans from the printers to provide a fast service for the public. There was even a service on a Saturday afternoon to provide the half-time football scores from the football leagues, printed along the edge of the newspaper as a final addition to the late edition.
One of the characteristics essential for paper-sellers was a loud voice, necessary to call out in a high pitched tone, 'Half Times' or 'Chronicle' with an elongated emphasis on the syllables- rather like the 'Town Criers' from a different era.
Other examples of 'Paper- Sellers' are included in the chapter, 'Observations of People' included in 'Behind the Scenes: The Norman Cornish Sketchbooks' available from our online shop.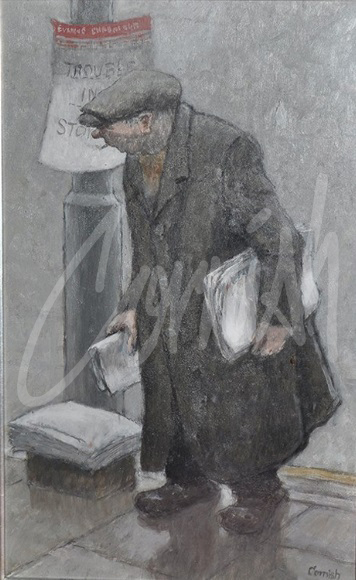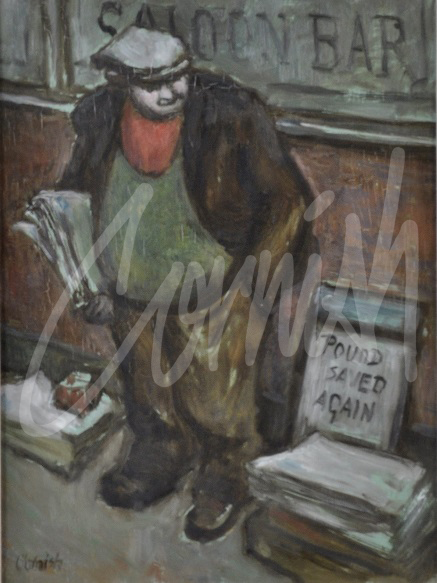 The Bob Abley Gallery Spennymoor Town Hall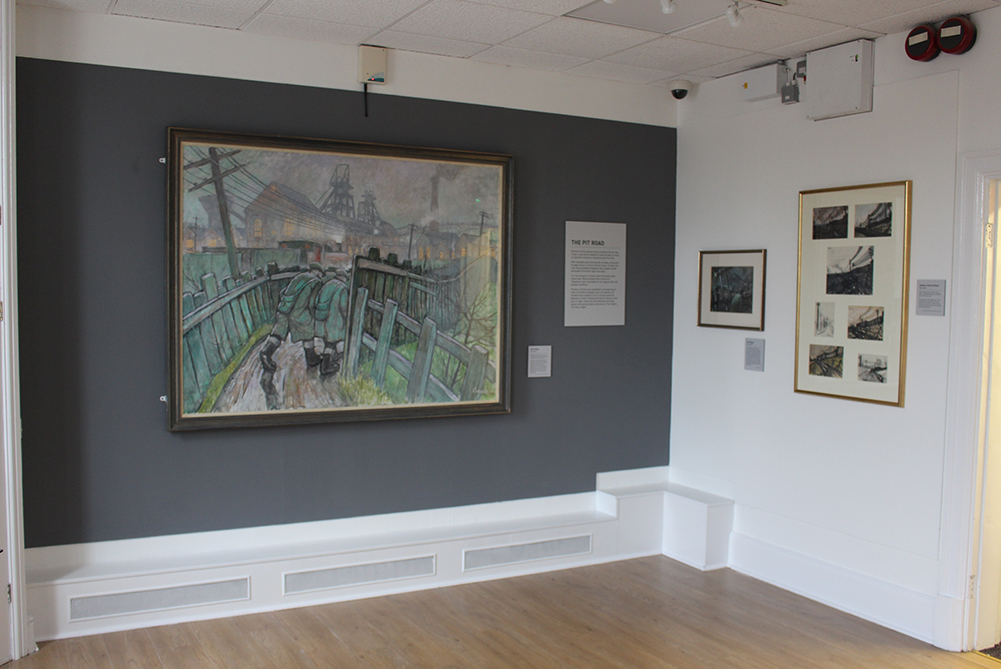 Norman Cornish: Coming Home
From Monday May 17th
This new exhibition of works by Norman Cornish includes an eclectic mix of paintings and drawings from the Norman Cornish Estate and two outstanding oil paintings owned by Spennymoor Town Council.
Three sets of composites depict moments from life at 33 Bishops Close Street during the 1950s and 60s when Sarah Cornish, John and Ann were often asked to 'hold it there' or 'don't move,' to enable Norman to draw a specific pose as they went about their daily lives.
There is also the opportunity to view the artist's studio which is on long- term loan from Beamish Museum, where the family home from Bishops Close Street is being re-created as part of the re-making Beamish 1950s town project.
The Bob Abley Gallery also includes works by other eminent regional artists with themes depicting the social history of the North East.
The Bob Abley Gallery will also be hosting a new exhibition of work by the internationally renowned contemporary artists Chris and Steve Rocks depicting their journey from beginnings in their hometown of Spennymoor.
If you would like to join the team of hard-working and committed volunteers who support the exhibitions at the gallery then please contact Colin Ranson, Facilities Manager: 01388 815276
Galley Opening Times
Monday to Friday 9am to 5pm
Saturday/Sunday 9am to 4pm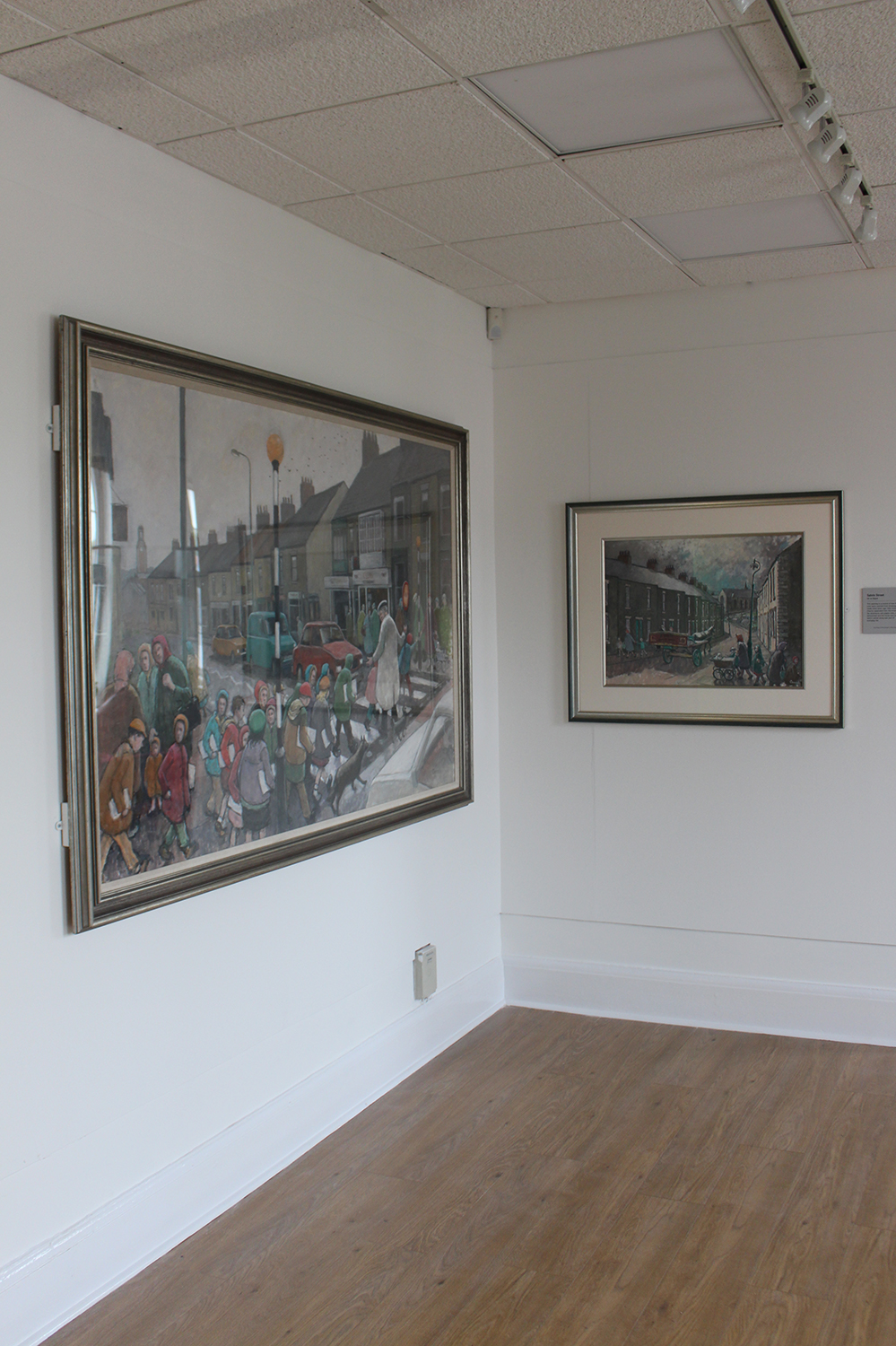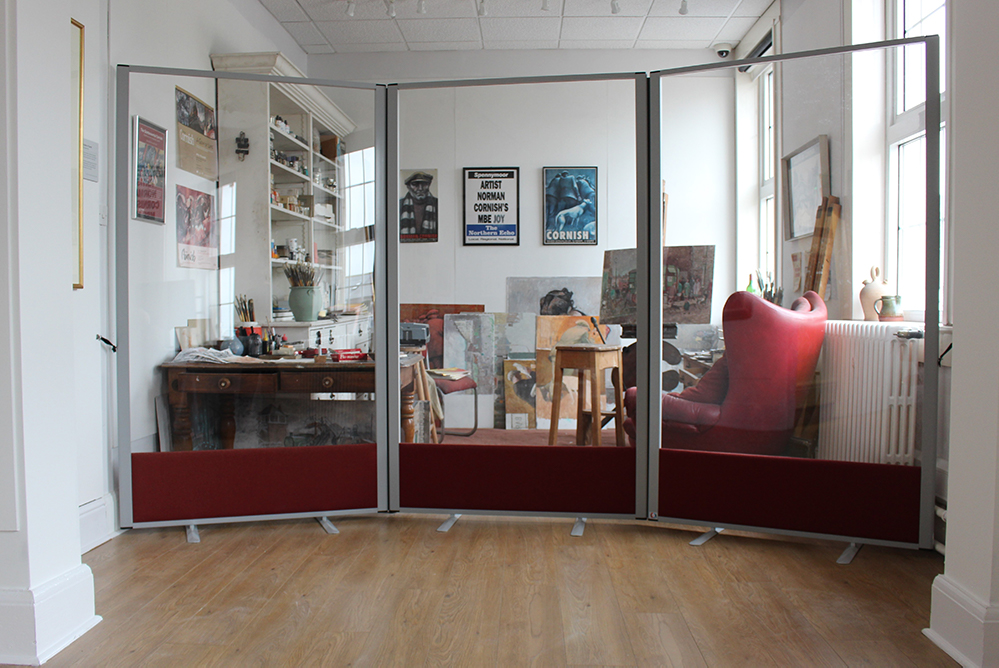 John Peace: An update and exhibition plans.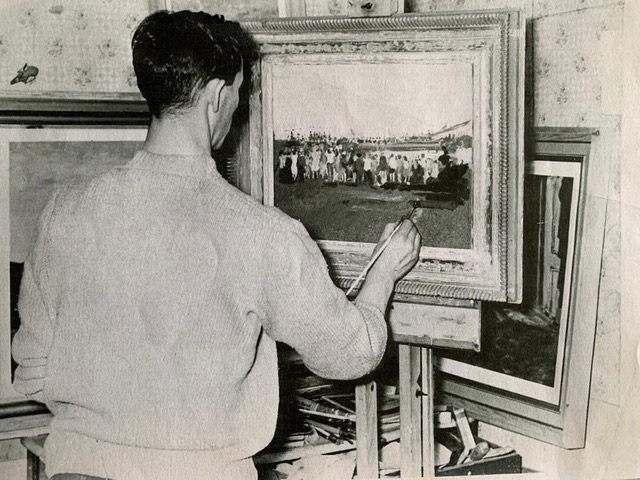 Last year we were delighted to feature an article on behalf of the family of John Peace who have been working very hard to establish the Back Catalogue of his extensive range of work held in many public and private collections in the UK. Cornish and Peace were contemporaries who exhibited together during the 60s and 70s at The Stone Gallery in Newcastle, along with many other leading British artists.
John was from Lemington and taught at Sunderland Art College at the same time as Cornish who worked there from 1967 for a few years after leaving mining. John Peace's work records the NE from a different perspective and may be viewed at www.johnpeacepaintings.co.uk
In the past 12 months John Peace's family has managed to locate 150 of his paintings but they are still trying to find another 432. A very difficult task with success arriving in peaks and troughs and at the most unexpected of times. One painting in particular that they would love to find is called 'The Ninth of June 1962.' It is unusual for John in that it is of a crowd scene on Scotswood Bridge celebrating the 100th anniversary of The Blaydon Races which inspired the famous regional anthem!
The 160th anniversary of The Blaydon Races will be celebrated in 2022 and John's family is keen to locate this oil painting for obvious reasons. The only image is the one featured showing John Peace in his studio in Lesbury Street, Lemington. The picture was originally sold to William Johnston OBE following an exhibition later that year. Three other examples of John's work are also included.
'Lynemouth,' 'Spring – The Coquet Near Holystone'
'Tynemouth –' A Summer's Day'
John Peace's family has been working with Tyne Wear Archives and Museums to mount an exhibition at the Museum and Art Gallery in South Shields from November 13th 2021 to May 7th 2022 and titled 'Tyne and Tide, John Peace-Selected North East paintings.'
If you own one of John's paintings his family would interested to hear from you via the John Peace website where you can view the growing collection of works recently discovered and follow the progress of the search !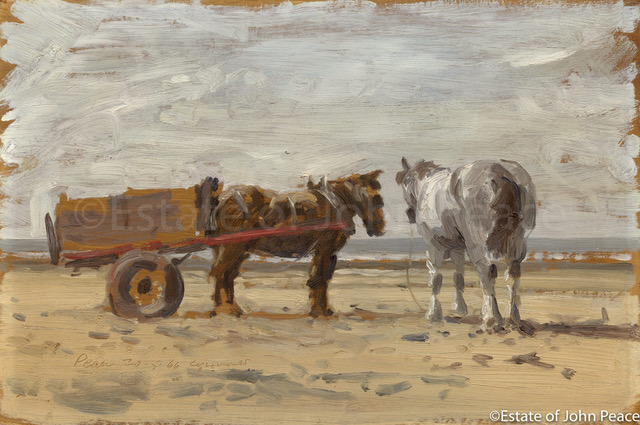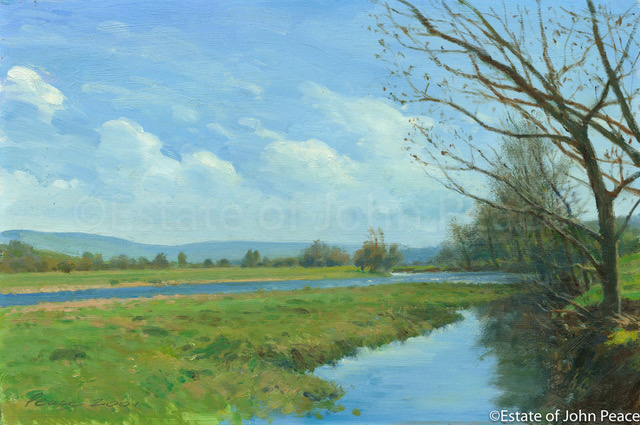 Cornish Centenary
Throughout the centenary year, an interesting range of themed exhibitions is planned in order to commemorate Norman's life and to celebrate his work.
If you would like to find out more click below:
Stay tuned via social media:
---