Latest News
The Gossips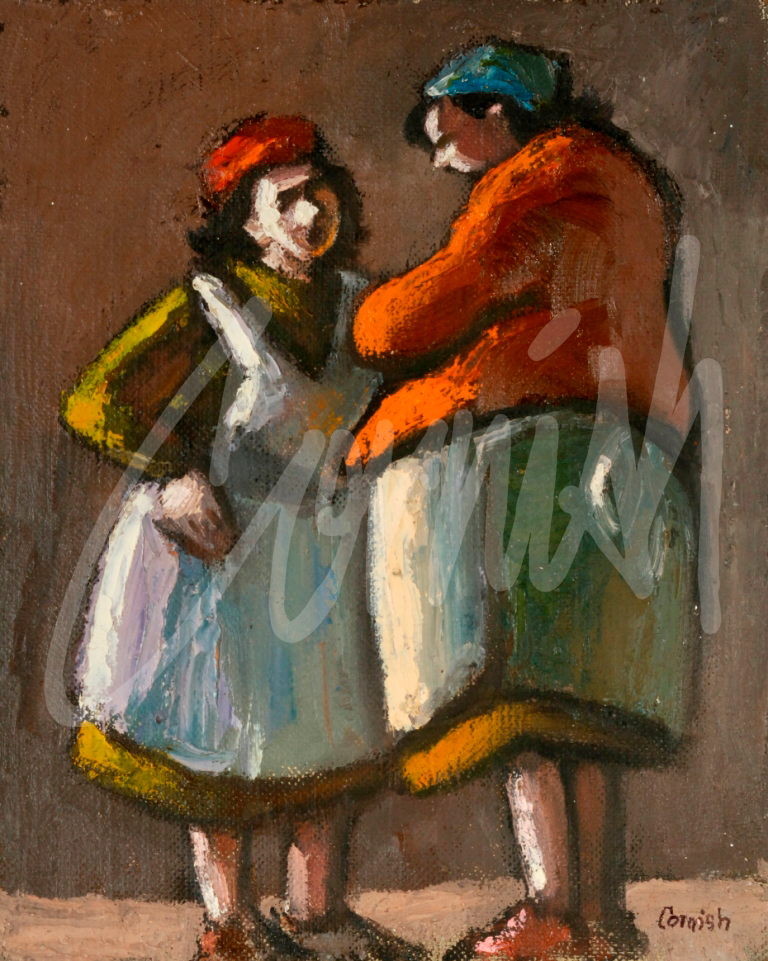 The inscription on the Blue Plaque at Cornish's former home in Spennymoor reads:
"The images are created by the people. I am just the medium."
Whenever Cornish was out for a walk he always had his sketchbook and Flo-master pen in a specially crafted 'poachers pocket' that his wife Sarah had sewn into his coat. This meant that whenever something of interest captured his imagination he was quickly able to access materials to record a particular moment in time.
Rembrandt's influence on Cornish's development is well documented and consequently his attention to the humble and mundane activities of everyday life appears in so many of his street and bar scenes, as well as observations of people.
Imagine a life without social media. Many years ago very few people, if any, possessed telephones, and news was obtained via the wireless, and for some, via television. The menfolk would be able to talk at work, or in the pubs, clubs and allotments. Women would gather on street corners, near shops, school gates and wherever else they could congregate, to talk and catch up with the gossip!
Cornish possessed a deep understanding of human behaviour and social interaction. He recorded local people going about their daily tasks, living real lives. Sometimes the drawings would become paintings and on other occasions included in the many street scenes synonymous with his work. Throughout his career he was conscious of his contribution to a sociological and historical record of people and places, in his 'slice of life.'
Further examples of his observations of people may be found in Behind The Scenes: The Norman Cornish Sketchbooks available on line from our online shop.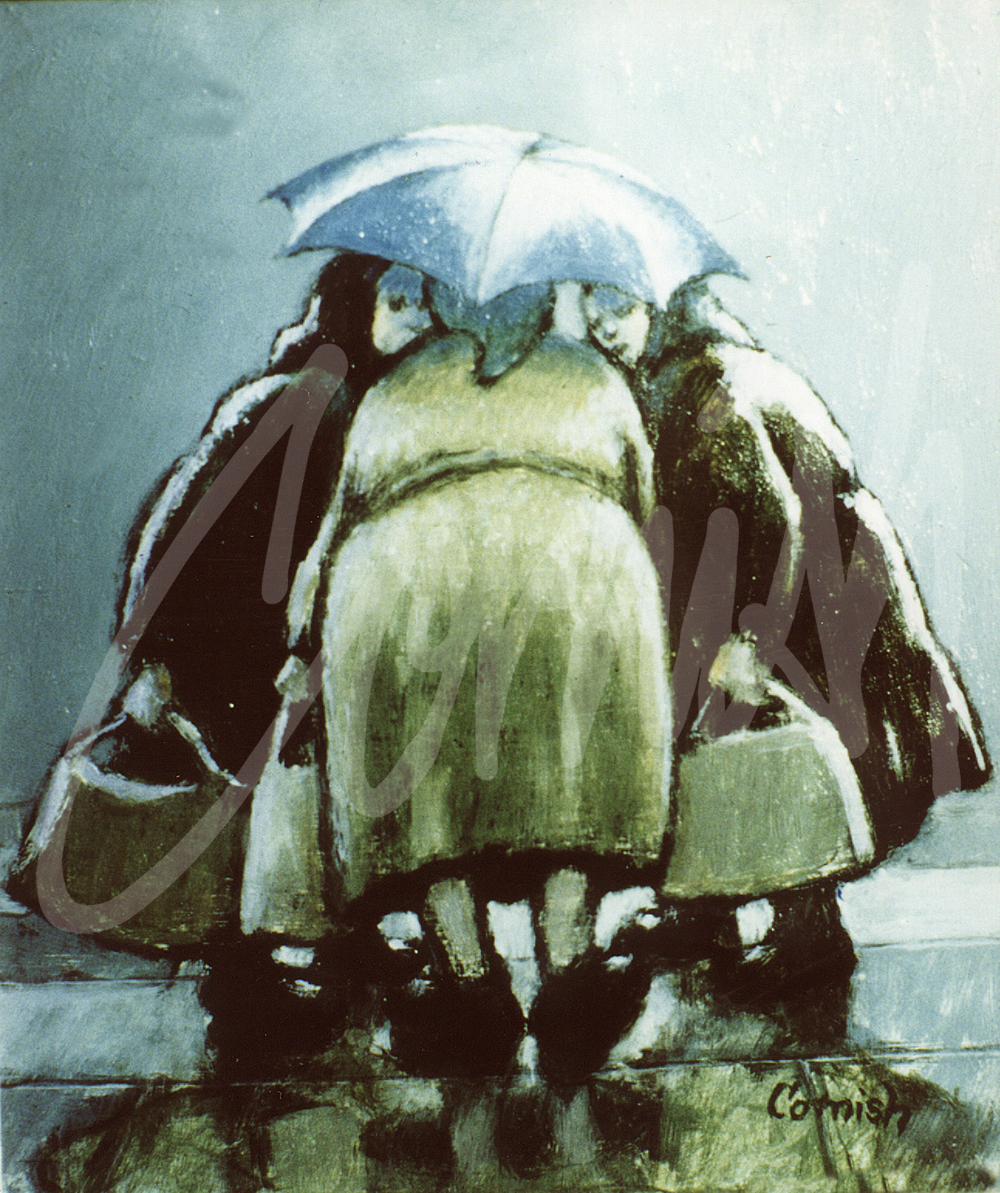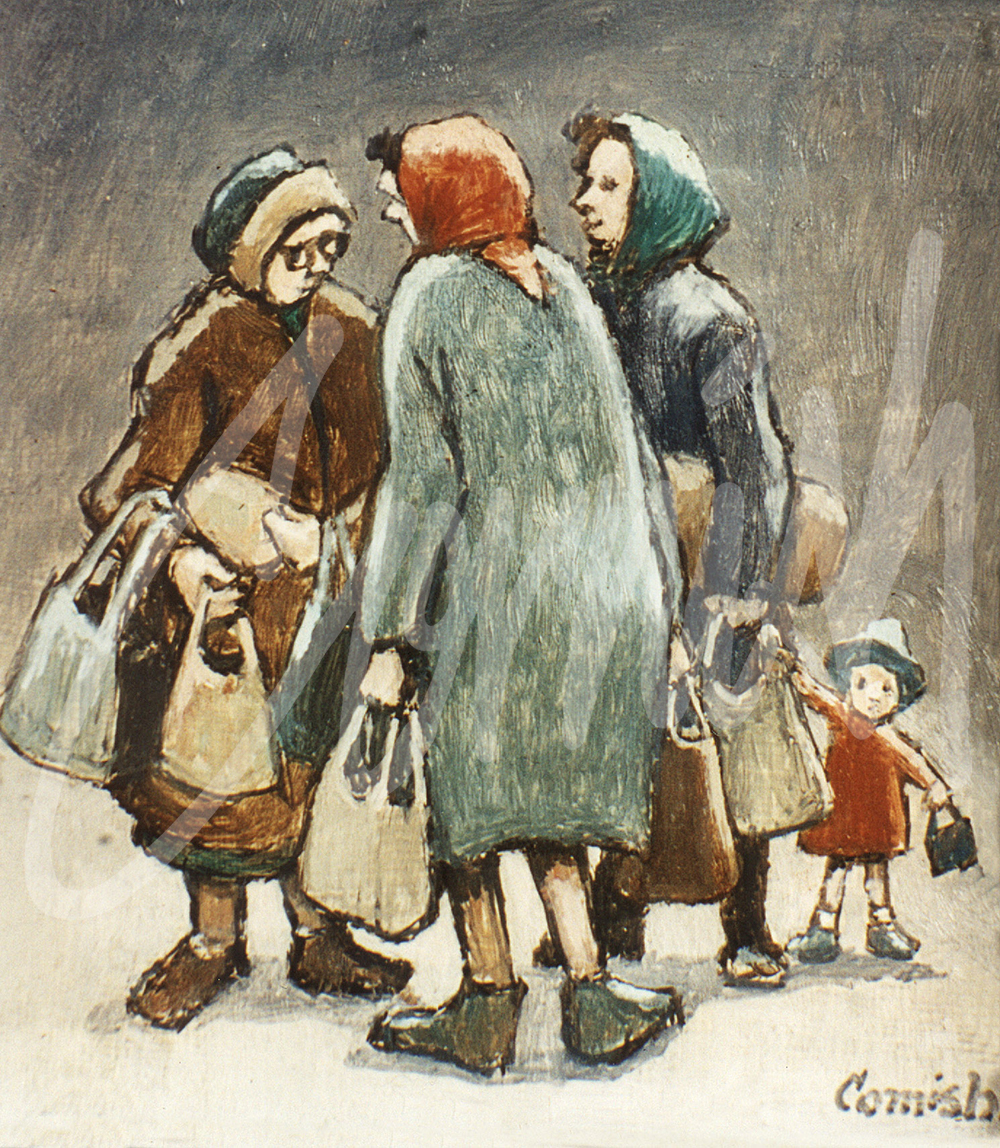 The Stone Gallery Years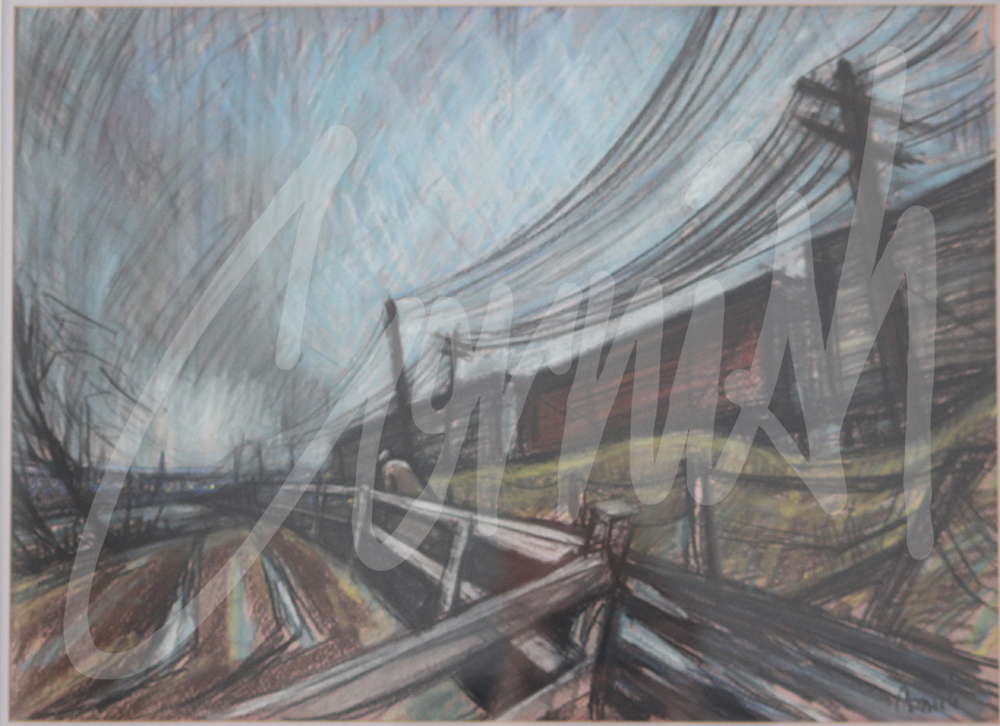 Cornish always said how important it was to be associated with a reputable gallery to promote an artist's work and in 1959 he began a relationship with The Stone Gallery, Brunswick Place, Newcastle upon Tyne which was to last for 21 years.
Prior to this significant step his early work had been shown in the Spennymoor Settlement Sketching Club annual exhibitions from 1935. His first oil painting, which was a portrait of his sister Ella, appeared at The Laing Art Gallery in 1940 and thereafter he exhibited regularly in the northern region including Tullie House in Carlisle, The Shipley Gallery in Gateshead and in London on three occasions in 1950,1952 and 1956. Such was the culture of the era that exhibitions in public galleries was the dominant means of exposure to the public.
The owners of the Stone Gallery, Mick and Tilly Marshall, were to play a significant role in not only enabling solo exhibitions, but also acting as his agents to manage enquiries and promote his work going forward. Their gallery re-located to St Mary's Place in Newcastle (near the Civic Centre) in 1962 to begin to build a reputation as the leading private gallery in the region and beyond. Aspiring artists acquire status by exhibiting (hanging) alongside those with established reputations and the following examples of mixed exhibitions at the Stone Gallery illustrate this point with details from the archive catalogues revealing who Cornish was hanging alongside.
1959/60: including John Piper, Joseph Herman, Tom McGuinness, John Peace.
1966: Painters of the North including Sheila Fell, LS Lowry, Theodore Major.
1966/67: including Jacob Epstein, Sir William McTaggart, LS Lowry, John Piper, Augustus John, WR Sickert.JM Whistler, George Roualt, Maurice de Vlaminck.
1967: including G. Romney, J. Constable, William Etty, W.Holman Hunt, D.G. Rossetti, Sir E. Burne Jones, Sheila Fell, LS Lowry, Sir William McTaggart, Ben Nicholson.
The solo exhibitions were also very successful and the mixed exhibitions attracted many visitors in the days prior to exposure on TV and before the internet. Without a telephone, contact from his agent was by post and a recurring theme from the many letters in the archive was the pressure he was under to take the big step from being a miner to becoming a professional artist which eventually happened in 1966.The Marshall's also acted as agents for Lowry who was to purchase two of Cornish's paintings. Another prominent collector was Prime Minister Ted Heath who also purchased two works by Cornish, one of which was a classic Man at Bar. During one visit to the Stone Gallery by Ted Heath, Cornish declined a group photo opportunity by Brian Forbes (film producer) which would have included Sheila Fell and LS Lowry. Cornish was delighted his work would hang in number 10, but equally nervous to appear in a newspaper alongside the PM!
Exhibition catalogues from this era summarised the works for sale and a list of contributors in mixed exhibitions. Cornish only began to photograph his own works from the late 60s and many produced earlier in his career have started to emerge in auctions and private collections. At the end of public lectures, many owners have kindly offered to allow the provenance and images to be recorded retrospectively. A longer term project via Northumbria University is to establish a definitive back catalogue which will be quite challenging from an artist who was both long lived and prolific. Four previously unseen examples from the Stone Gallery are included.
The relationship with the Stone Gallery continued until 1980 and the gallery closed in 1981.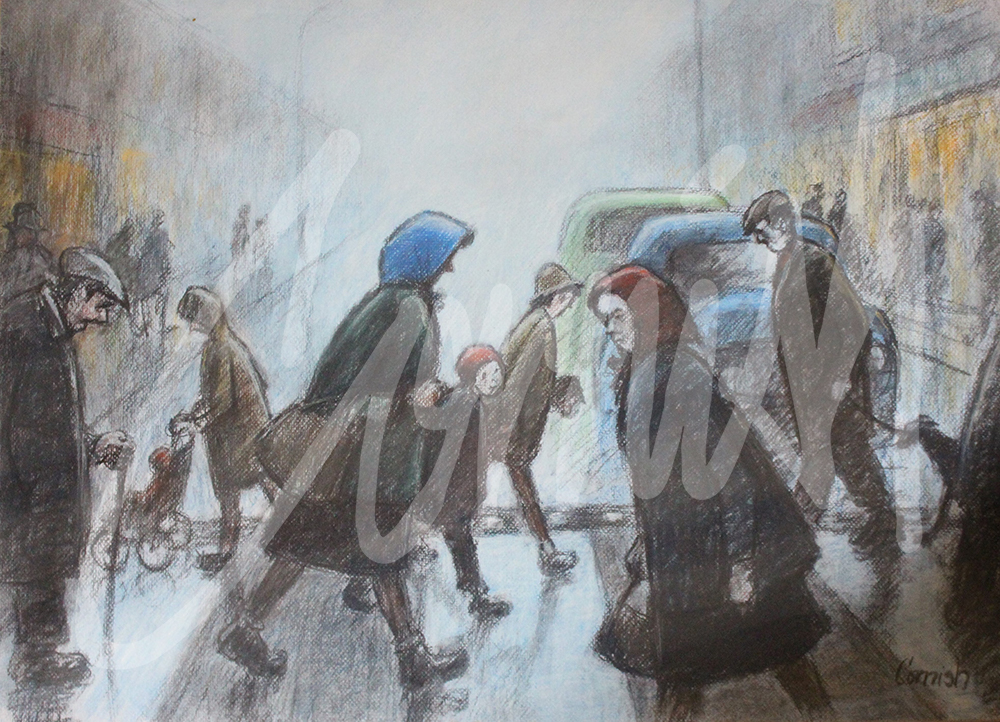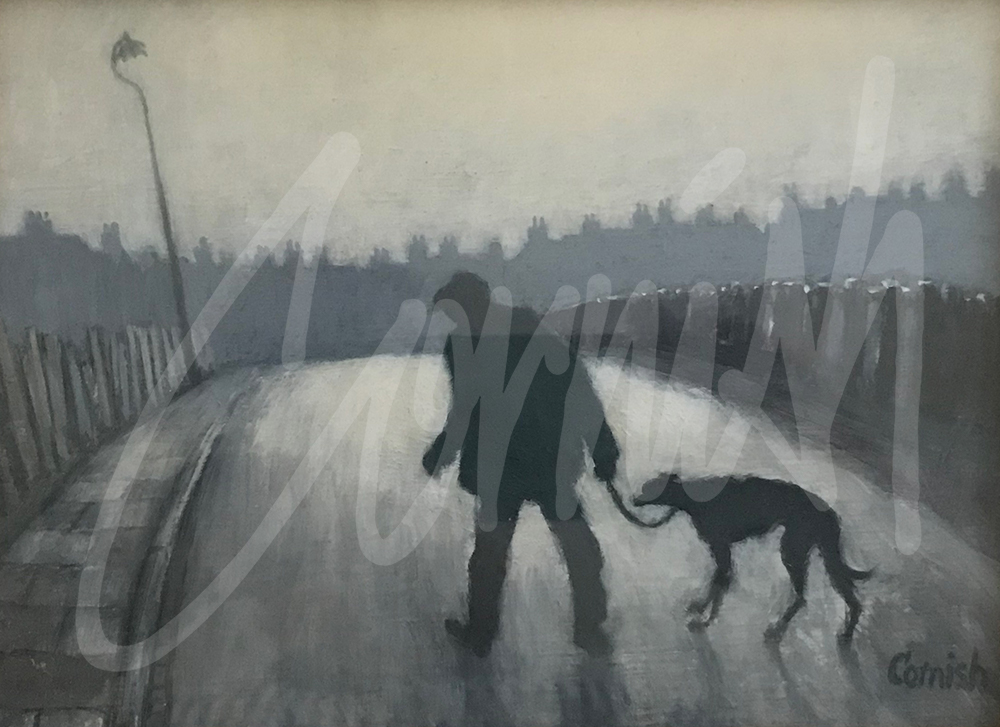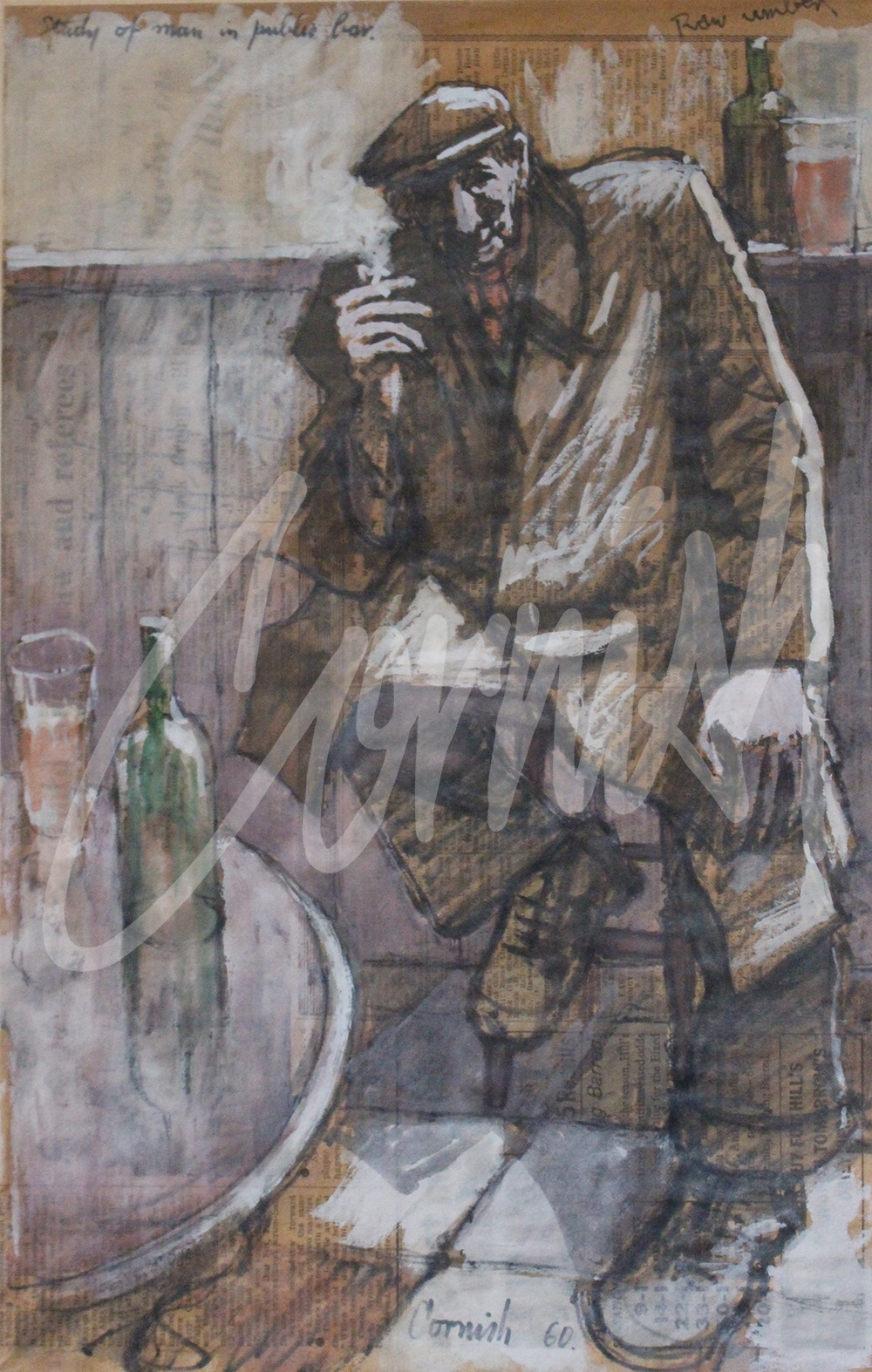 The Creative Process: Starting from a Blank Canvas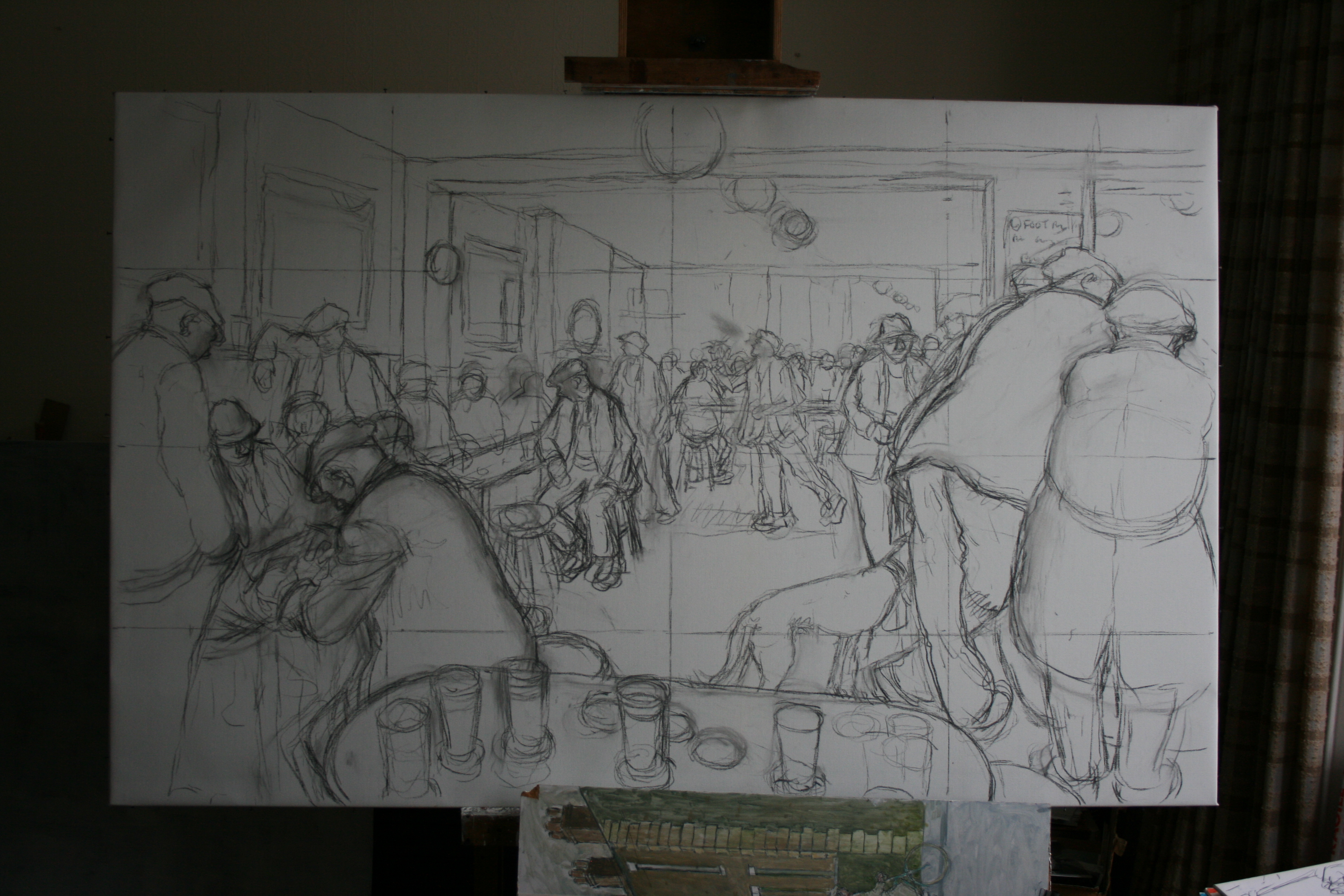 Norman and Sarah Cornish moved to 67 Whitworth Terrace in 1967 and one of the main attractions was that the former Methodist Minister's Manse provided 2 large rooms downstairs, a large kitchen and dining space, 4 bedrooms and a former office upstairs above the kitchen which became his studio. The studio was moved to Beamish Museum and then to the Coming Home exhibition at Spennymoor Town Hall in 2017 where it was installed behind glass. It is an accurate re-creation of the original studio. One bedroom was used to store mouldings and some completed works, and the downstairs front room also served as an additional space to work. Here was the location of his Morso frame cutter, a plan chest for large sheets of paper and sketch books in piles all over the place!
This second studio space was useful to accommodate larger works when space was fully utilised in the main studio, where different paintings were at different stages of development. Cornish stretched his own canvas onto frames and fixed the material using traditional methods with small black, flat headed tacks. The canvas was then covered in white primer, and his 'theatre of operations' would be ready.
One day in April 2004 a family member asked if an evolving bar scene could be photographed at different stages from beginning to end. Here follows the selected images in 2004 from April 26th until May 5th as the painting was created and developed on the canvas.
April 26th : In the beginning a blank canvas with grid lines added by chalk or charcoal to 'square up' the extracts of drawings from his sketchbooks such as; the domino players, men at the bar with dog, the beer glasses on a table carefully arranged with beer mats and towards the rear of the painting the darts players.
April 29th: Some final adjustments to make the composition work and an impromptu lecture for the photographer.
May 2nd : A study in concentration as outline shapes are strengthened.
May 3rd: Detail is added to the figures including light and shade, creases in trousers and the spacing of the ceiling lights is adjusted.
May 6th: The first layer of colour to achieve balance and harmony.
May 1th: The final version with details added and awaiting his signature but rarely with a date.
Some paintings took many weeks or months to complete and Cornish's painting of the Tyne Bridge from Bottlebank took several years before he was satisfied with the perspective. Cornish worked for many hours each day in natural light but always stopped for a lunch-break. After lunch he would complete the Northern Echo crossword.
Other examples of original drawings alongside the completed works can also be seen in numerous examples throughout, Behind The Scenes: The Norman Cornish Sketchbooks available to purchase from our online shop.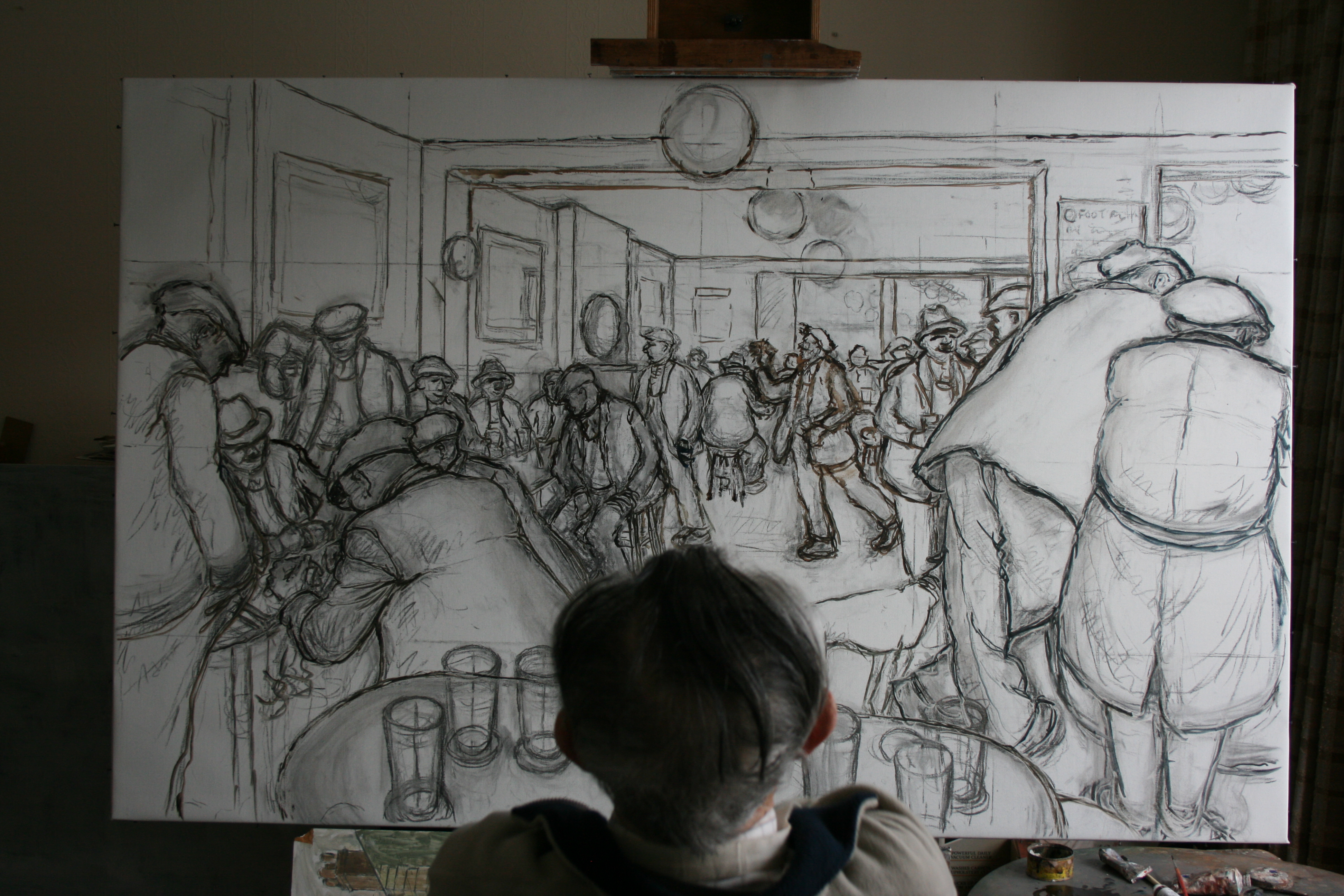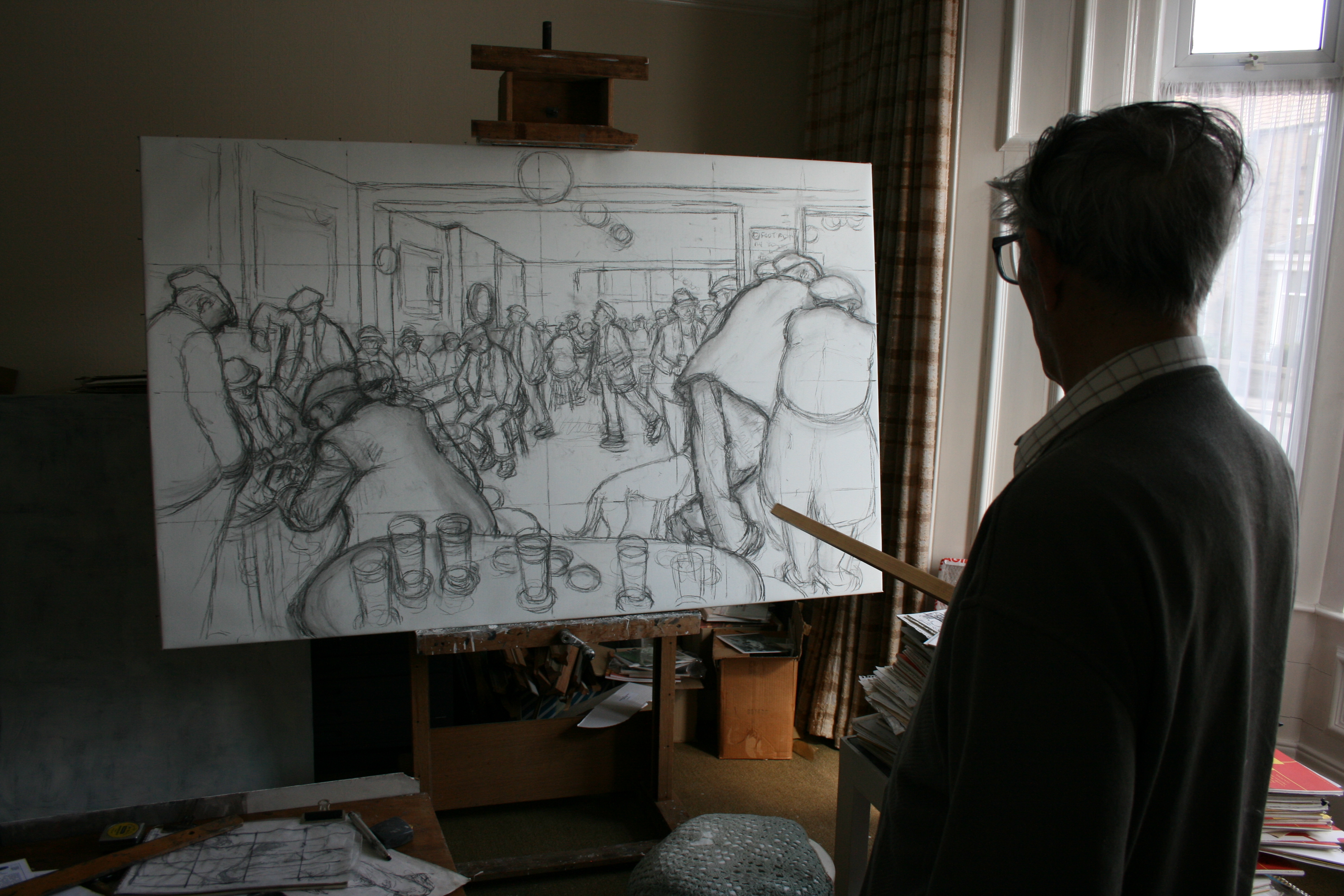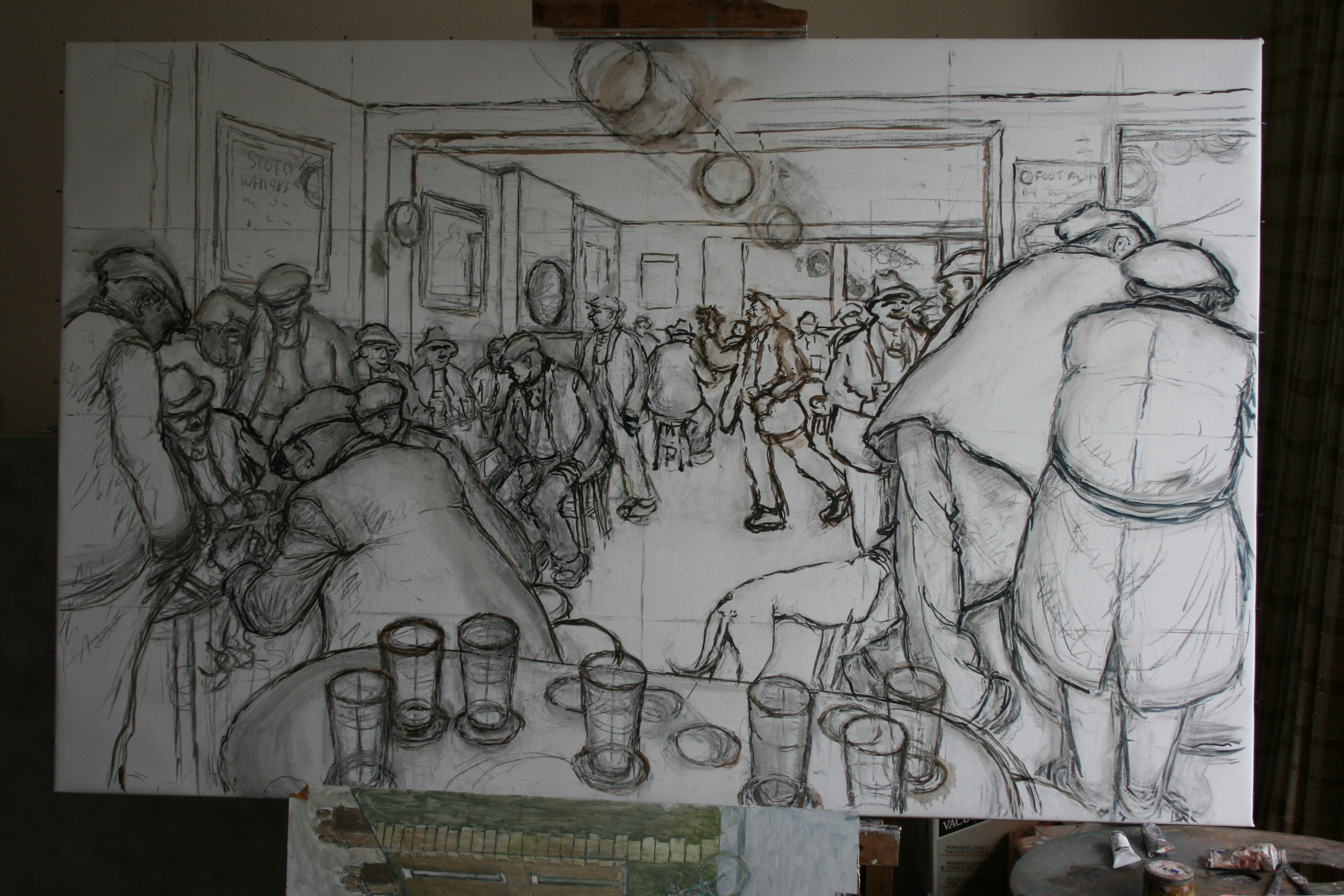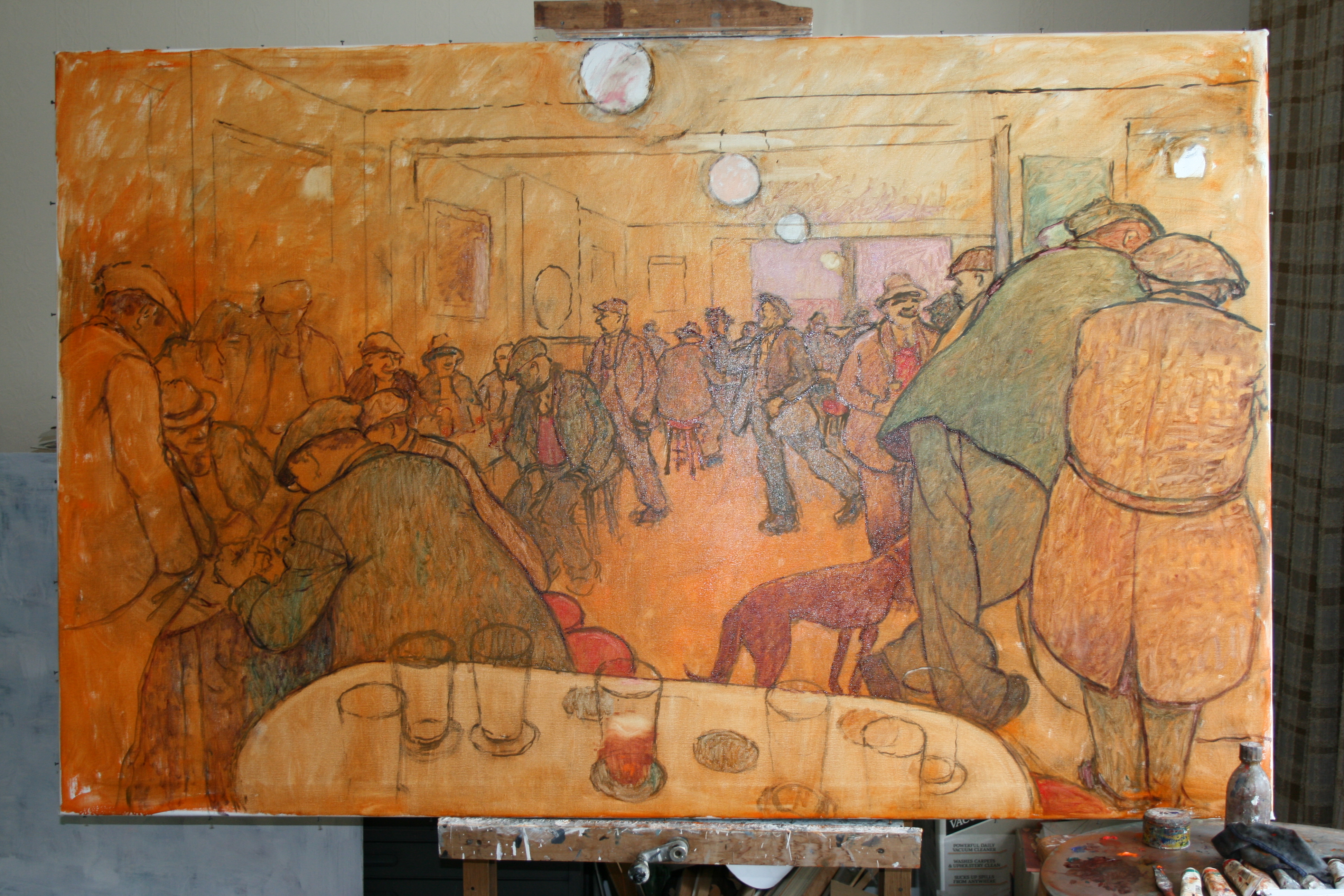 The Creative Process: Part 2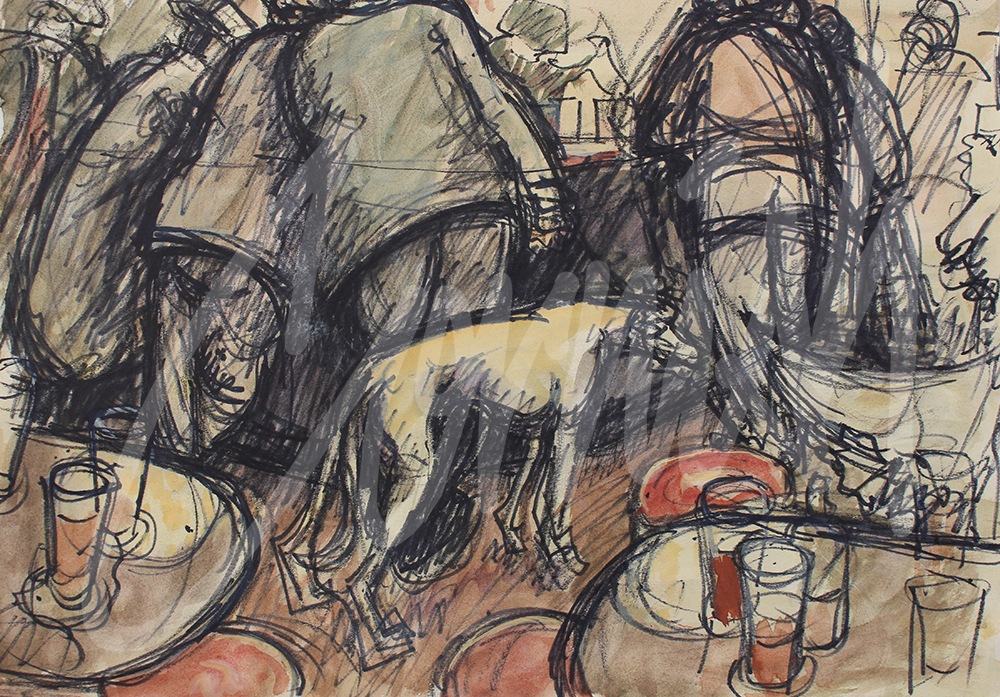 The creative process for Cornish was a highly sophisticated exercise in draughtsmanship. He would consider the relationship between the body shapes, creases in the trousers, position of characters at the bar and the introduction of additional characters such as a barmaid to complete a composition. Even the location of the pint glasses and quantity of beer in each glass is adjusted to 'fine tune' the finished lay-out.
Each picture in development is a step towards an evolving and carefully designed and precisely constructed composition.
With each version his thinking can be observed with subtle changes such as the link between a newspaper and the shape of the man at the bar, the juxtaposition of the tables at the front of the picture, the position and angle of the dog's head and finally the introduction of the man arching his back with hands in pockets. During the process a grid was also superimposed onto the picture to enable scaling up to a much larger canvas.
Cornish often re-visited subjects of interest which he re-worked to create the perfect balance in the picture. He worked on themes repeatedly and almost obsessively, wrestling in his mind to find a faultless composition.
Next week… starting from a blank canvas.
Behind The Scenes: The Norman Cornish Sketchbooks, contains many more examples of the creative process from initial sketches to completed paintings along with a selection of quotations by Norman Cornish. Available from our online store.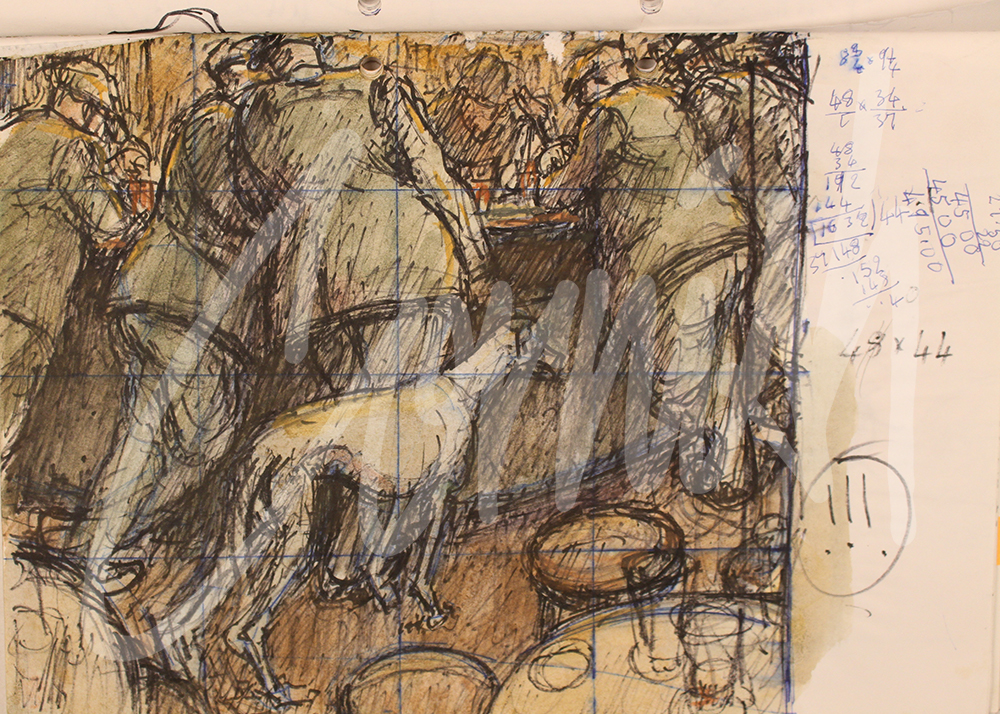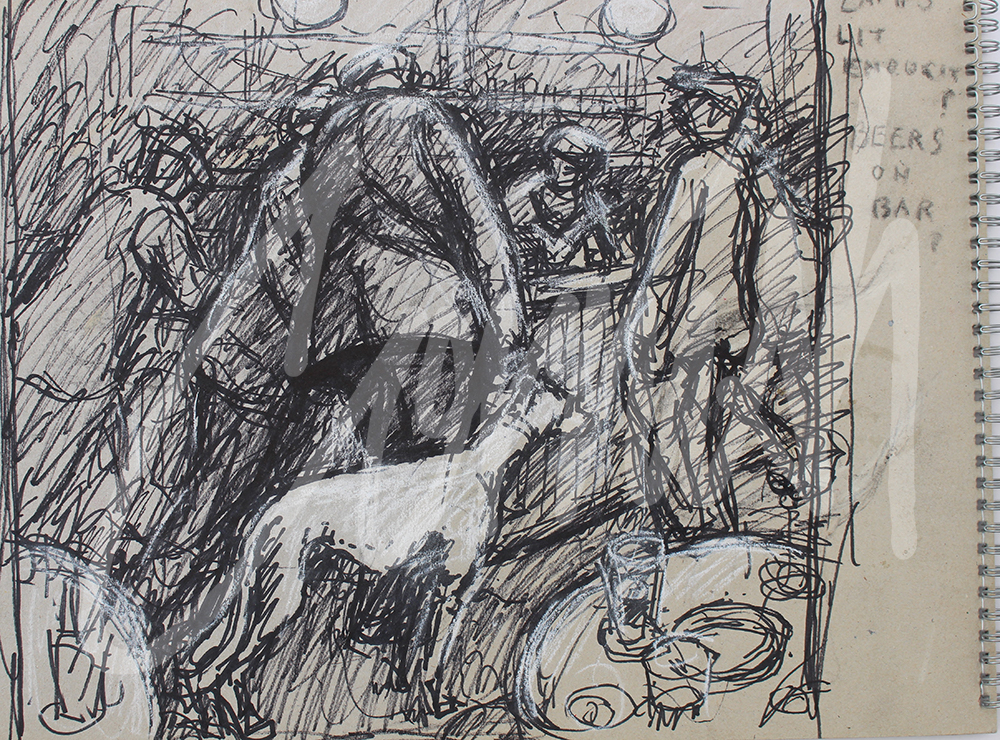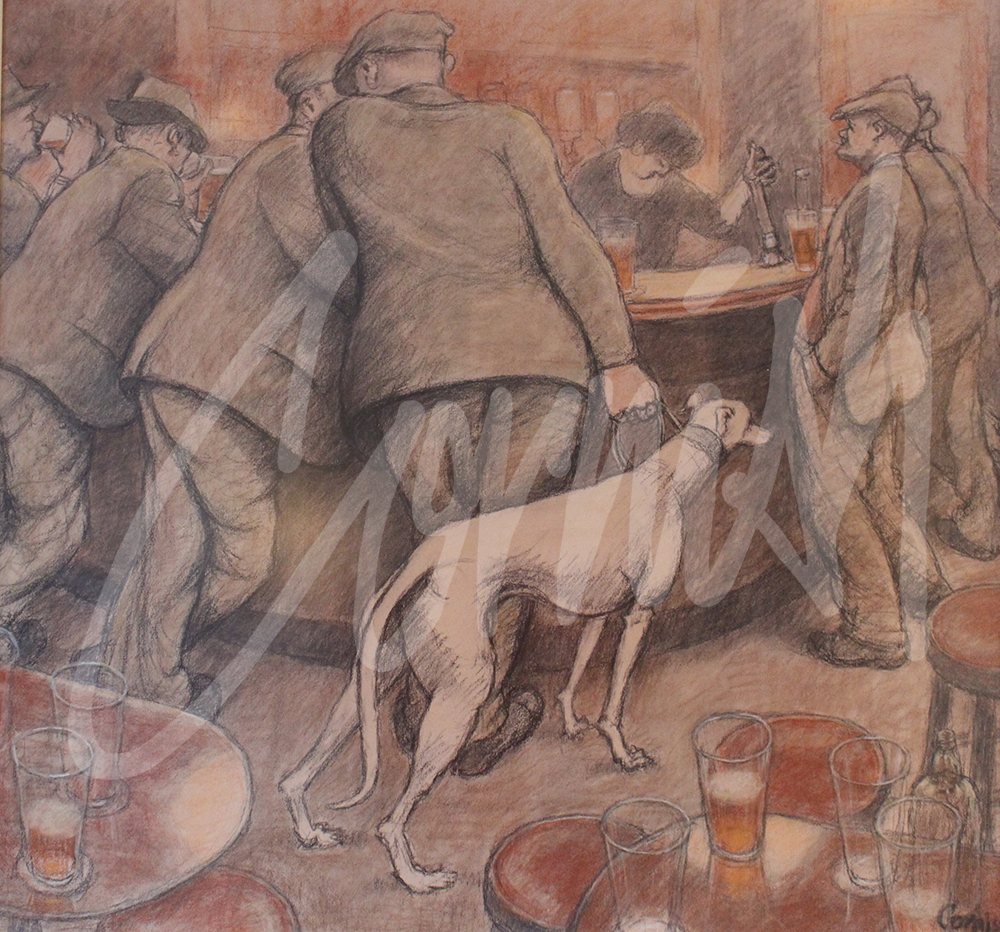 The Creative Process: Part 1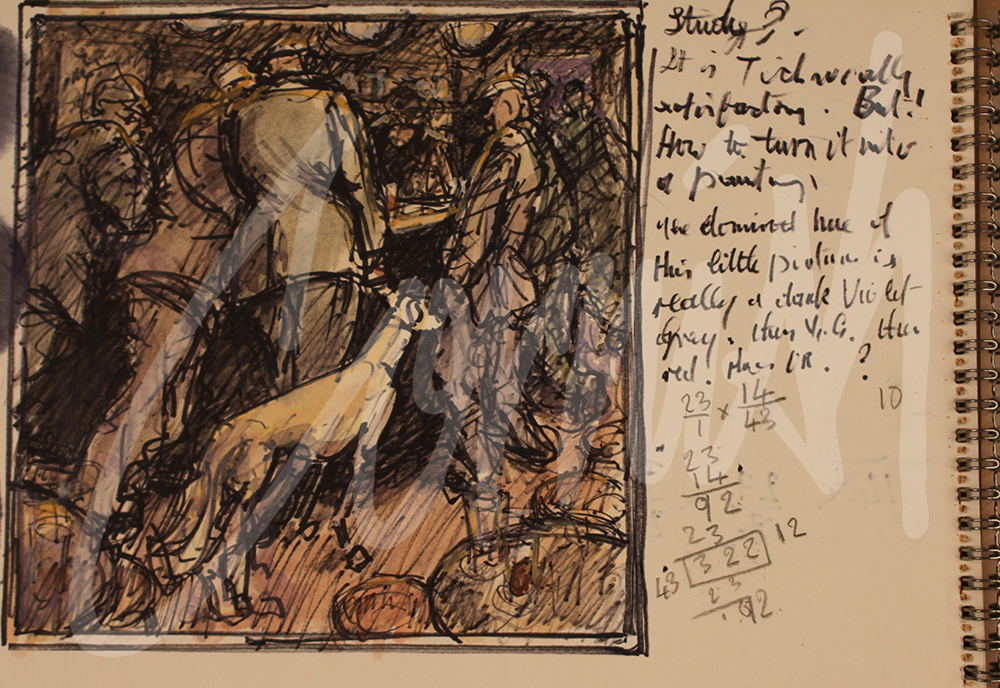 One of the popular questions at the end of public lectures about Cornish's life and work has always been about the process undertaken by Cornish to create his paintings and in particular his larger works on canvas.
A popular misconception is that a completed picture is produced as a single exercise from beginning to end. But the creative process is actually a very engrossing and taxing mental exercise for the artist demanding maximum concentration, and can often take days, weeks or even years to complete as the artist revisits the work several times.
The pictures accompanying this feature provide a wonderful example of the evolving steps to achieve satisfaction with the outcome. Knowing when to stop was also important and family members would often be asked "what do you think?"
Much thought would go into the underlying geometry of the images and the layout, which Cornish considered to be an abstract art form in itself, giving rhythm and structure to the picture.
Characters are imported from his sketchbooks to achieve balance in the composition and appear to interact naturally in the scene. His initial thoughts are sometimes added in note form and colour notes along with experimentation to achieve colour and tonal balance.
The maths calculations appear frequently in his sketchbooks and are used to work out proportions along with the sizes of mounts and frames. Double click to enlarge images.
Behind The Scenes: The Norman Cornish Sketchbooks, contains many more examples of the creative process from initial sketches to completed paintings along with a selection of quotations by Norman Cornish. Available from our online store.
To be continued…… part 2 next week and at the beginning of February- starting from a blank canvas.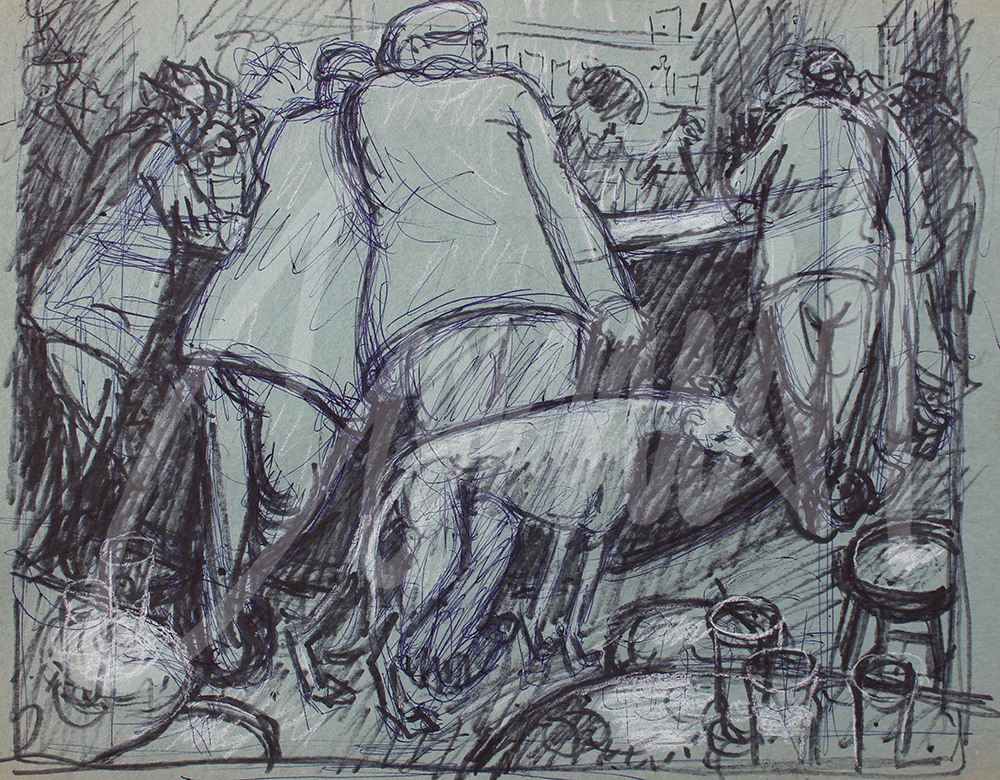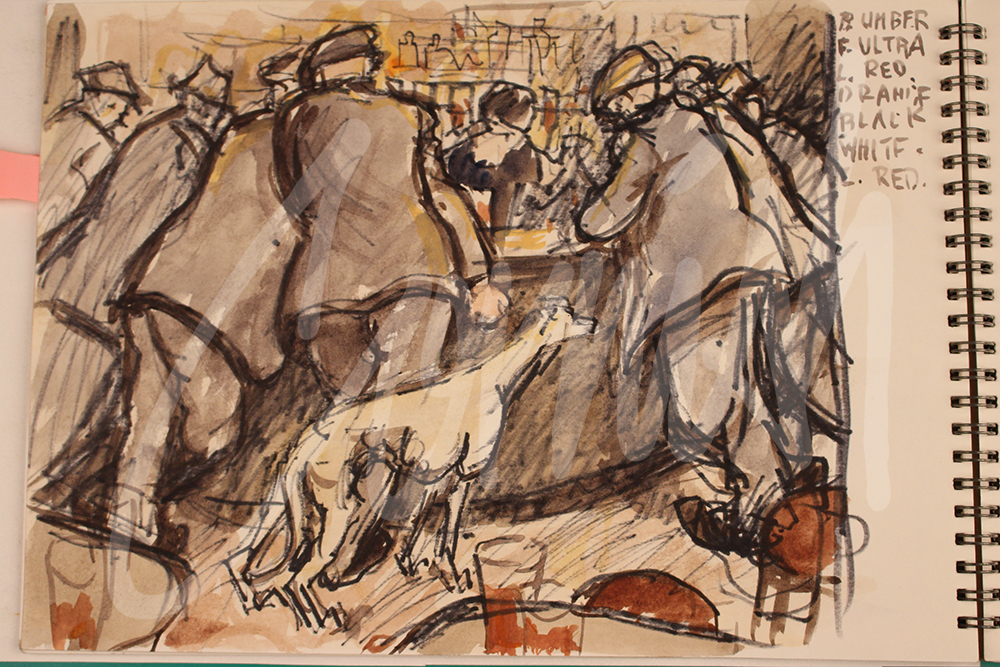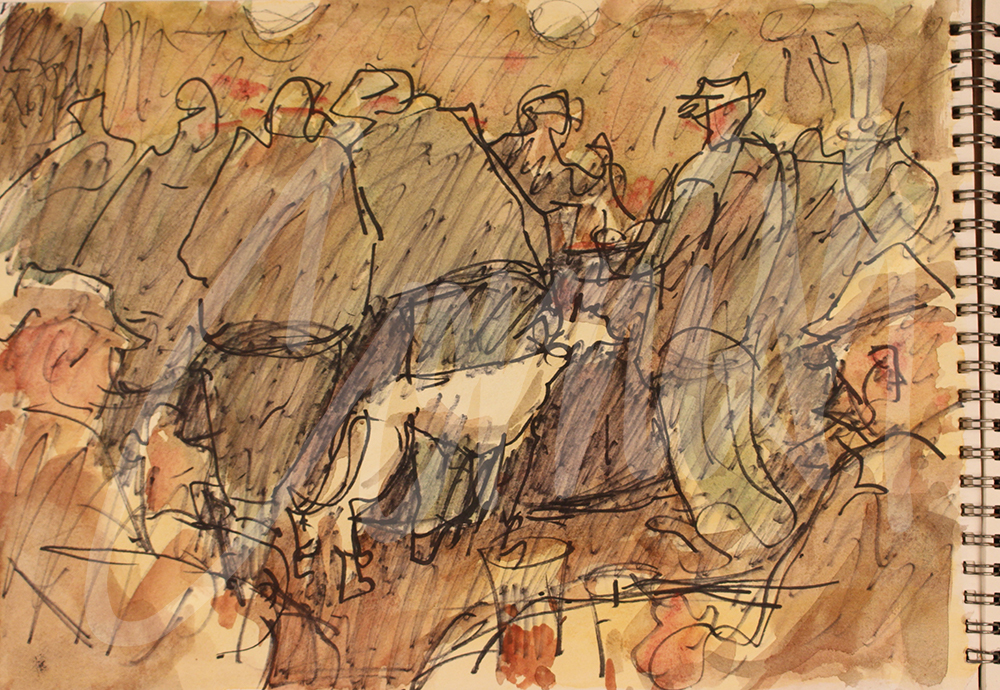 Cornish Centenary
Throughout the centenary year, an interesting range of themed exhibitions is planned in order to commemorate Norman's life and to celebrate his work.
If you would like to find out more click below:
Stay tuned via social media:
---