Latest News
The Sailors' Bethel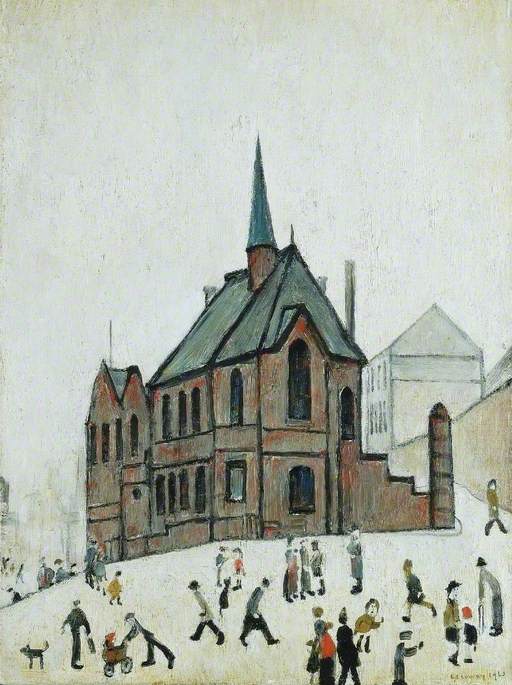 The Sailors' Bethel opened in 1877 and can be seen at the Newcastle quayside. Bethel is Hebrew for 'House of God' and in the 130 years of its existence this building has served as a nonconformist chapel, a community centre, A Danish seamen's church and more recently as offices.
In the late 19th century regular trade between Newcastle and Danish ports resulted in cargoes of butter, eggs, and fresh meat arriving at the mouth of the Ouseburn, and the Sailors' Bethel was the ideal place for the Danish seamen to stay overnight whilst their cargo was unloaded.
During the 1960s the chapel became a subject of interest for both L.S. Lowry and Norman Cornish as contemporaries, exhibiting regularly at the Stone Gallery where Mick and Tilly Marsahll (owners of the gallery) acted as agents on behalf of both artists. Cornish used to visit the Stone Gallery at weekends and Lowry was a frequent visitor to the gallery although his accommodation was at the Seaburn Hotel near Sunderland. Both artists were active in and around Tyneside and the coast, deriving inspiration from people and places. Lowry painted his version of 'Old Chapel' in 1965 and the original is in the collection of the Laing Art Gallery. Lowry used his characteristic style, which he developed to suit the industrial and city subjects he generally painted, with a white background and limited palette of five colours: ivory black, vermillion, Prussian blue, yellow ochre and flake white.
Cornish first exhibited at the Laing Art Gallery in 1940 with his first portrait in oils, 'My Sister Ella'. His version of the Sailors' Bethel was only discovered in 2014 but was most likely produced during his journeys around Tyneside in the 60s.
Each version reflects the different styles and interpretation by both artists. With Cornish it is the rapid sketch capturing a moment in time using his Flo-master pen and watercolour added to the final version. With Lowry it was the attraction of the unusual architecture of the building. Similar subjects engaged both artists at different times in the Tyneside area, including All Saints church in Newcastle and the Groyne and Pier at South Shields.
According to Lowry, he generally invented the figures in his pictures. Cornish's sketchbooks contain dozens of observations of people in different settings who often appear at a later stage in his paintings. 30 of Cornish's drawings and paintings, inspired by locations in Newcastle and the pier at South Shields, feature significantly in Behind The Scenes: The Norman Cornish Sketchbooks which may be purchased at www.normancornish.com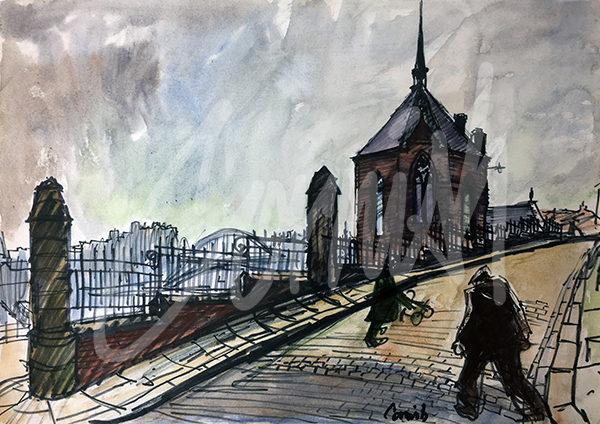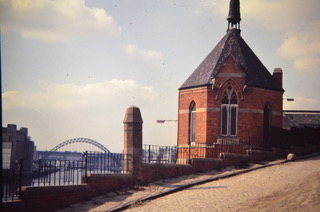 The Definitive Collection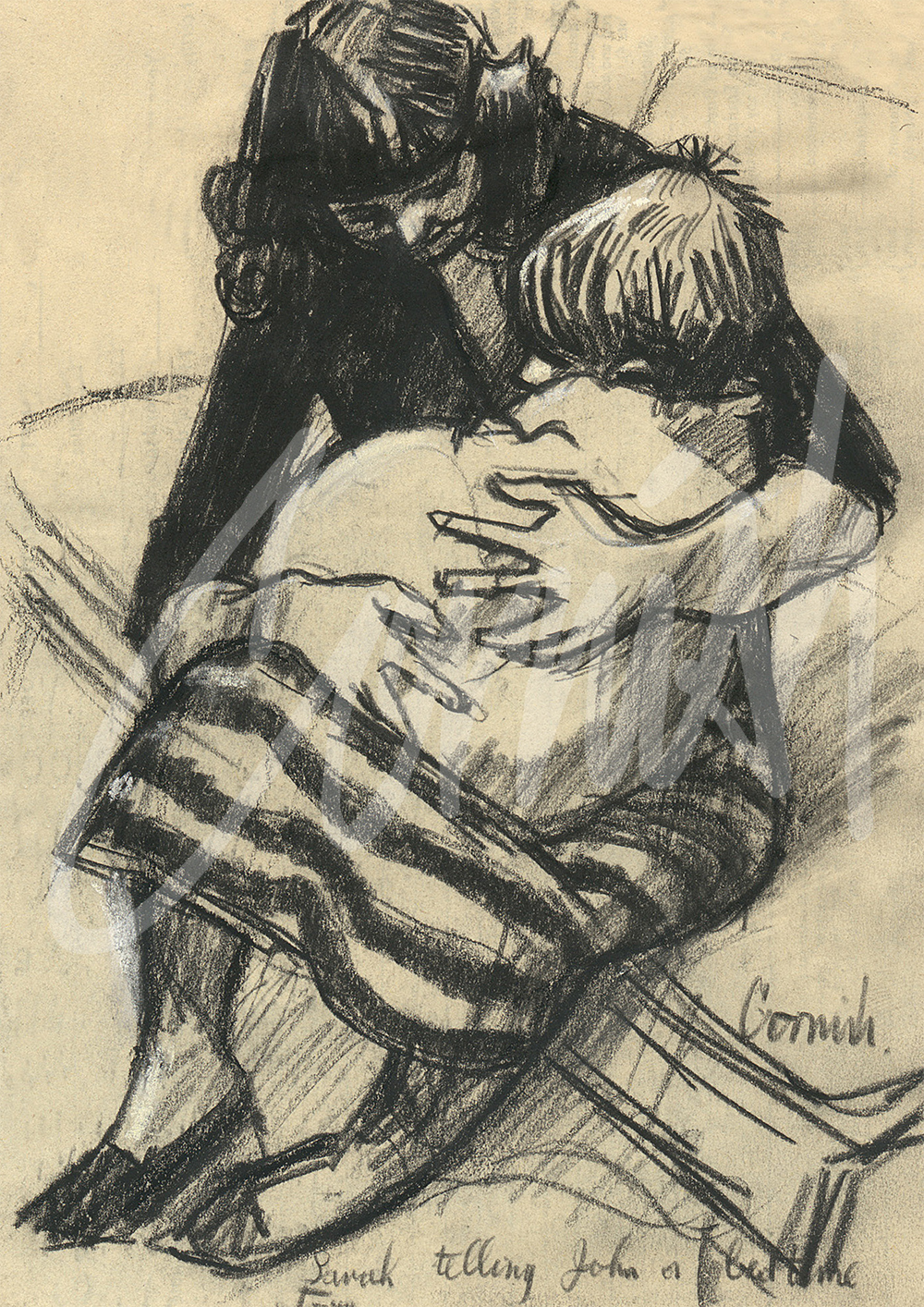 The culmination of the Norman Cornish Centenary Year was the opening of The Definitive Collection at The Bowes Museum on 16th November 2019. The exhibition opened to wide acclaim from the national press and media with a standout contribution from BBC Radio 4 Today, following a visit from their team during 'the hanging' of the exhibition. The broadcast (4 minutes), to over 7 million listeners, featured an interview with Professor Jean Brown of Northumbria University who regarded Cornish's work as being 'up there with Rembrandt, Degas and Lautrec'. To hear the broadcast follow the link: Norman Cornish: The Definitive Collection.
All visitor records at The Bowes Museum have been broken and currently the exhibition has been enjoyed by 51,000 people who have travelled from all points of the compass to enjoy the exhibits. A small selection of comments follows:
I came by train from London just to see this and it's been an amazing experience.
I came up from West Sussex just for this exhibition and it was well worth it.
The work of Norman Cornish helped me gain greater insight into the lives of my forbears.
I found it very moving, as well as informative.
Stunning originals-wow! Stunning art that really portrays his place and time.
None of us anticipated the events of the past 12 months with an extension to the exhibition requested until May 17th followed by a period of closure, and then a re-opening on August 1st until January 17th 2021. The interruption generated some creative responses on- line to maintain public interest, with a virtual tour accompanied by John and Dorothy Cornish plus a pre-recorded centenary lecture from Mike Thornton.
In addition, the staff at The Bowes Museum created an extensive outreach programme of community arts events and master classes. In total, 34 activities with 2,092 participants who enjoyed the workshops, gallery based activities and school visits. One example was the 'Our Street' project which encouraged people to capture an aspect of where they lived through their eyes, translated into drawings or photographs. A huge thankyou to those who delivered the sessions, and the participants who were inspired by Cornish's work, to 'get involved.'
Recently, Beverly Knight, of Darcus arts magazine, interviewed John Cornish in honour of the significance of the exhibition and the stature of The Bowes Museum. The full article is reproduced with kind permission of Darcus by following the link: Norman Cornish: The Definative Collection at The Bowes Museum.
A huge thankyou to all of those who have supported the exhibition and also to those behind the scenes who worked so hard to make it happen, and become one of the 'must visit' exhibitions of the past 12 months.
Breaking News: The Bowes Museum will be closed from November 4th until December 2nd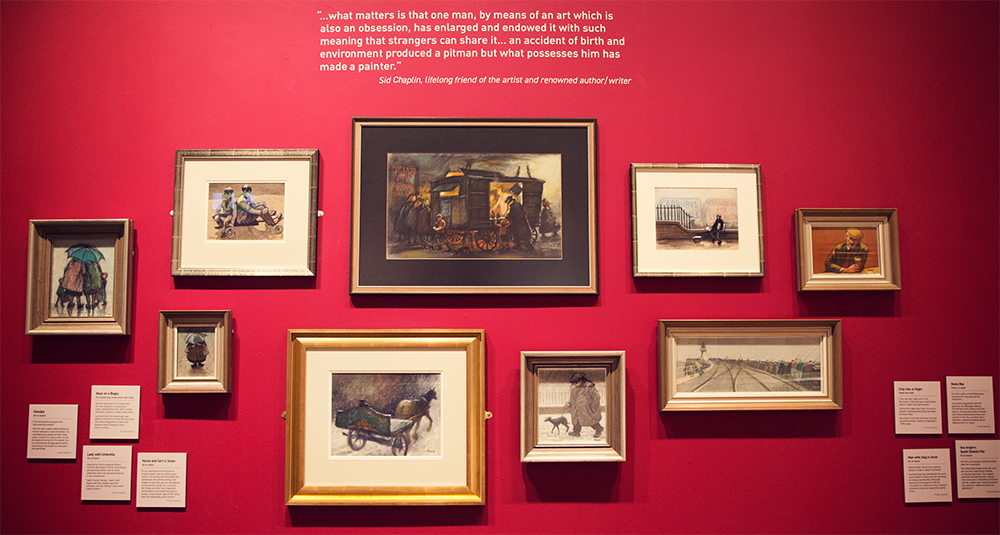 The Trimdon Level Crossing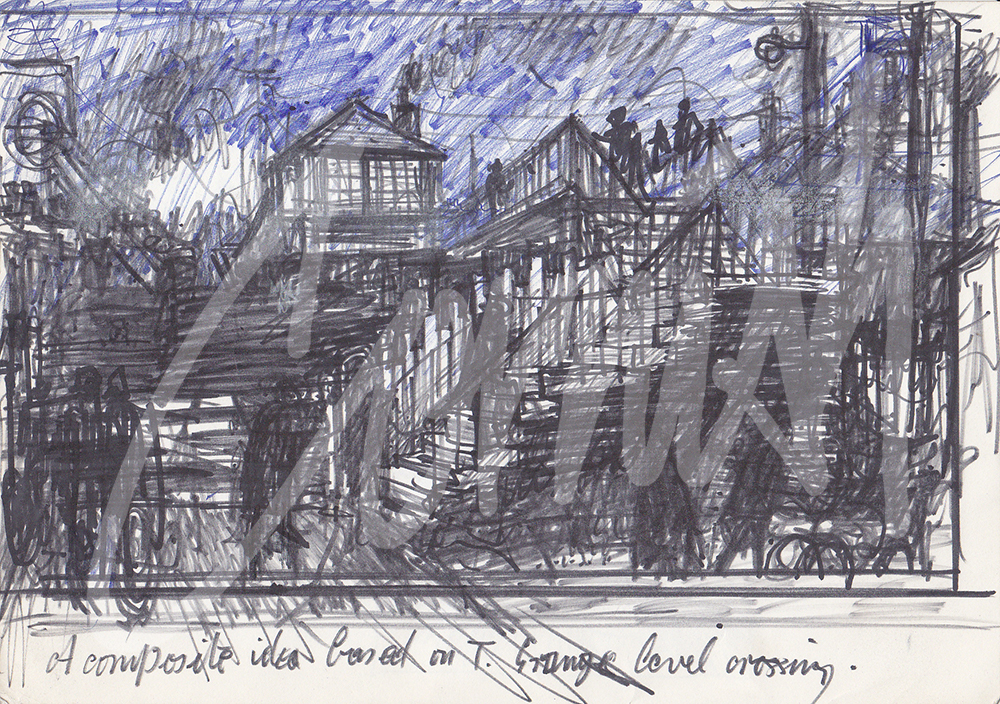 Cornish's evocative paintings and drawings provide an unrivalled social record, chronicling an important era in English history. His work is part of a deeper and more complex unravelling and re-evaluation of history.
His observations of people and places are a window into a world which no longer exists, but which he has immortalised for us all in moments captured in drawings and paintings. His journey, from former miner to professional artist, is a story of determination and resilience to overcome hardship and prejudice. Working class painters were deemed to be 'Sunday painters' and there was an assumption of naivety of such artists by the Arts establishment because of their occupation, as well as implied political associations. Cornish was refused support from the Miners Welfare Fund to attend The Slade School of Art in London and there are other examples of prejudice and resentment from some of his contemporaries because he lacked an academic background. Cornish was the victim of an unfortunate example of prejudice during the 1940s which was to eventually lead to a positive outcome.
Cornish met Sarah Bartley in 1944 at a dance at the Clarence Ballroom in Spennymoor.. The courtship lasted for two years until they were married at Rose Street Methodist Chapel in Trimdon. Sarah Lived in Trimdon and was a nurse during the war years and also an accomplished pianist. Trimdon was 8 miles from Spennymoor and Cornish would spend some time at the family home with Sarah and her 3 brothers and 3 sisters. Her father was a former miner and her grandfather was a founder member of the Blackhall Colliery band.
Coal mines in every town and village had connecting railway lines to transport the coal to coastal ports such as Tyne Dock. Level crossings, which still exist today on some railway lines, were a feature in many parts of the county. Whenever a locomotive hauling dozens of coal trucks was on the move the level crossing gates would close to traffic to enable safe movement. Cornish travelled to Trimdon from Spennymoor on the TMS (Trimdon Motor Services) and on many occasions the bus would have to stop at the Trimdon Grange level crossing and, waiting patiently, Cornish would take out his sketchbook and pen to capture this moment in time. The scene showing the level crossing, steam train, terraced houses and folks going about their daily lives is typical of scenes throughout County Durham in this particular slice of life.
Prior to meeting Sarah Bartley, Cornish had been engaged to a different young lady. He was rejected by her family because he was a miner.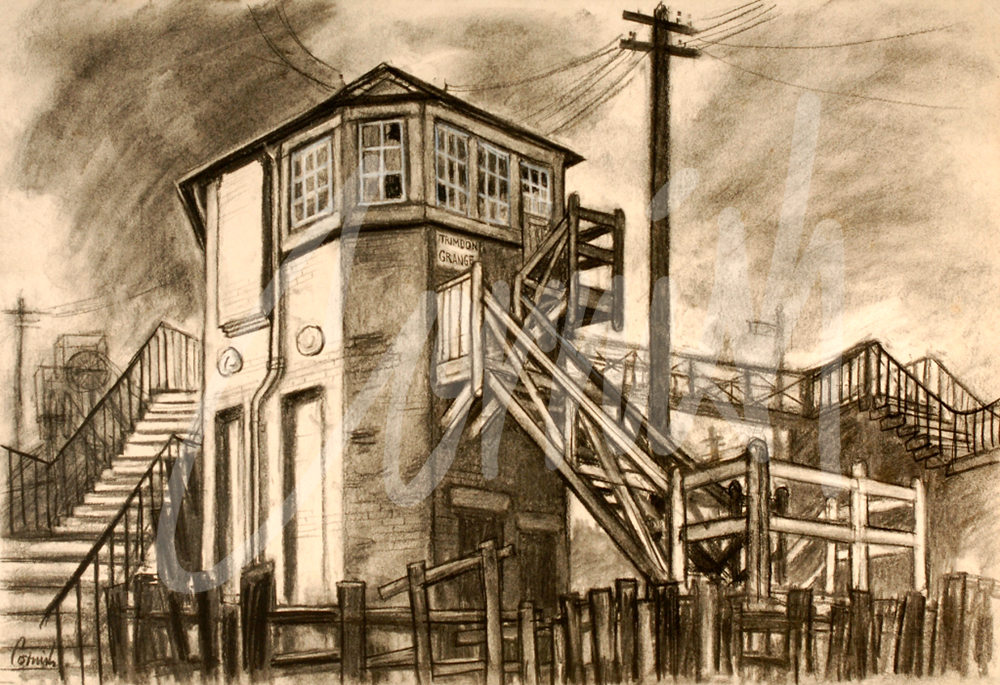 Framing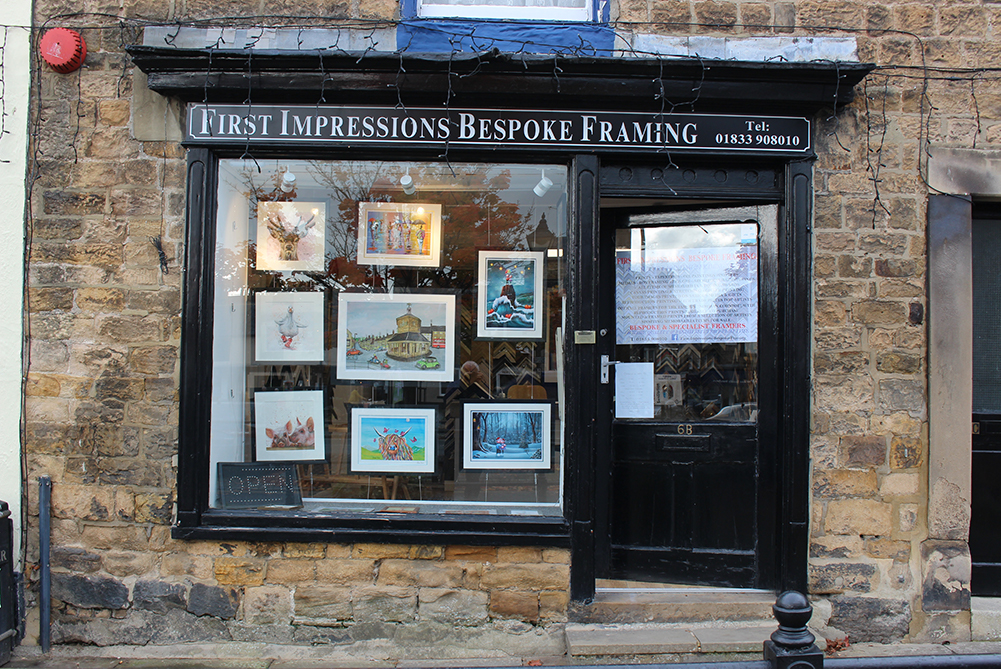 In the early days of his career, Cornish was taught the skills and techniques of framing pictures by members of the Sketching Club at the Spennymoor Settlement. Framing his own work at Bishop's Close Street was a huge challenge in the limited space available.
Following the move to 67 Whitworth terrace in 1967, Cornish was at last able to store mouldings, mounts, glass and an acquired Morso frame cutter which ensured perfect frame joints. In recent years, some owners have reframed early works from the 50s and 60s to include acid free mounts and museum quality glass which wasn't widely available all those years ago. Occasionally another picture is found on the reverse side.
One day, working in his studio at Whitworth Terrace in the late 1970s, two young lads from next door, were making a lot of noise climbing on the garden wall, and generally being a distraction. The lads received a polite word from Cornish about the noise and how it was disturbing his concentration as he was working in his studio.
Years later, the brothers went on to play a supportive role in taking Cornish's work to an admiring public. Duncan Allison served his time as a printer and was involved in the production and printing of the book 'Behind the Scenes: The Norman Cornish Sketchbooks'.
Nigel Allison, along with his wife Elli, and small team, have been responsible for the framing and dispatch of our online reproductions since 2015 from their premises at the old Post Office at Tindale Crescent, Bishop Auckland.
More recently, their business, First Impressions, acquired new premises at Barnard Castle and an opportunity to launch a new shop and regain a high street presence.
First Impressions is a long-established framing business with high standards of craftsmanship and a loyal clientele. The owners have considerable experience in all matters involved in printing, photography and framing.
We wish Nigel and Elli Allison, and staff, every success in their new premises and look forward to sustaining the relationship with the brothers which started 45 years ago.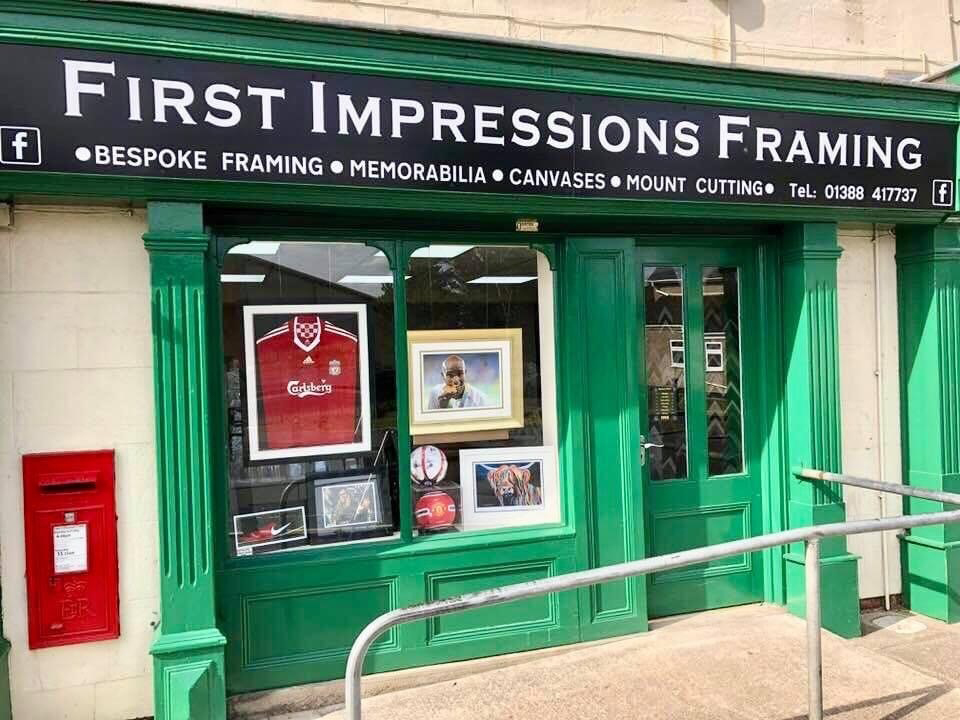 An itch to be scratched.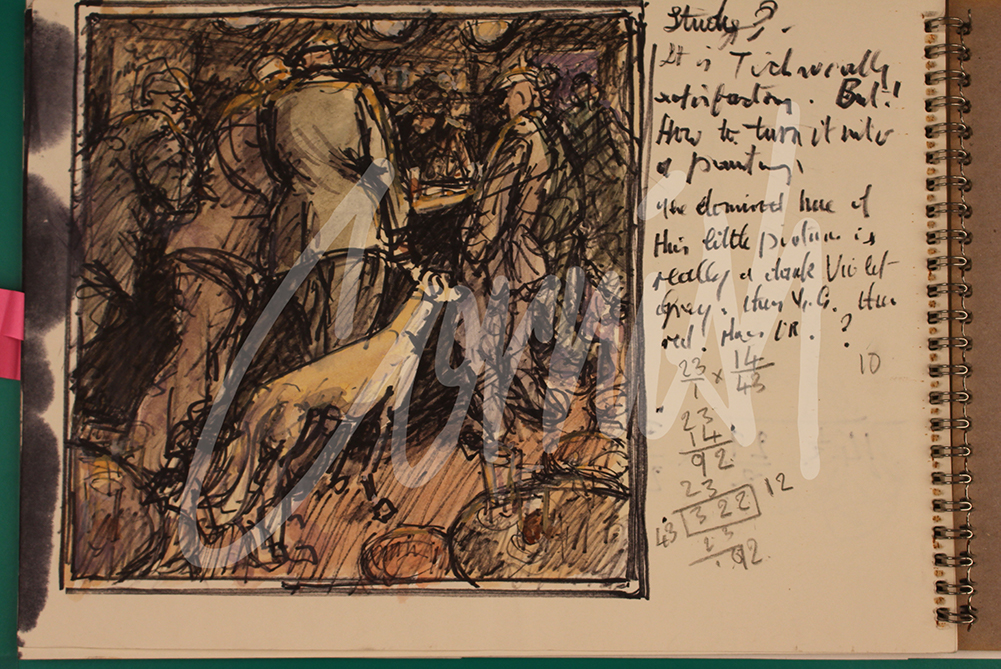 In1945, Norman Cornish, aged 26 years, commented in a magazine article: ' I think that this art, this thing which gives us so much pleasure, is worthy of study and I personally consider it worthy of study my whole lifetime.'
In the immediate post-war era Cornish became increasingly aware of his destiny. His emergence as a leading regional artist was a phase in the development of his work and burgeoning national reputation. During the 1950s he exhibited on three occasions in London along with other artists of the day, and of course at various galleries throughout the North of England.
This period of his life and career was particularly significant in the development of his sketches and carefully observed drawings. His favourite medium was the Flo-master pen – an early version of the modern fibre-tipped pen. The pen could be re-filled and nibs inter-changed as required. The width of the strokes and intensity of the ink could be controlled by applying pressure, or a light touch. Accuracy was important as the indelible ink dried on the surface of the paper within two seconds. Tiny black dots are sometimes visible on some drawings, as he touched the paper with the pen to stimulate the flow of ink.
Cornish's wife, Sarah, adapted his jacket with a 'poacher's pocket', large enough to hold his sketchbook and pen so that wherever he went the sketchbook and pen were always immediately accessible.
Cornish often said that painting and drawing was like an itch that had to be scratched. Rarely, can one town and its people have received so much attention from an individual artist with over 5,000 drawings and water-colours in the sketchbooks which are in the archive at Northumbria University in Newcastle.
Cornish also drew on scraps of paper, newspaper, The Radio Times and many other surfaces. A recent revelation was a drawing on the back of a box of Cadbury's chocolates.
Cornish worked on themes repeatedly and almost obsessively, wrestling in his mind to find a faultless composition. Many of the subjects can be seen as a thread running through different seasons and times of the day and night.
The pages contain colour notes, comments about composition, light and shade, historical information and regular 'to do' lists. The sketchbooks also contain letters and personal observations about a wide range of contemporary topics and contextual statements.
The ability of an artist to sketch and draw with speed and accuracy, to capture a moment in time, is fundamental towards future success and forms the basis upon which all else follows.
" The quality of Cornish's drawings is as good as any other artist in history."
Andrew Festing : Sothebys - Head of British Painting 1977-81
President of The Royal Society of Portrait Painters 2002 -2008
Behind The Scenes: The Norman Cornish Sketchbooks is available by clicking here. The book contains examples of the drawings and preparatory sketches alongside many of the completed paintings. In addition there are four essays setting the works in context and numerous previously unpublished quotations from Norman Cornish. The Foreword was written by Melvyn Bragg.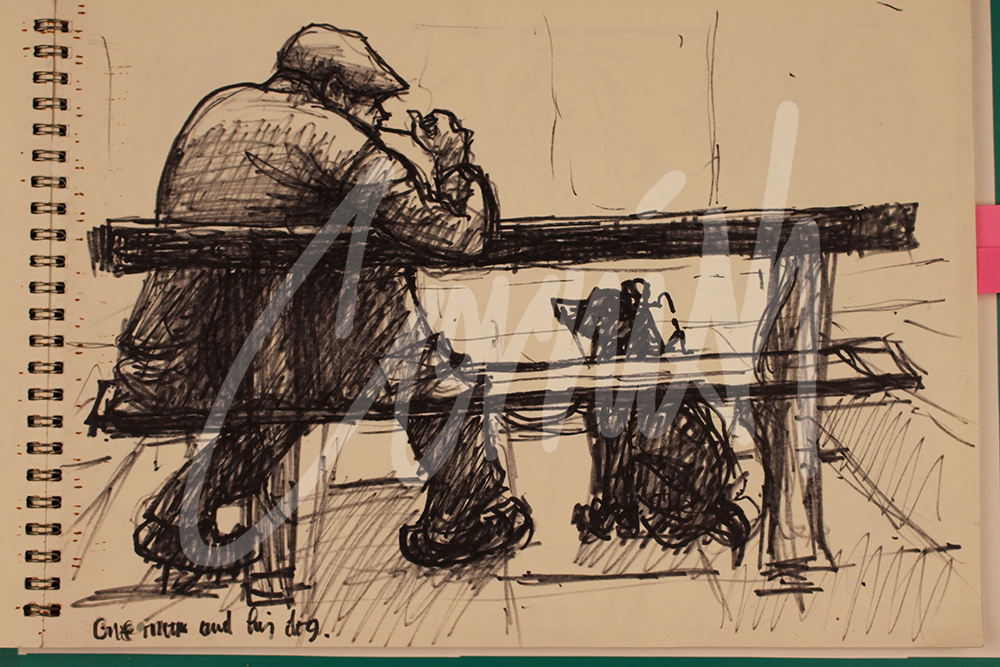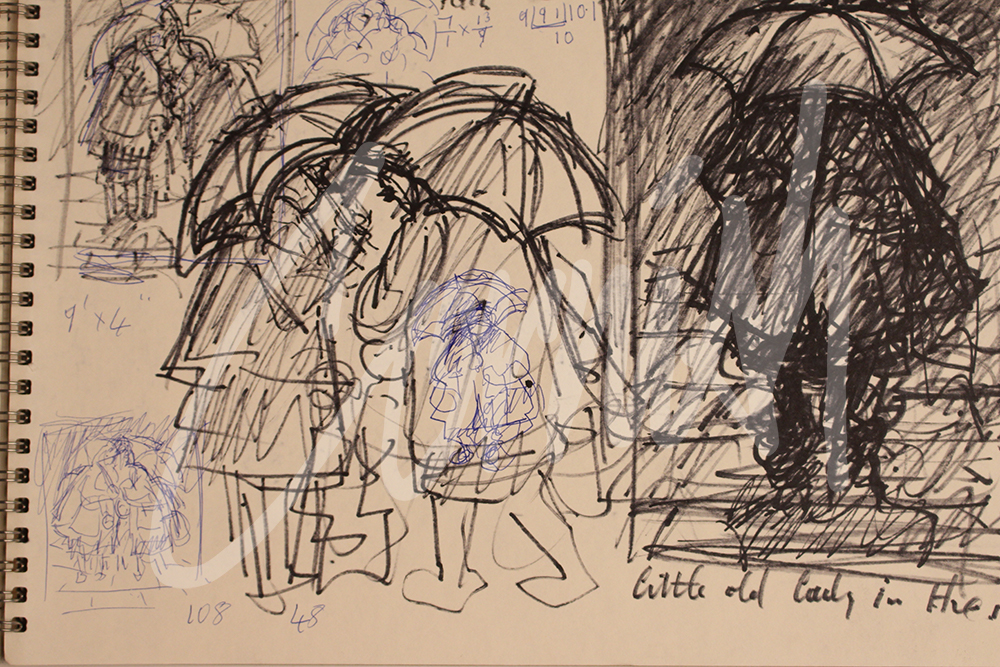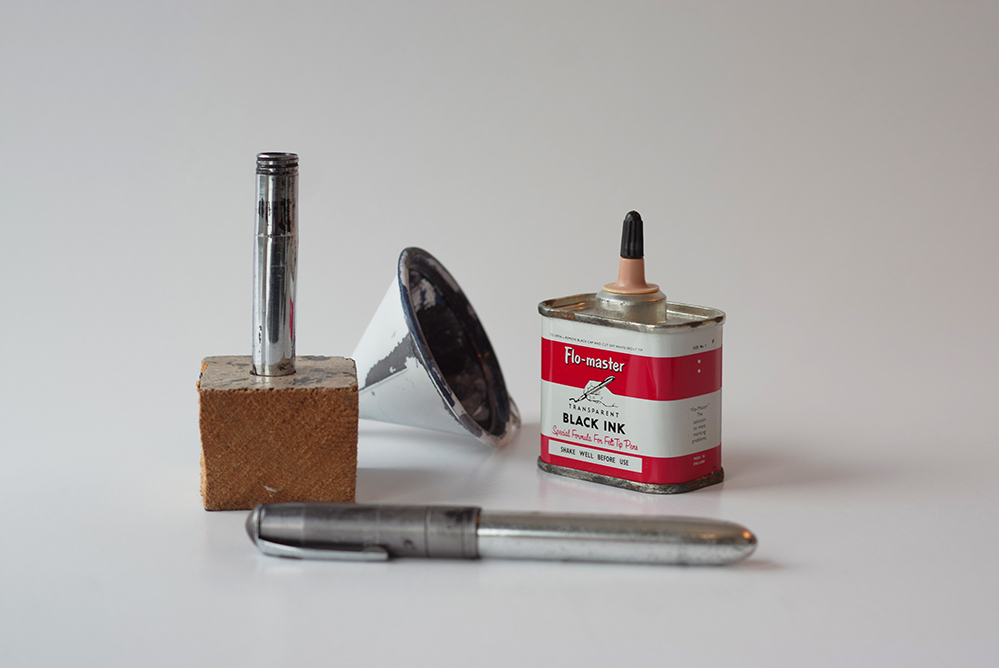 Cornish Centenary
Throughout the centenary year, an interesting range of themed exhibitions is planned in order to commemorate Norman's life and to celebrate his work.
If you would like to find out more click below:
Stay tuned via social media:
---