Latest News
The Crowded Bar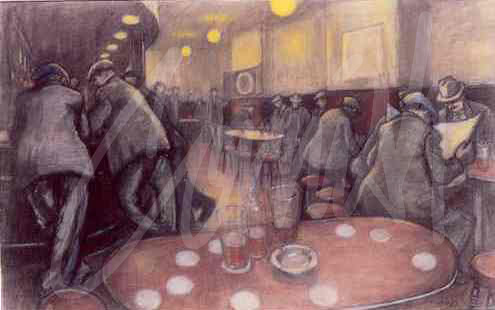 The Crowded Bar was discovered in February 2014, a canvas rolled up, at the back of a wardrobe in Whitworth Terrace at Spennymoor. Norman and Sarah Cornish had transferred to residential care and tidying the house revealed three previously unseen canvasses.
Cornish returned to the theme of the pub throughout his career. Bar scenes with individual character drawings, men playing dominoes, convivial conversations, and drawings of darts players. He also made detailed drawings of the beer pumps, furnishings, pint glasses and posters to ensure accuracy in his work. These features sometimes appear as individual component pictures because of their own special qualities and occasionally they are brought together in large composite paintings. Most of Cornish's larger works involving many characters are constructed in this manner.
The Man at Bar with Dog illustrates the development of what appears to be a simple idea but one which becomes part of an evolving series. The true significance emerges when the series is considered as a continuum of development as individual characters may be tracked through various interpretations. The initial idea may have been drawn insitu but then 'worked up' towards a perfect composition. The Crowded Bar is a classic example of this approach.
In his own words:
About 40 years ago I would visit a great many pubs as they were marvellous places to practice drawing. I remember that in this particular scene, I must have made many drawings. I liked the attitude of the figures and also the big round lights. I remember sitting on a seat and surveying this scene. I have tried to paint it just as it was. I was fascinated by the men standing at the bar drinking and talking, or sitting playing dominoes.
The large oil paintings such as The Crowded Bar, have carefully constructed compositions' incorporating characters and details from his extensive collection of sketchbooks. These drawings enable Cornish to create informal conversation pieces where a group of people appear to be interacting naturally.
The subject of Bar Scenes is covered in detail within Behind The Scenes: The Norman Cornish Sketchbooks, including a number of previously unseen preparatory drawings and sketches . Reference to this subject is also covered in two of the four essays by distinguished authors and historians Dr. Keith Wilson, Dr. Robert McManners and Gillian Wales (Cornish's Biographers).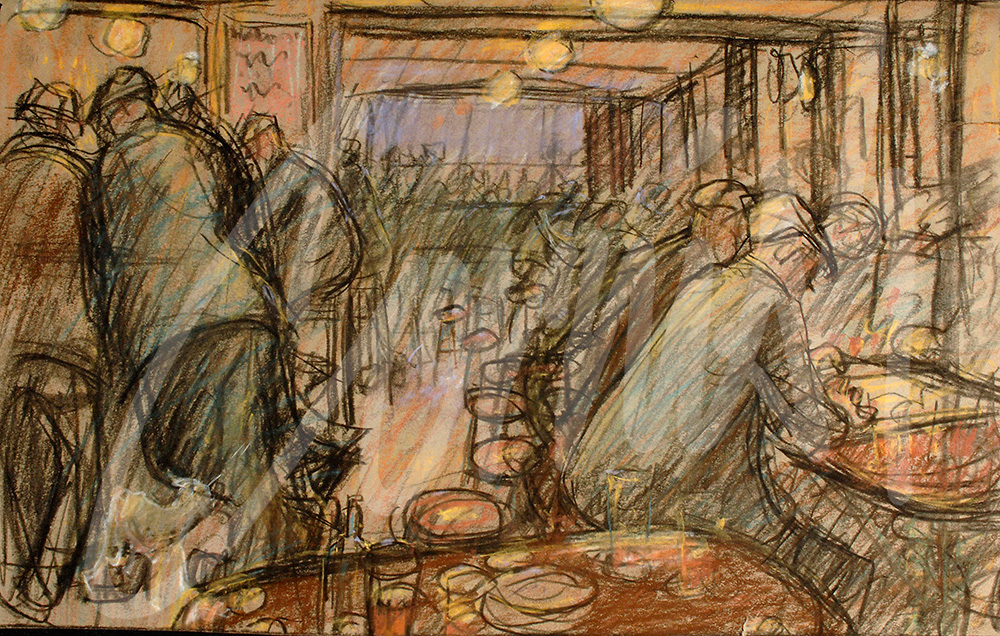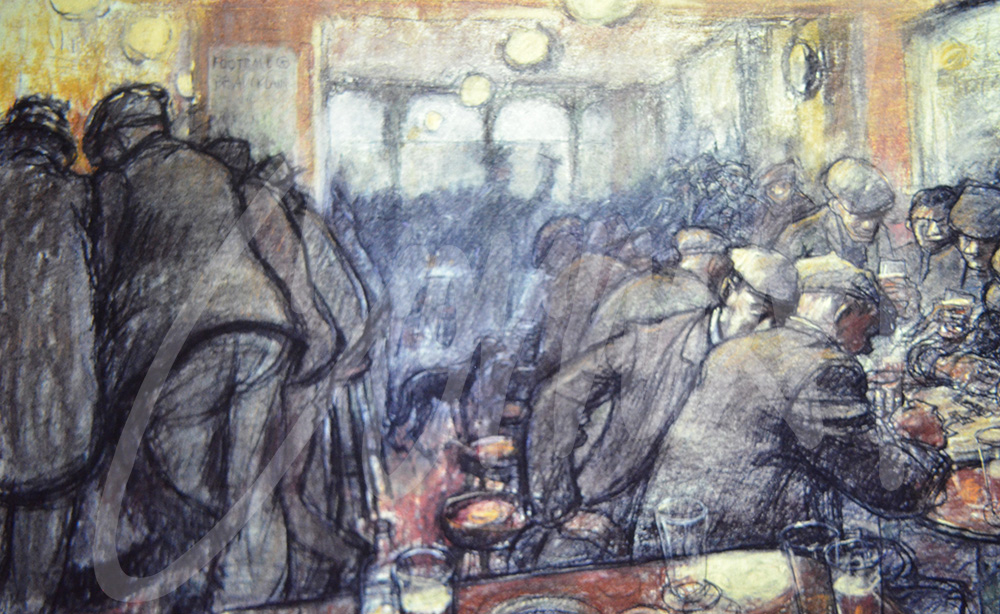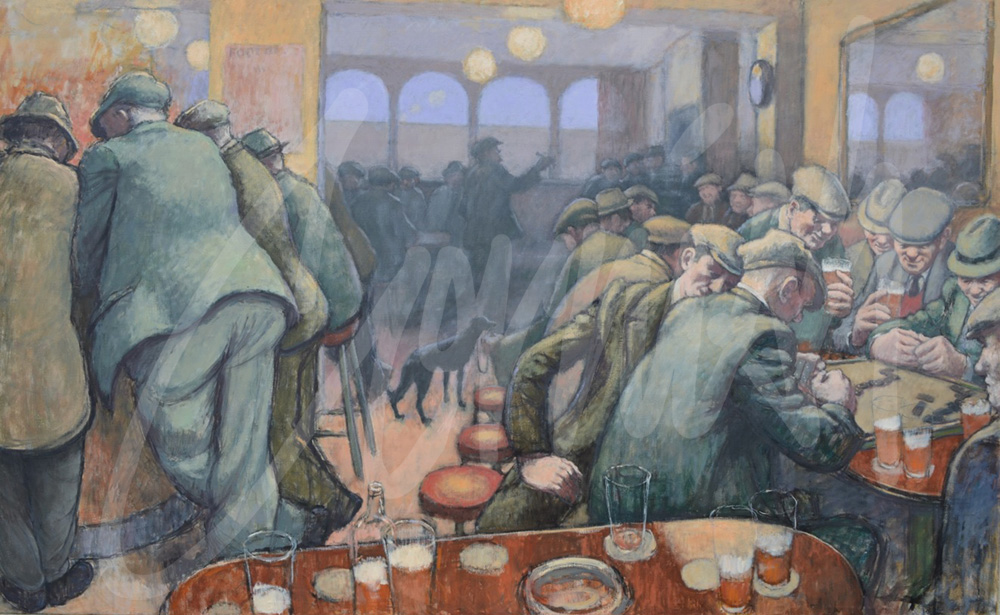 The Pony Putter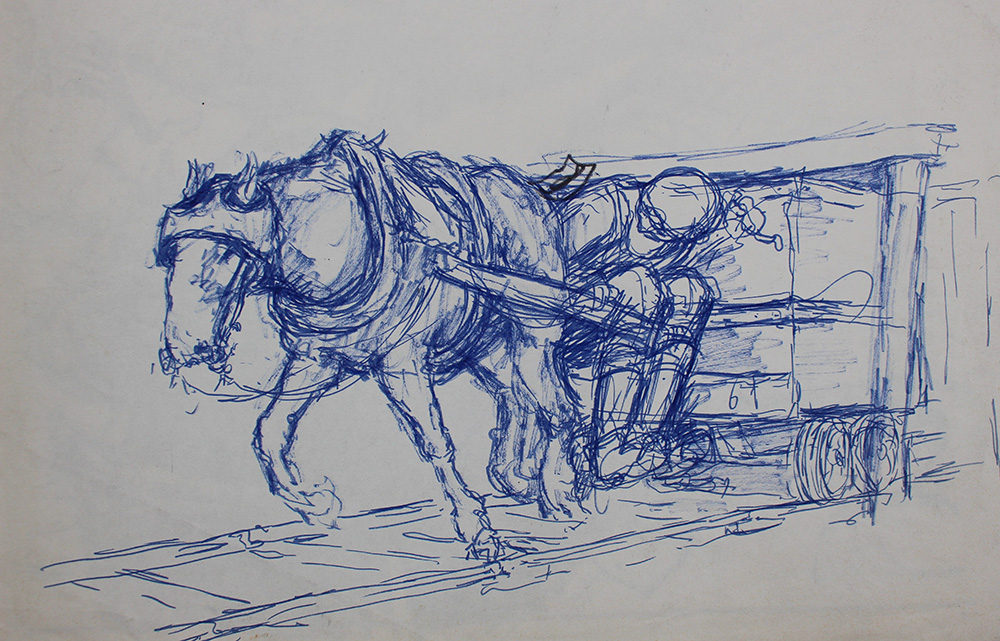 Cornish started work on Boxing Day 1933 aged 14 years. The landscape was dominated by coal mines in every direction and 'The Times' newspaper referred to County Durham as 'little more than one huge colliery.'
In one sense, although denied the opportunity of continuing education, he was fortunate to gain work in a viable pit at a time when unemployment in the area reached 27% of the workforce. While the Dean and Chapter Colliery had no 'disasters' (officially five or more killed together, by gas or explosion) the records of 177 fatalities meant that the mine was referred to as 'the Butchers Shop.' This was an ominous title for the 2,135 men working underground. A few years after the young Cornish started work, over 3,000 tons of coal were being produced each day with two thirds of it hand hewn.
His first job when he was set on (a local term meaning to start work) was as a datal lad, paid at a daily rate, employed as a Pony Putter- sitting low on the limbers (wooden shafts connecting the pit pony to the coal tub) to avoid decapitation.
Cornish lived in two worlds. The dilemma for the young Cornish was that he was fascinated by aesthetics and art appreciation with a desire to record the industrial scene around him, when simultaneously the mine owners were only interested in coal production. Inspired by his favourite artist Rembrandt, Cornish's attention was attracted to the humble and mundane activities of everyday life. The drawings and paintings record a job which has passed into history.
All aspects of coal mining, the journey to and from work, the gantry, working underground, and life in mining communities, are featured in 'Behind The Scenes: The Norman Cornish Sketchbooks' available by visiting www.normancornish.com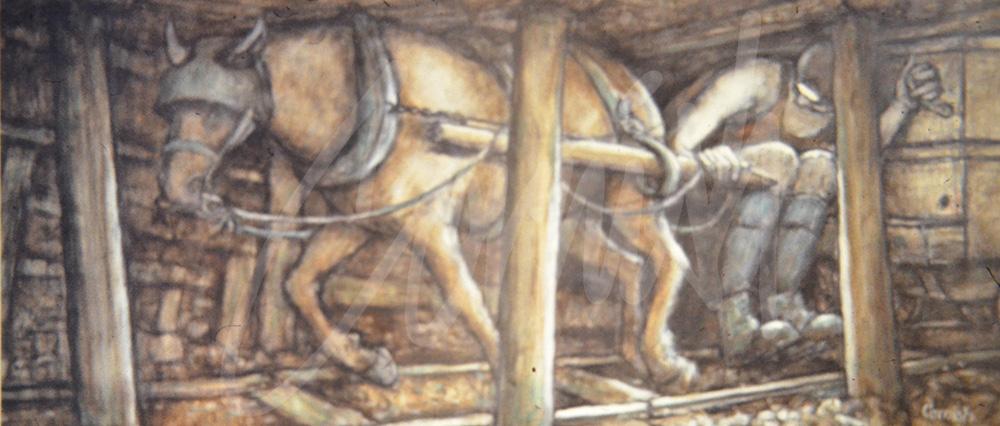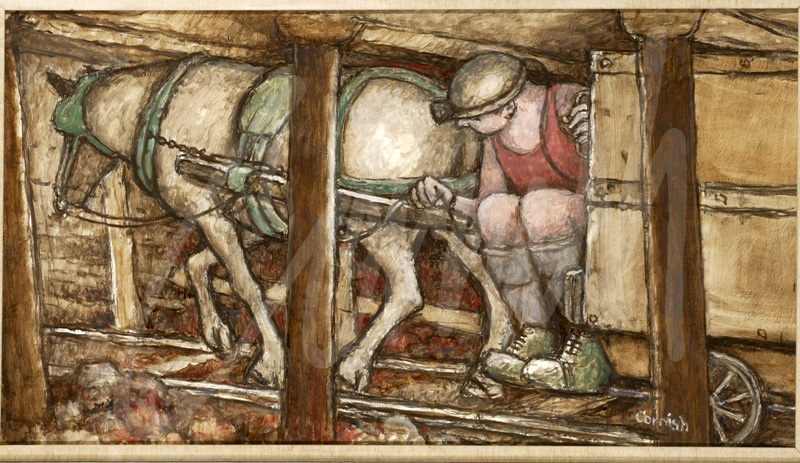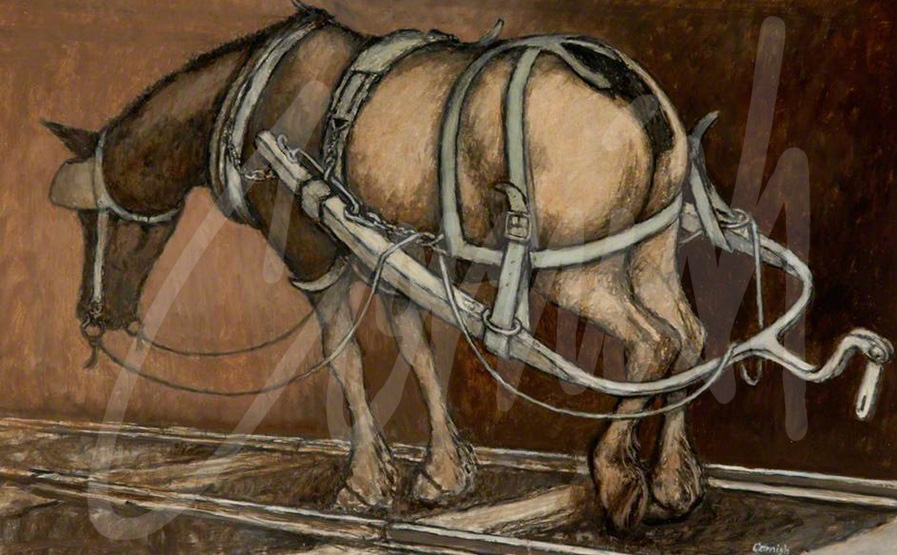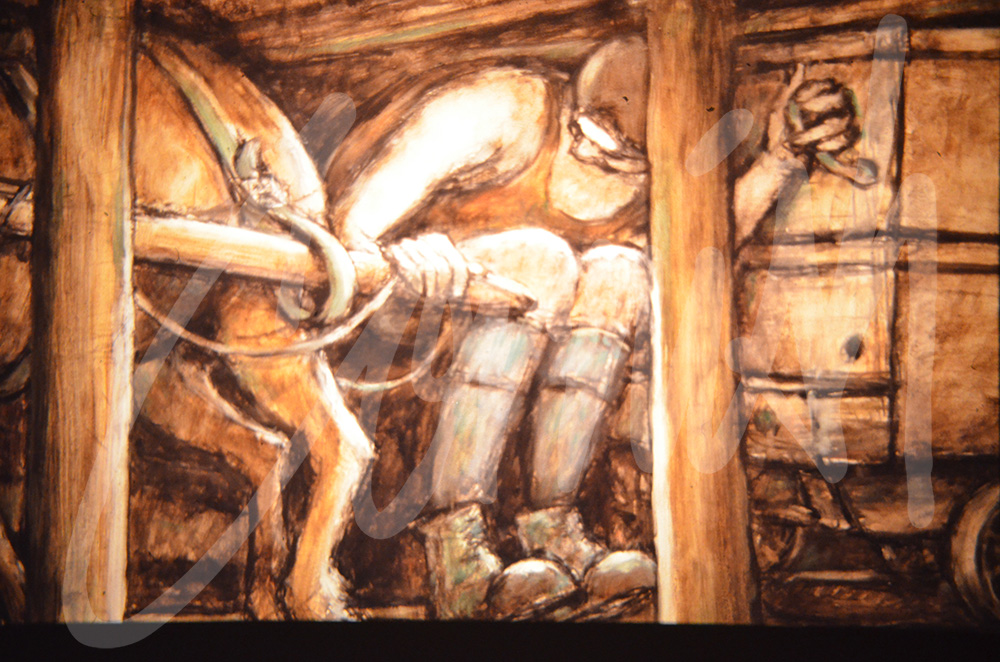 A Slice of Life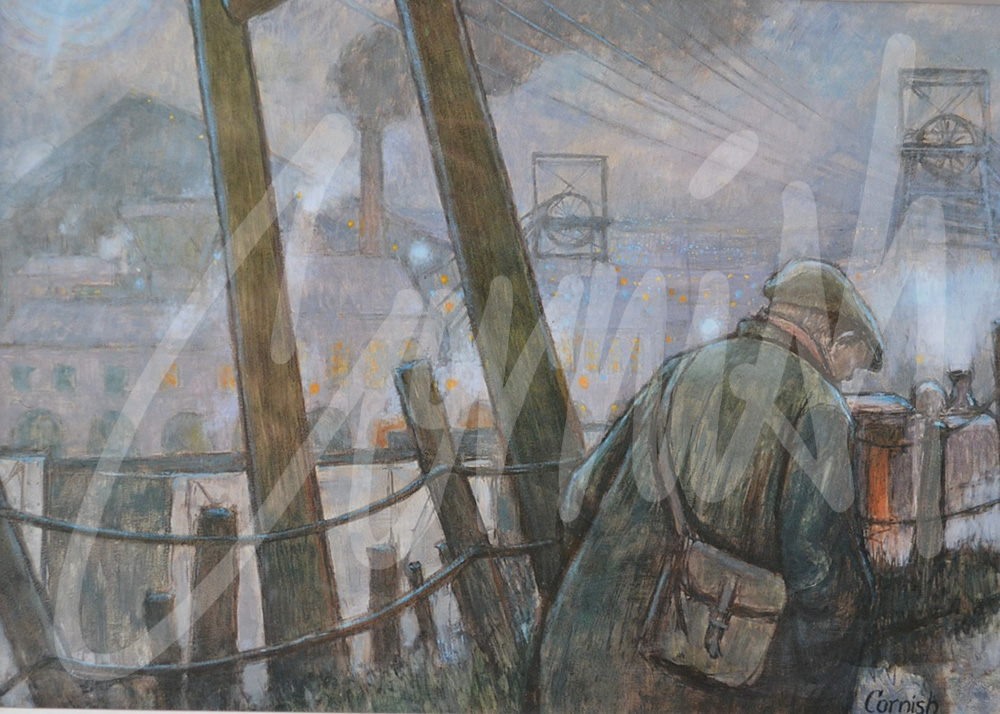 The late 1980s were a period of reflection for Cornish who had become an established professional artist. In his lifetime friends would be intrigued by his anecdotes relating his journey through life and the challenges he had to overcome along the way. Friends would often say 'why don't you write these things down?'
One dull day in 1987 when it was too dark to work in his studio he sat down for the first time and began to write his memoirs. The first attempt was abandoned, but as his confidence grew the words flowed from the memories and the book 'A Slice of Life' emerged. The title was taken from his concept of all life as a continuum from which he envisaged each individual having his own piece, his own 'slice' from the inevitable passage of time.
'A Slice of Life' was published by his friend Bill Mallabar who was also a graphic designer. The whole process took two years and the book was published to coincide with his 70th birthday in 1989. Simultaneously the Lord Mayor of Newcastle, Alderman Theresa Russell, introduced Cornish to the Director of the Polytechnic Gallery which later became The University of Northumbria Gallery. A new exhibition was planned to celebrate his 70th birthday and this also marked the beginning of a long and successful relationship with the University Gallery until it closed in 2015.
In 1991 Bill Mallabar donated a Cornish painting, 'Pit Road with Telegraph Poles and Lights' to the University Gallery as a tribute to his mother who had died during the previous year. This generous gift was the inception of The Permanent Collection at Northumbria University and further details may be found at normancornish.com/partners
'A Slice of Life' quickly sold out and it was re-issued in 2006 and 2015 but without most of the original images. In 2021 John and Dorothy Cornish started the long and arduous task of creating a facsimile edition of the original autobiography published 33 years ago. There were many technical challenges moving from traditional printing processes to modern technology.
Norman Cornish described his original efforts as a 'labour of love' and similar sentiments have been expressed by John and Dorothy Cornish during the past 12 months.
'A Slice of Life' will be published on October 3rd and will be available to purchase at https://normancornish.com/shop/books priced £17 and also in selected independent bookshops from mid- October.

The Local Collieries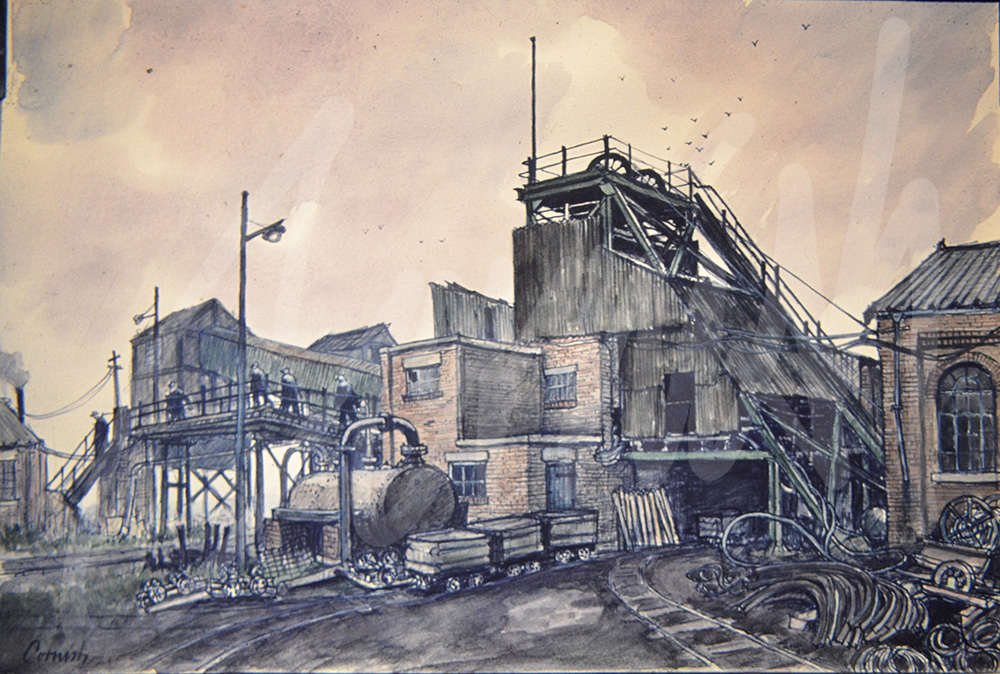 In 1919, the year of Cornish's birth, there were a million coal miners in Great Britain. Almost a quarter of them, some 223,000, worked in the North East of England. In County Durham a large percentage of the workforce was employed directly in mining and related industries. Mining, with its pit heaps, pit head gear and rows of mining cottages, dominated the physical and mental landscape of the county. Within a five miles radius of Dean and Chapter Colliery there were over a 135 'collieries and pits,' including brickworks, quarries and coking plants at varying times.
It was hardly surprising that the immediate environment was to make a crucial impact on his early responses as an artist. The smoke and sounds of the railway engines hissing, coal trucks, colliery buzzers, miners' boots on the gantry steps and the daily 'knockers up' combined to create an industrial cacophony. The impact upon the environment and the men was pervasive.
Cornish started work at Dean and Chapter Colliery on Boxing Day 1933, aged 14, where there were 2,135 men and boys working underground and 538 working above ground. By 1937 the workforce was producing 3,000 tons of coal per day- a third of it machine mined and the rest hand hewn. The pit was referred to as 'the Butcher's shop' and accidents, including fatalities, were frequent.
He worked at the Dean and Chapter colliery until 1962 when he was transferred to Mainsforth where he was commissioned by Durham County Council to paint the mural for the new County Hall. He was later transferred to Tudhoe Mill Drift (whose banner he had designed), a much safer pit where he worked for two and a half years. Cornish's final pit was Tudhoe Park Drift where conditions were very wet and his increasing lower back pain from working underground for over thirty years was the final straw!
Following persuasion from his wife Sarah, and constant pressure from the owners of the Stone Gallery in Newcastle, he decided to become a full time professional artist. To associate Cornish exclusively with his depiction of life in mining communities devalues his vast skill and achievements as a leading artist of the 20th century whose work may be found in public and private collections throughout the UK and beyond.
In the early days of his career as an artist there was an inevitability that the pits where he worked and some others in the surrounding area would eventually feature as part of the social record of his life and times.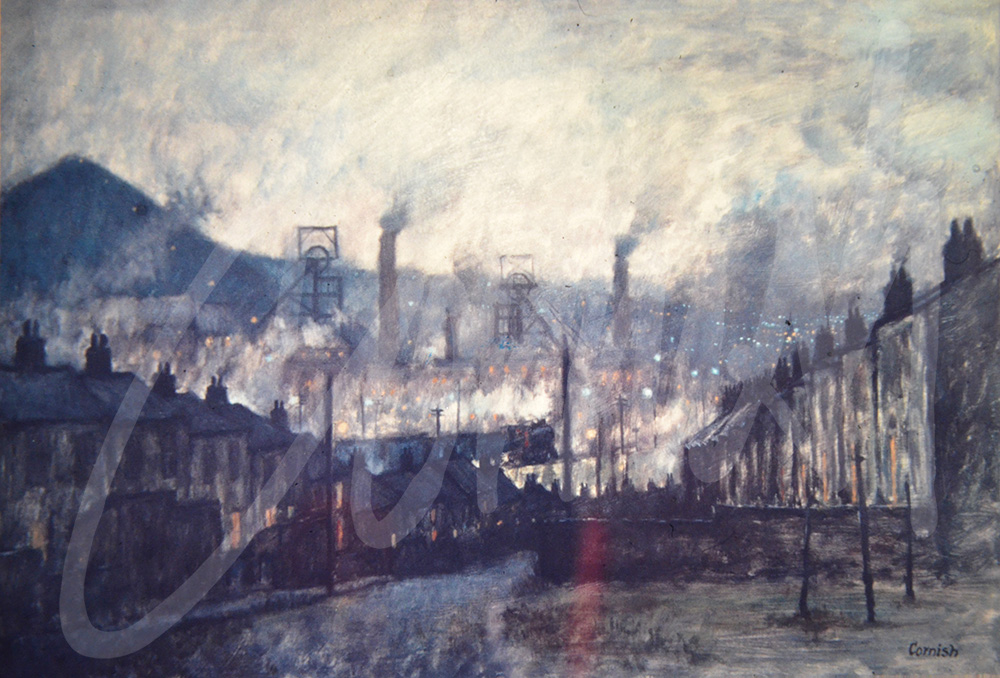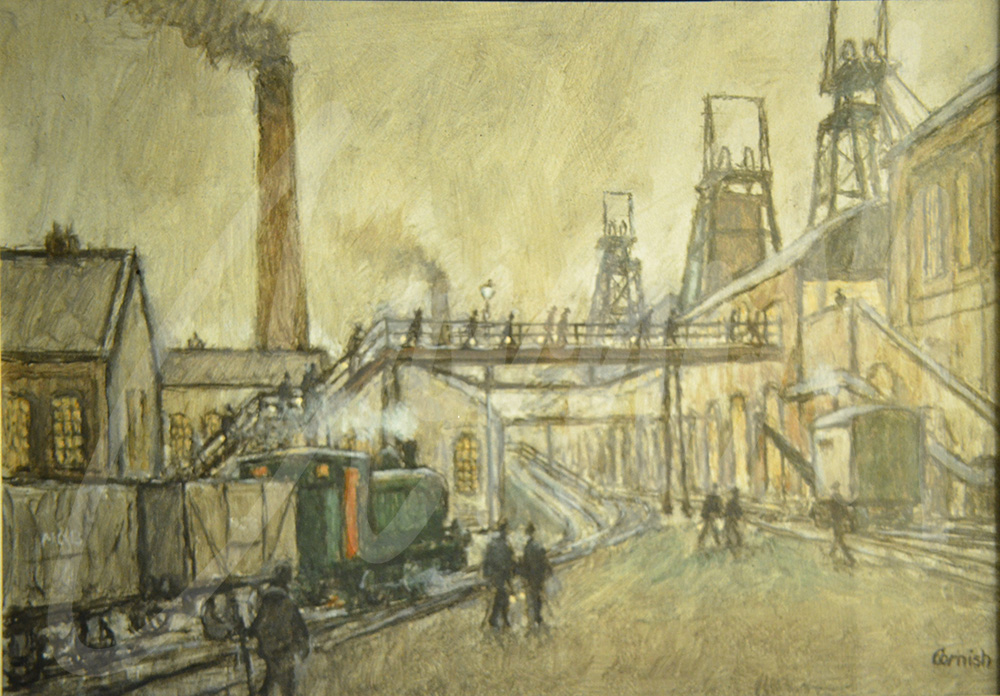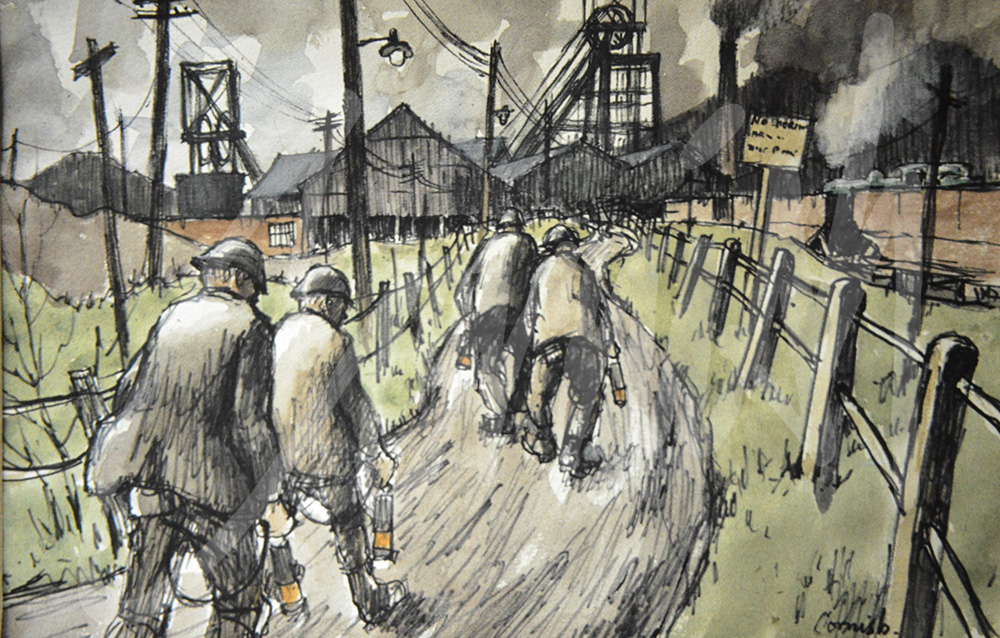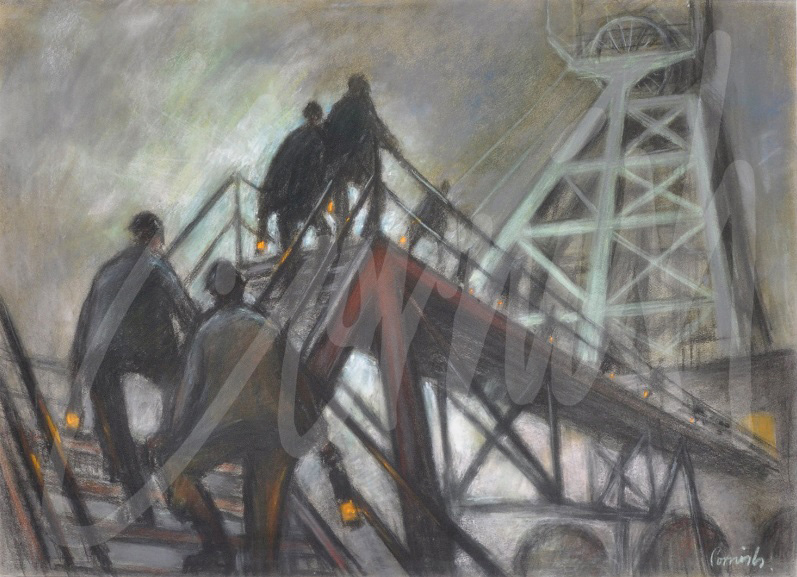 A Bedroom Studio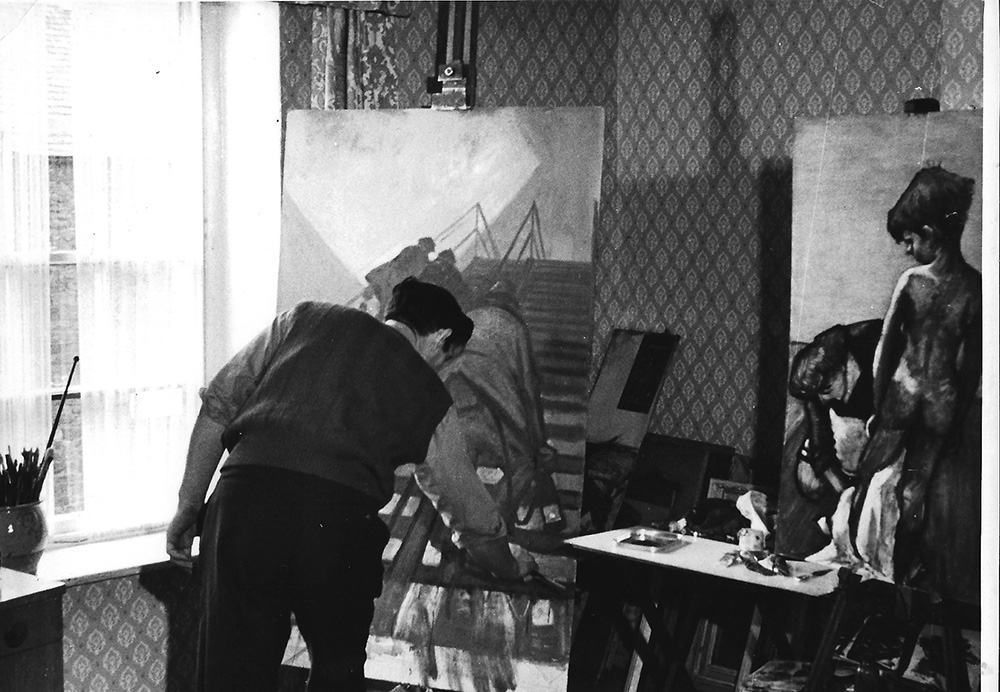 There are few people in the North East who would fail to instantly recognise the work of Norman Cornish. His evocative paintings and drawings provide an unrivalled social record as a Chronicler of an important era in English history. His observations of people and places are a window into a world which no longer exists outside but which Norman has immortalised for us all with its struggle, its beauty, its squalor and its dignity.
Cornish was born in 1919 in Spennymoor, County Durham, in a house with no bathroom or inside toilet, where he shared a room with his five brothers and one sister. He described living conditions as 'primitive' and he contracted diphtheria when seven years old. The only reading material at home was an American detective comic.
His journey from miner to professional artist, is a story of determination and resilience to overcome hardship and prejudice.
He joined the Spennymoor Settlement Sketching club aged 15 in 1934 after initially being turned away for being too young! The impact of the advice, activities and experience of being a member is well documented. His personal circumstances were more than challenging but he was determined to succeed despite the enormous barriers encountered daily.
Cornish's modest income as a miner was a constraint upon the acquisition of materials and a further dilemma existed between his interest in art and aesthetics when faced with the hazards he found when working and surviving underground. 'Treated like slaves, and spoken to like convicts,' such was the reality of being a miner, which also had a significant impact upon his work and interpretation of his subjects. How on earth did he cope ?
His first attempt at an oil painting 'My Sister Ella' (1940) was completed over three sessions in his parent's bedroom. When Norman and Sarah moved to 33 Bishops Close Street in 1954 the only solution to create a space to work in was to move his easel and materials into their bedroom. Sarah was very tolerant and supportive under the circumstances. There were materials, canvas, sketchbooks, frames, ink for his Flo-master pens, boards, incomplete paintings, pastels and the smell of oil paints and Turps for cleaning brushes. The smell was often overpowering. When he was commissioned to paint the Mural one of the preliminary versions was scaled to 300cm and placed from the bedroom window sill to the top of the stairs via an open door. To climb into bed Sarah sometimes had to crawl over or under the bed!
The family moved to Whitworth Terrace in 1967 where there was sufficient space to convert a former Methodist Minister's office into a studio, and this is what is displayed at Spennymoor Town Hall. The bedroom studio from Bishops Close Street has been re-created at Beamish Museum and it is an authentic replica but without the smell of oil paints and other materials. The paintings scattered in the corner of the room are reproductions of the original works.
Despite the obstacles to success a rare talent emerged in the post war years. He developed a burgeoning national reputation which placed further pressure on his future direction. Circumstances, and support from Sarah, enabled his progression to become a professional artist in 1966, a journey which was to span a further forty six years until he finally stopped working in 2012. He worked for more years as a professional artist than he did as a miner underground, a fact often overlooked. In the 21st century it is not uncommon to find talented young people working from their bedroom on their journey to future success.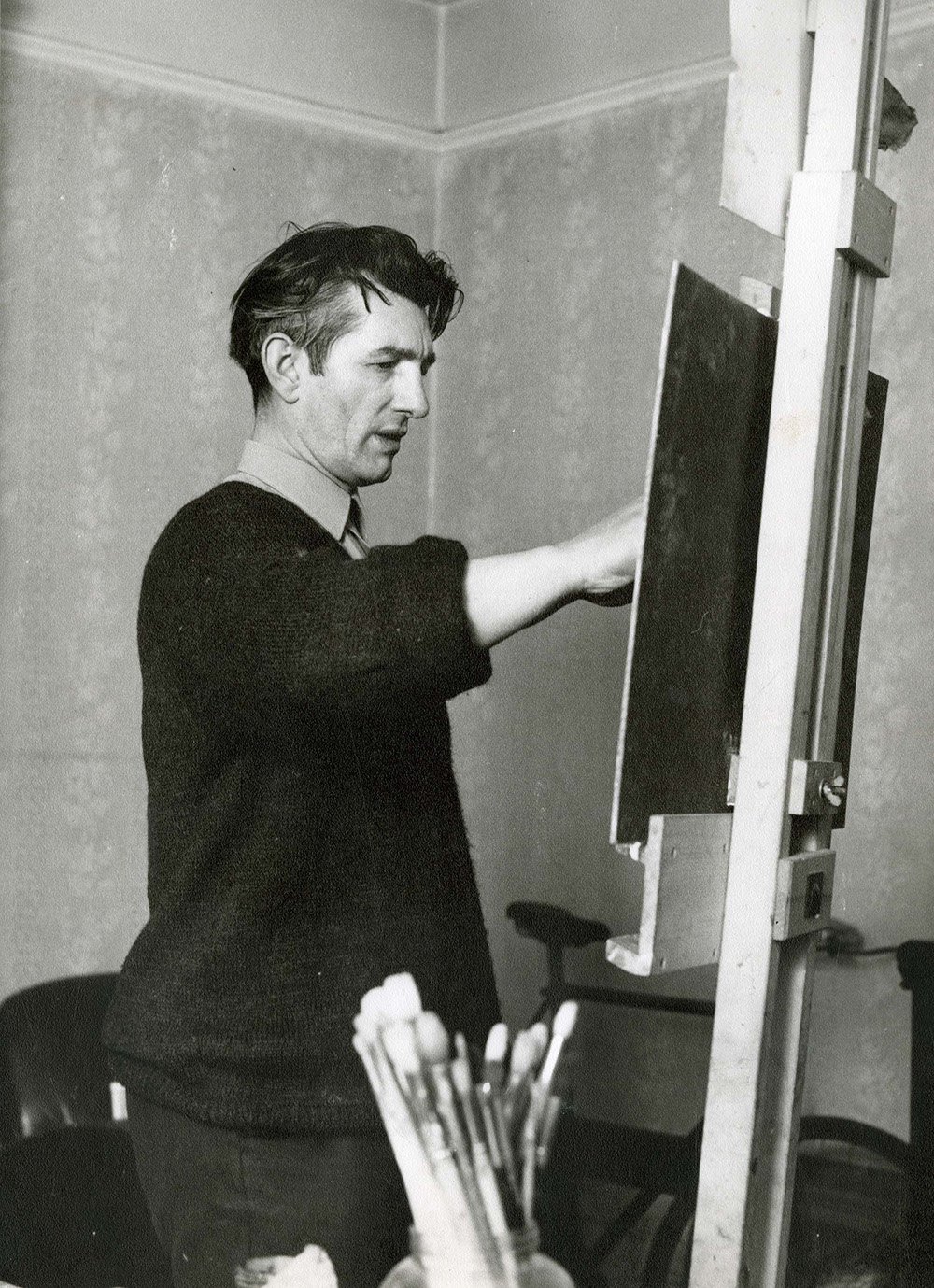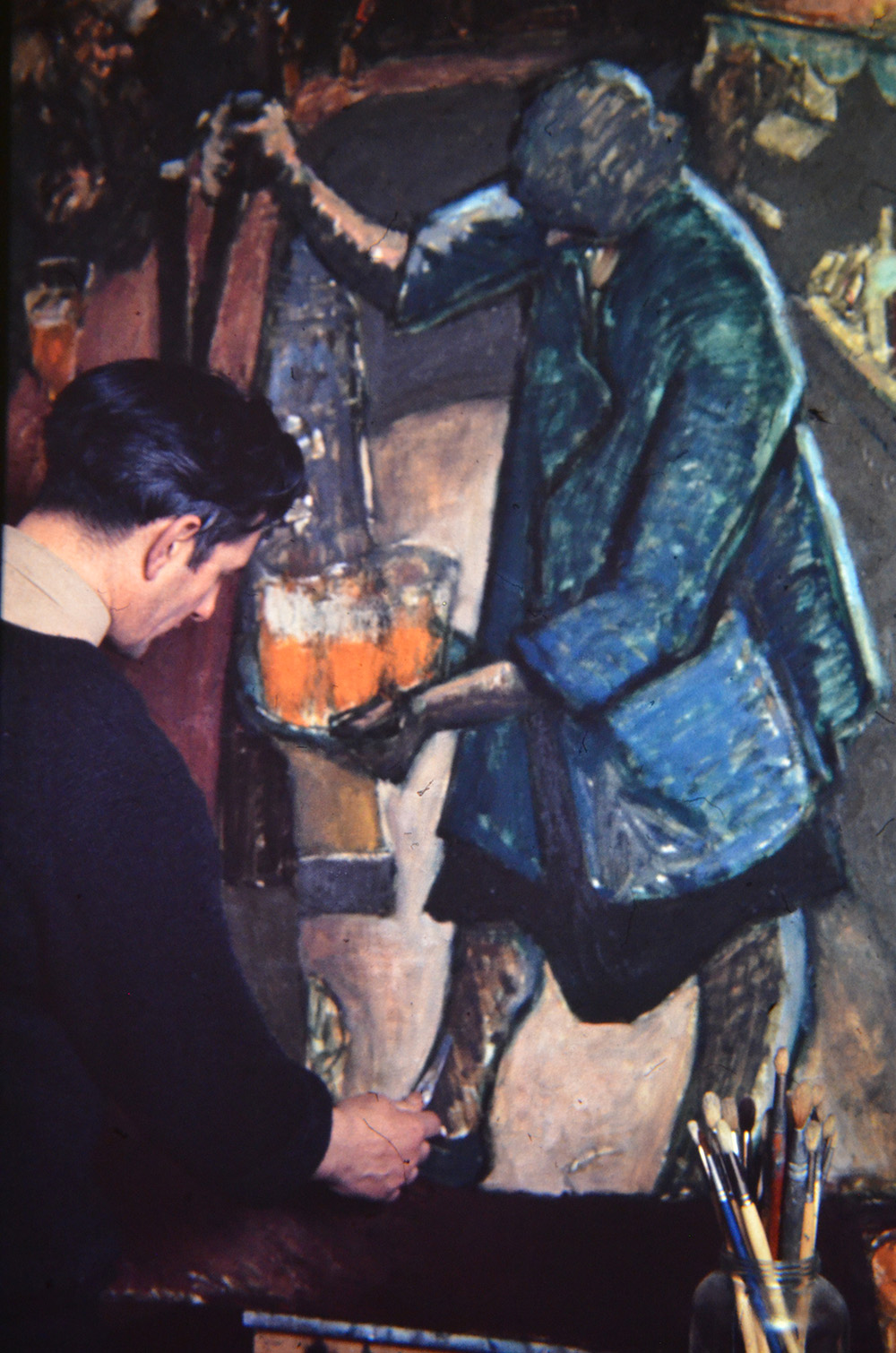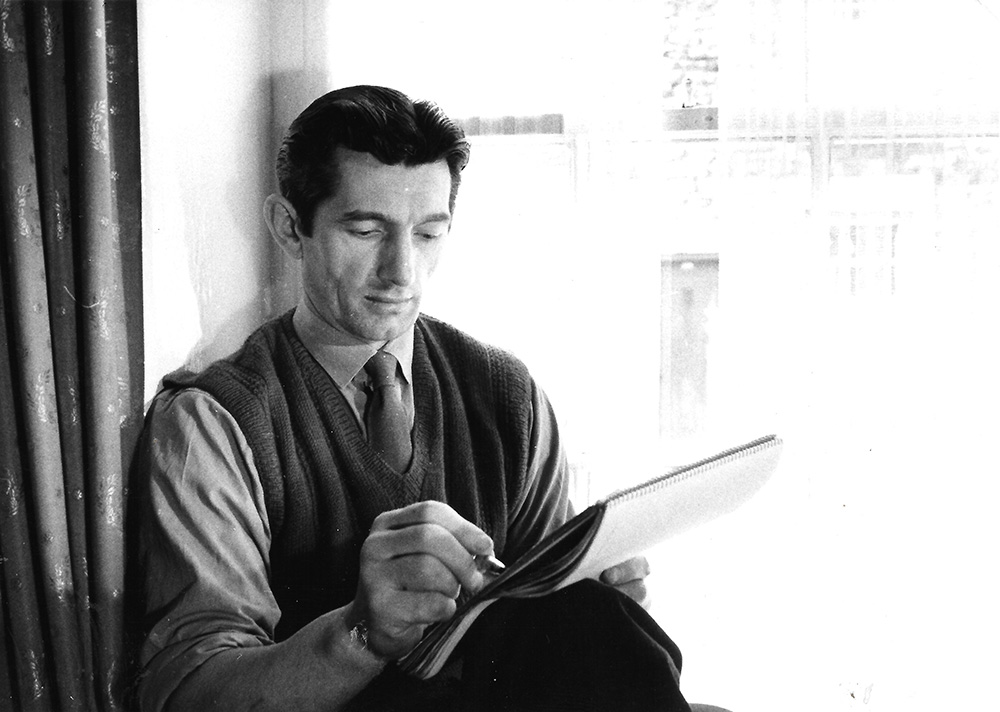 Cornish Centenary
Throughout the centenary year, an interesting range of themed exhibitions is planned in order to commemorate Norman's life and to celebrate his work.
If you would like to find out more click below:
Stay tuned via social media:
---