Latest News
Eddy's Fish Shop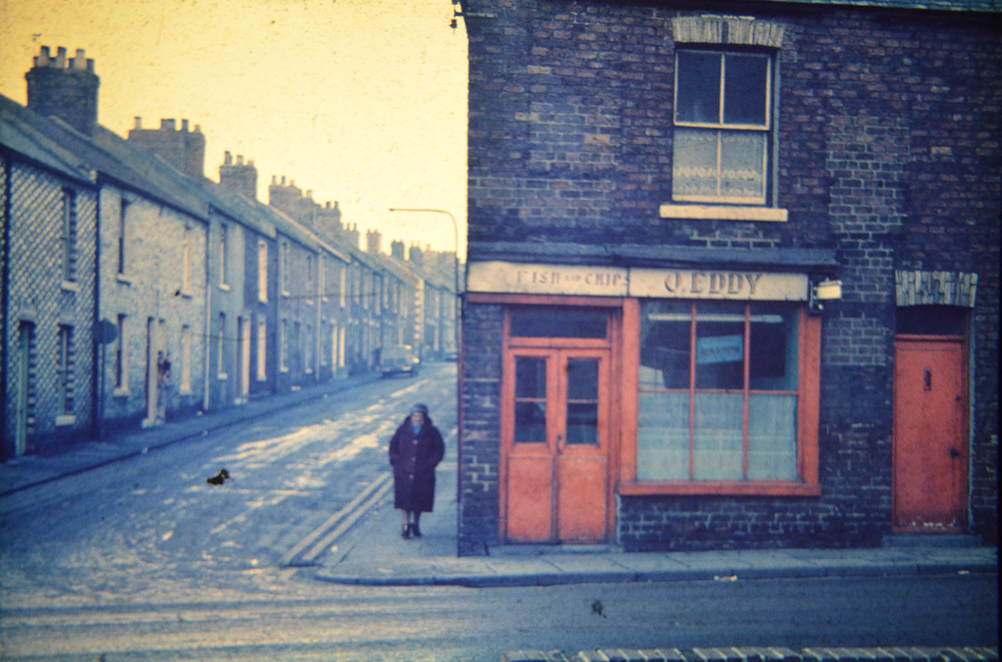 Eddy's Fish Shop, now demolished, was a focal point in the community. This was from a time when 'corner shops' were a common feature in many towns and villages.
Cornish's interest in Eddy's Fish Shop began one day in the early 60s when he called to see Stan and Mary Eddy in their shop and he asked the question:
'Stan, do you mind if I paint your fish shop?'
Stan and Mary Eddy originally owned fish and chip shops in Church Street and Villiers Street and there were other fish and chip shops in the town. Mary and Stan met in the RAF where Mary was a truck driver and Stan had returned from living in the USA. During a period of change in Spennymoor, the fish shop at the bottom of Craddock Street became available as Stan's brother Oswald approached retirement. The shop was surrounded by houses, pubs and The Rink Ballroom (formerly The Clarence Ballroom) where Norman first met Sarah in 1944 . Oswald's initial was retained on the sign outside and the location was perfect for brisk trade. It also interested Cornish who saw the potential for a scene which was to become one of his most admired subjects, evoking memories for so many people who grew up at a time when fish and chip shops featured with significance in communities.
The shop remained open until circa 1974 when it was demolished along with the ballroom and other unsafe buildings. The paintings and drawings are all about community and a particular slice of life. Stan and Mary's sons became popular stalwarts in the community - Ronnie as Chair of Governors at Rosa Street School, (located a short distance from the shop) and Gordon who served with distinction as a member of the Durham Constabulary for thirty years.
In his own words:
The local collieries have gone, together with the pit road. Many of the old streets. chapels and pubs are no more. A large number of the ordinary but fascinating people who frequented these places are gone. However, in my memory, and I hope in my drawings, they live on. I simply close my eyes and they all spring to life.
The final word from Ronnie Eddy:
'The chips were regarded as good, but couldn't touch the chip van!'
Eddy's Fish Shop is featured in Behind The Scenes: The Norman Cornish Sketchbooks, and the original location in Craddock Street may be visited as part of the Norman Cornish Trail. normancornish.com/trail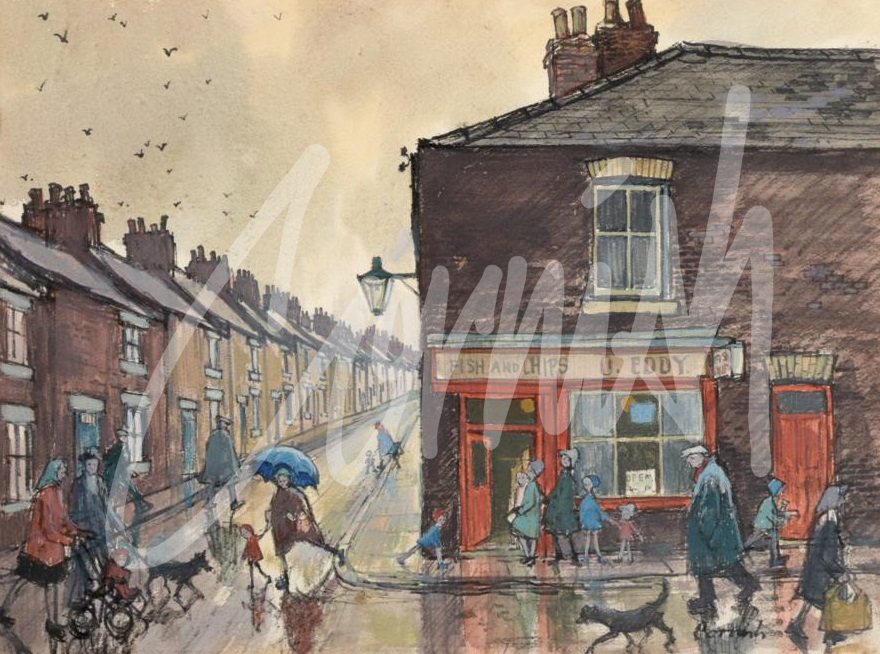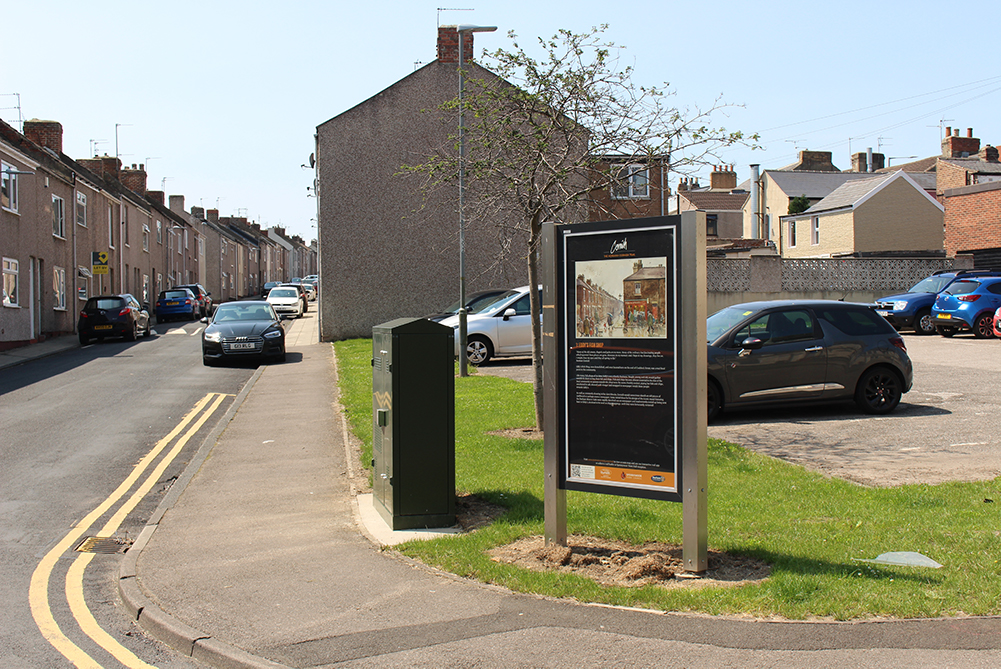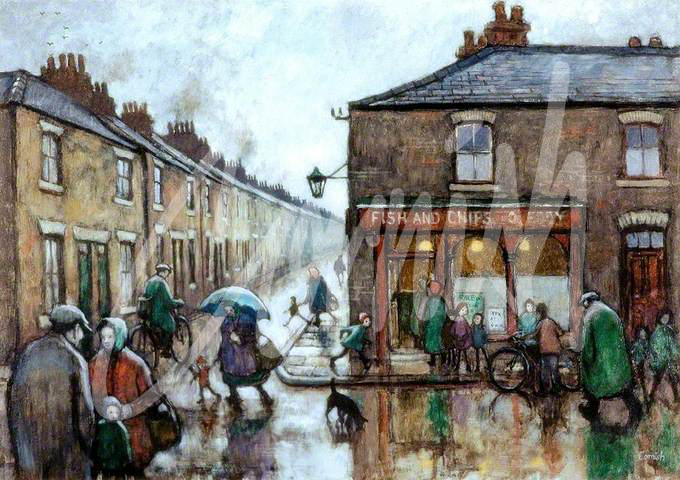 Edward Street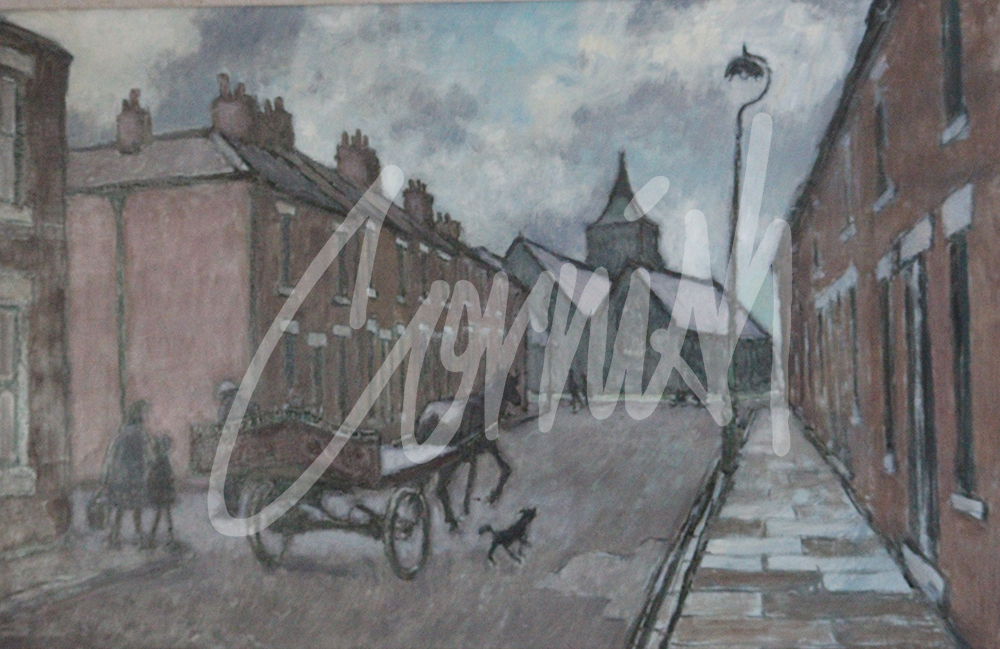 During Cornish's era, streets were often very much the hub of social activity in many towns and villages, with few cars on the roads. Front doors were rarely locked and people knew almost everyone in the street. If ever something was delivered then neighbours would come to the door to see what was happening.
Back streets and quiet streets were sometimes the venues for football, skipping, gossiping, hanging out the washing and street games for children. A horse and cart was a regular sight on the streets of Spennymoor and other towns and villages throughout the region during the period chronicled by Cornish.
Edward Street was a popular subject for Cornish, which he visited on numerous occasions throughout his career at all times of the night and day and in different seasons. The works always included activity by people going about their business, which added interest to the composition. In his own words:
When out walking I often passed through this street on my way home. I was interested in the way that the street was crowned at the top by St Paul's Church.
In our memories and of course in history books, most so called 'great events' are usually well-recorded, but sometimes the ordinary things that happen in our lives are not considered extraordinary enough for comment. Yet things are often very important nevertheless, and sometimes give a reader a much better idea of the 'times' than the supposedly great events.
Norman and Sarah Cornish lived in Whitworth Terrace no more than 200 metres from Edward Street and St Paul's Church; and at the bottom of the street was Rosa Street School, which was a short distance from the Zebra Crossing, and Eddy's Fish shop.
These subjects provided all of the inspiration Cornish needed to capture simple everyday activity, reminiscent of early Dutch influences with pictorial representation of scenes of daily life. He was exposed to the works of other great artists throughout his career but continued to develop his own approach to interpreting the 'life around him'.
These locations comprise a significant section of The Norman Cornish Trail which can be downloaded at www.normancornish.com along with information about Behind The Scenes: The Norman Cornish Sketchbooks including previously unseen images in a chapter about the street scenes synonymous with his paintings and drawings.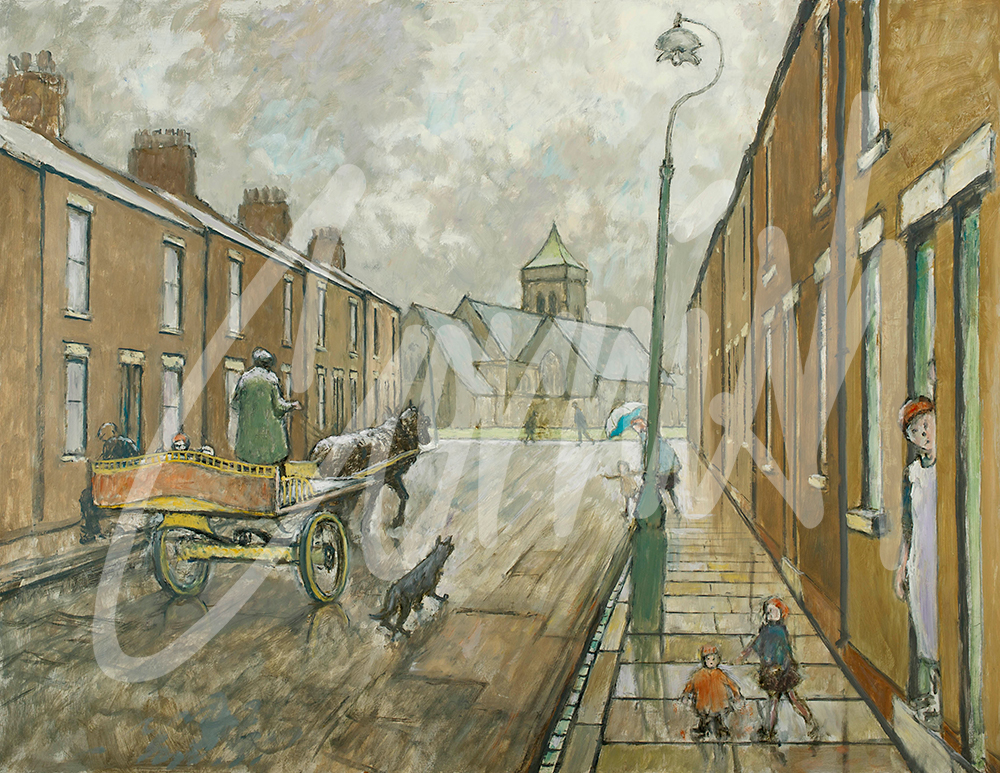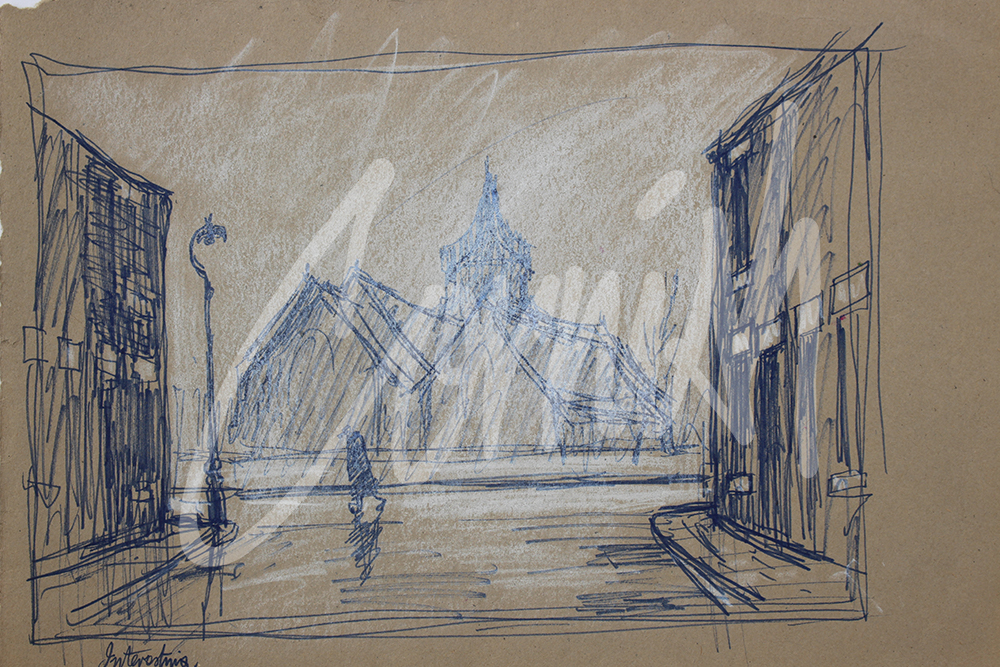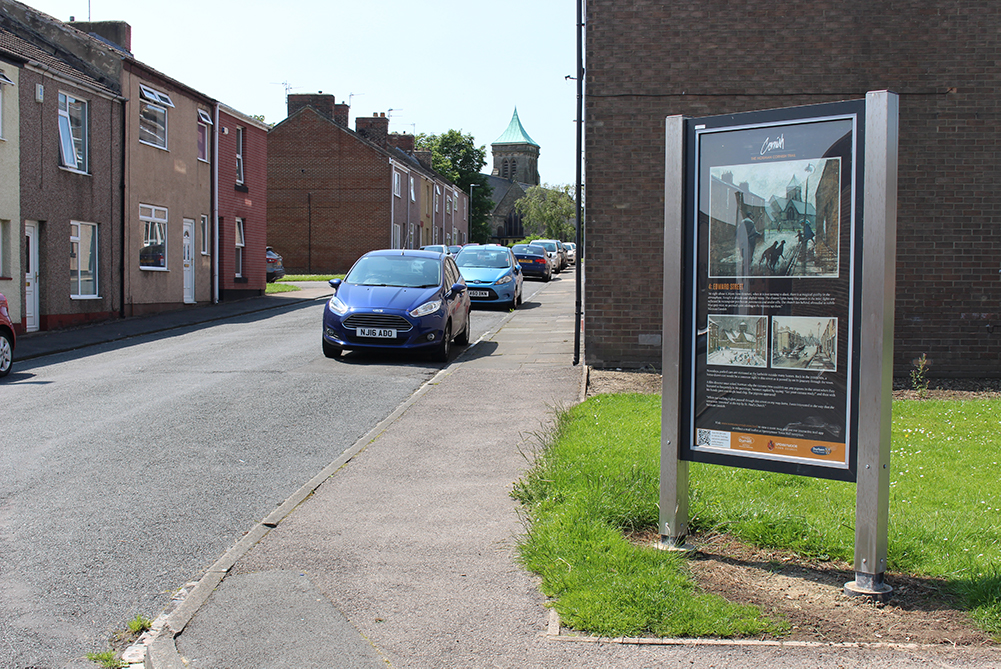 The Gantry: Part 2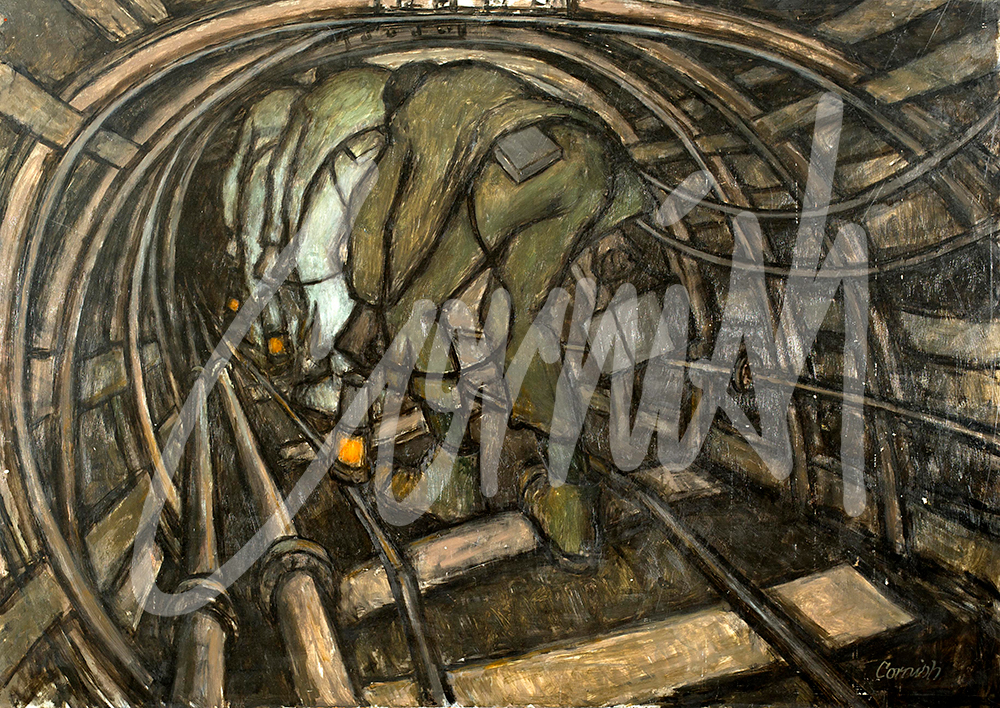 Cornish vividly recalls the first time he entered the cage on his first day at work.
In his own words:
As we stooped to enter the cage, which held 20 men at a time I was comforted by the fact that I was amidst experienced men quite used to the descent into the pit. The cage dropped very rapidly. About halfway down I felt that I was coming up-over. We finally landed at the shaft- bottom and I was relieved to find that it was well lit by electric lights. A tunnel curved away in the distance. My mining career had begun.
At the Stone Gallery exhibition in 1960, Cornish was introduced to Lord Lawson of Beamish, who was born in Whitehaven in 1881, moved to Boldon Colliery aged 9 and worked underground as a 'trapper' from the age of 12. Jack Lawson, a former miners' leader, was elected to Parliament in 1919 as MP for Chester-le-Street and became Secretary of State for War 1945-46. He was also Lord Lieutenant of County Durham 1949-58. Jack Lawson and his wife invited Norman and Sarah to tea at his home one afternoon and a car was sent to collect them. After tea he suggested that he and Cornish have a chat in their front room and Jack Lawson produced a copy of his autobiography, 'A Man's Life', which was a favourite of Cornish.
Lawson opened the book and read aloud the chapter describing the pit cage descending from the gantry, leaving Cornish with a much treasured memory. 'A Man's Life' was a firm favourite on the bookshelves at Whitworth Terrace and it was humbly inscribed to Norman Cornish, miner artist, from the author Jack Lawson.
The book also delves into the challenges faced by miners: to overcome prejudice, the disrespectful treatment by officials and lost opportunities to continue their education. In one of the chapters, there is a reference to a poignant moment under-ground, and in total darkness, when pausing between strenuous activity, two of Lawson's colleagues continue a conversation about the salient points in a specific Greek play.
Cornish worked hard as a miner but frustration crept in as he wrestled in his mind with the fact that a colliery was geared to coal production and not art appreciation.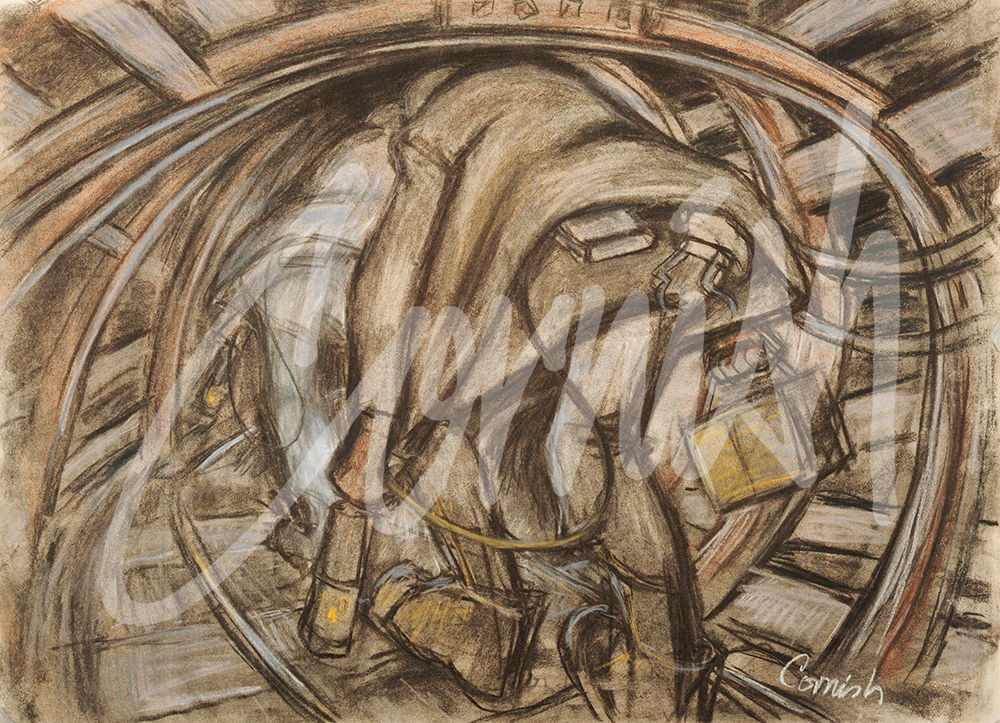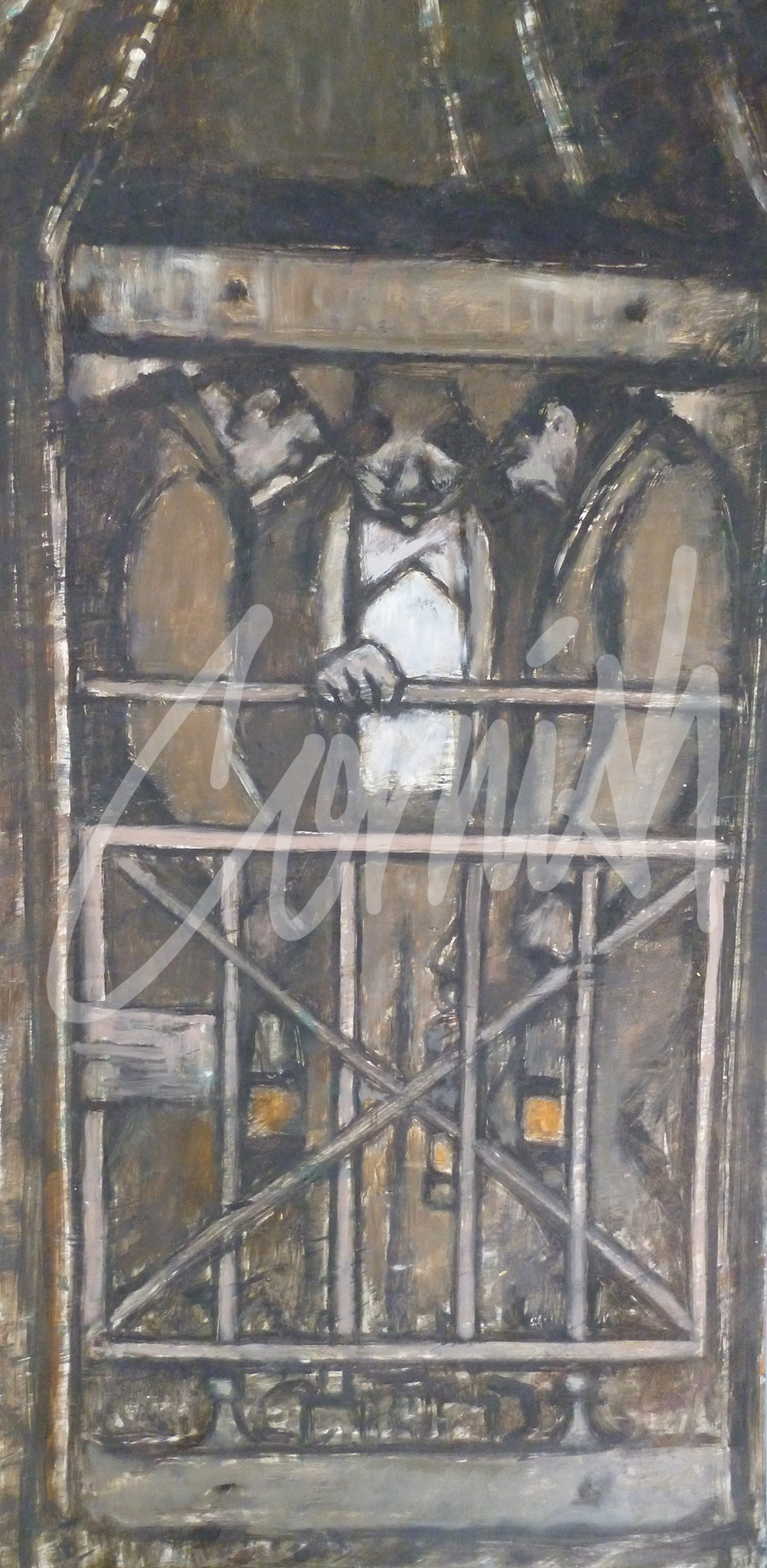 The Gantry: Part 1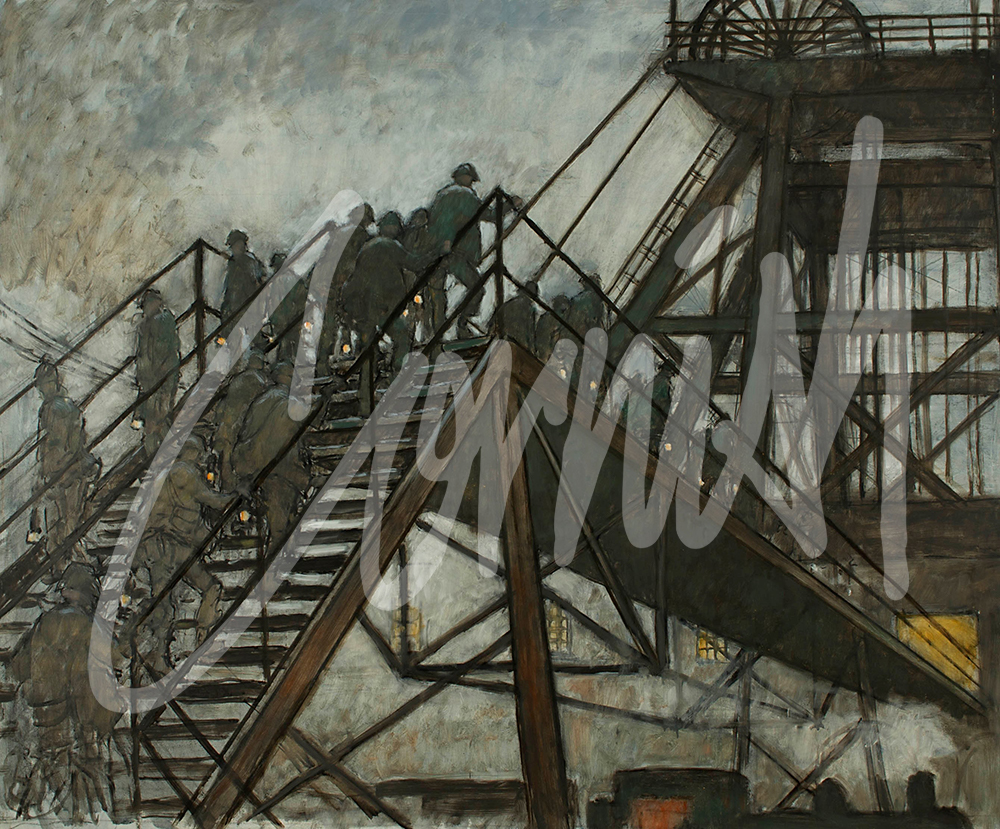 Cornish arrived cold and damp from walking over two miles in heavy snow to start work aged 14, at 2am, on Boxing Day 1933. He had no choice, and was denied the opportunity of continuing his education because he was the oldest in his family of five brothers and one sister.
There were over a hundred collieries and pits including quarries, brickworks and coking plants within a five miles radius of Dean & Chapter Colliery, at various stages or working, closing or dormant. The smoke and sounds of the railway engines hissing, coal trucks, colliery buzzers, and miners' boots on the steps combined to create an industrial cacophony. The impact upon the environment and the men was pervasive.
He was offered a job as an underground datal ( paid by the day) lad and when he signed on the dotted line the official said in his deep voice: "You've just signed your death warrant son." The pit was nicknamed locally 'The Butchers Shop,' owing to the number of accidents there. The records of 177 fatalities make for sober reading although there were no 'disasters' (officially five or more killed together, by gas explosion for example).In 1935 there were 2,135 men and boys working underground and 538 above ground. By 1937 the workforce was producing 3,000 tons of coal a day – a third of it machine - mined and the rest hand hewn.
On his first day he was given a lamp and a disc and moved out of the lamp cabin to be confronted by a flight of steel steps leading on to a gantry which crossed the mineral line. The gantry led onto the cage bank level which was at the opposite end of the gantry wheels and ropes. As the shunting engine passed below them, they became lost in a cloud of steam which reflected the arched window lights of the colliery like a cinema screen.
In his own words:
I went through the door and the first thing I saw was the gantry scene. The men were there with their orange oil lamps and they looked like fireflies. Then I saw a mass of steel railings, steps, girders and steel wires. I thought it looked like a great steel spider's web and when I saw the colliery behind, I thought it was like a giant big spider – moving towards us and then going to drop us down a great hole.
The picture is about feeling – what I felt and saw as a boy.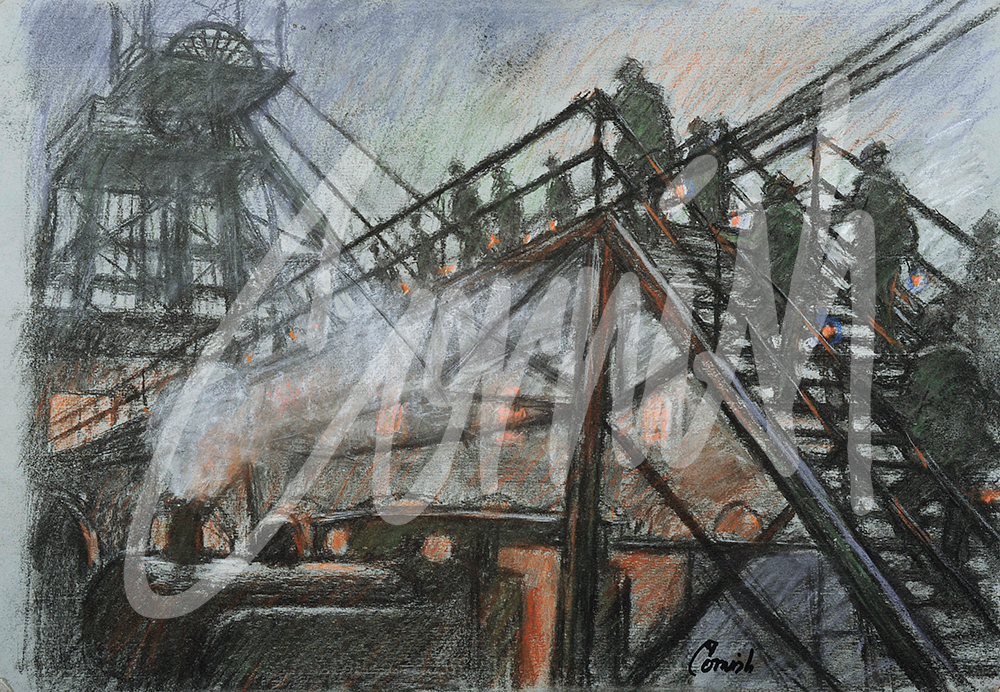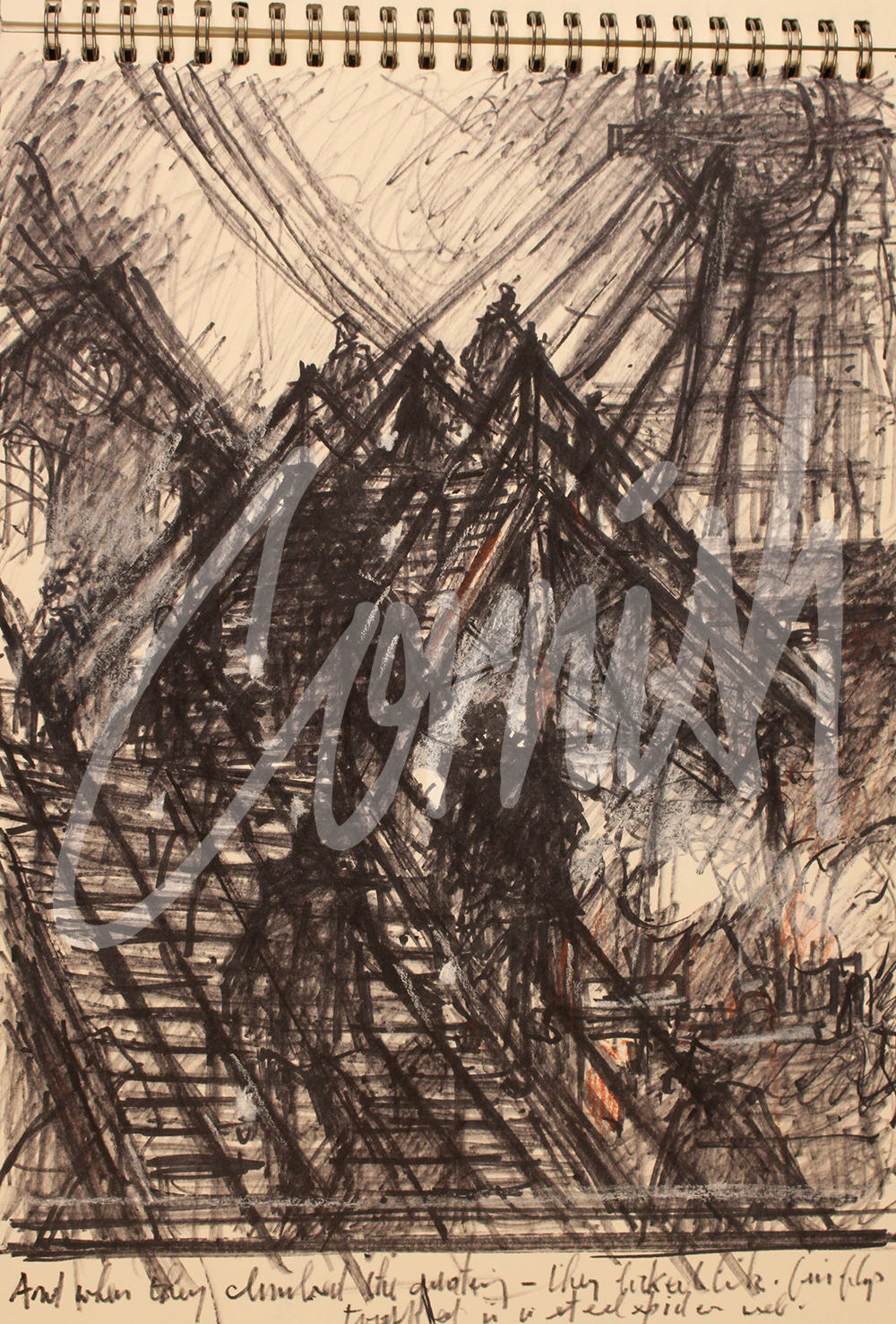 Behind The Scenes: The Bridge at Sunnybrow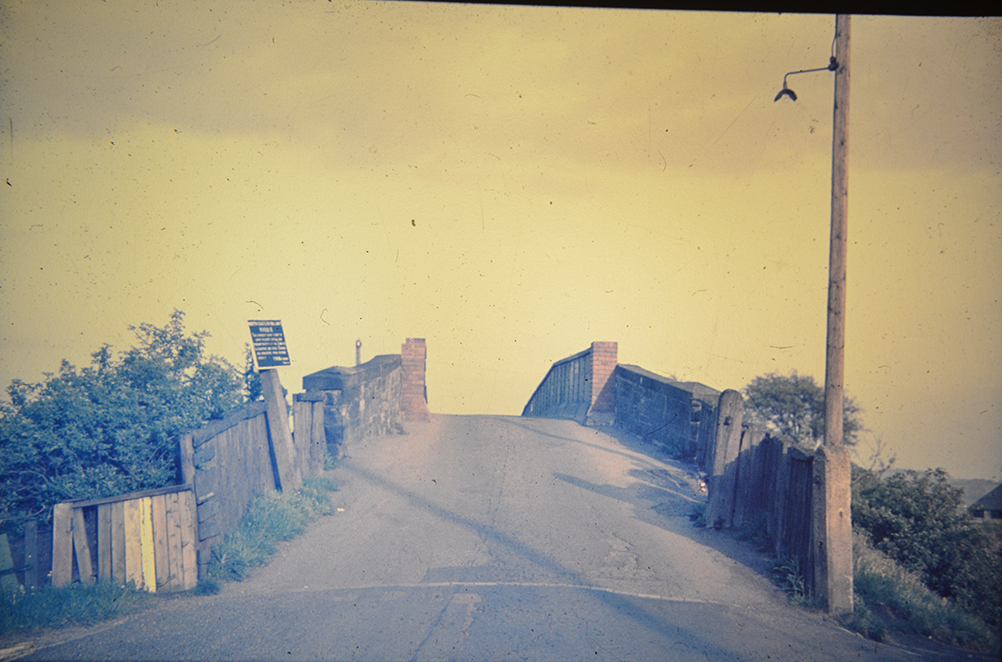 Cornish occasionally visited other villages in County Durham as well as places of interest across the region. The Pit Road theme was interpreted in several locations and the huge number of collieries provided other opportunities to develop this iconic theme which impacted the lives of thousands of other miners and their families.
Unable and unwilling to learn to drive, many places in the county would have been inaccessible to Cornish had it not been for his good friend Jack Savage who drove him in his Morris Minor to a number of villages and collieries.
In October 2011, Jack Savage's daughter, Anne Wood CBE (creator of The Teletubbies and a Children's TV producer) featured on BBC Radio 4, Desert Island Discs. During the interview, she spoke with warmth and affection about her family roots in Spennymoor and the influence on her life of Norman Cornish MBE 1919-2014.
Sunnybrow was a small colliery near Hunwick in the Wear Valley. The railway line finally closed in the 60s and this bridge was demolished. Originally it was the entrance to the village.
In his own words:
One wonders with the passing of time, when no present-day type pitheads actually exist, if pictures of them might one day be thought of as picturesque and as socially significant as old windmill pictures. They are both dominant shapes in the skyline; they both make big angular shapes against the sky; they both have big revolving parts. Also they both of them tend to have workers' houses built around them.
The Bridge at Sunnybrow is featured in the book, Behind The Scenes: The Norman Cornish Sketchbooks, in the chapter devoted to Mining Scenes. The other chapters show the development of his work in Street Scenes, Bar Scenes and Observations of People. Copies may be purchased by visiting normancornish.com/shop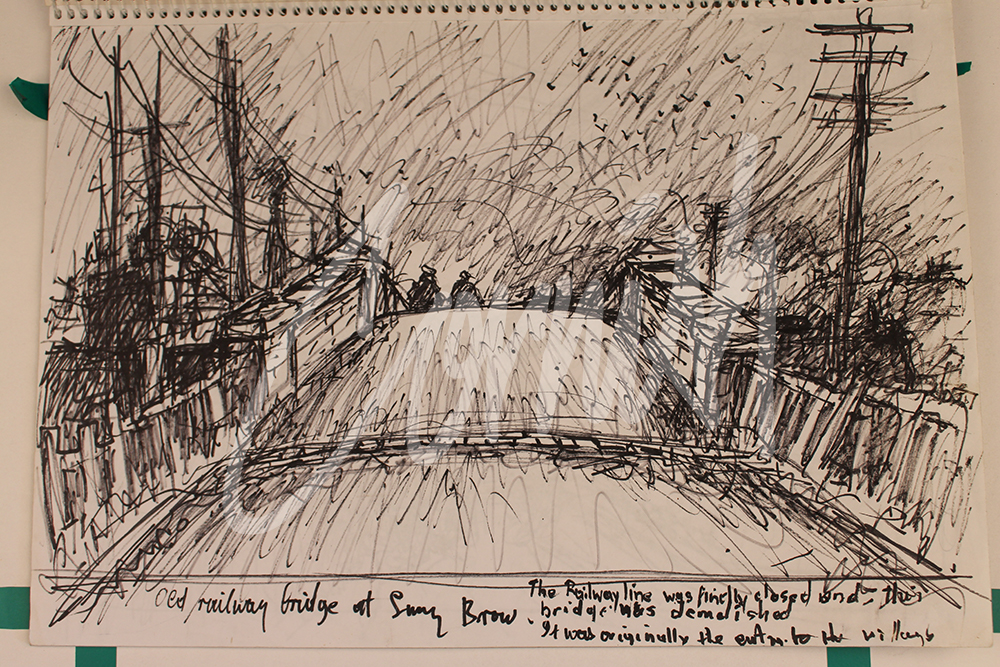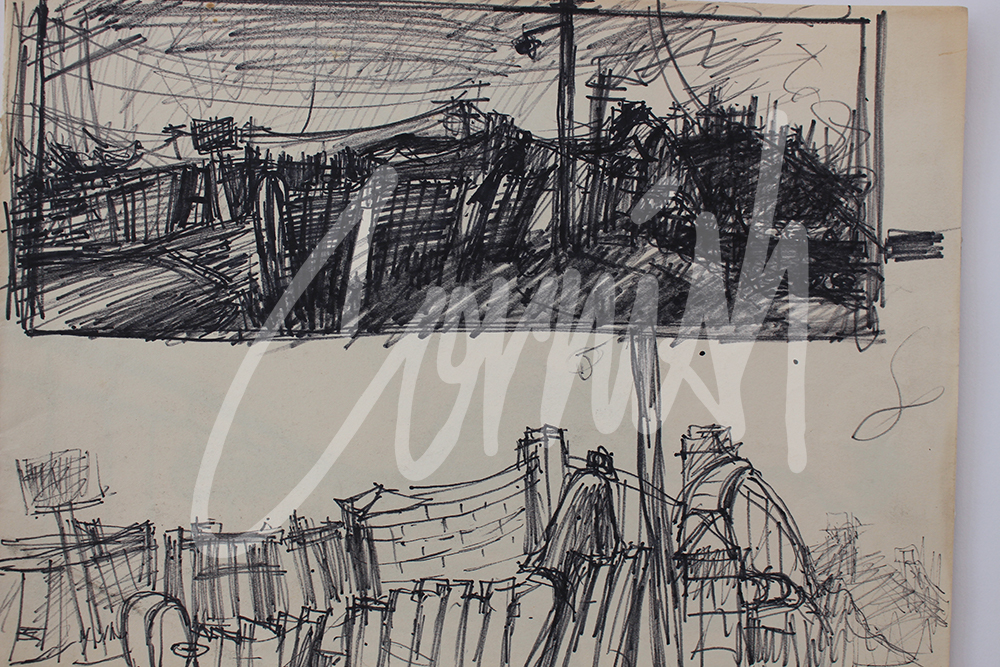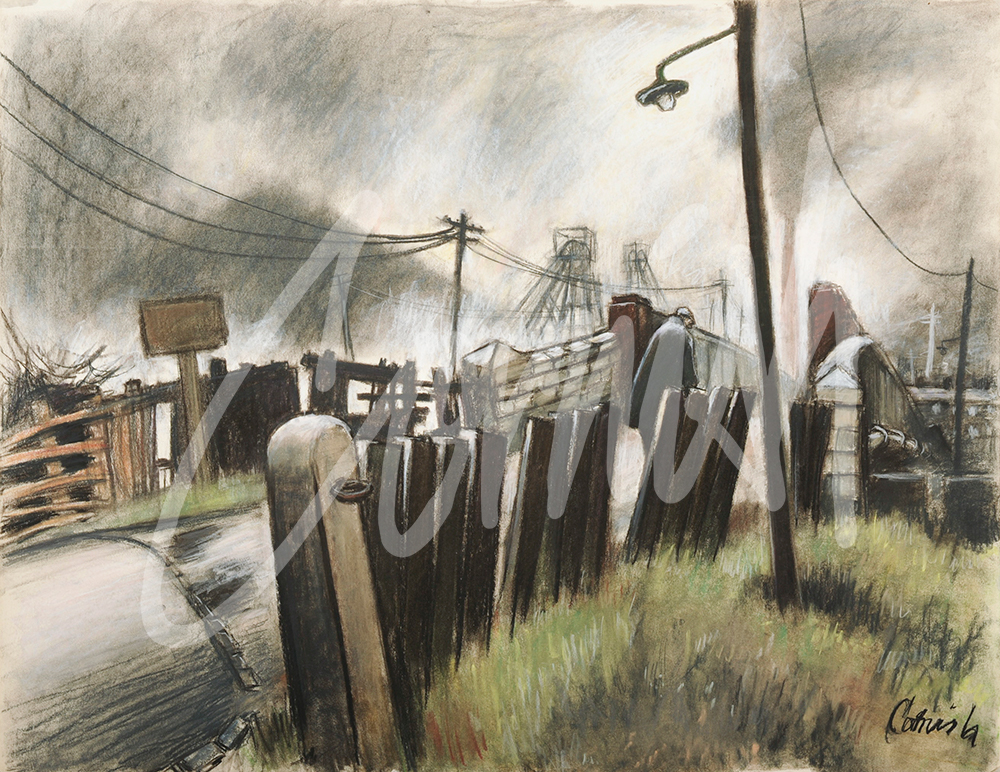 Cornish Centenary
Throughout the centenary year, an interesting range of themed exhibitions is planned in order to commemorate Norman's life and to celebrate his work.
If you would like to find out more click below:
Stay tuned via social media:
---