Latest News
The Creative Process: Part 1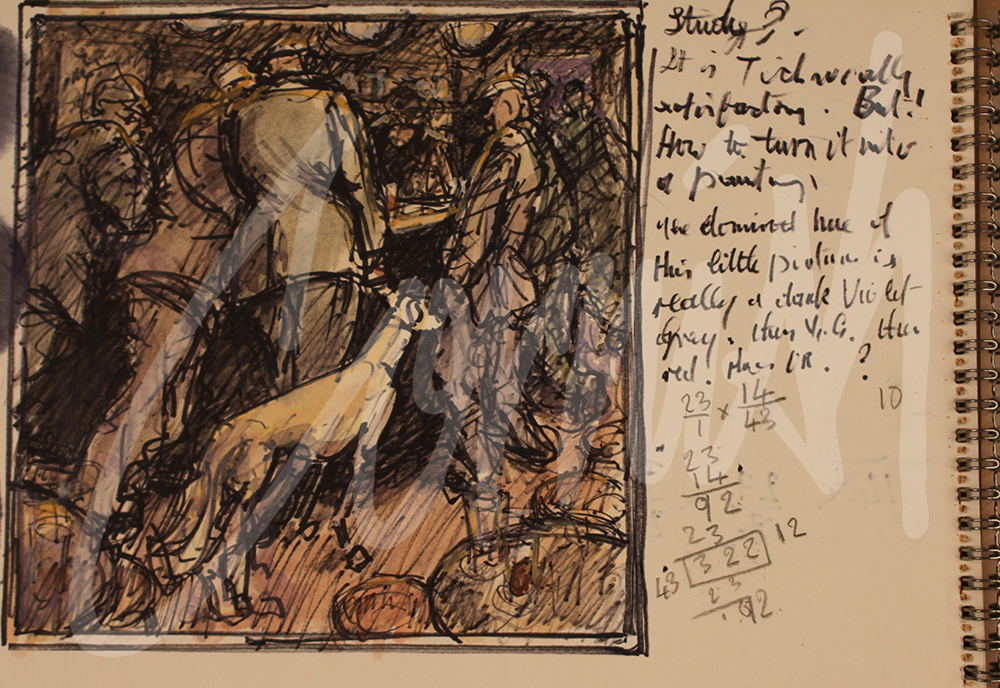 One of the popular questions at the end of public lectures about Cornish's life and work has always been about the process undertaken by Cornish to create his paintings and in particular his larger works on canvas.
A popular misconception is that a completed picture is produced as a single exercise from beginning to end. But the creative process is actually a very engrossing and taxing mental exercise for the artist demanding maximum concentration, and can often take days, weeks or even years to complete as the artist revisits the work several times.
The pictures accompanying this feature provide a wonderful example of the evolving steps to achieve satisfaction with the outcome. Knowing when to stop was also important and family members would often be asked "what do you think?"
Much thought would go into the underlying geometry of the images and the layout, which Cornish considered to be an abstract art form in itself, giving rhythm and structure to the picture.
Characters are imported from his sketchbooks to achieve balance in the composition and appear to interact naturally in the scene. His initial thoughts are sometimes added in note form and colour notes along with experimentation to achieve colour and tonal balance.
The maths calculations appear frequently in his sketchbooks and are used to work out proportions along with the sizes of mounts and frames. Double click to enlarge images.
Behind The Scenes: The Norman Cornish Sketchbooks, contains many more examples of the creative process from initial sketches to completed paintings along with a selection of quotations by Norman Cornish. Available from our online store.
To be continued…… part 2 next week and at the beginning of February- starting from a blank canvas.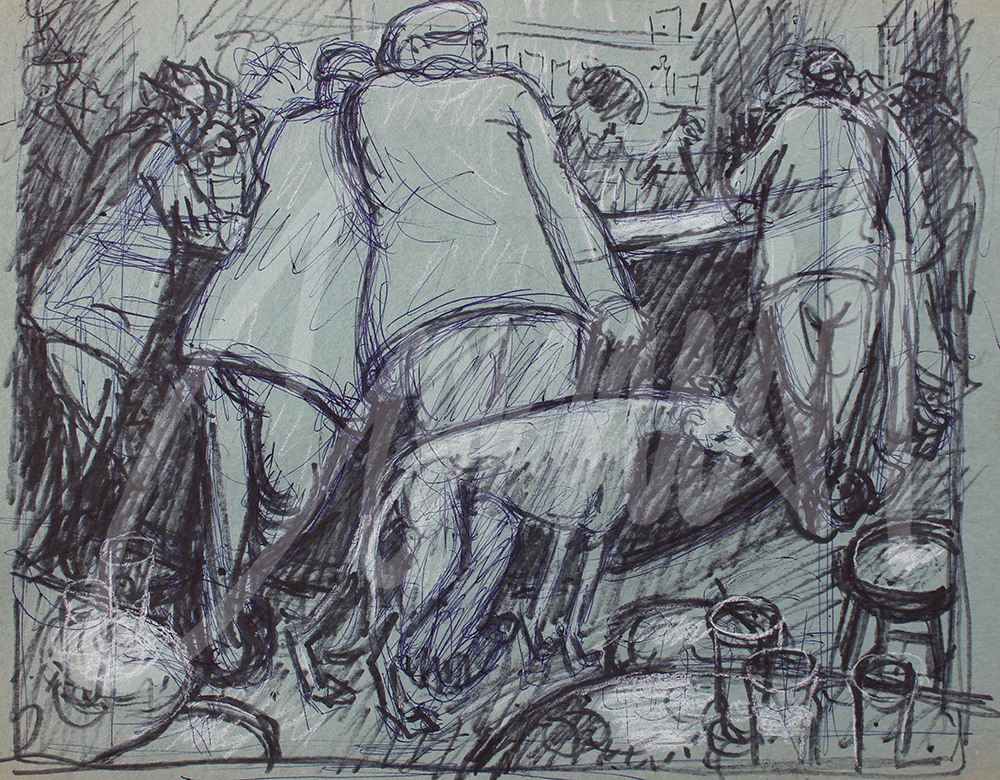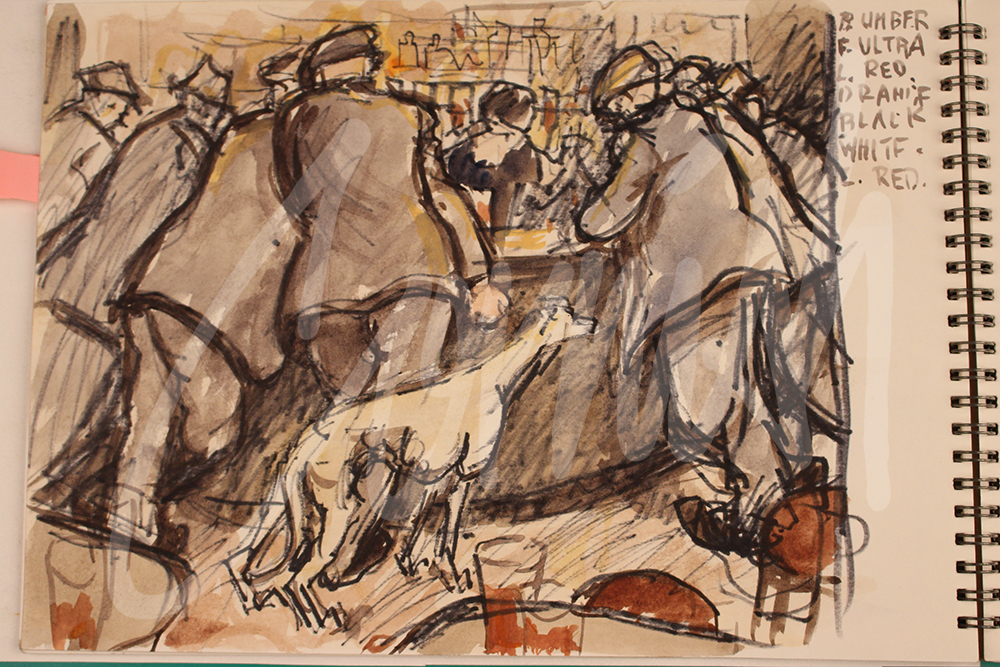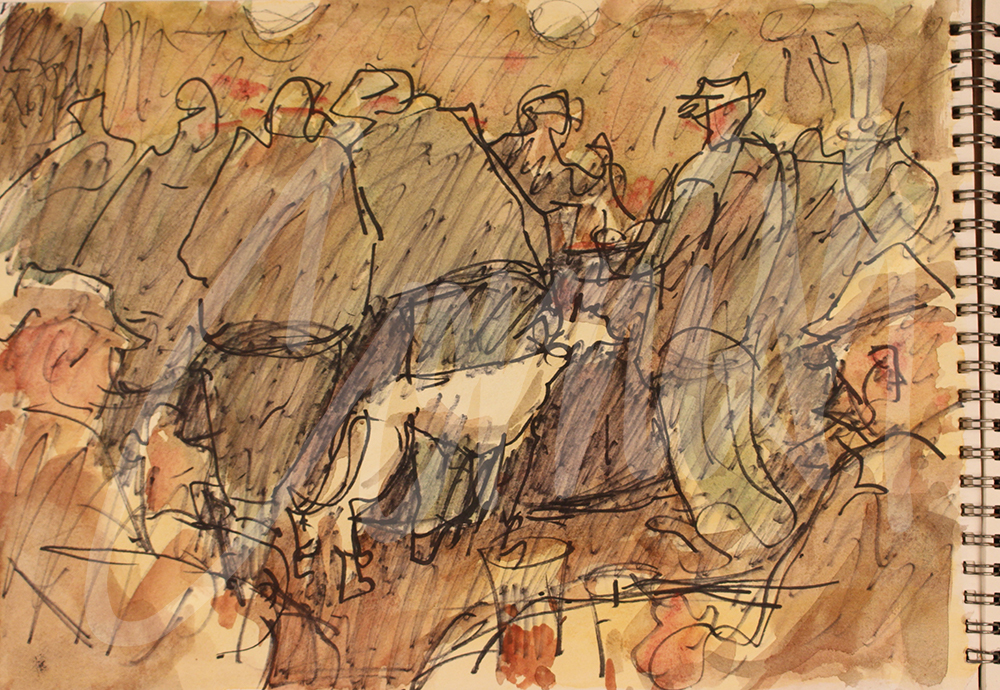 Benches: The Seat of Learning
Benches and the people sitting on them in public spaces in Spennymoor and sometimes further afield, became an obvious subject for Cornish.
He never owned a car or had any desire to learn to drive which was probably a 'blessing in disguise' because his attention would rarely have been on the road ahead. His lifetime friend Jack Savage would occasionally drive Cornish to places of potential interest but his main mode of transport was a bus. His only journey by plane was when he flew to Paris in 1966 to record 'Cornish in Paris' with the Tyne Tees Television crew.
From 67 Whitworth Terrace it took only two minutes to walk to the 'four lane ends' which was the location of one of his favourite benches. He referred to it as 'the seat of learning'. He would occasionally wander along to sit there and talk with old friends, and it became a special place.
In the opposite direction, a short walk past St Pauls Church and the Zebra Crossing took him onto the High Street in the town centre, where there were several benches conveniently located for shoppers to rest and elderly folk to sit and watch the world go by. Sometimes, a local person sitting with a companion dog would be Cornish's subject matter.
In his own words: " Spennymoor has all that a painter needs in order to depict humanity"
Such activity, on and around the seat, provided Cornish with natural sitters, in poses, with body language reflecting the subject of conversations, and sometimes their associated emotional responses. As someone who had lived his entire life in Spennymoor he was accepted in his own community where he was such a well- known figure. This was perfect for an artist such as Cornish who was deeply absorbed in his observations of people and shapes.
Further examples of his observations of people may be found in Behind The Scenes: The Norman Cornish Sketchbooks available on line from our online shop.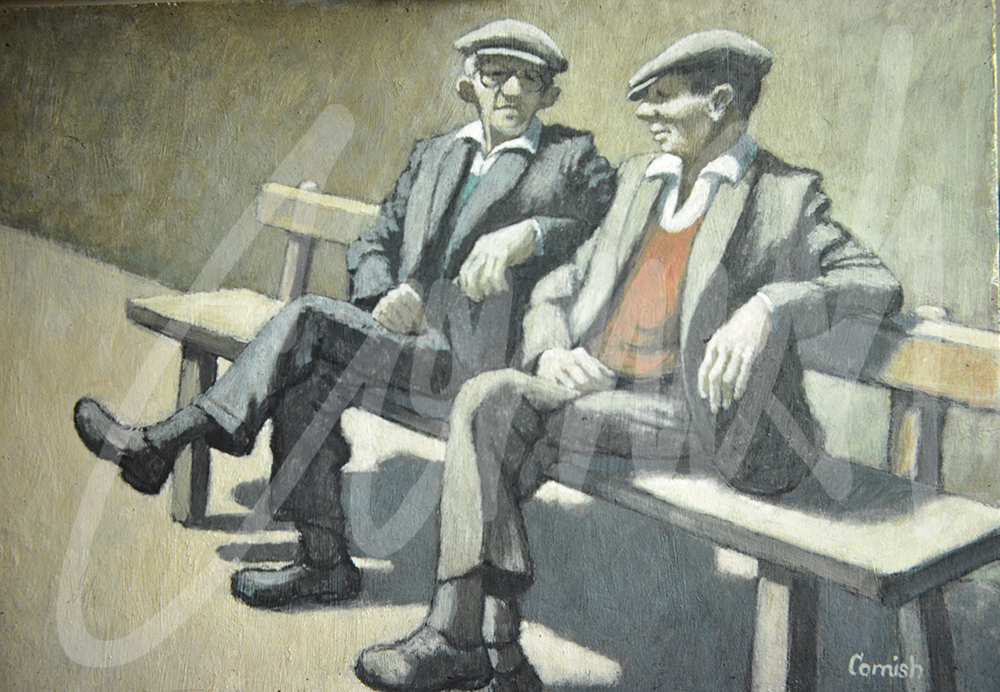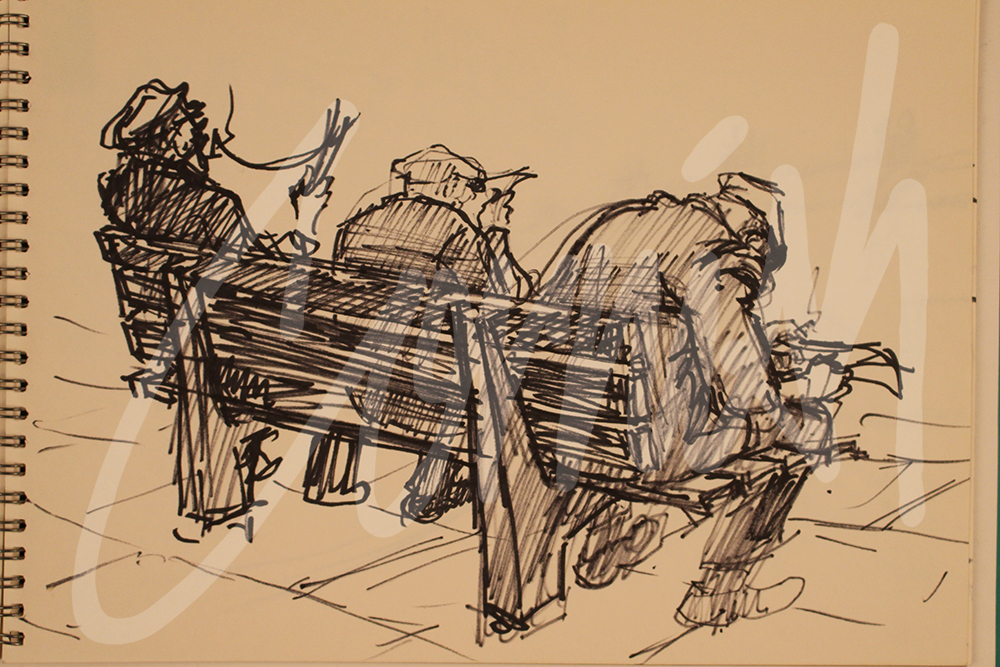 Horse and Cart: The Rag and Bone Man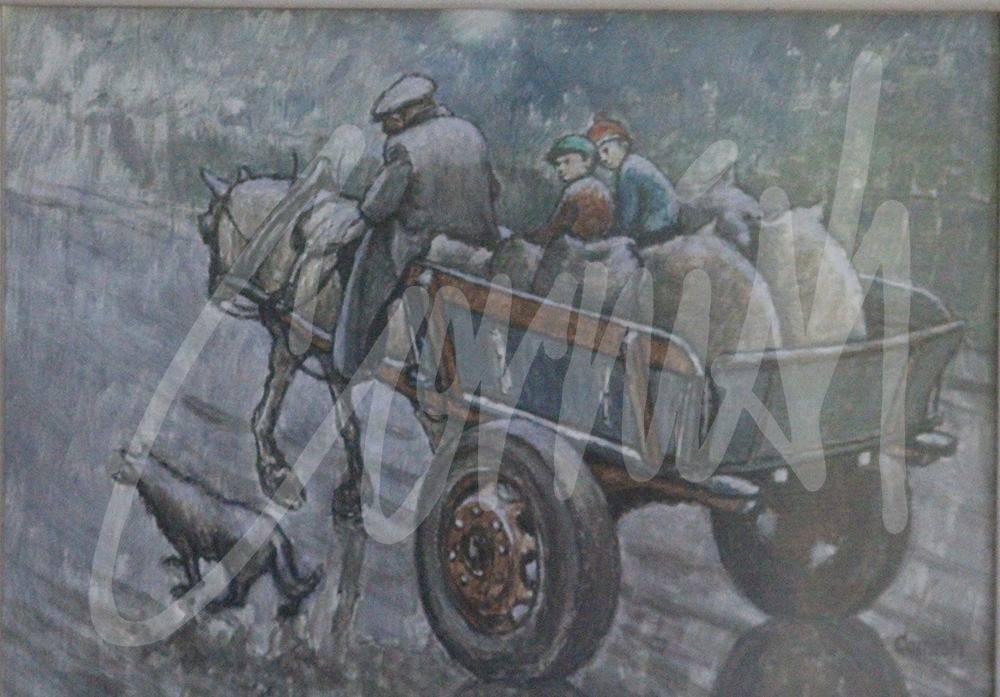 Cornish was aware of the contribution his work could make to both history and the sociology of mining communities. Although he was selective in the aspects of everyday life he recorded, his subjects are also a valuable historical resource beyond the world of art.
A horse and cart 'the rag and bone man,' was a regular sight on the streets of Spennymoor during the period chronicled by Cornish. In his own words:
"I have always believed that art is a form of communication and every picture has its own narrative"
He had an outstanding ability to quickly observe and record people in the most unlikely situations and the horse and carts seen in and around Spennymoor provide an excellent example. Sometimes they appear as subjects in their own right and on other occasions they are placed within street scenes as part of the natural inter-action between the subject and other people going about their daily lives at the same time.
His studio accumulated a significant collection of sketchbooks and scraps of paper, sometimes showing rapid drawings and often with written observations which clearly represent his thinking about his work at the time.
One classic example from many such papers is:
"In our memories and of course in history books, most so called 'great events' are usually well-recorded, but sometimes the ordinary things that happen in our lives are not considered extraordinary enough for comment. Yet things are often very important nevertheless, and sometimes give a reader a much better idea of the times than supposedly the great events."
During the war years, touring theatre companies performed at the Everyman Theatre at The Spennymoor Settlement under the aegis of companies of the calibre of The Old Vic. One of the visiting actors was Wilfred Bramble, who was later to achieve fame as Albert Steptoe in Steptoe and Son, a sitcom about a rag-and-bone business illustrating a different slice of social history. For quiz enthusiasts the horse was called Hercules !
Other examples of street scenes may be found in Behind The Scenes: The Norman Cornish Sketchbooks, available from www.normancornish.com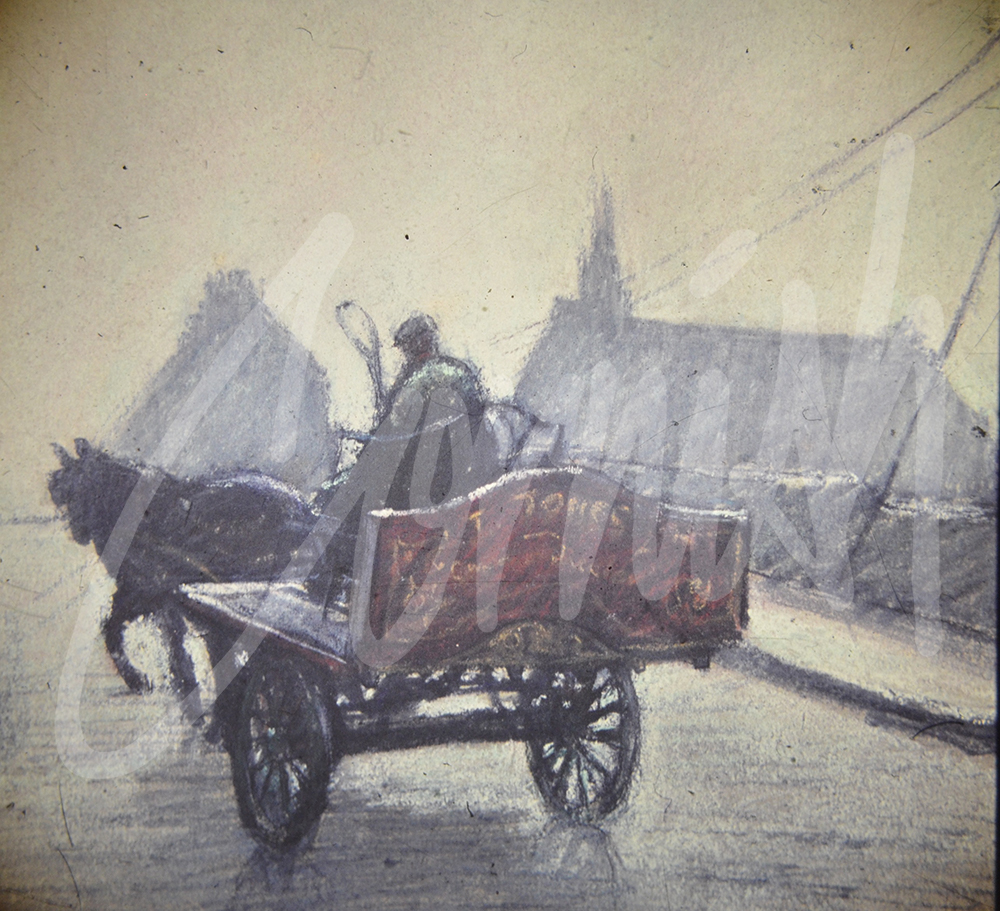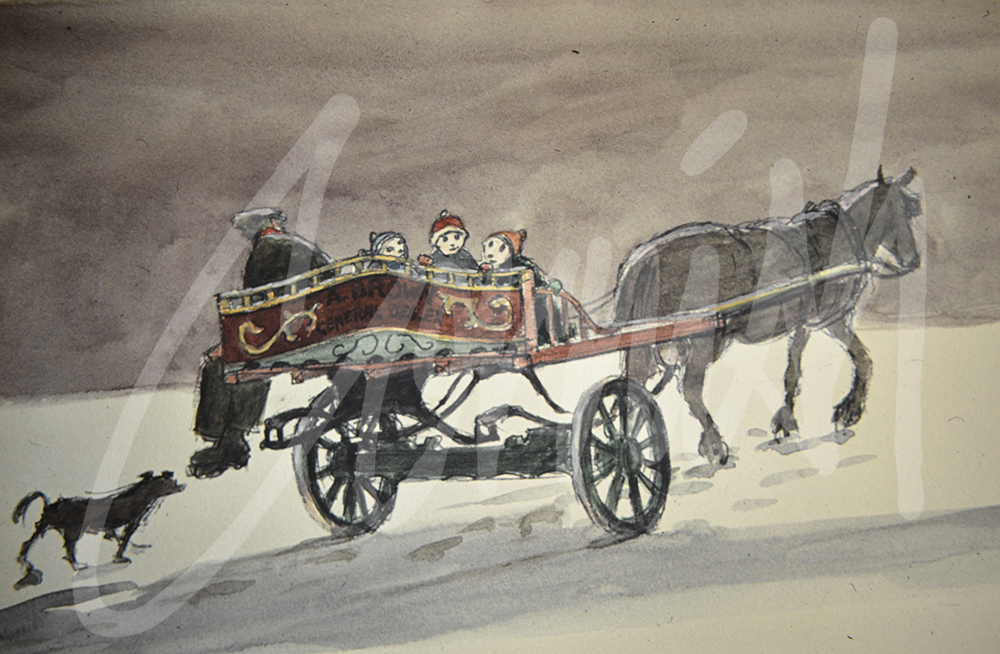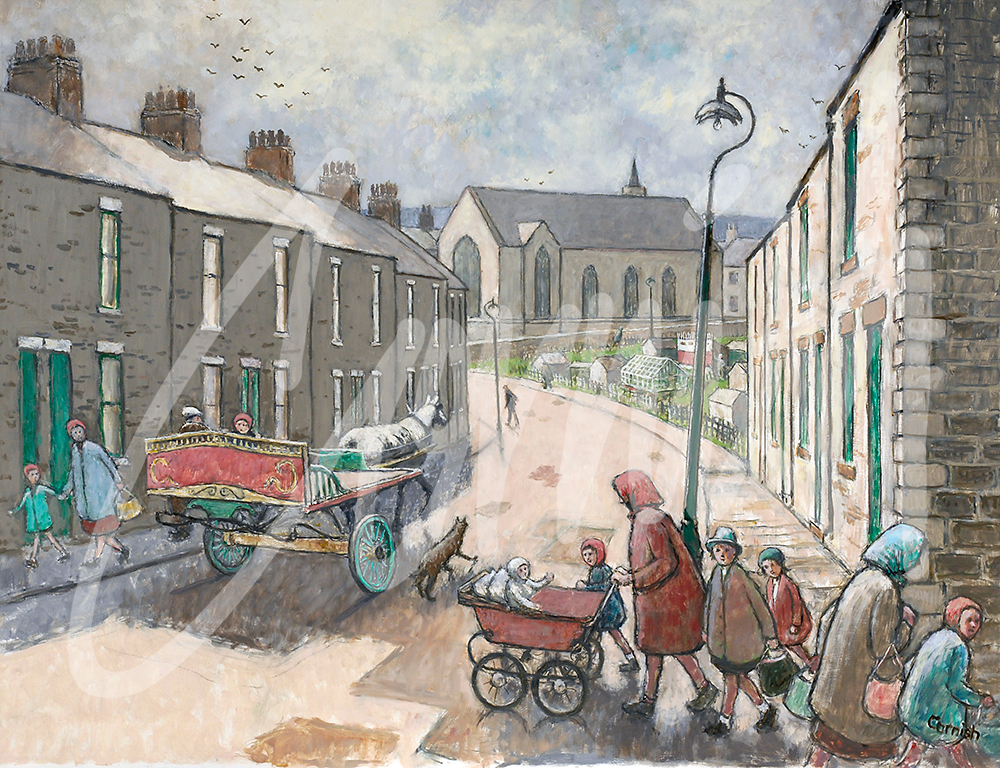 A Difficult Year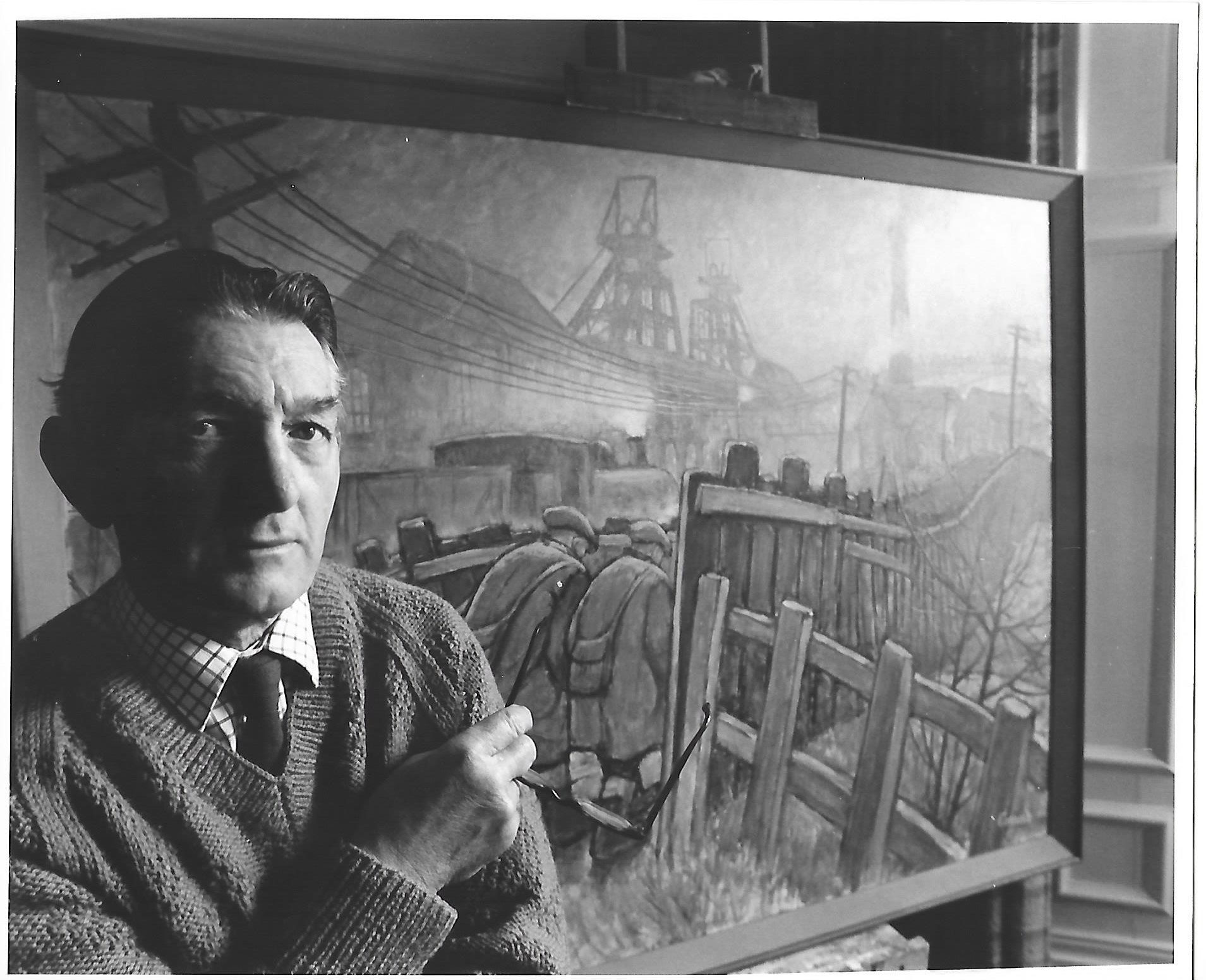 The month of March was meant to signal the end of the centenary year enjoyed by over 86,000 visitors to the programme of exhibitions; and then life changed significantly for everyone with the onset of the pandemic, and all attempts to proceed as normal evaporated overnight.
The final public lecture and performance of some extracts from the Anthology workshop sessions which used Cornish's work as inspiration for creative writing and poetry, was cancelled, although the actual Anthology was published a few months later. The retrospective exhibition at The Bowes Museum proceeded with hastily assembled on-line access to maintain a presence, only to be curtailed as the pandemic re-surfaced, followed by a re-opening in August to sustain the popularity of this very popular and successful exhibition, until the most recent lockdown.
Many visitors to the website and facebook followers have commented about how much they have enjoyed the weekly features which have taken readers behind the scenes, and perhaps revealed more about Norman Cornish and his fascinating, yet challenging, journey from miner to professional artist. There will be more interesting articles from the archive to be published during 2021.
Norman Cornish always enjoyed talking about his life and work and it comes as no surprise to many that he was regarded as an intellectual who could 'talk forever'! In 2007 he was interviewed on behalf of Northumbria University by Richard Swallow who only managed four questions in 51 minutes. The recording has previously only been available at the Coming Home exhibition at the Bob Abley Gallery in Spennymoor Town Hall, where one visitor described listening to Norman as a 'master class in art appreciation'
If you have some time to spare, sit back, click on the link here, and enjoy listening to Norman Cornish, by kind permission of Northumbria University, and enjoy an 'end of year treat.'
Let's hope that 2021 is a much happier experience for everyone.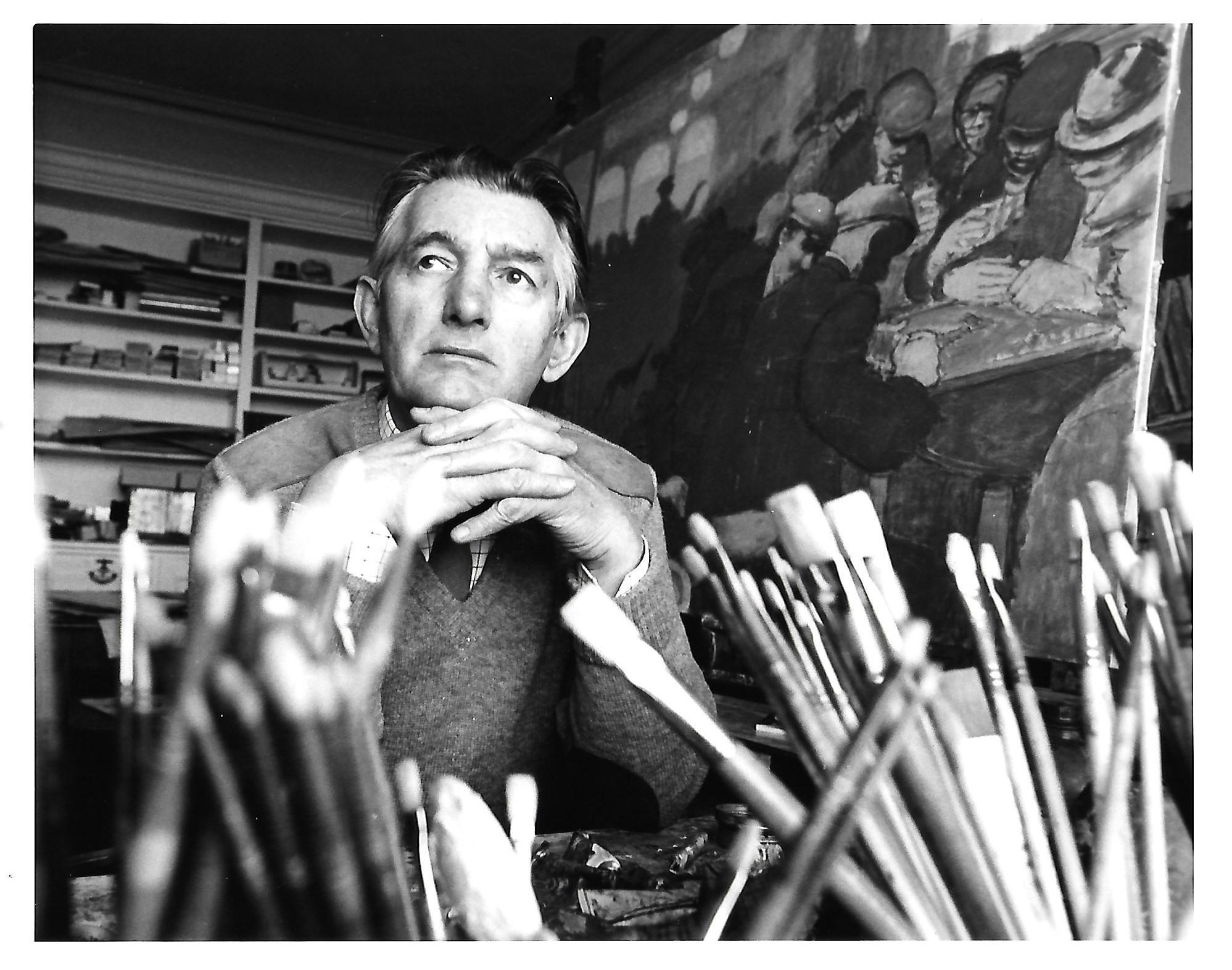 Boxing Day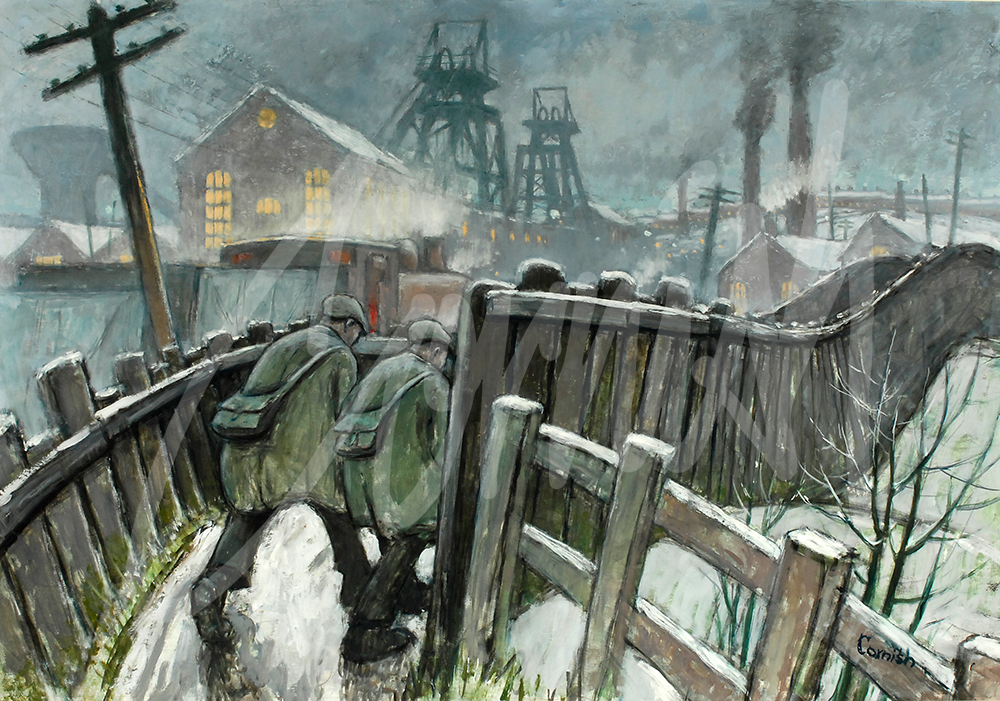 Christmas in 1933 was faced with trepidation by the young Norman Cornish who was just 14 years old. In his early years he had survived epidemics of Small Pox, Scarlet Fever, and, like many children of the day, he contracted Diptheria when he was just seven. Denied the opportunity to continue his education, he was a boy on Christmas Day and had to become a man on Boxing Day, as he walked 3 miles to work, in the snow, to start his first shift at 2am, at Dean and Chapter Colliery, Ferryhill. The area suffered economic gloom, times were hard and there was widespread poverty.
87 years later in 2020, the unprecedented global circumstances have created similar challenges for all of us, but the enduring flame of mutual support, community spirit and kindness will see us through. At some point we will look back and be relieved that life has continued…. just as it did for the young Norman Cornish in 1933.
Best wishes to you, your family and friends from
Ann and Mike Thornton , Dorothy and John Cornish.
Compliments of the season.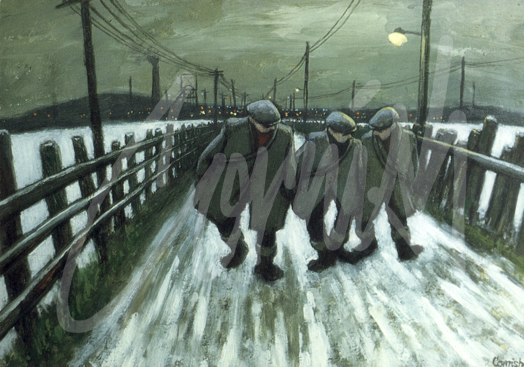 Cornish Centenary
Throughout the centenary year, an interesting range of themed exhibitions is planned in order to commemorate Norman's life and to celebrate his work.
If you would like to find out more click below:
Stay tuned via social media:
---