Latest News
Man at Bar with Dog: A Masterclass in Art Appreciation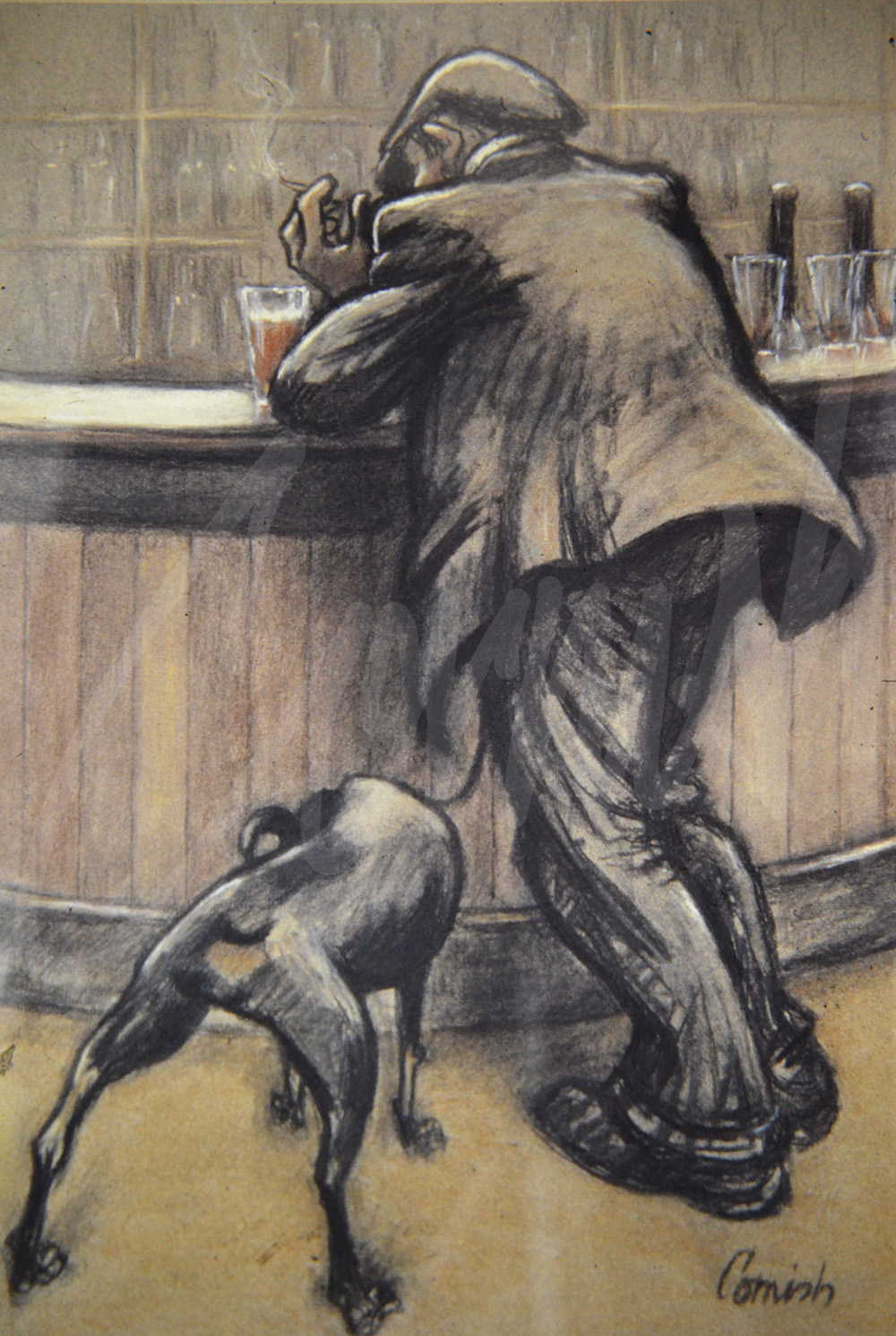 This picture had pride of place in the living room at Cornish's home in Spennymoor. At first glance, this appears to be a relatively simple observation and design.
There were numerous versions completed throughout his career with minor adjustments to the position of the man at the bar, his arm on the bar, and various alignments of the dog's head and legs. Constantly seeking the perfect composition almost became an obsession for Cornish. At Spennymoor Town Hall, Bob Abley Gallery, there is an hour long documentary (commissioned by Northumbria University many years ago) available to view. During the film, Cornish discusses his life and work with Richard Swallow who only manages four questions in an hour. However, in the visitors' book, there is a delightful comment from someone who has enjoyed listening to Cornish talk about Man at Bar with Dog.
The visitor wrote: I have just listened to a master class in art appreciation.
Cornish in his own words:
This is more than a man and dog really because the composition is fitted very carefully within a rectangle and my feelings about it are put in that rectangle. First of all the dog and man, well they are both, to be blunt, animal life on this planet. The man is an animal and the dog is an animal too – and funnily enough, very similar, arms, legs, heart and chest. So how do I get that across? Well, I notice that the man is full of curvilinear shapes, and I find that if I start at the right hand side, the man's coat and bottom of his trousers in a big curve come around it, continue and reverse and come along with the curve of the dog's chest then down his leg to create a lovely curvilinear shape which is marrying the two figures together aesthetically. Also if you come from left side from halfway up the picture, the middle of the man's leg is doing the same- which gives great strength. The right lower corner up the man's shape to the top come to what we know as the golden section- this is a specially sensitive area which people have a feeling of rightness about and can be discussed. Then come straight down the picture and pass something very interesting-down the man's leg and the dog's two front legs. These are echoed with the two beer pumps. Not just a man and a dog but an arranged man and dog upon a theatre of operations, that's how my pictures have been done.
The Man at Bar with Dog appears in many other bar scenes and throughout Cornish's sketchbooks. Further examples can be found in
Behind The Scenes: The Norman Cornish Sketchbooks available on line at www.normancornish.com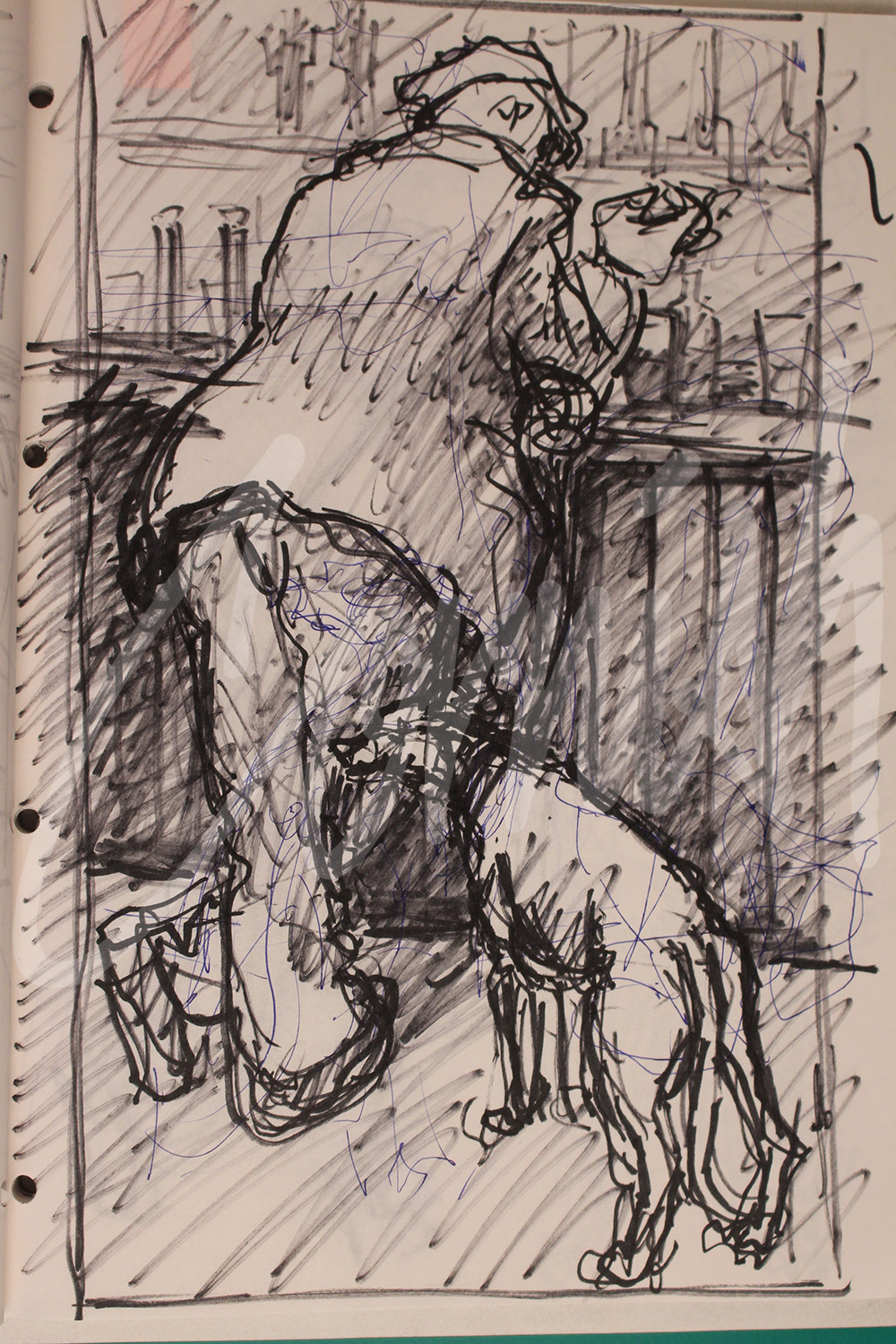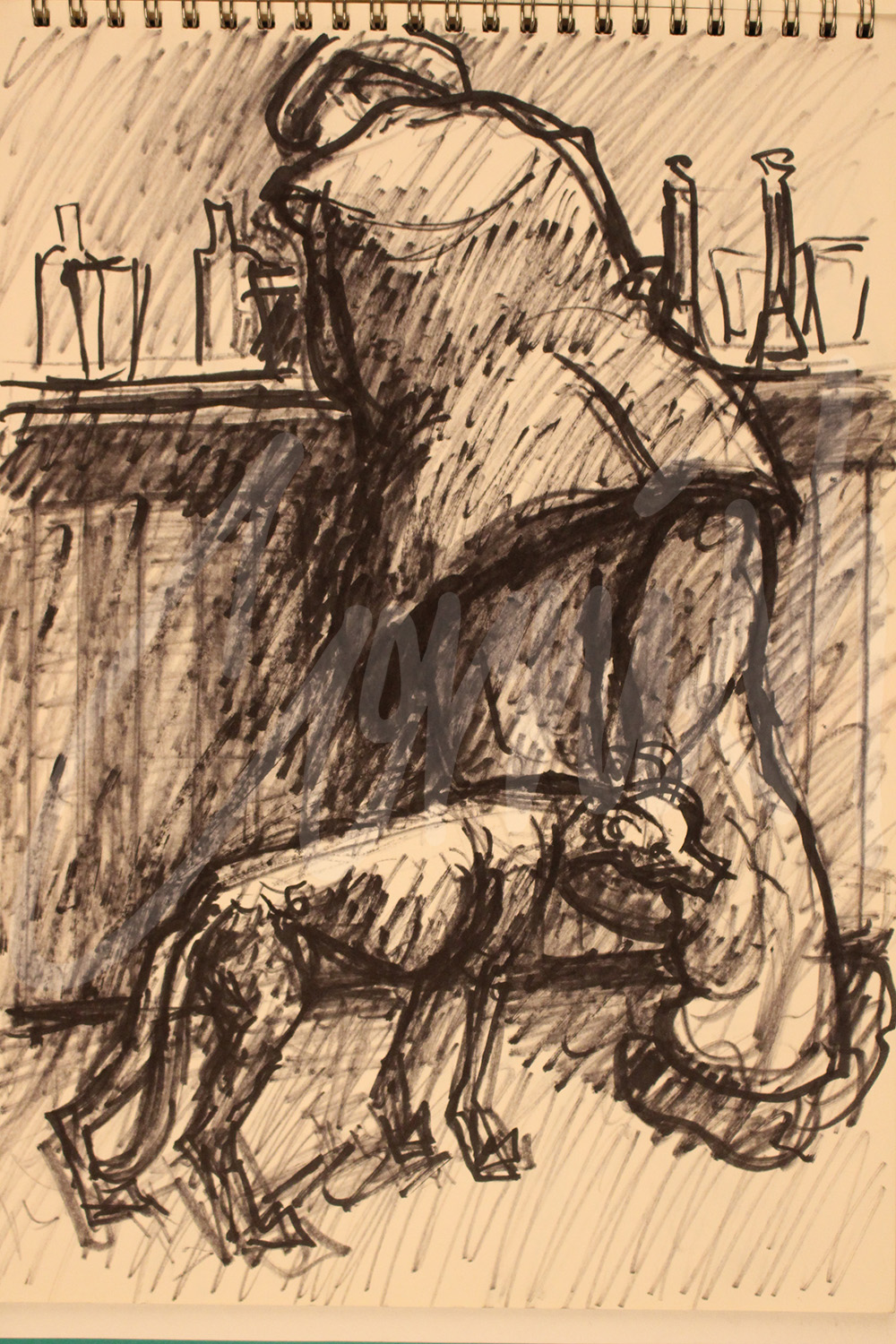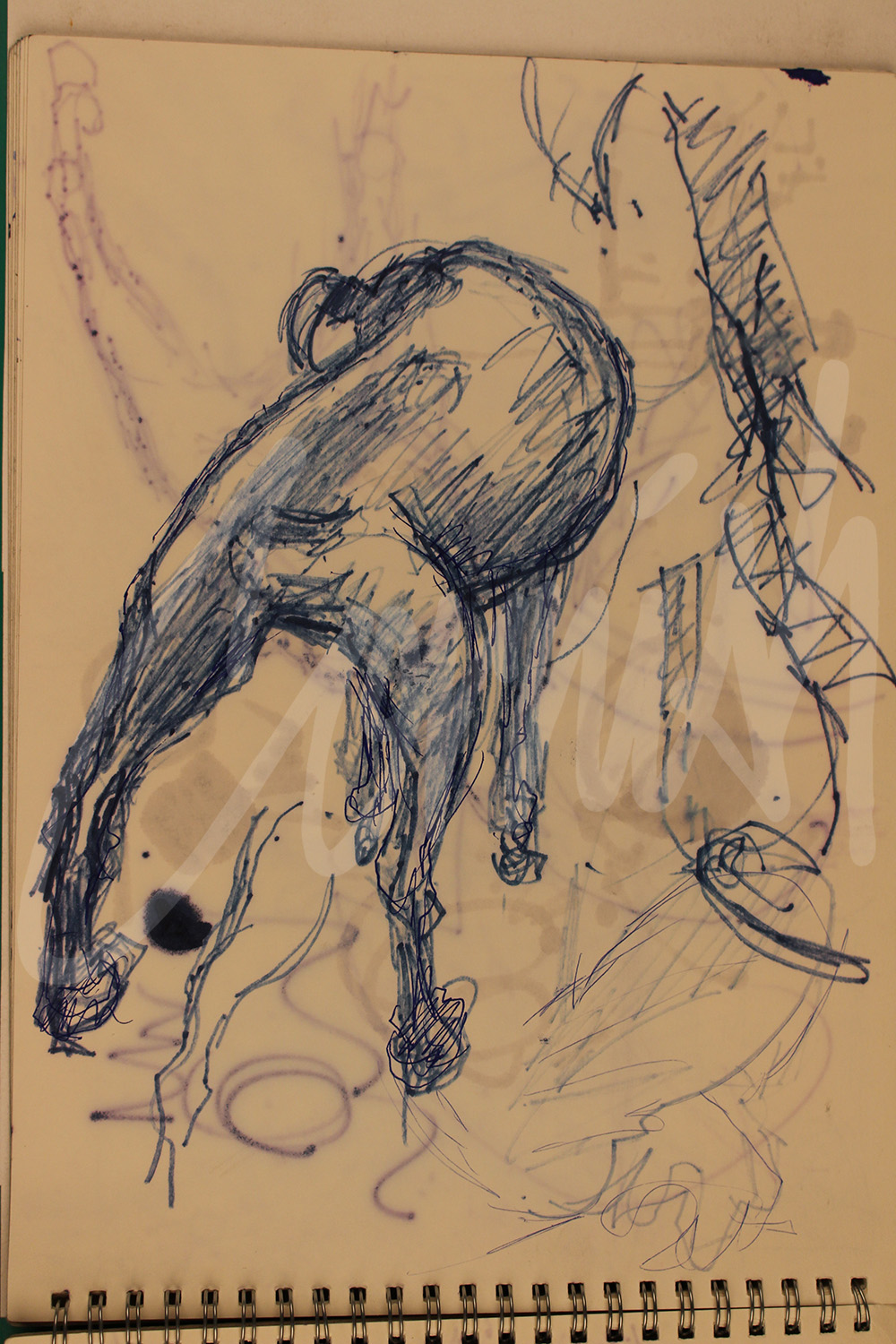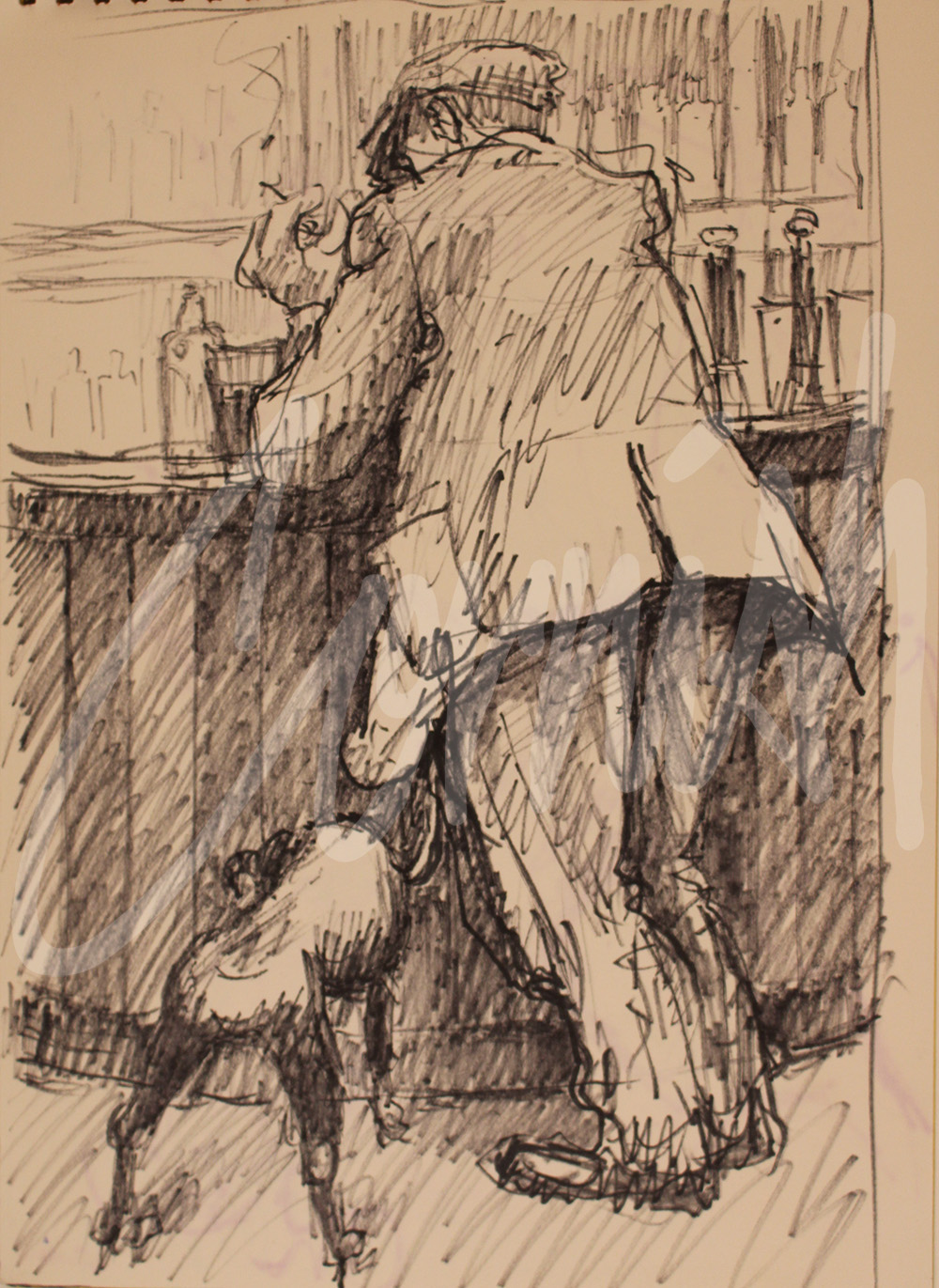 Edgar Degas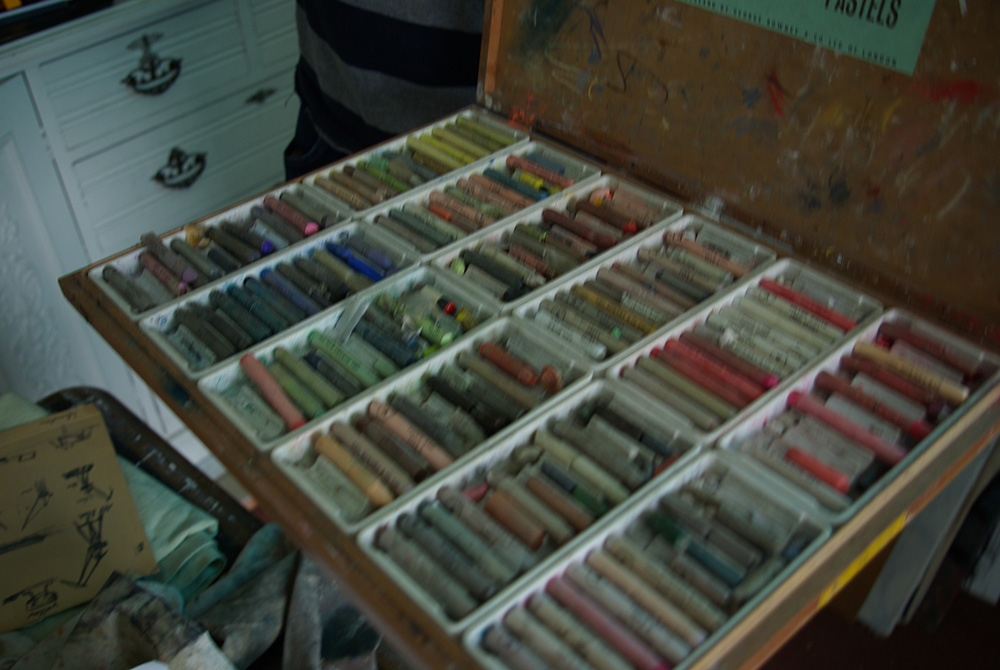 In 1989 , towards the end of his autobiography A Slice of Life, Norman summarised his thoughts during some moments of reflection about his life and work.
I believe that in some way I have been influenced by almost every picture that I have ever looked at. I have been much influenced by the work of the important masters: Rembrandt's drawings, early Van Gogh, Bruegel, Degas, Toulouse-Lautrec, Cezanne, and maybe Lowry, to name but a few. However I have resisted being swamped by their influences, utilising their influence instead as an education in mental and visual awareness.
Edgar Degas (1837-1917) was a French artist famous for his pastel drawings and oil paintings of ballerinas. Degas also produced bronze sculptures, prints and drawings. He was one of the founders of Impressionism, although he preferred to be called a realist, with his observations of contemporary life and activities.
A print by Degas – Combing the Hair, used to hang on the wall outside of Norman's studio at Whitworth Terrace in Spennymoor. Inspired by Degas, the 'dry media' of charcoal, chalks and pastels became Norman's favourite media in his portraits and some large works. By the age of twelve, Norman's daughter Ann was accustomed to posing for her father in many different situations. Ann in Red Shoes.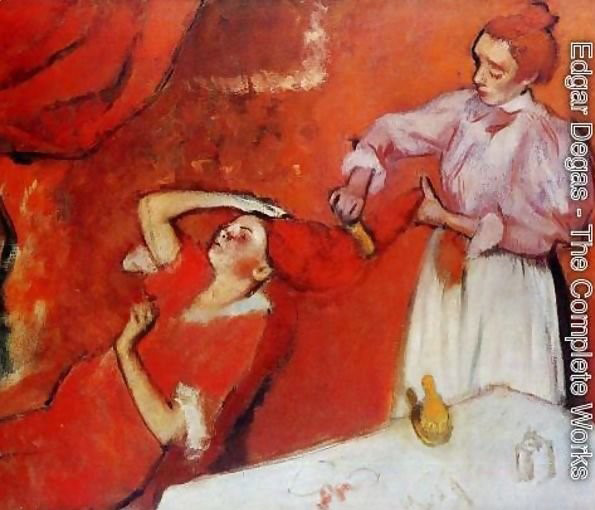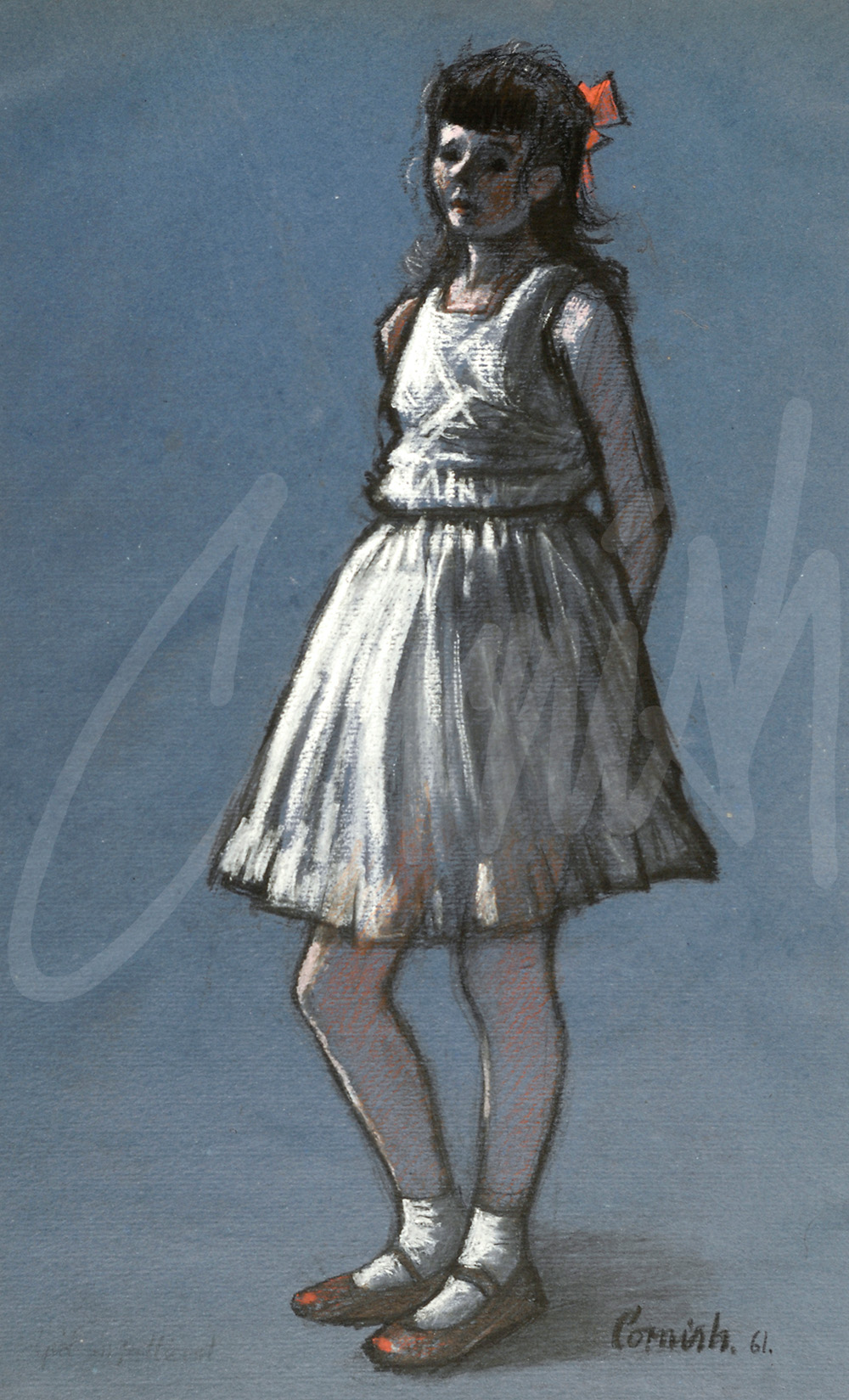 Edward Street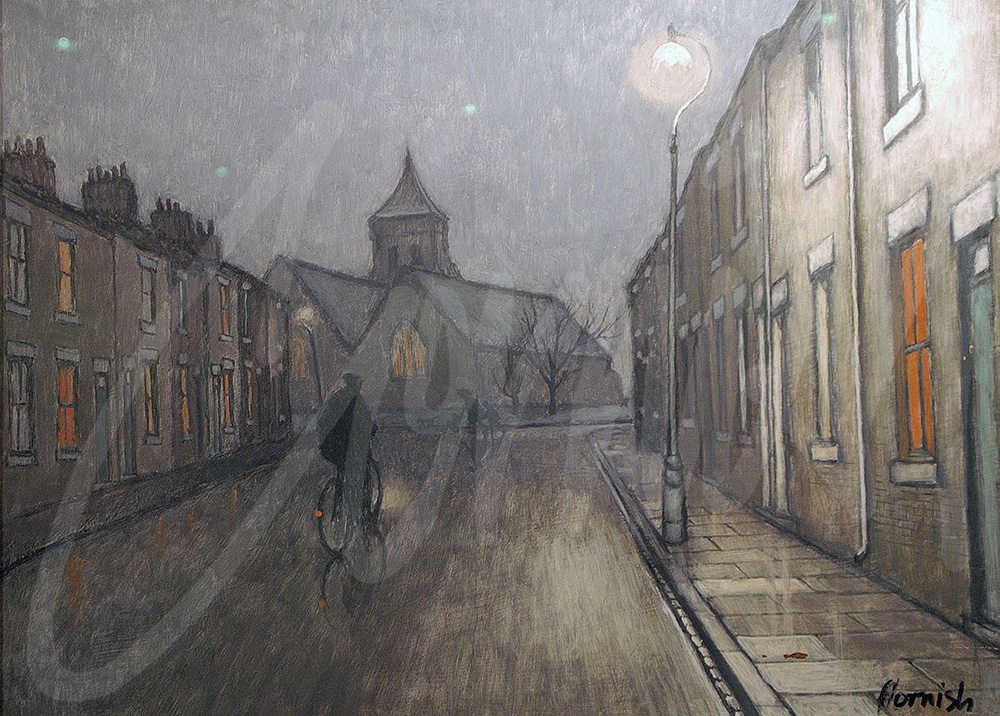 During Cornish's era, streets were often very much the hub of social activity in many towns and villages, with few cars on the roads. Front doors were rarely locked and people knew almost everyone in the street. If ever something was delivered then neighbours would come to the door to see what was happening.
Back streets and quiet streets were sometimes the venues for football, skipping, gossiping, hanging out the washing and street games for children. A horse and cart was a regular sight on the streets of Spennymoor and other towns and villages throughout the region during the period chronicled by Cornish.
Edward Street was a popular subject for Cornish, which he visited on numerous occasions throughout his career at all times of the night and day and in different seasons. The works always included activity by people going about their business, which added interest to the composition. In his own words:
When out walking I often passed through this street on my way home. I was interested in the way that the street was crowned at the top by St Paul's Church.
In our memories and of course in history books, most so called 'great events' are usually well-recorded, but sometimes the ordinary things that happen in our lives are not considered extraordinary enough for comment. Yet things are often very important nevertheless, and sometimes give a reader a much better idea of the 'times' than the supposedly great events.
Norman and Sarah Cornish lived in Whitworth Terrace no more than 200 metres from Edward Street and St Paul's Church; and at the bottom of the street was Rosa Street School, which was a short distance from the Zebra Crossing, and Eddy's Fish shop.
These subjects provided all of the inspiration Cornish needed to capture simple everyday activity, reminiscent of early Dutch influences with pictorial representation of scenes of daily life. He was exposed to the works of other great artists throughout his career but continued to develop his own approach to interpreting the 'life around him'.
These locations comprise a significant section of The Norman Cornish Trail which can be downloaded at www.normancornish.com along with information about Behind The Scenes: The Norman Cornish Sketchbooks including previously unseen images in a chapter about the street scenes synonymous with his paintings and drawings.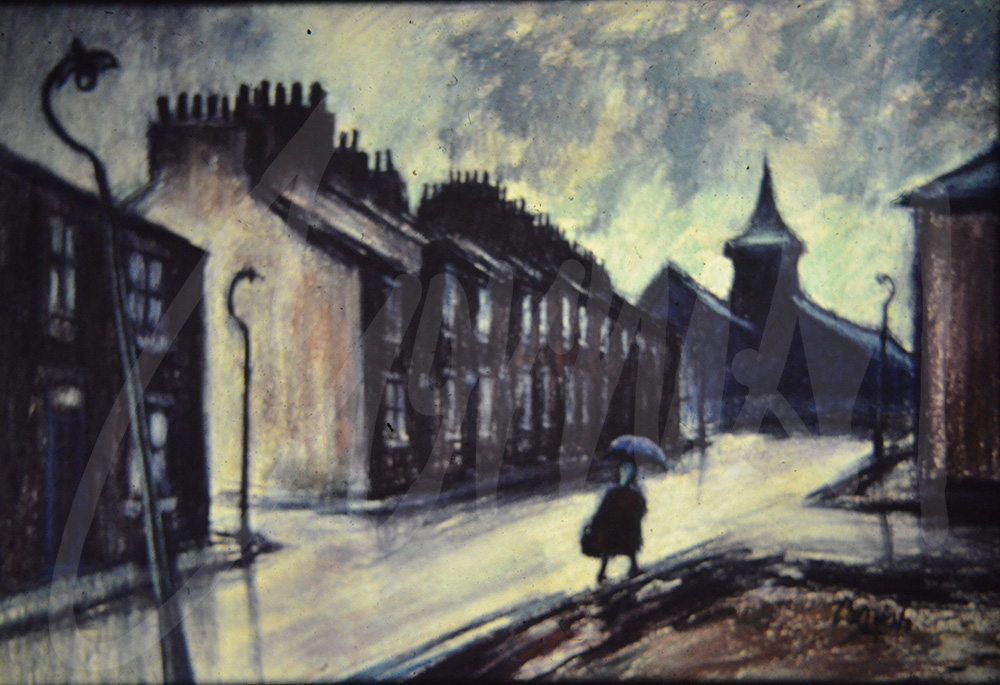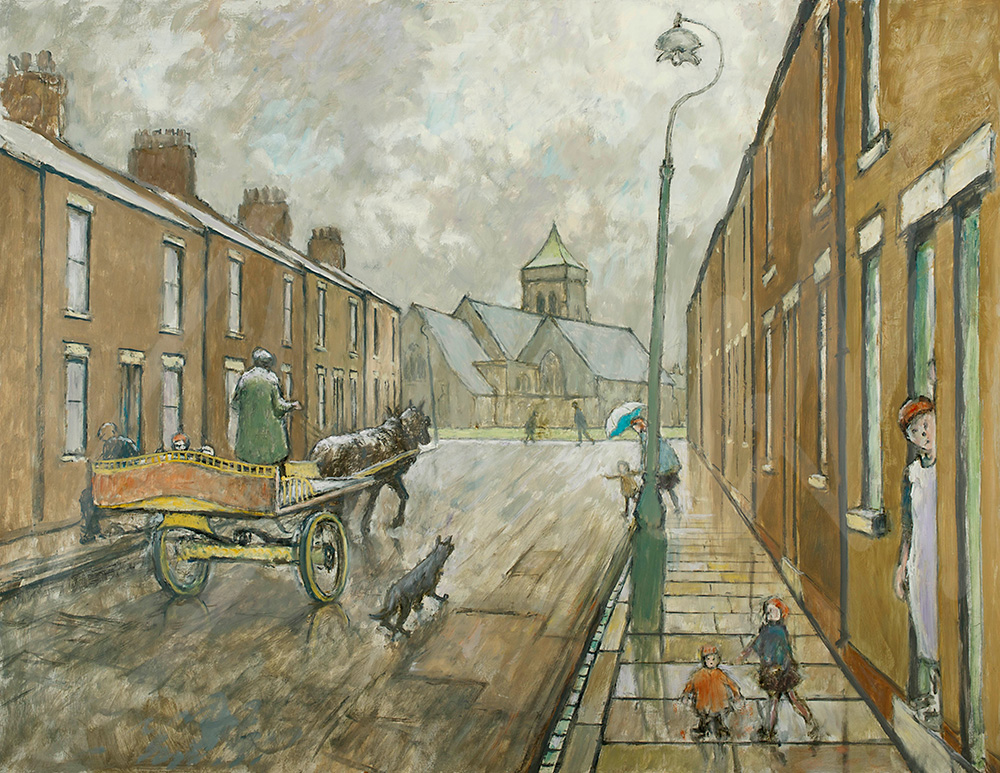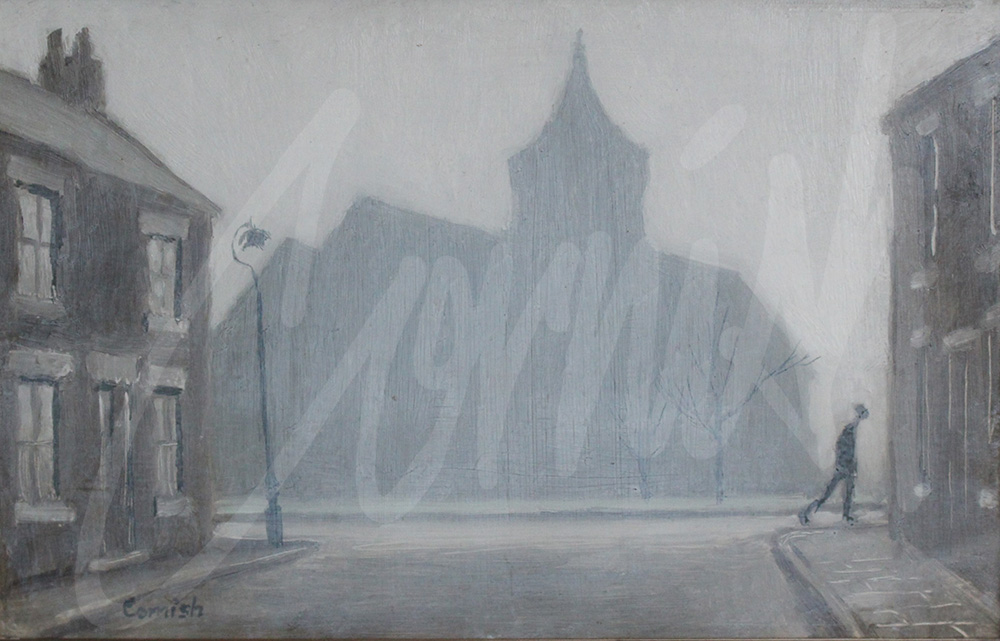 A Missing Link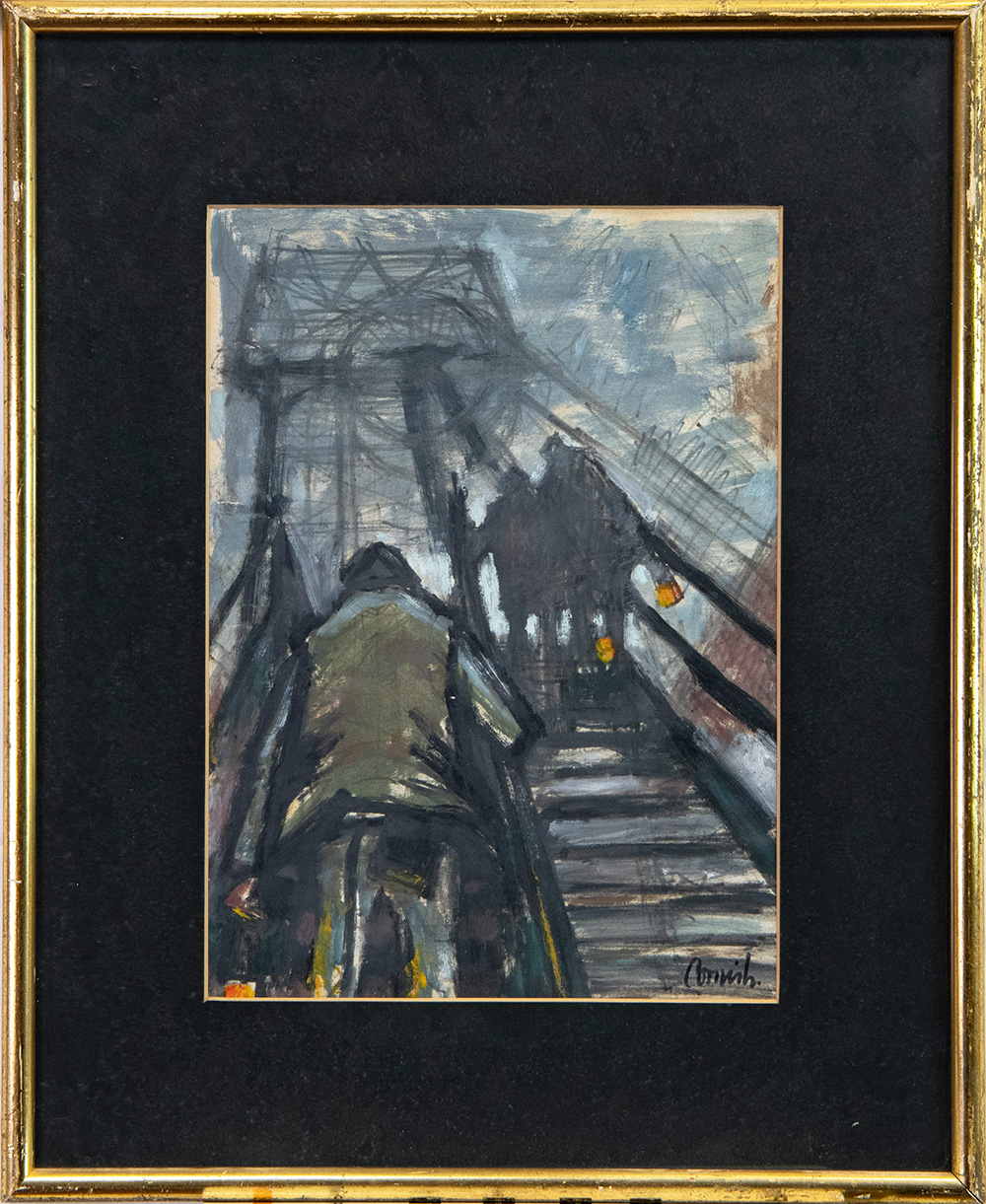 In 1964, a very astute artist added to his collection of paintings by purchasing a version of The Gantry by Norman Cornish. The painting cost 30 Guineas (equivalent today of £2,000+) in an exhibition at The Stone Gallery in Newcastle, and the buyer was Laurence Stephen Lowry.
Lowry was an English artist and many of his paintings and drawings depict Pendlebury and the vicinity of Salford, Lancashire, where he lived and worked for 40 years. Lowry depicted scenes of life in industrial NW England and he was a lonely man depicting loneliness. He began his working career as a rent collector and he was perceived as an outsider in his community looking in on his subjects. Cornish painted life in the NE of England but he was immersed in his community where he recorded everyday life. At work – working underground as a miner during the day, and in the evenings and weekends, spending his leisure time in the pubs of Spennymoor with his marras (workmates). The beer in Cornish's glass became the passport to be able to share, observe and record the life around him. Because he could blend in, this gave him the opportunity to produce so many character drawings in different settings.
Mr. Cornish and Mr Lowry (always formal) were well known to each other and they first exhibited together in Carlisle in 1951 at Tullie House: 'The Northern Realists', and thereafter on a number of occasions in London. They shared the same agent at The Stone Gallery in Newcastle and during the 60s continued to exhibit together along with other regional and leading British artists.
At various times, both artists had connections with Sunderland. Lowry was a regular visitor to the North East and he enjoyed painting coastal scenes when he stayed at the Seaburn Hotel near Sunderland. He was also a frequent visitor to Berwick upon Tweed where there is a Lowry Trail in his memory. Cornish was a part-time lecturer at Sunderland Art College from 1967 and he was awarded an Honorary Doctorate by Sunderland University in 2012. Each artist has a picture hanging in the National Glass Centre at Sunderland: Lowry's drawing of Monkwearmouth Church is there and on the opposite wall is Cornish's Pit Road in Winter, currently on display at The Bowes Museum extended exhibition.
On 16th August 2020 , McTears Auctioneers Glasgow: The Scottish Contemporary Art Auction Lot 668
Gantry, A Mixed Media by Norman Stansfield Cornish MBE 1919-2014
Label verso Stone Gallery, Catalogue number 42
Purchaser inscribed on label 22nd February – 21st March 1964 LS Lowry Esq.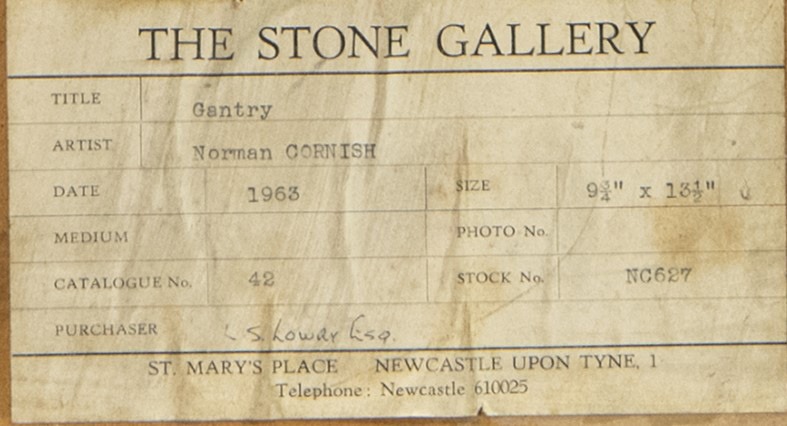 A Portrait Artist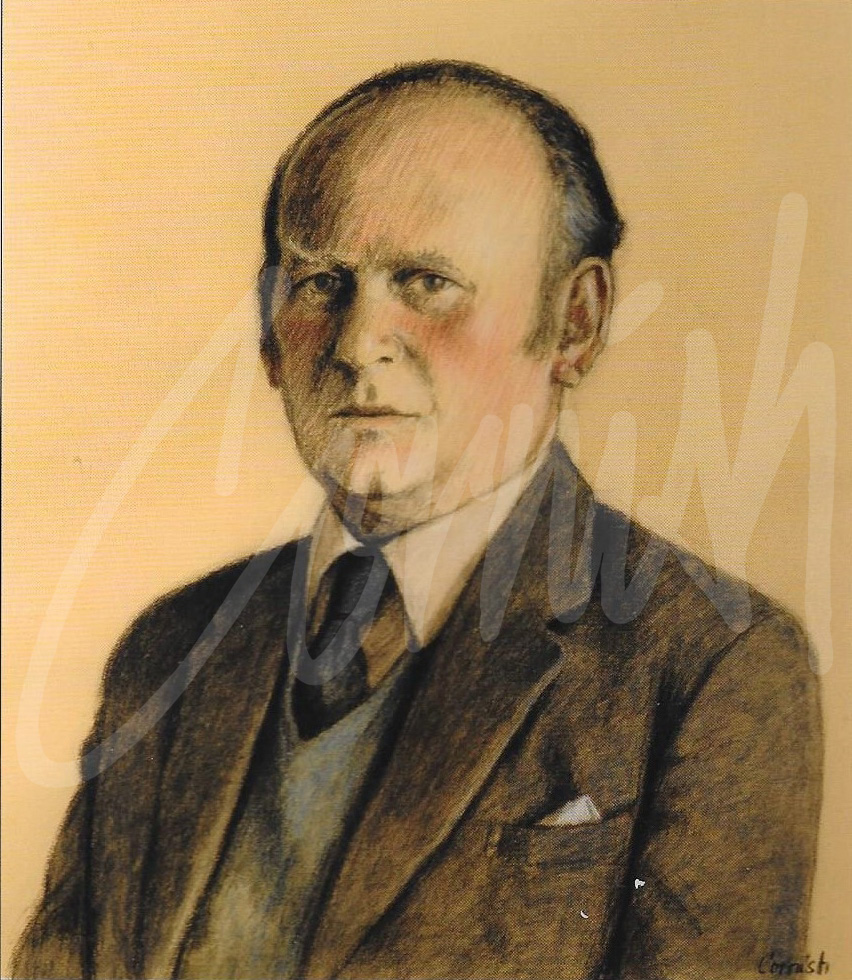 For Norman Cornish the 1970s was a period of both consolidation and development as an artist with his studio enabling him to become completely absorbed in his work, without distractions. Not even a telephone in the house.
His paintings and drawings increasingly received national acclaim on many fronts. A second purchase of a Cornish painting by the Prime Minister Edward Heath, gave him some quiet satisfaction that his work was heading for number 10. However, Cornish declined a photo opportunity with the PM at The Stone Gallery alongside LS Lowry, Sheila Fell and his agent Mick Marshall. The photographer was the film producer Brian Forbes.
During this era, Cornish appeared in three different television documentaries for the BBC and Tyne Tees TV. A radio broadcast followed with Melvyn Bragg, who made his first TV documentary in 1963 for BBC - Two Border Artists: Norman Cornish and Sheila Fell. An Honorary Master of Arts degree was awarded to Cornish from Newcastle University and one of his self-portraits was also photographed for the National Portrait Gallery.
In between this close attention and rising profile, Cornish received a number of commissions, including a request to paint the portrait of Viscount Mathew Ridley. Cornish's large studio was arranged with a table in the centre with table legs specifically reduced to a height of 50 cms. The sitter stepped up, sat down on a chair, and was immediately at eye level with the artist for a number of sittings until completion of the portrait.
Cornish was aware of the importance of this commission because of Lord Ridley's art connections. His wife's grandfather was Sir Edwin Landseer Lutyens, Fellow of The Royal Academy and member of The Royal Fine Arts Commission. Lutyens was the designer of the Whitehall Cenotaph and he had been named after a friend of his father's, the famous Victorian animal and portrait artist, Sir Edwin Landseer who is probably best known for his huge bronze lions in Trafalgar Square and his depiction of The Monarch of The Glen.
Norman and Sarah Cornish enjoyed a very good relationship with Viscount Mathew Ridley who was delighted with his portrait .
Viscount Mathew Ridley Pastel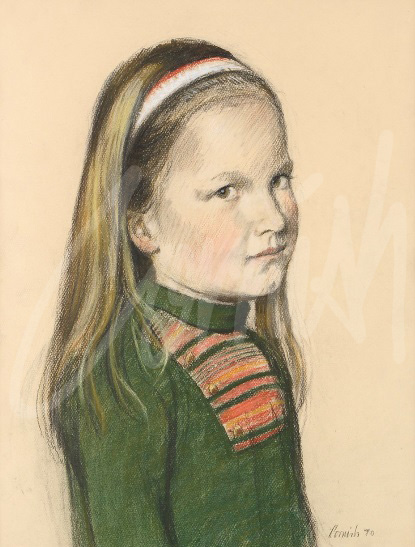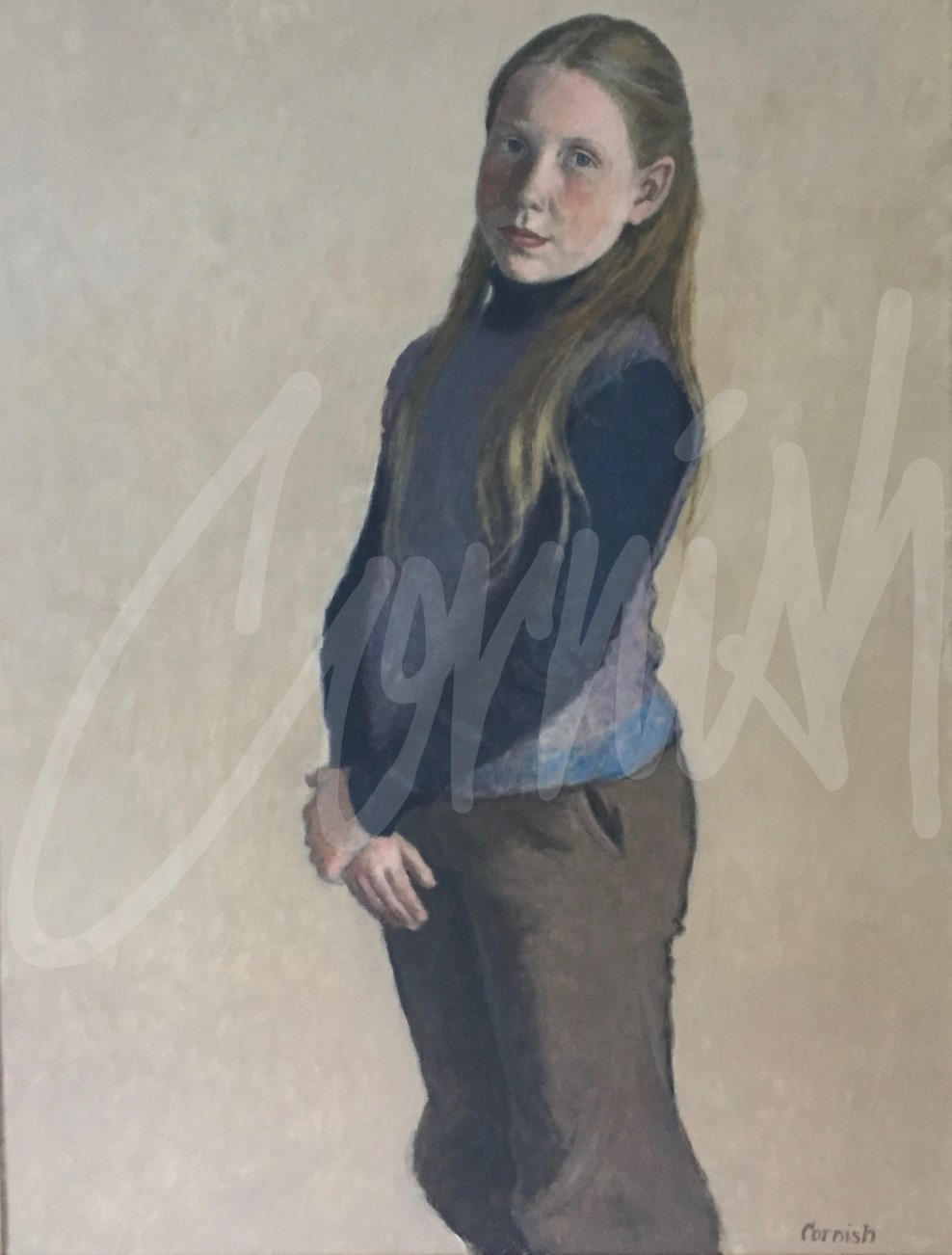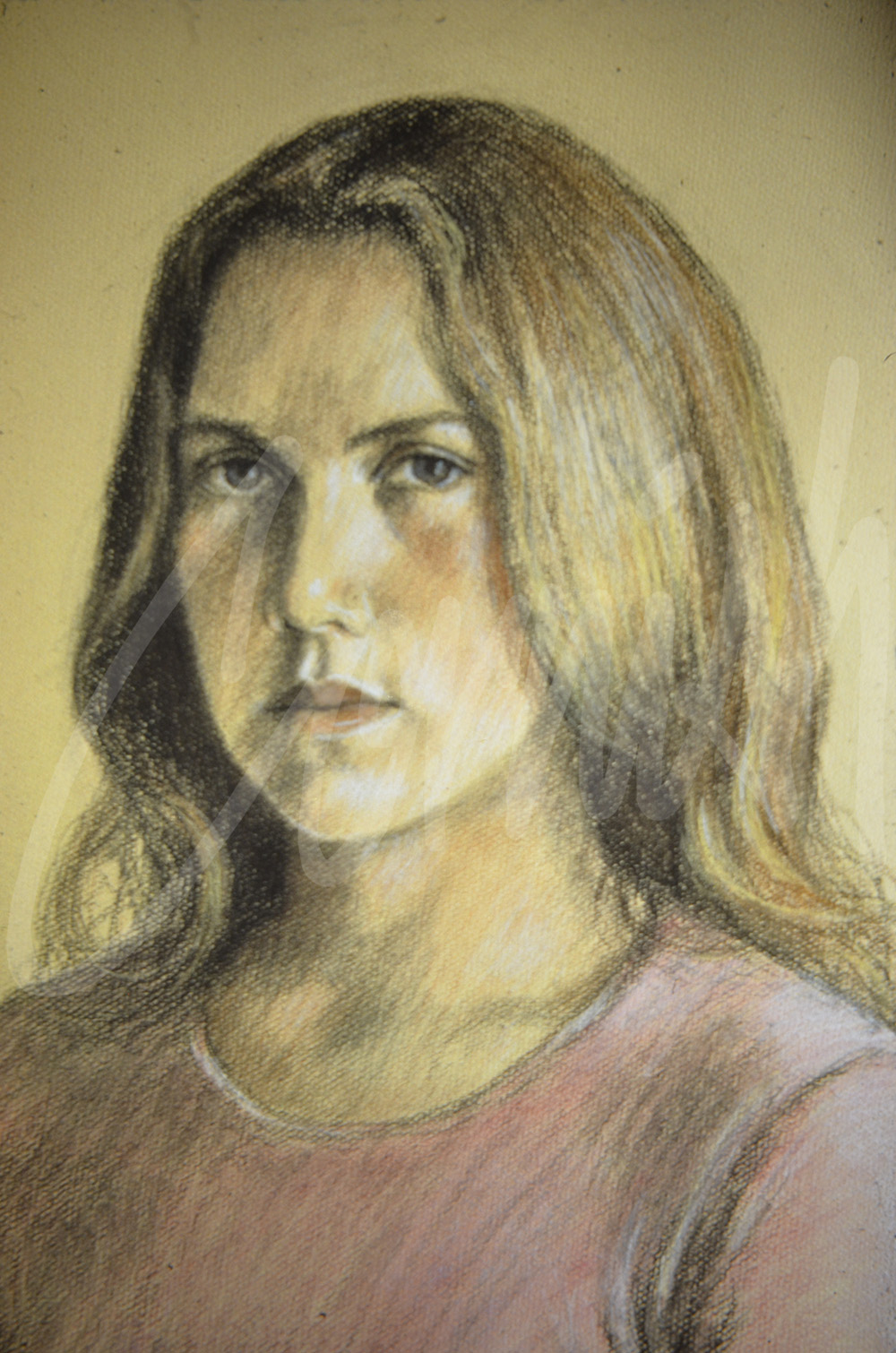 Cornish Centenary
Throughout the centenary year, an interesting range of themed exhibitions is planned in order to commemorate Norman's life and to celebrate his work.
If you would like to find out more click below:
Stay tuned via social media:
---