Latest News
Viaducts

The development of the first steam railways from 1825 inevitably inspired some construction and engineering solutions to overcome the physical barriers to the growth of the rail network. A plethora of viaducts connecting rail tracks in challenging environments soon became prominent features throughout the country. Many have stood the test of time and continue to be fully operational as well as acquiring high status, such as the Glen Finnan viaduct featured in one of the Harry Potter films. The Ribblehead viaduct is another spectacular feature which attracts rail enthusiasts on the Carlisle to Settle line.
Viaducts have also attracted the attention of many artists over the years for a variety of reasons, such as their architectural beauty or simply their fascinating shapes. L.S. Lowry was noted for his interest in the Stockport viaduct (Edgeley viaduct) which carries the West Coast Main Line across the valley of the River Mersey in Stockport, Greater Manchester. This particular feature was originally known as one of the largest brick structures in the UK when constructed in 1840.
The North East of England was also well endowed with viaducts on the line from Berwick- upon - Tweed through to Durham and on to Croxdale, and Newton Cap (Bishop Auckland) to name but a few of the total number of 171 viaducts designed to cross rivers and overcome undulating physical features.
Norman Cornish and Sid Chaplin were workmates at the Dean and Chapter Colliery, Ferryhill for many years. They were also members of The Spennymoor Settlement, that cradle of creativity which enabled local people to develop their talents during a time of cultural despair. Cornish often travelled to Newcastle to spend some time at The Stone Gallery and he would occasionally arrange to 'meet up' with Sid Chaplin who was writing in his novels about the things that Cornish was drawing. Tyneside also provided much inspiration in terms of new subjects to draw and one day Sid accompanied Cornish for a walk through the Byker area of Tyneside. Sid had featured the area in two of his novels published in the early 70s: 'The Day of the Sardine' and 'The Watchers and the Watched.'
" I remember showing Norman Byker Bridge. He made a drawing, then shook his head. 'It's all Lowry.' The drawing was sterile – not because it was Lowry's subject – but because it straddled another world, and to re-create the bridge he must know the people who use it or live around it." Sid Chaplin
This remarkable drawing is featured today. Just consider for a moment the challenge for Cornish of holding a double- page sketchbook on one hand/forearm, and quickly using his favourite Flo-master pen to record the Byker Bridge viaduct without any errors! The drawing was only discovered when family members catalogued the 269 sketchbooks belonging to Cornish during one week in August 2012. Unusual viewpoints of the Durham viaduct and Newton Cap (Bishop Auckland) are also included and they also feature in 'Behind The Scenes: The Norman Cornish Sketchbooks.' Sadly, the drawing of the Byker Bridge was never developed into a painting although the Byker district of Newcastle became the setting (1989-2006) for the CBBC teen drama 'Byker Grove.'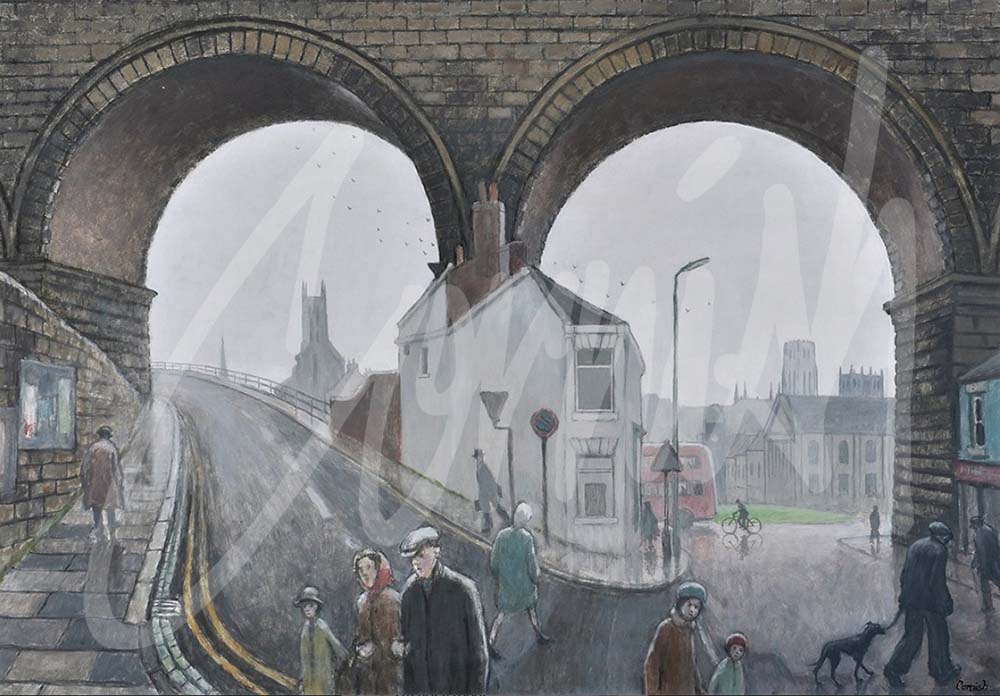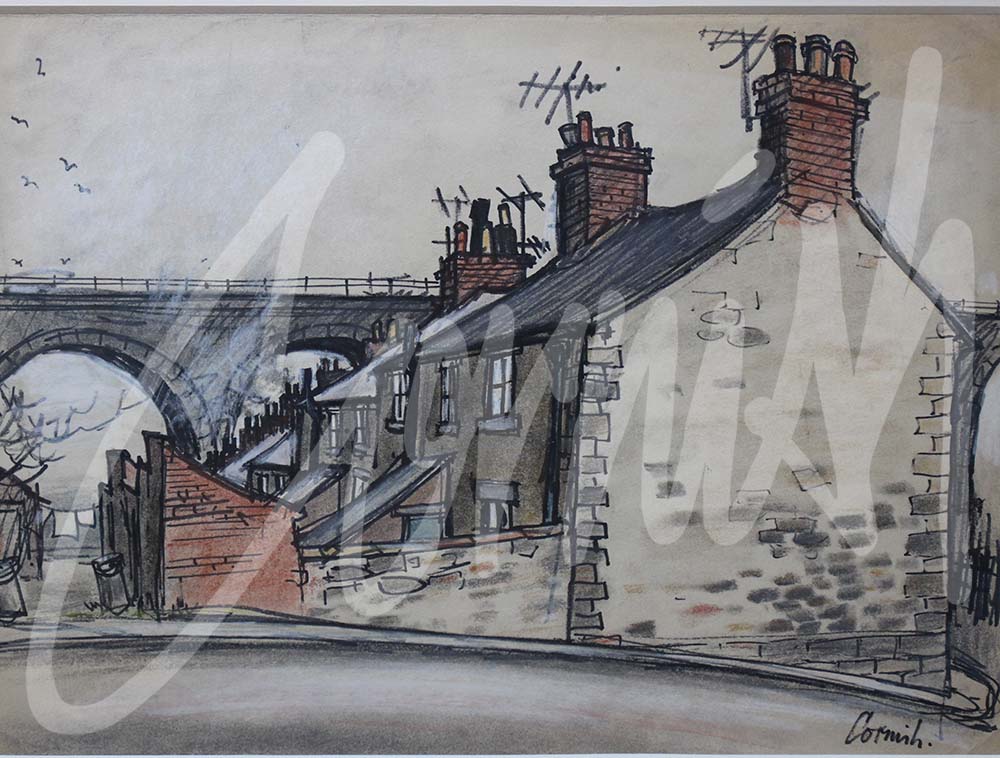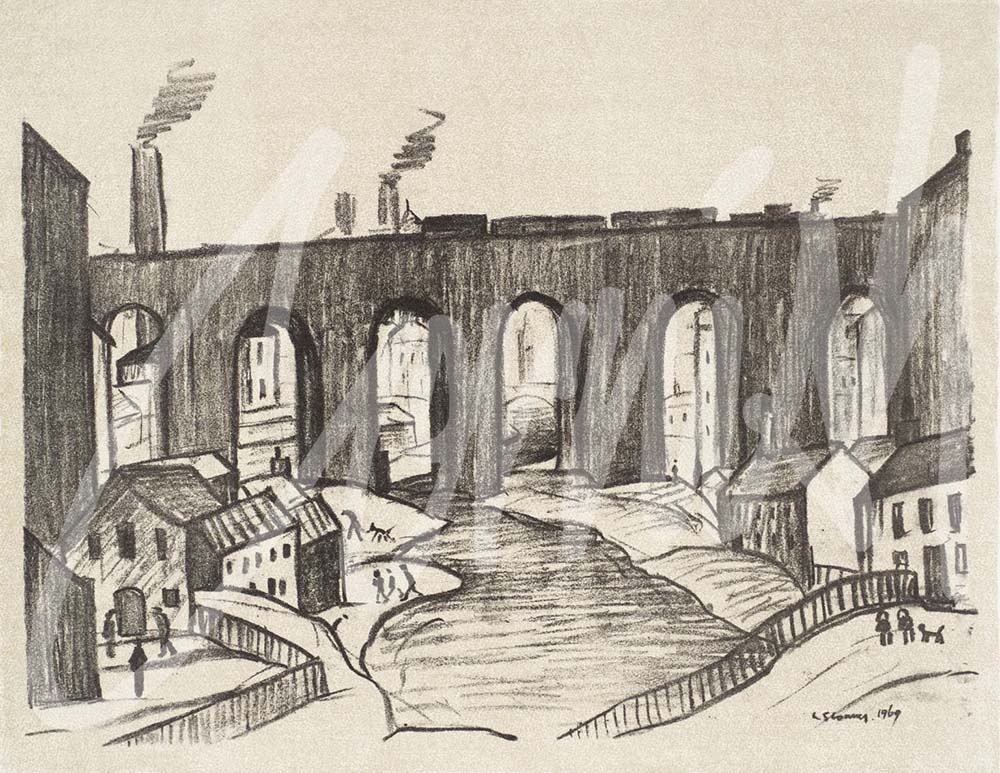 Going to the Dogs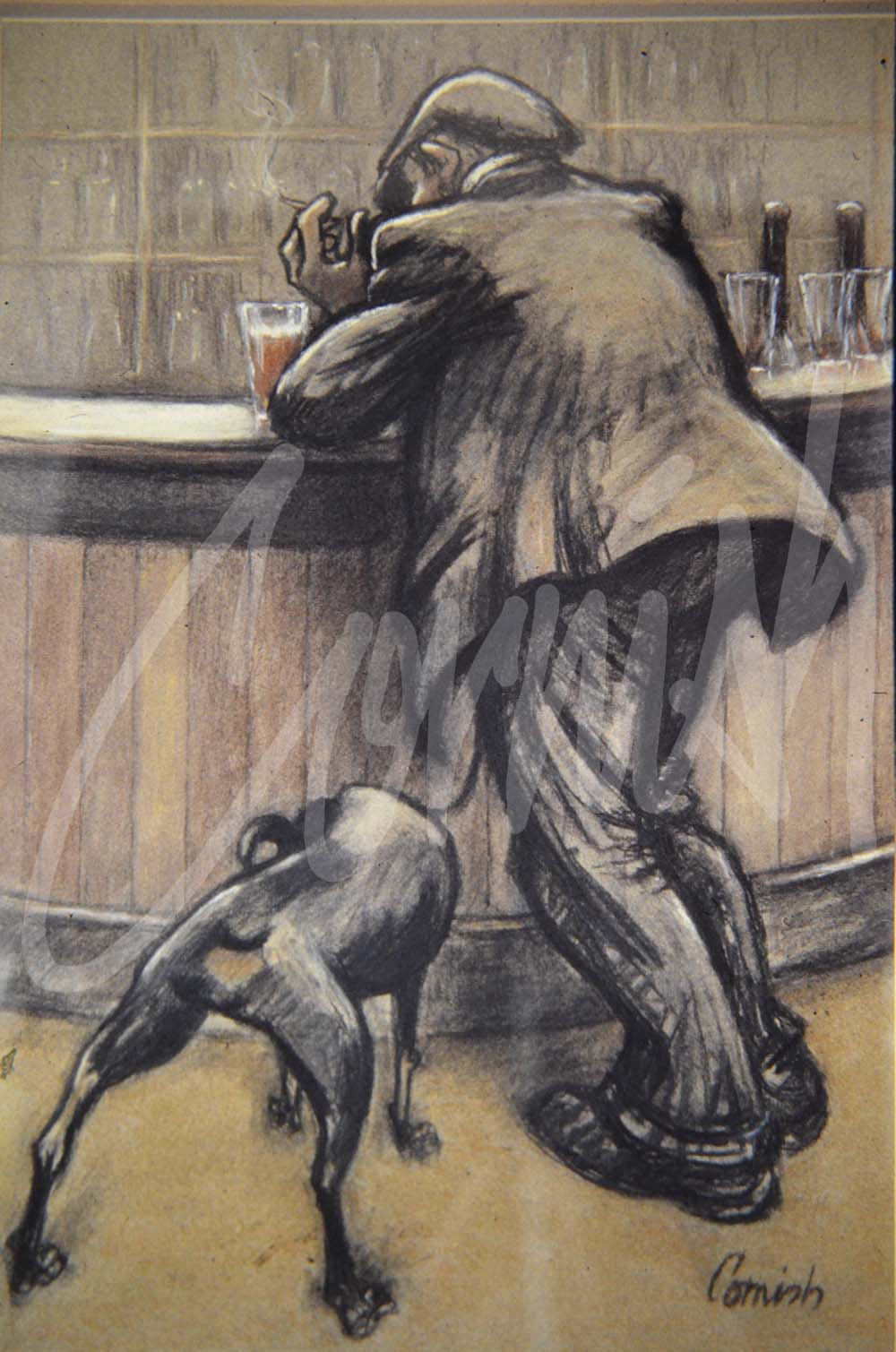 You may have wondered why men and dogs feature so often in pictures by Cornish. 'Man at Bar' with dog was a picture which had pride of place in the Cornish home at Spennymoor. At first glance this appears to be a relatively simple composition. However, cover the beer pumps with one hand or the rear legs of the dog and watch what happens to the composition and also note what Cornish refers to as the curvilinear shapes appearing throughout all aspects of the man and dog.
'Two Men at a Bar with Dog' is equally interesting, not only in terms of composition but also for the remarkable story revealed several years ago about the two men themselves, Joe Hughes and Tosser Angus. The full story may be enjoyed on page 85 of 'Behind The Scenes: The Norman Cornish Sketchbooks' and is worthy of wider recognition recalling that they were two miners conscripted into the army at the outbreak of WW2. They survived Dunkirk, fought their way through North Africa, liberated Italy and finally returned to work underground at Whitworth Colliery. The dog in the painting was called 'Piper,' a tradition within the Durham Light Infantry for owners to name dogs after instruments.
Dogs and their owners appear in all sorts of locations drawn and painted by Cornish, along with individual studies of Greyhounds and Whippets. Dogs in different settings appear in many of the bar scenes and will be well known to admirers of his work from that era during the 50s and 60s. There is no doubt that greyhound racing was part of the cultural landscape of the time in Spennymoor and probably accounted for the large number of owners and dogs.
An initial attempt to introduce Greyhound Racing to Spennymoor in 1938 was unsuccessful. However, after the war, a site for a new Greyhound Stadium was proposed for Spennymoor and located at the old brickworks off Merrington Lane, near Low Spennymoor. The stadium opened in 1950. This was big business with race day on Monday at 7pm, and occasionally Thursday and Saturday evenings. A licensed club was provided for patrons and there were 60 kennels for the greyhounds. The whole activity would also include 'the dark arts' of conditioning, diet and exercise for the dogs to win prizes at races. The experience of owning and training offered the opportunity for local people to enjoy a 'night out at the dogs' as a different form of post war entertainment. Sadly social change also encroached upon the 'dog track,' which closed in 1998. The only reminder of the stadium is the nearby public house that has stood for over 100 years and changed its name to the 'Winning Post.'
Piper, owned by Joe Hughes and Tosser Angus eventually became one of the top racing greyhounds in England and the winnings were able to pay for a holiday with their wives in Rome.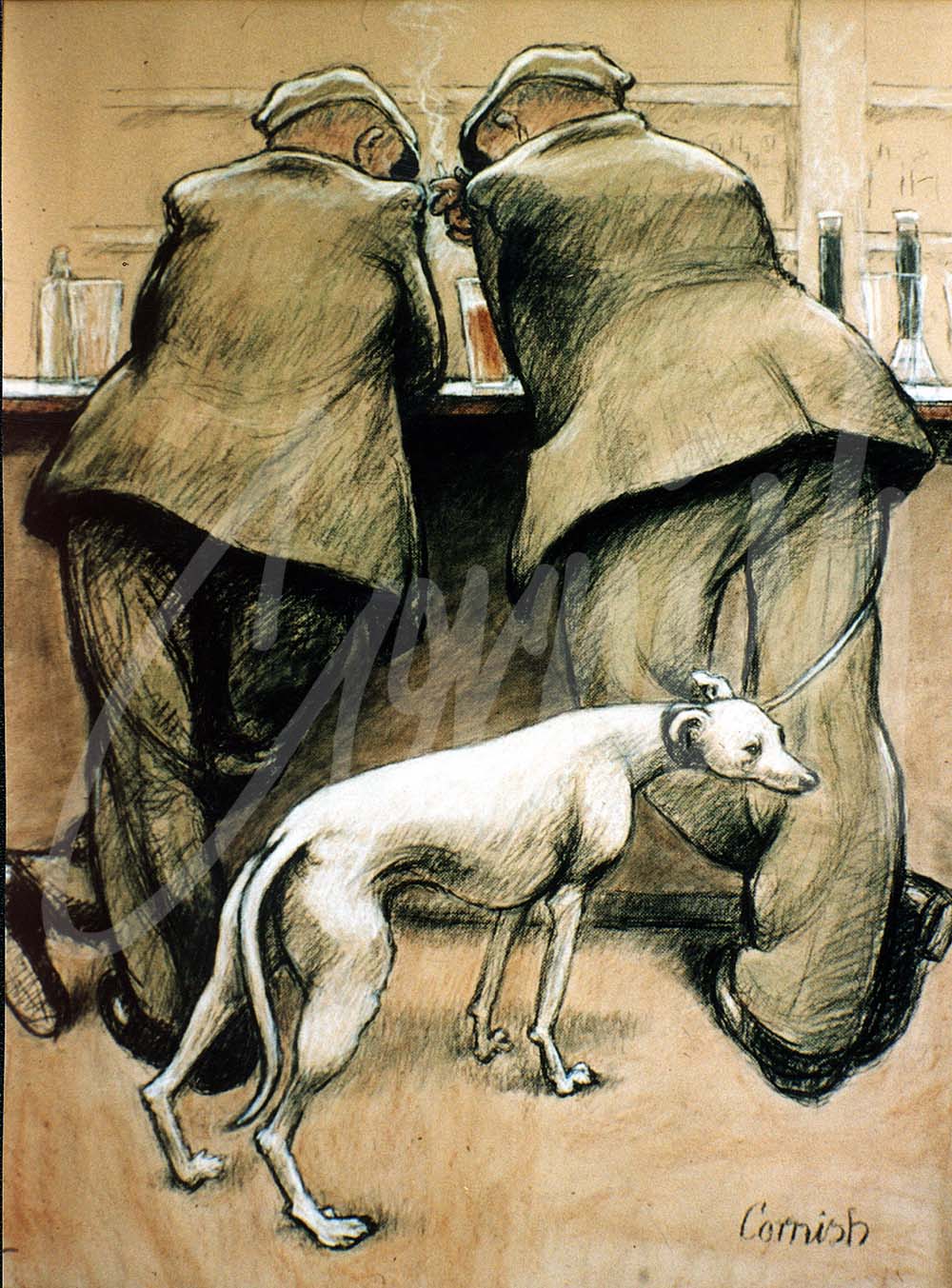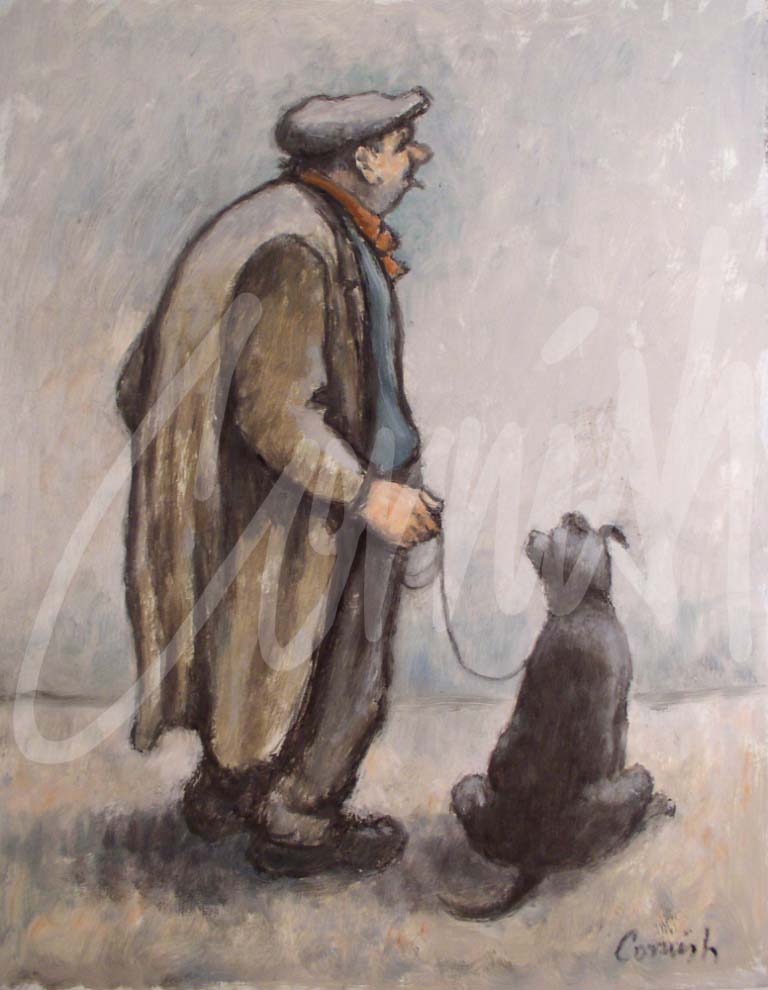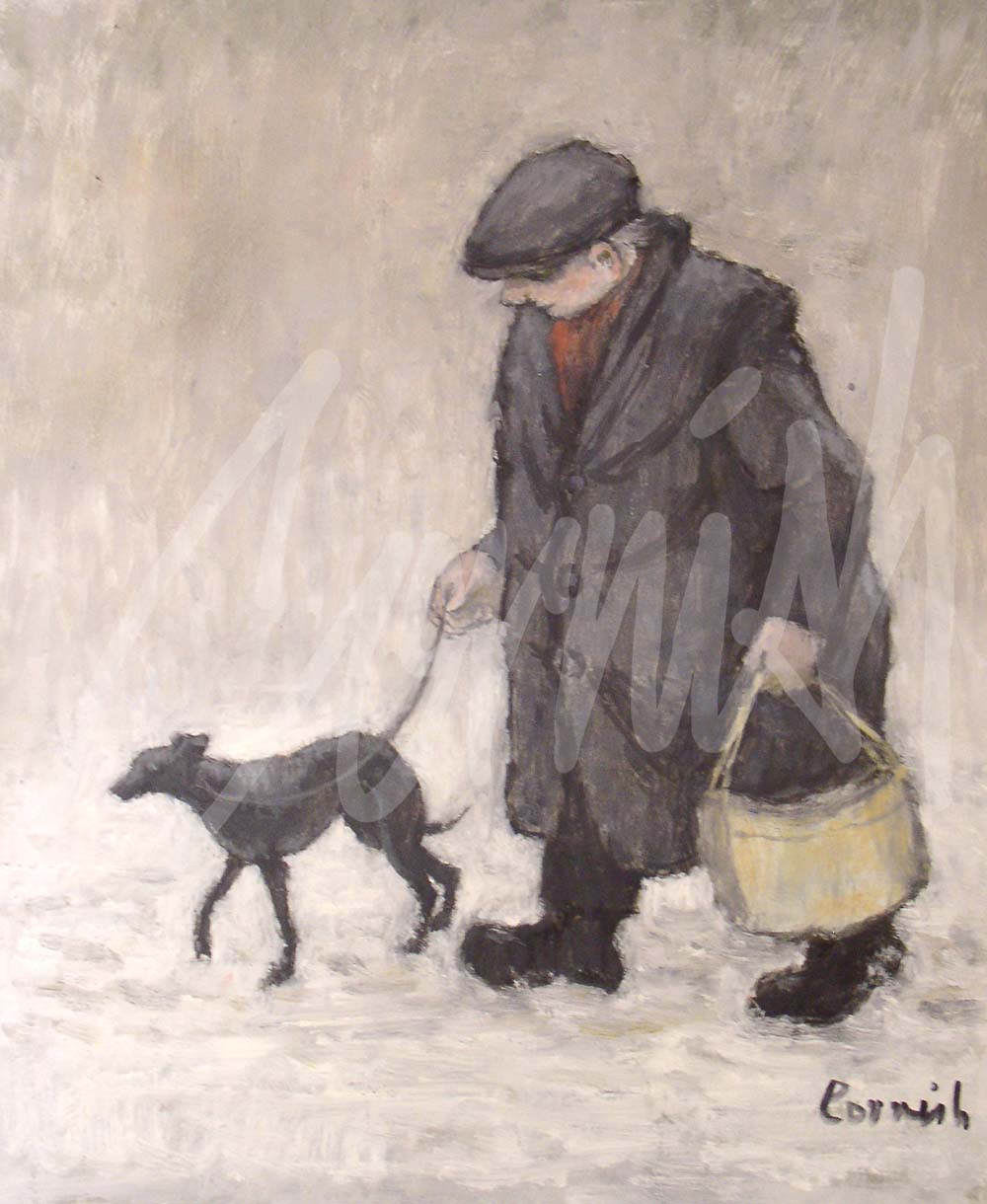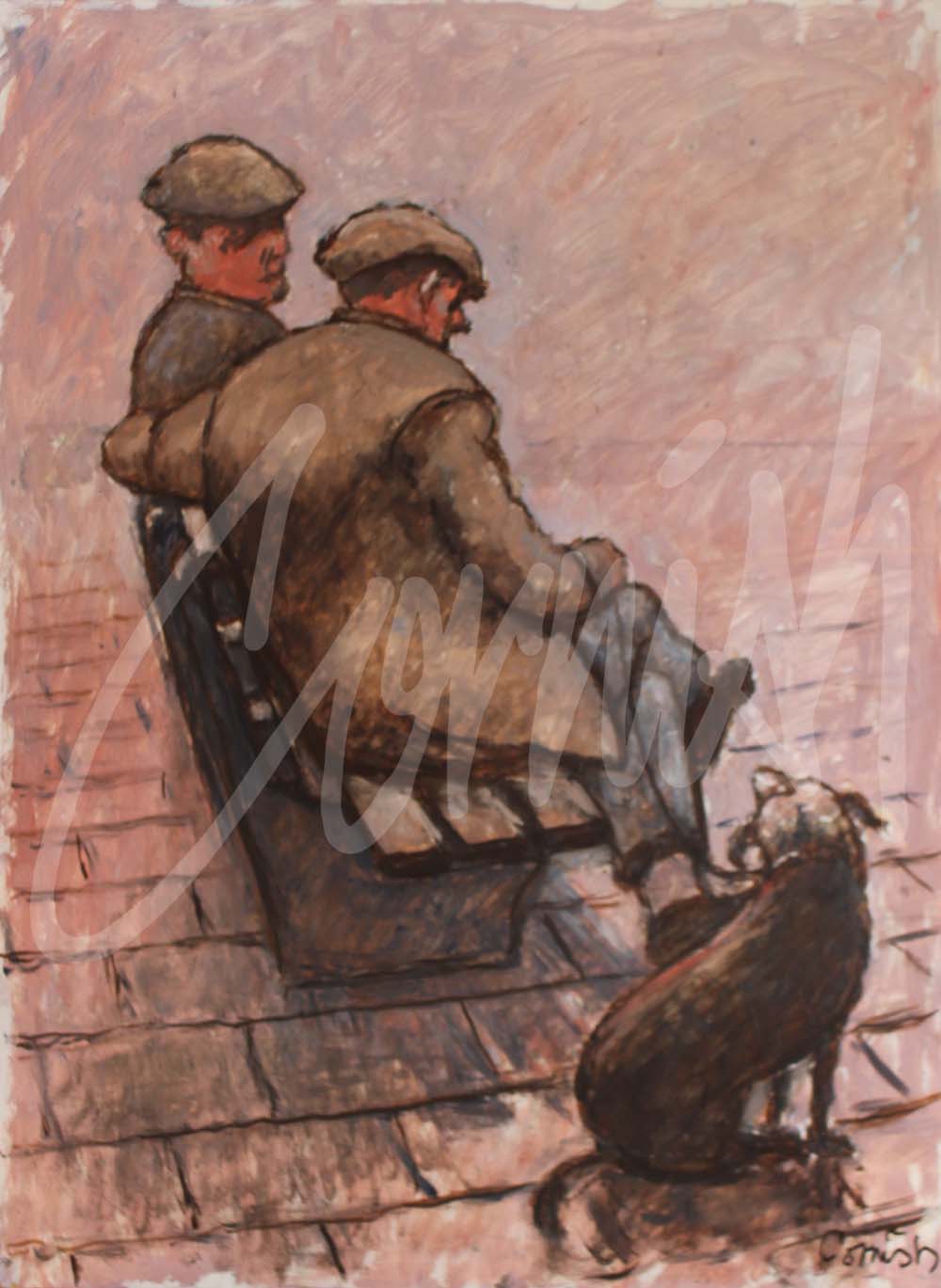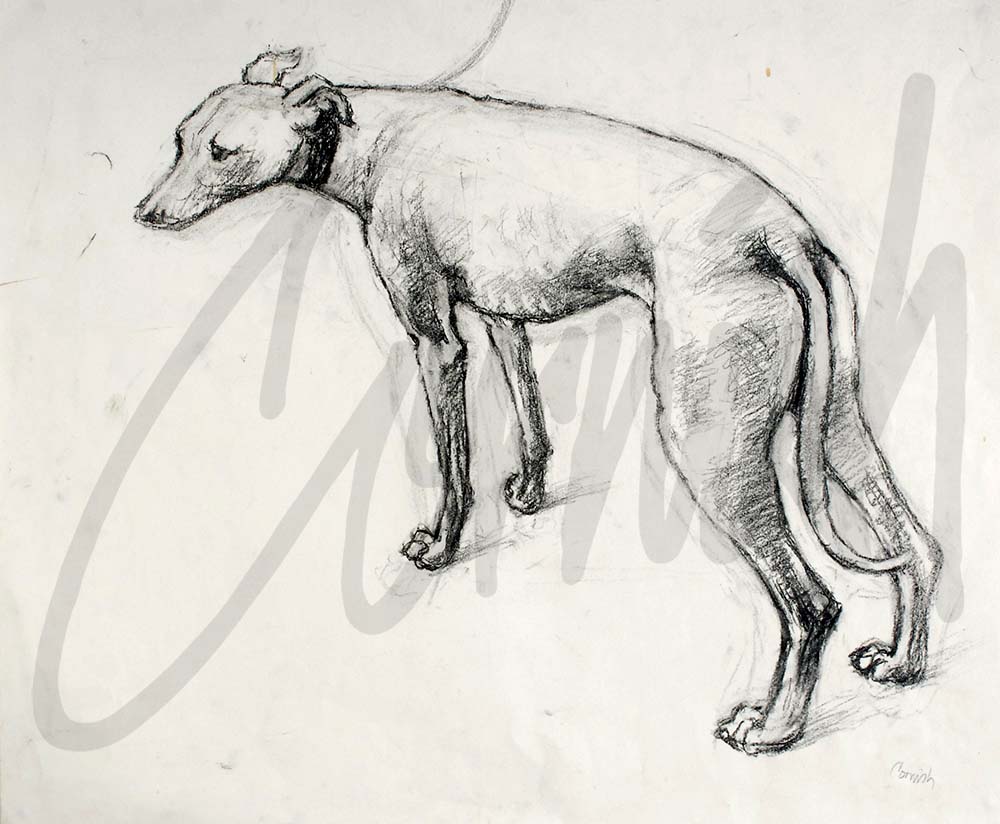 Self Portraits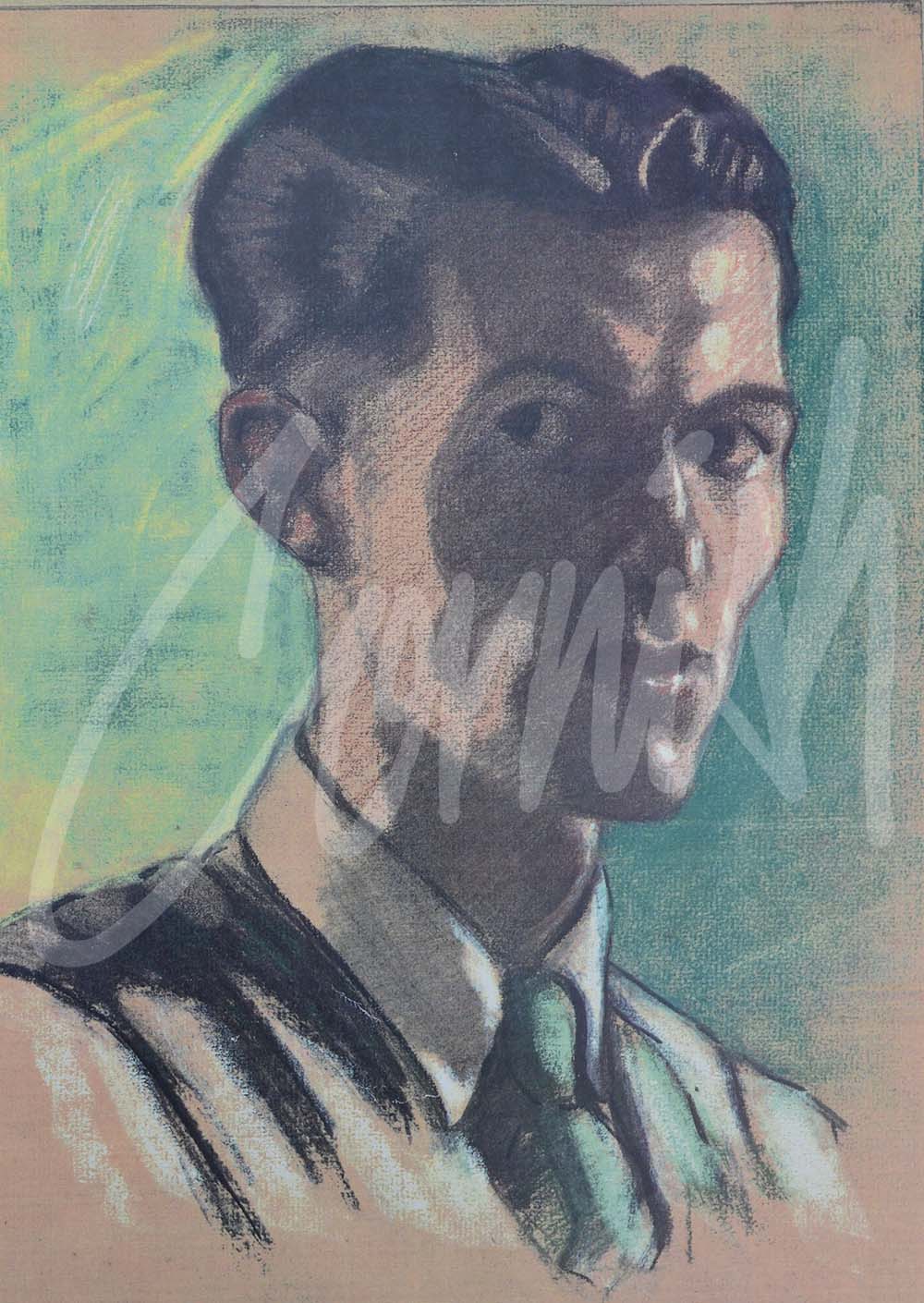 For artists, self- portraiture represents the whole artist - in other words, how he sees himself, what he's feeling, and how he wants to be seen by others. It's not necessarily about creating a realistic image, instead, it's often an exercise in self-exploration.
One of the most famous artists to influence Cornish was Rembrandt. In his early days Rembrandt began inserting his own portrait as a by-stander or participant in some of his most famous works such as 'The Night Watch'. Only his eye and a beret are visible, but this elusive figure is believed to be how Rembrandt wedged himself into his most famous work.
Nearly 80 self –portraits are attributed to Rembrandt and it was quite common in his era for other artists to also place themselves in a significant painting. Some may recall the film-producer Alfred Hitchcock who was also keen to have a short 'walk on' part in his films.
Throughout his career Cornish also engaged in self-portraiture to stunning effect. These exist from the early days until his final 'Self-portrait with spectacles,' oil on board, which occupied a prominent position in the family home at Whitworth Terrace, at the top of the staircase. Twenty eight self-portraits are known to exist and, like some other subjects, it's quite possible that others may appear in the future from private collections.
The self-portraits are interesting in other ways, showing a variation in medium and the ageing process up to his final self-portrait which was completed in the early seventies.
When Cornish was working on the 'Miners' Gala Mural' for the new County Hall in 1962 it was important for Cornish to place himself in the picture with his son John on his shoulders. This reinforced his sense of belonging to a community of which he was rightly proud. Their position on the extreme left of the mural is also fundamental to the composition.
The Mural, originally hung at County Hall, may be viewed at Bishop Auckland Town Hall gallery and is well worth a visit and also includes a new art gallery and excellent café. More importantly, see if you can spot the location of the artist with his son on his shoulders.
l artist actually lasted for over forty years, a fact that is often overlooked or mis-understood.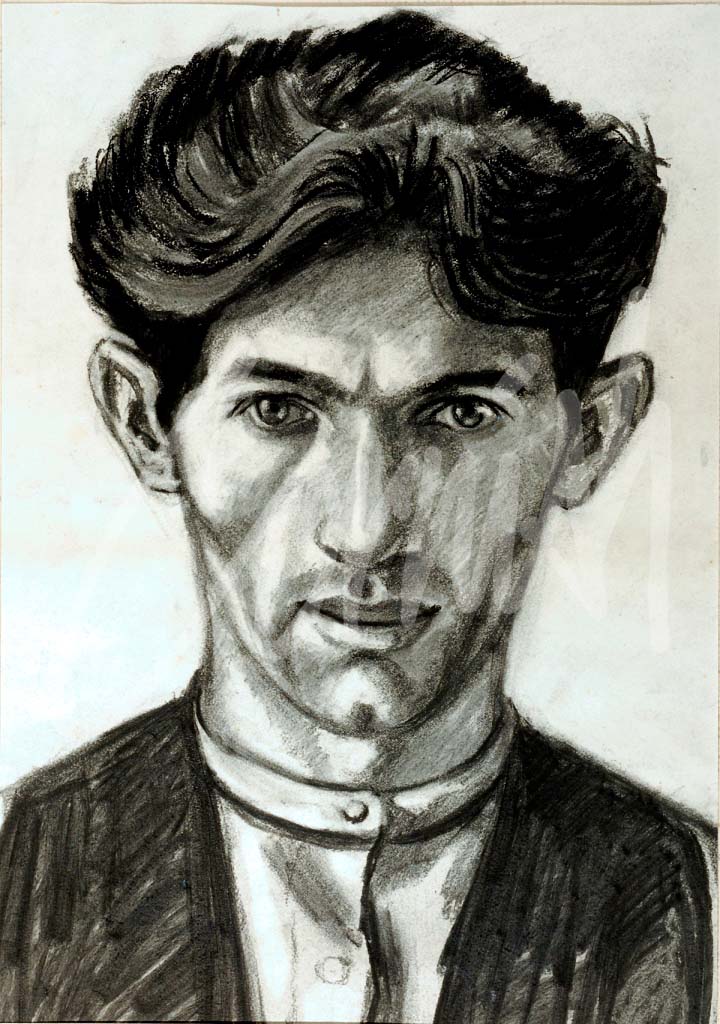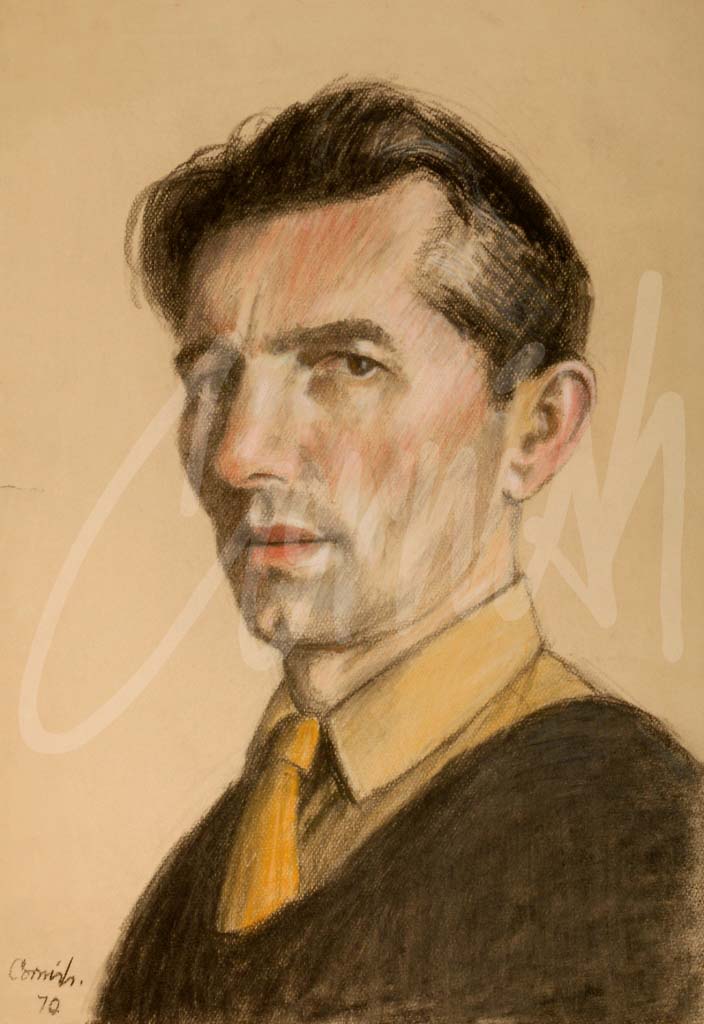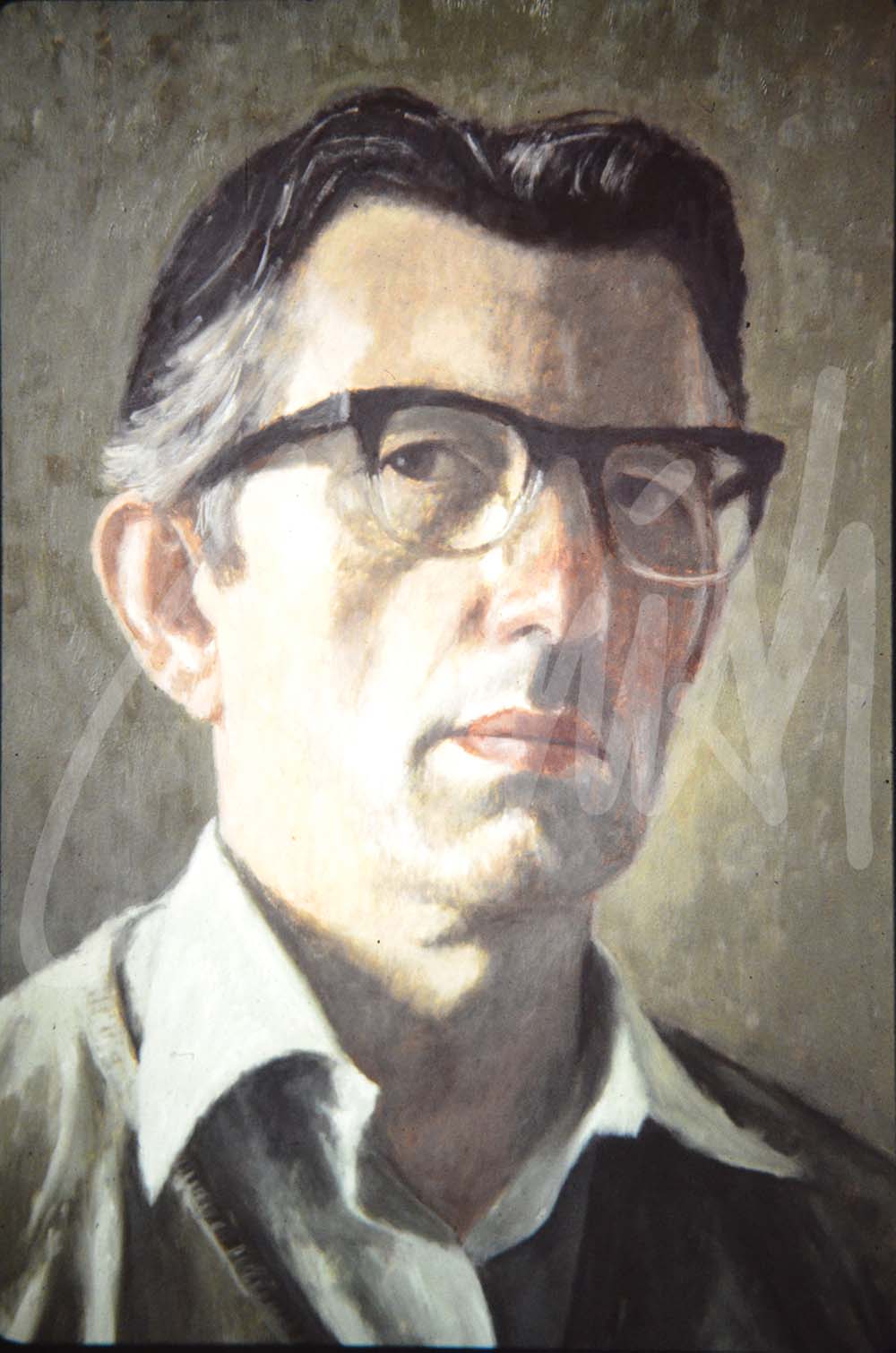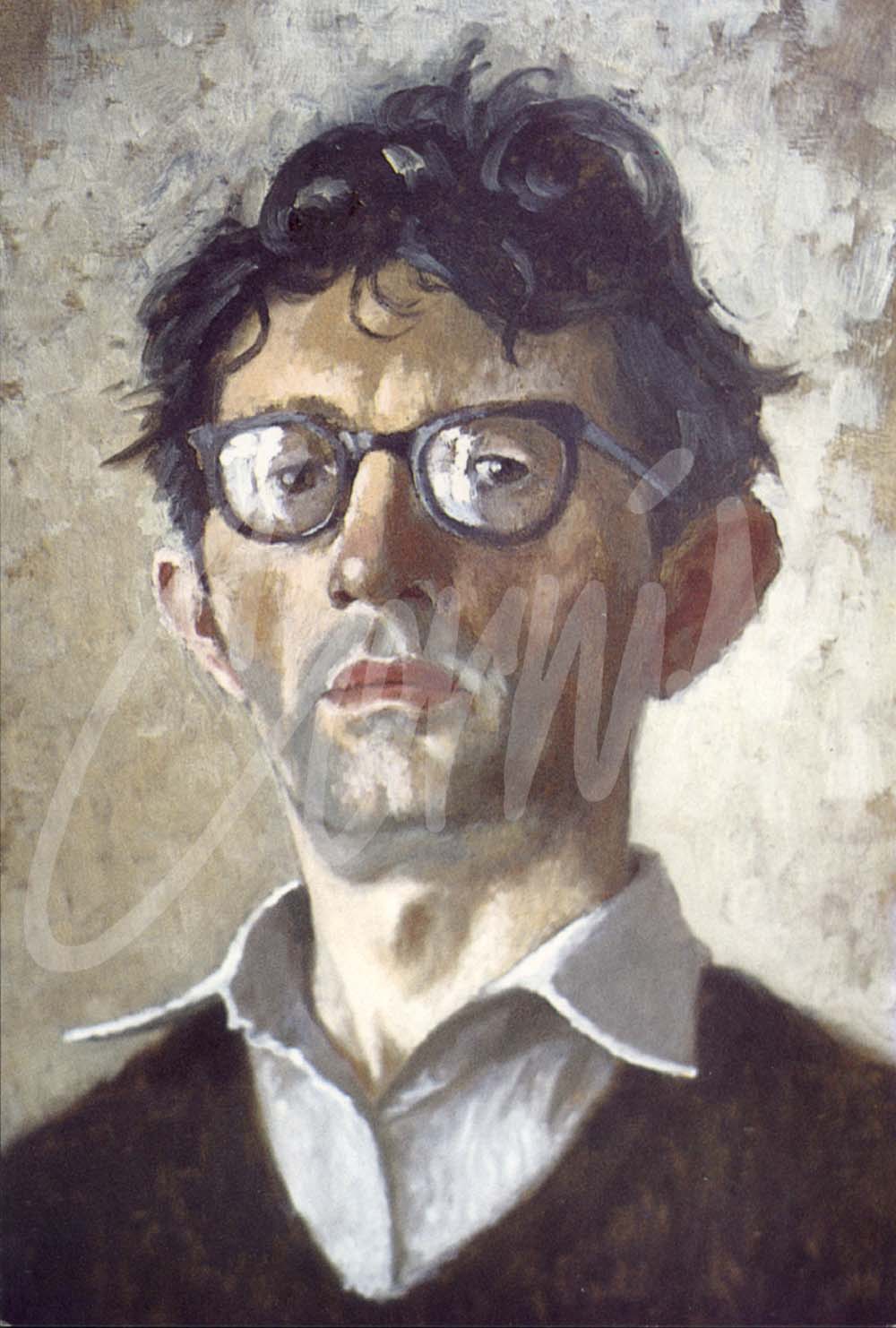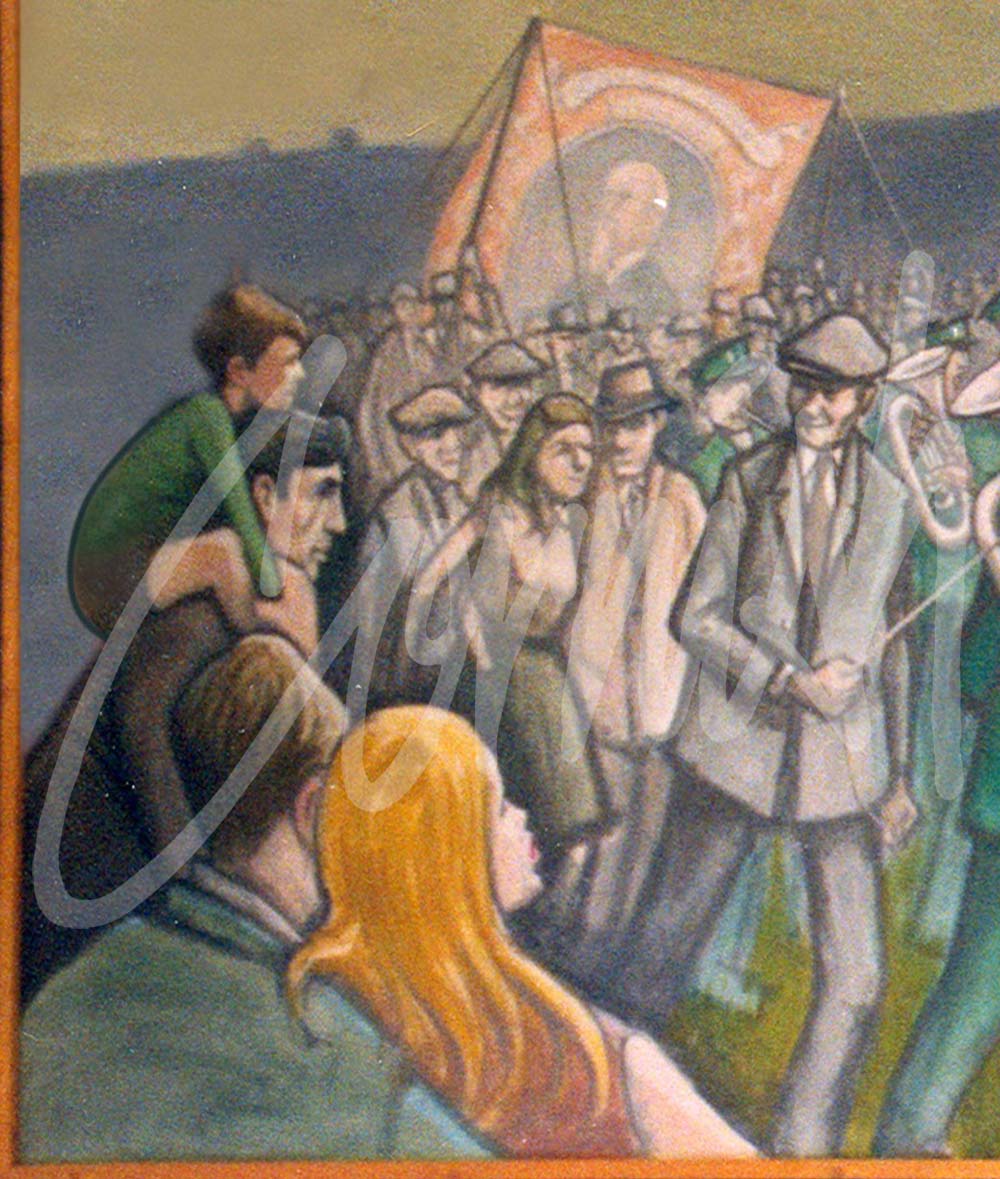 Interesting Portraits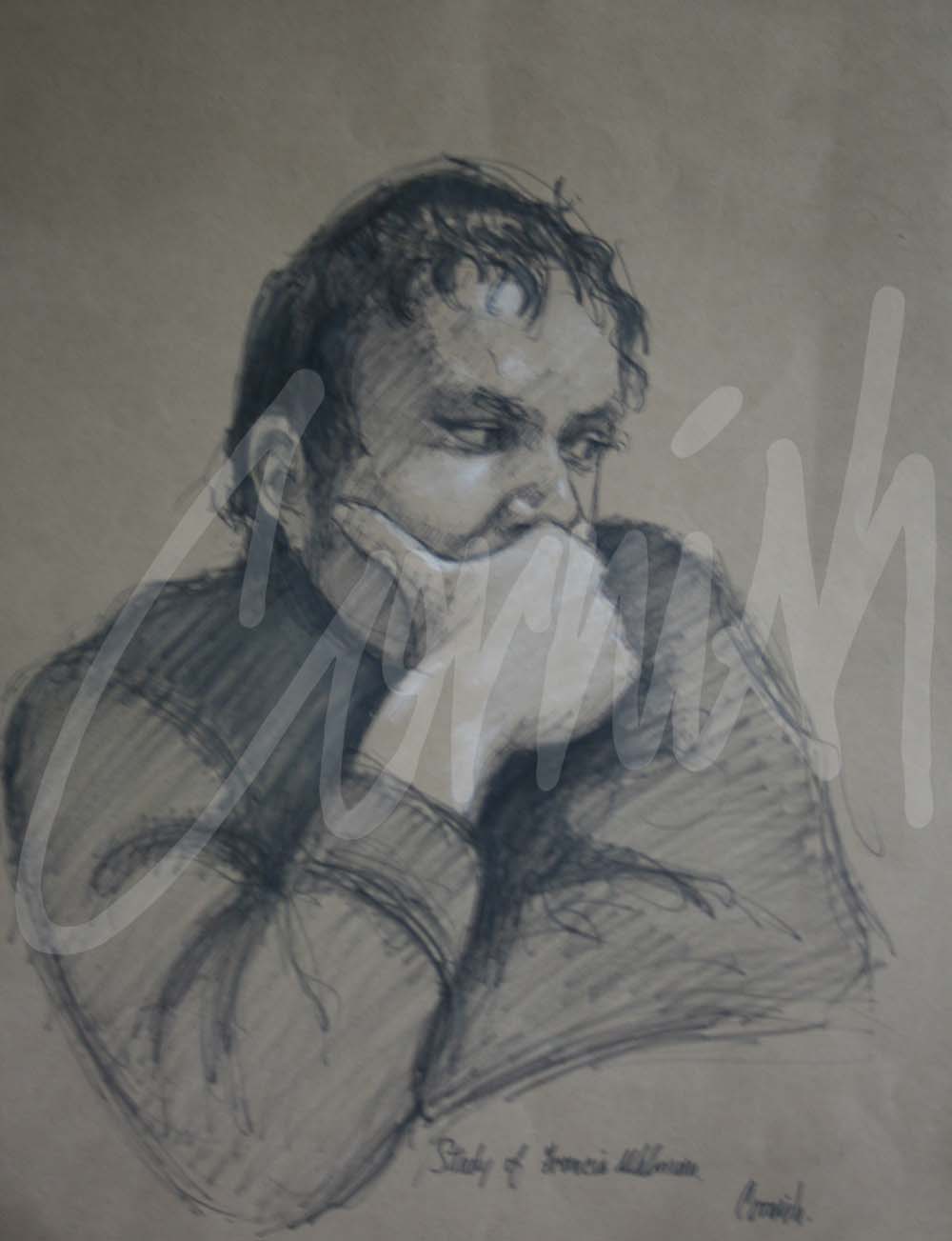 Cornish began his career as a professional artist in 1966 shortly after finally leaving mining. His work focusing on people and places in Spennymoor and across the region is well known to many of his admirers with fond nostalgia. His evocative paintings and drawings are of mining communities, observations of people and bar scenes. Likewise, his portraits of Sarah and his young family also feature strongly. What is perhaps less well known are his portraits of other 'sitters' that were often commissioned, and equally have interesting stories to reveal.
Cornish's large studio was arranged with a table in the centre and table legs specifically reduced to a height of 50 cms. The sitter stepped up, sat down on a chair, and was immediately at eye level with the artist for a number of sittings until completion of the portrait. Creating the correct environment was important.
Francis Uhlman was the son of Fred and Diana Uhlman who organised the 1950 'The Coal Miners,' exhibition in London, held at the AIA galleries in Lisle Street. Fred and Diana provided overnight accommodation for Cornish and it was the beginning of a long standing relationship. Another interesting early member of the Artists' International Association was L.S. Lowry.
Sid Chaplin also worked initially at the Dean and Chapter Colliery at Ferryhill, but Cornish first met the future writer at the Spennymoor Settlement, where they became lifetime friends. Chaplin became a distinguished author and columnist whose work paralleled the social realism of Cornish's paintings and drawings. Cornish here has portrayed Sid Chaplin in 1951, reading 'Dodds History of Spennymoor,' in an unknown domestic setting.
Cornish was aware of the importance of his commission to paint the portrait of Viscount Mathew Ridley in view of his family connections. His wife's grandfather was Sir Edwin Landseer Lutyens, Fellow of The Royal Academy and member of The Royal Fine Arts Commission. Lutyens was the designer of the Whitehall Cenotaph and he had been named after a friend of his father's, the famous Victorian animal and portrait artist, Sir Edwin Landseer who is probably best known for his huge bronze lions in Trafalgar Square and his depiction of The Monarch of The Glen.
Norman and Sarah Cornish enjoyed a very good relationship with Viscount Mathew Ridley who was delighted with his portrait.
Much has been made of the fact that Cornish worked for over thirty years as a miner but to label him with the term 'pitman painter' begins to devalue his vast skill and achievement as an artist. His career as a professional artist actually lasted for over forty years, a fact that is often overlooked or mis-understood.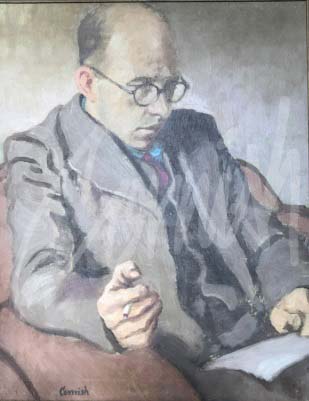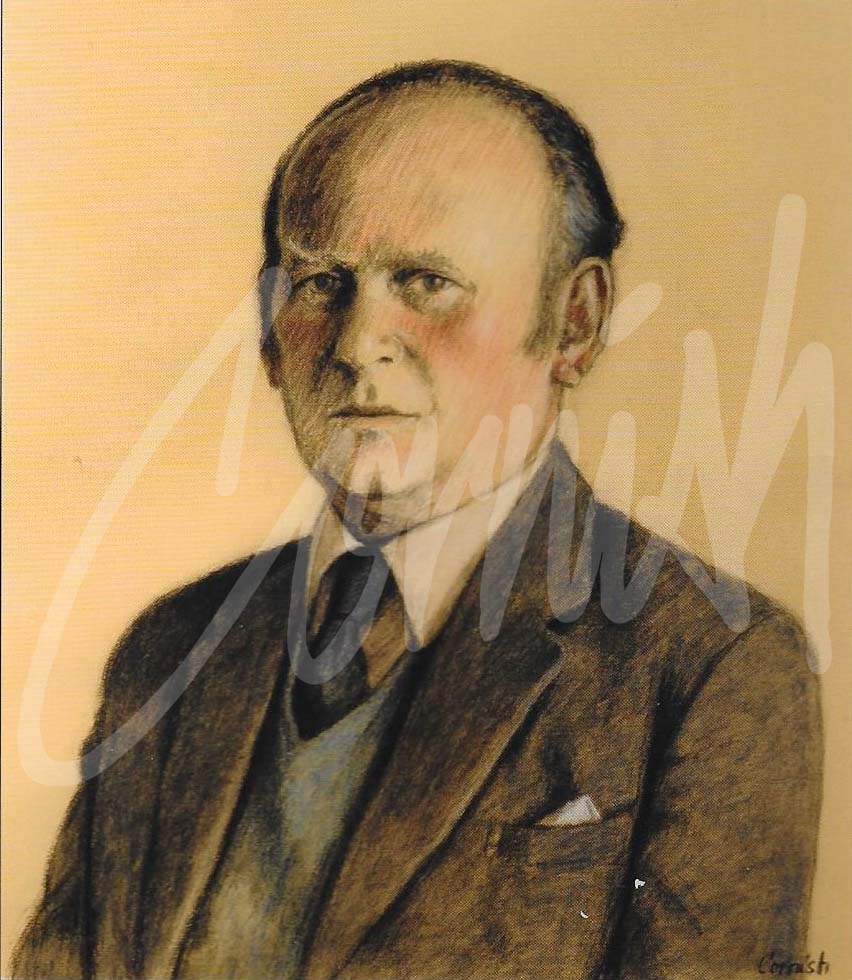 Beamish's 1950s terrace ready to open. Beamish's 1950s terrace ready to open.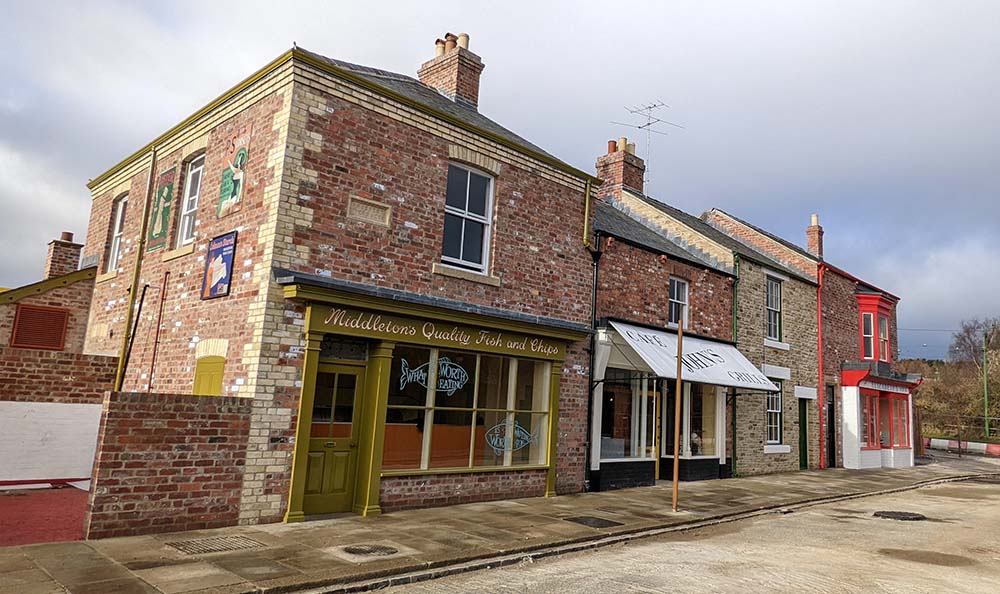 Great news!
Beamish, The Living Museum of the North will open its 1950s terrace with a week of celebrations this February Half Term, from Saturday 19th to 27th February 2022.
The official unveiling will take place on Friday 18th February at 11-30am and you will be able to join a global audience to watch the opening live at 11-30am on Beamish's Facebook page.
https://www.facebook.com/BeamishLivingMuseum
Front Street terrace features John's Café, Middleton's Quality Fish and Chips, Elizabeth's Hairdresser's, and a recreation of the 1950s home of celebrated North East artist Norman Cornish.
Visitors will be able to enjoy an ice cream sundae while listening to the jukebox at John's Café, a recreation of the popular café from Wingate, County Durham. They will be able to get a 1950s hairdo and pose for photos under the dryers at Elizabeth's, which is in a recreation of an end-terrace shop from Bow Street in Middlesbrough. Fish and chips will be served at Middleton's, which recreates a fish and chip shop from Middleton St George, near Darlington. Visitors can also try their hand at sketching in No. 2 Front Street, a recreation of Norman Cornish's Spennymoor home and discover more about the Spennymoor Settlement.
All visitors will need to pre-book an entry timeslot to visit the museum. Please note the museum is not open on 18th February. Timeslots from 19th February to 27th March will be available to book on Beamish's website now.
The terrace in The 1950s Town is part of the Remaking Beamish project, which also includes 1950s Spain's Field Farm and an expansion of the Georgian landscape, including early industry and overnight accommodation.
Thanks to the money raised by National Lottery players, the Remaking Beamish project was awarded £10.9million by The National Lottery Heritage Fund in 2016.
For more information about visiting Beamish, see www.beamish.org.uk.
Cornish Centenary
Throughout the centenary year, an interesting range of themed exhibitions is planned in order to commemorate Norman's life and to celebrate his work.
If you would like to find out more click below:
Stay tuned via social media:
---