Latest News
St. Paul's Church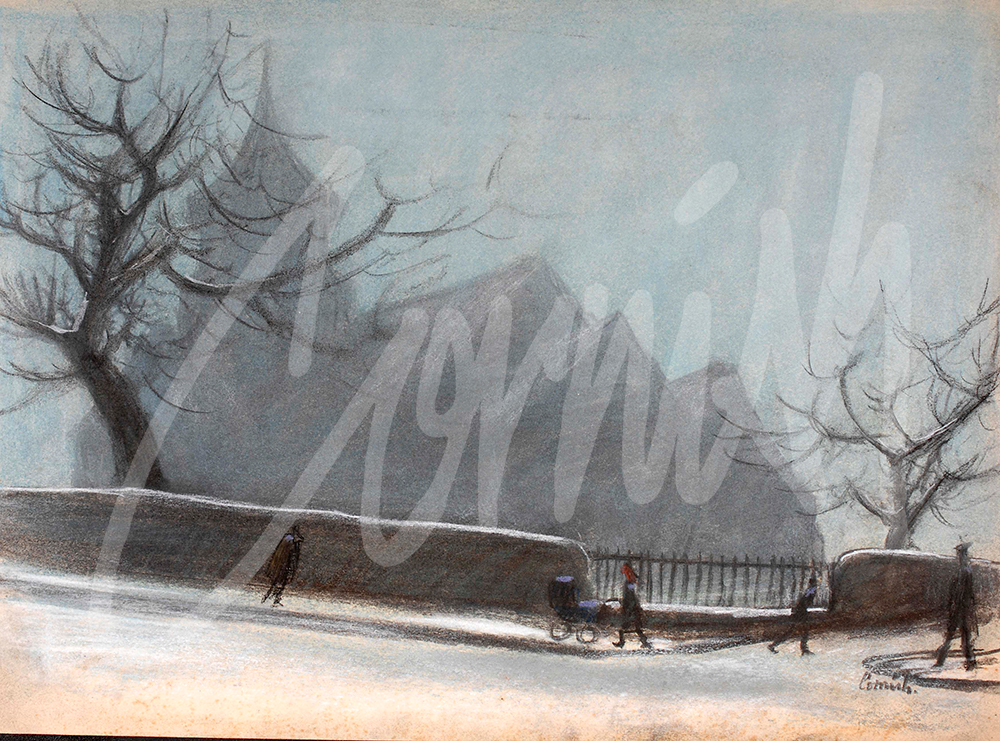 In 1967 the Cornish family was obliged to move away from Bishop's Close Street which was scheduled for demolition. It was a period of huge social change across the county, as exhausted mines were closing, employment patterns were changing and folks had to adapt to a very different era. The new home at 67 Whitworth Terrace provided more expansive accommodation as it had been a former Methodist Minister's home. The large office eventually became Cornish's studio.
The house had easy access to the town centre, no more than a walk of five minutes, and the first subject of interest on an almost daily walk was St. Paul's church.
St. Paul's was consecrated in 1856 but in 1953 a large fire ripped through the building and reduced the church to a ruin. A local man was later convicted- it was believed that he had a grudge against the church because he had previously been convicted of stealing the communion wine! The rebuild task was enormous and took over three years but the opening was rewarded by a visit from the late Queen Mother who was passing through the region.
Next to St. Paul's church was Edward Street and within a relatively short distance were other iconic locations such as Rosa Street School, The Zebra Crossing, Eddy's Fish Shop, and all before arriving at Berriman's Chip Van, just off the High Street near the Town Hall. All of these locations were of interest to Cornish at different times of the day and night as well as different seasons in the year. St Pauls Church originally had a perimeter wall which was later removed and immediately revealed the position of the church to full effect in all sorts of different atmospheric conditions. In his own words:
"At night about 6-30pm (now October) when it is just turning dusk, there is a magical quality in the atmosphere. Tonight is drizzly and misty slightly. The distant lights hang like pearls in the mist; lights are reflected in rectangular patches on pavements and under sills. The church lies behind, shrouded in subtle blue-grey mist, its painted spire adding to the mystery up there."
St. Paul's church is one of the locations for visitors to the Norman Cornish Trail which starts and finishes at the John Kitson Archway at Spennymoor Town Hall where parking at the rear is free. A number of different drawings and paintings of St.Paul's church are also featured in 'Behind The Scenes: The Norman Cornish Sketchbooks' available in our online shop.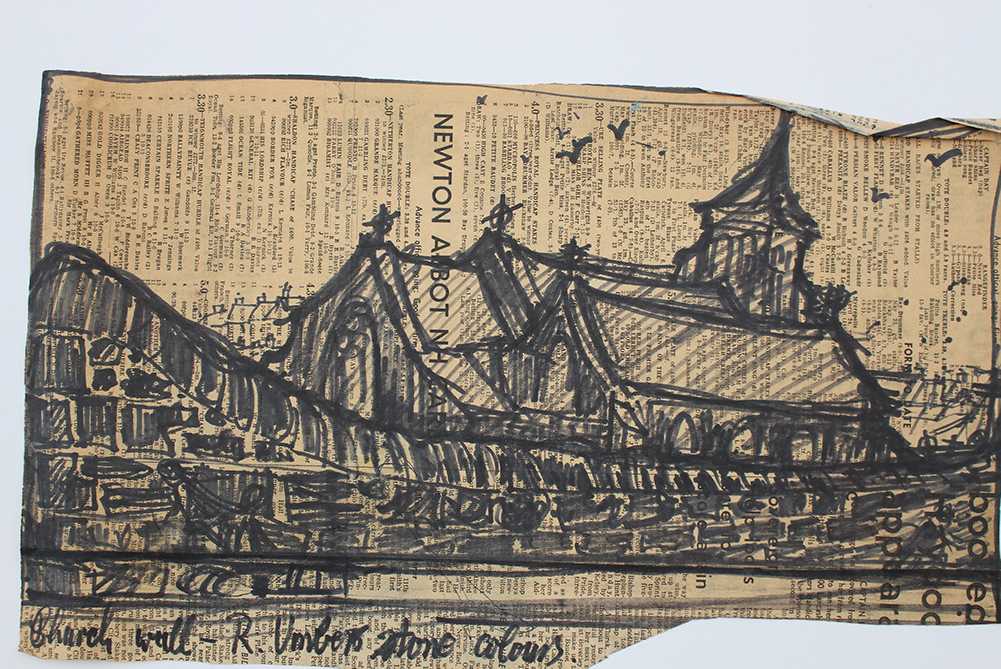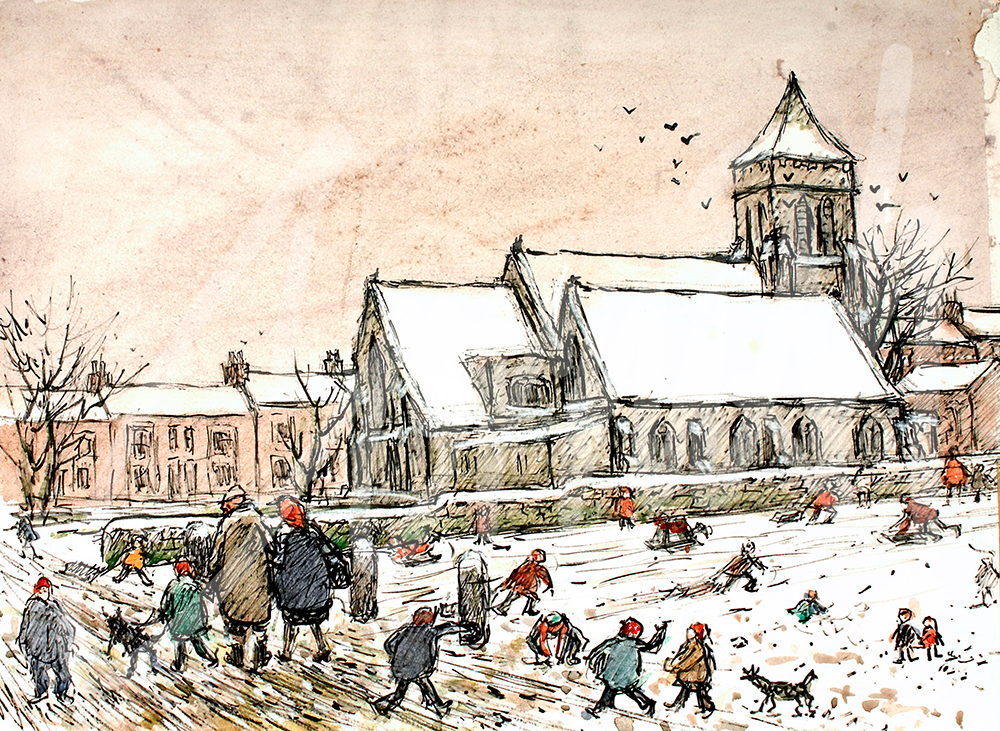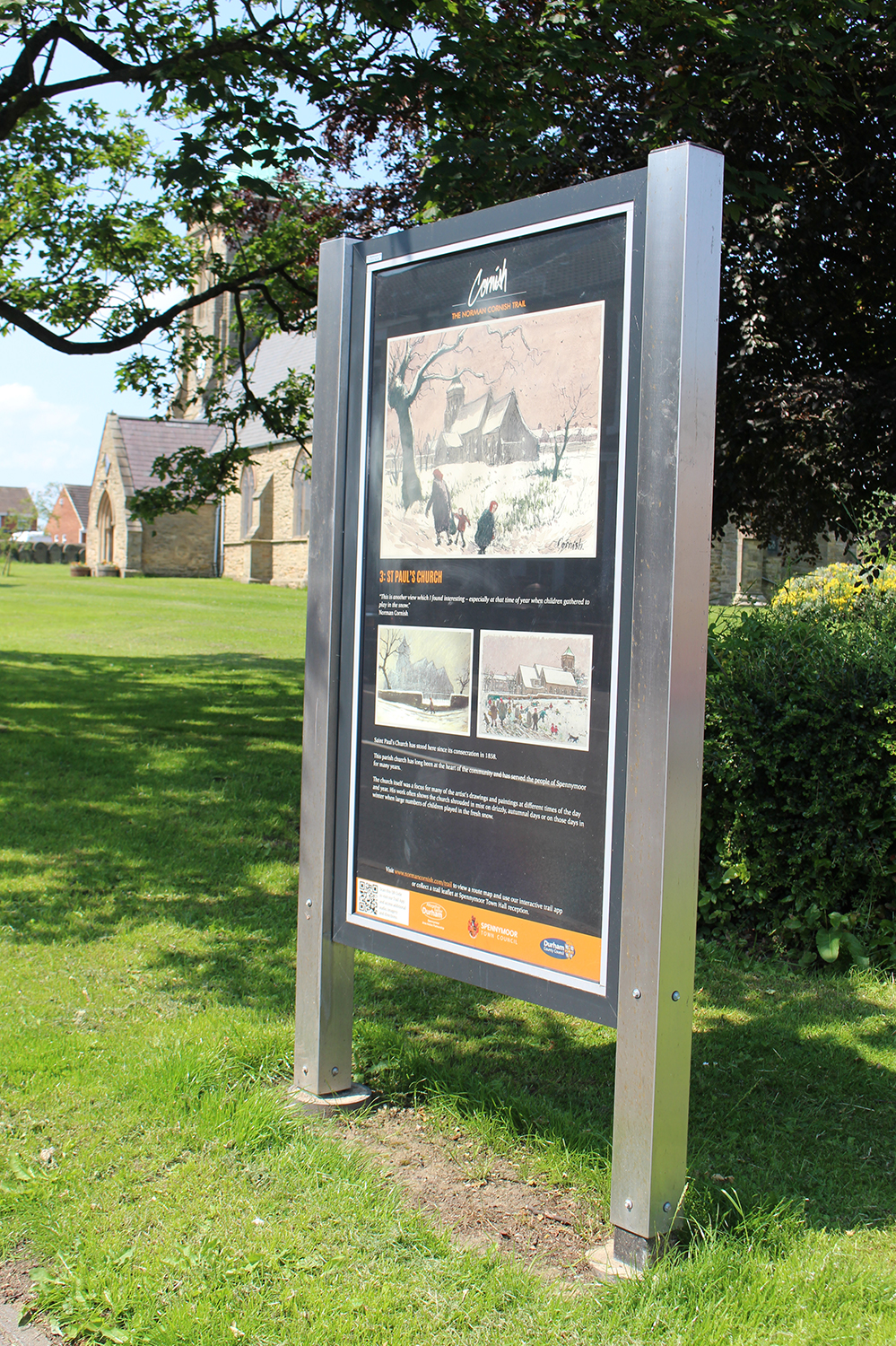 Make Your Mark at Beamish Museum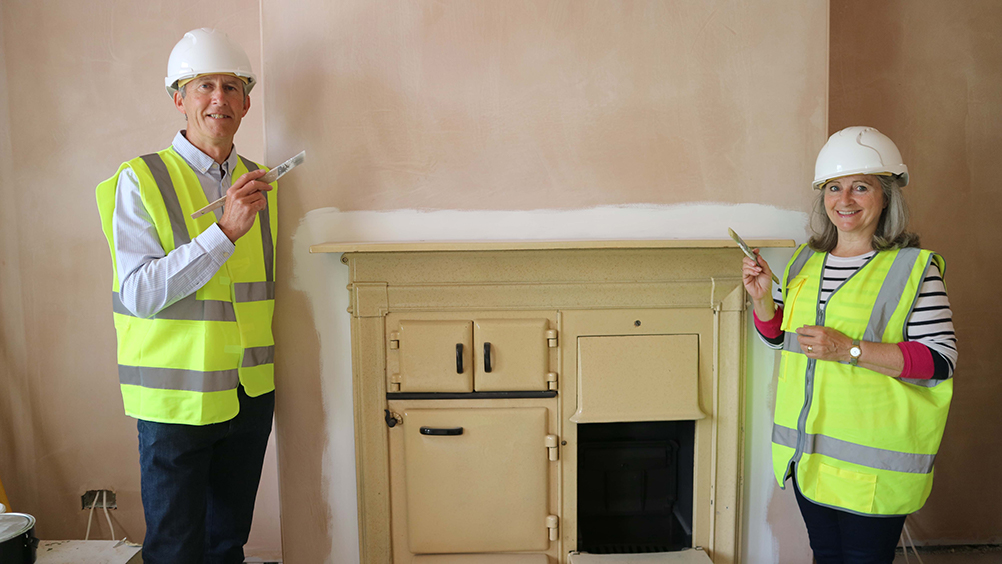 Beamish, The Living Museum of the North is offering the unique opportunity for visitors to create pieces of work directly onto the walls of a new Norman Cornish-inspired exhibit.
The exciting Make Your Mark activity, which launches today, will see two people selected to creatively contribute to the walls in No. 2 Front Street on Beamish's 1950s terrace.
The exhibit is part of the museum's Remaking Beamish project and will tell the story of the Spennymoor Settlement of artists, writers and poets, and will be based on the former home of celebrated artist Norman Cornish.
The Make Your Mark activity is inspired by Norman, who used the freshly-stripped walls of his family home as a giant canvas before they were covered in wallpaper.
Lisa Kaimenas, Remaking Beamish Project Officer – Community Participation, said: "We're really excited to be launching this activity, which will allow two visitors to create pieces of work directly onto the walls of No. 2 Front Street.
"Sarah, Norman's wife, told us that Norman could not resist the opportunity to paint the walls of their house before being wallpapered over, we want to do the same in our exhibit. As well as work created by the Cornish family and members of the community, two visitors will personalise the walls with their own creations, this will then be covered over with 1950s-style wallpaper to match Norman's house on Bishop's Close Street.
"You can paint, draw, write or colour something that captures your imagination and inspires you. As Norman was told, 'paint the world you know'!
"This is a really unique and wonderful opportunity for visitors to make their mark on the building and create something that will stay at the museum forever.
"To enter, people just need to send their name, address and age to This email address is being protected from spambots. You need JavaScript enabled to view it. by 11am on Saturday, 3rd July. Two people will then be picked at random and those lucky winners will personalise the walls of the much-anticipated museum exhibit – good luck!"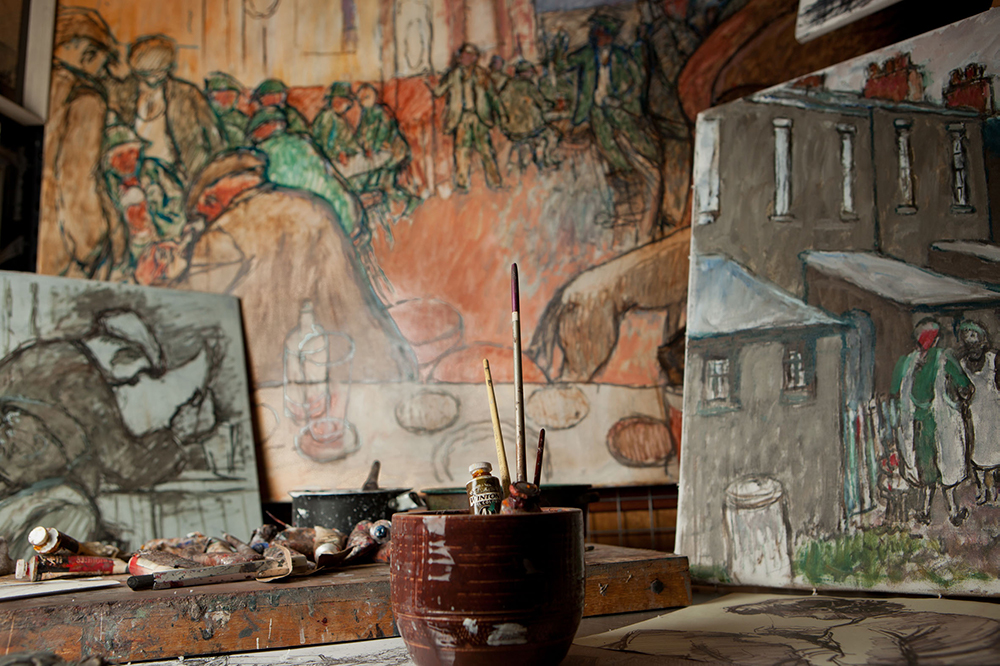 The Man With Scarf: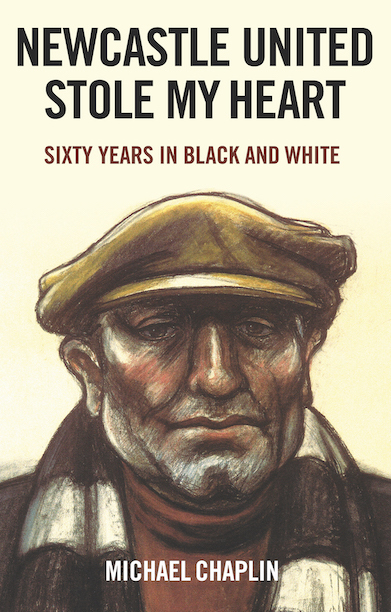 The Man With Scarf was featured on two occasions at exhibitions during the Centenary Year. The first occasion was at the exhibition of portraits at The Gala Theatre Gallery in Durham, followed by a second appearance at the record-breaking retrospective at The Bowes Museum.
However, the earliest time it was seen was in December 1969 at The Stone Gallery exhibition in Newcastle - 'The Men of The North East' where the novelist Wendy Robertson writing in the Northern Echo, commented that 'the spiritual brotherhood is there in every piercing eye, in every craggy line.' 'The Man With Scarf' was also used as a poster advertising Cornish's eightieth birthday exhibition at the Northumbria University Gallery in December 1999.
Michael Chaplin is an old and special family friend on many fronts. His dad Sid and Norman were 'marras' at Dean and Chapter Colliery for many years and contemporaries at The Spennymoor Settlement, that wonderful cradle of creativity and community facility opened during the 1930s, which enabled so many talented people to fulfil their artistic and literary ambitions.
We were naturally delighted when Michael approached us earlier this year to ask if 'The Man With Scarf ' could be used as the front cover of his forthcoming book; 'Newcastle United Stole My Heart- Sixty Years In Black And White'.
Michael is a playwright, a radio, television and non- fiction writer, and a former producer and executive at London Weekend Television. His writing credits include acclaimed plays for BBC Radio and also television series such as Grafters, Drovers Gold and Monarch of the Glen, which included a cameo appearance as a road worker wearing a Newcastle shirt!
This is a football memoir with a difference, sharing the story by Michael of his six-decade love affair with the club in eleven chapters, each one recreating an iconic Newcastle match.
The book will be published on August 26th by Hurst Books.
It will be a highly appropriate latest appearance on the journey for 'The Man With The Scarf', which Norman Cornish would have been delighted to support.
The Outlying Villages: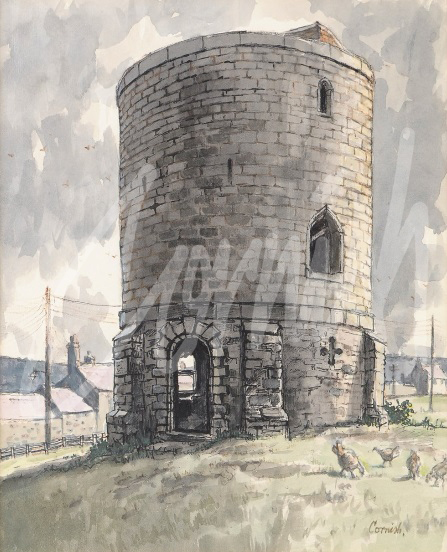 In 1957 Cornish was asked to design a new banner for the drift mine at Westerton which was opened in 1953. Several drift mines were opened in the area following nationalisation in 1947 and they too wanted to be part of the mining tradition.
Westerton is a hamlet, on a hill, overlooking the Wear Valley midway between Spennymoor and Bishop Auckland. Westerton was surrounded by pit villages at Byers Green, Binchester, Leasingthorne, Eldon and Whitworth. However, Westerton was also the location of a very early observatory constructed by Thomas Wright (1711- 1786) towards the end of his career. Wright was an English Astronomer, Mathematician, Instrument maker, and Architect. He was the first to describe the shape of the Milky Way and to speculate that faint nebulae were distant galaxies. Wright's observatory still stands in Westerton and was an obvious subject for Cornish, being within walking distance from Spennymoor. Along the way, Cornish would walk through Middlestone Village, with its chapel and pub. It was also adjacent to a famous horse- racing stable owned by Arthur Stephenson (Stivie).
Spennymoor was surrounded by villages of varying sizes which were usually the location of other deep mines and drift mines, along with a selection of pubs.
During the early 60s Cornish was transferred to Mainsforth Colliery near Ferryhill Station. Buses were provided at appropriate times and 'the pit bus' picked up and returned miners to their home towns and villages. The journey from Spennymoor passed through Ferryhill Village where Friday was market day and a hive of activity- a perfect subject for an artist interested in humanity.
Street scenes, character studies, mining scenes and bar scenes are all featured in 'Behind The Scenes : The Norman Cornish Sketchbooks.'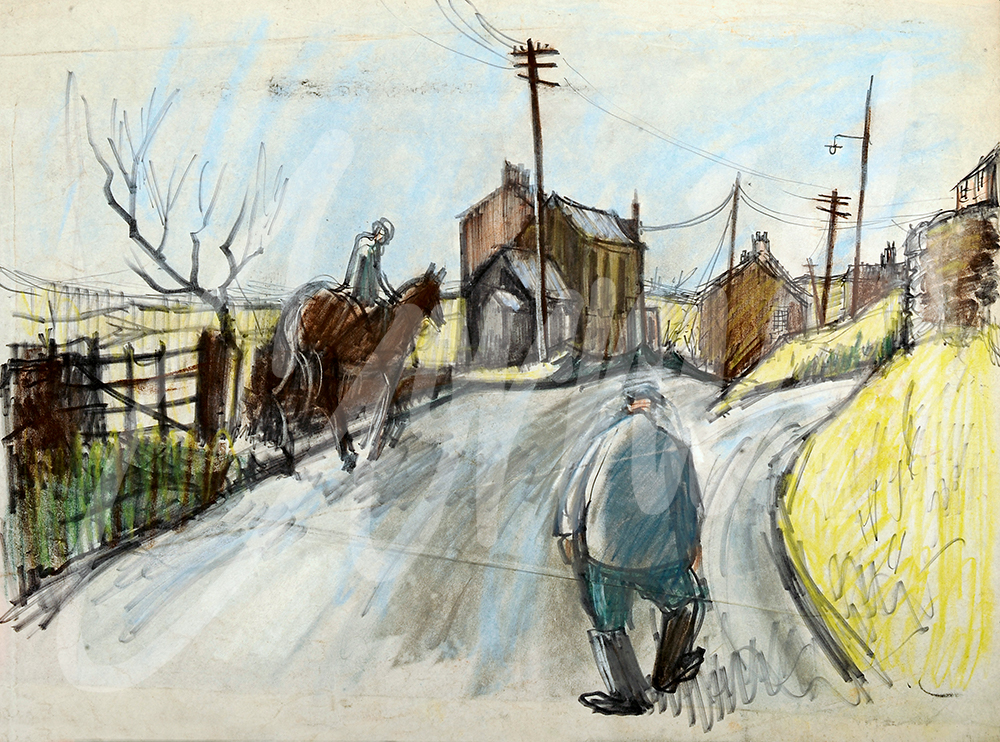 The Railways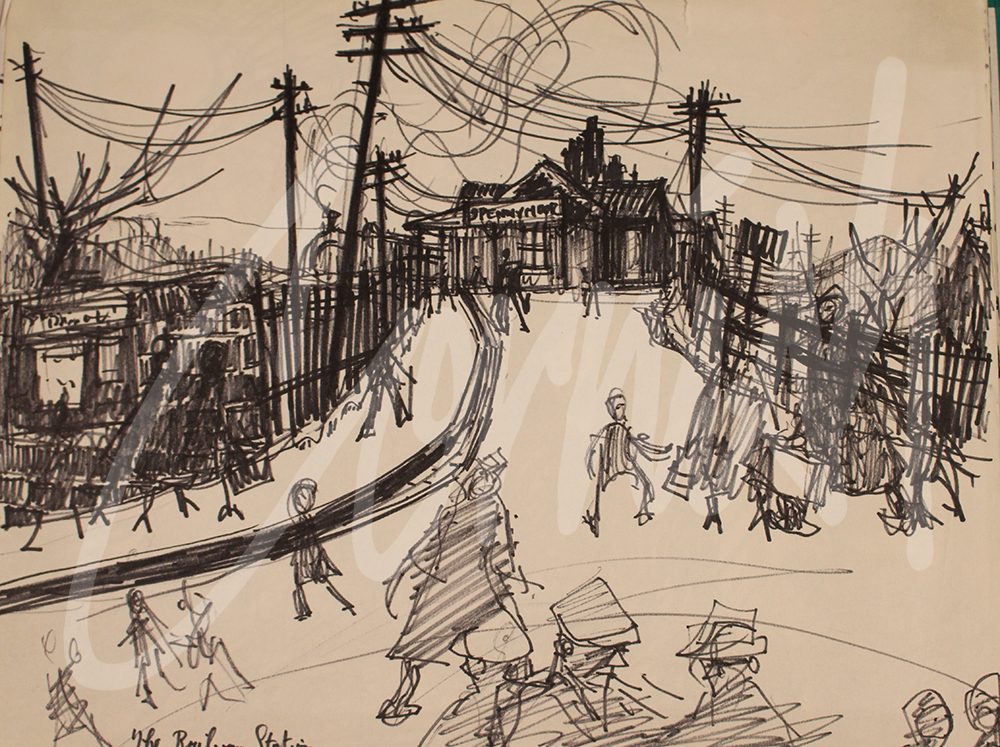 One day in 2007 Norman asked us if we could take him along to Locomotion, the National Railway Museum in Shildon, County Durham. The museum opened in 2004 and although the impressive collection of locomotives was appealing, he was actually interested in a different aspect of the exhibition. " I would just like to have a close look to check the details of the wheels of a tanky engine." A tanky engine was the popular name given to the locomotive used to haul trucks laden with coal from deep mines to Tyne Dock for onward shipment.
This above is an interesting anecdote but another example of Norman as an artist paying close attention to details for accuracy in his work despite having walked past trucks and engines for over 30 years as a miner. Interestingly, he was a professional artist for over 40 years, a fact often overlooked.
Prior to the 'Beeching Axe' in the 60s, which resulted in thousands of stations and tracks being closed, many towns in Great Britain were connected to the national rail network- including Spennymoor (image below). Cornish wasn't a frequent traveller by rail, preferring the bus to Newcastle to visit the Stone Gallery. It is most likely that he travelled by rail to London for his exhibitions there in 1950, 1952 and 1956. He also made several journeys to Carlisle via Newcastle, to address members of the Border Arts Society following a highly successful exhibition in 1951 at Tullie House, 'The Northern Realists' which provided his first contact with LS Lowry and other eminent artists from the north.
In his own words: "The railways, which are fast disappearing are such a compelling source of pictorial art in terms of human history or any other terms for that matter."
Included in 'Behind The Scenes: The Norman Cornish Sketchbooks' is a selection of the drawings which inspired Cornish until he was no longer able to paint and draw. At the time of his visit to Locomotion in 2007, he was 88 years old and in the twilight of his career- but still paying attention to detail.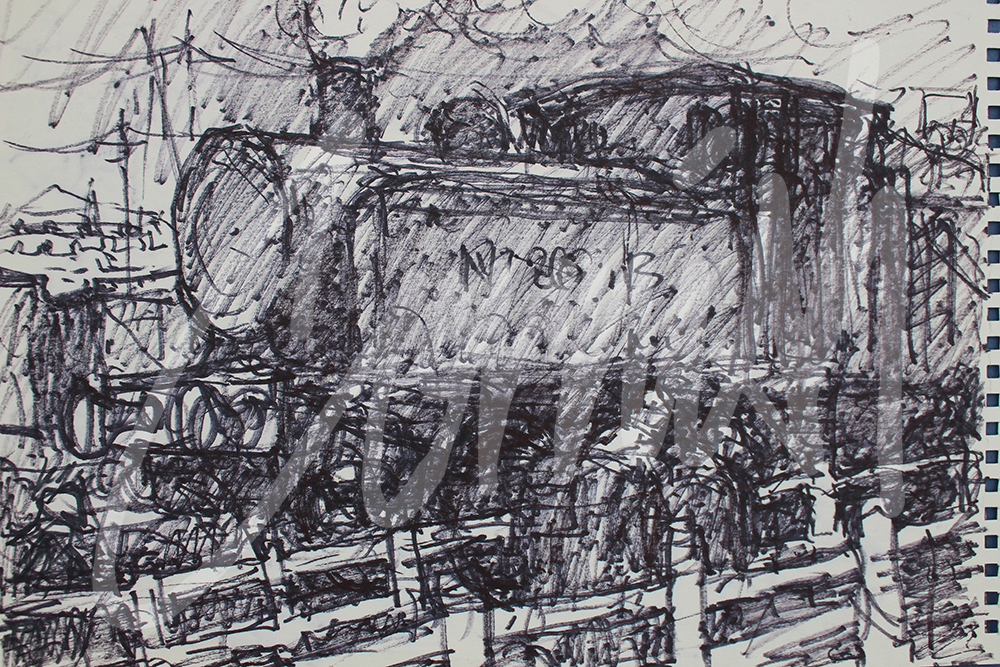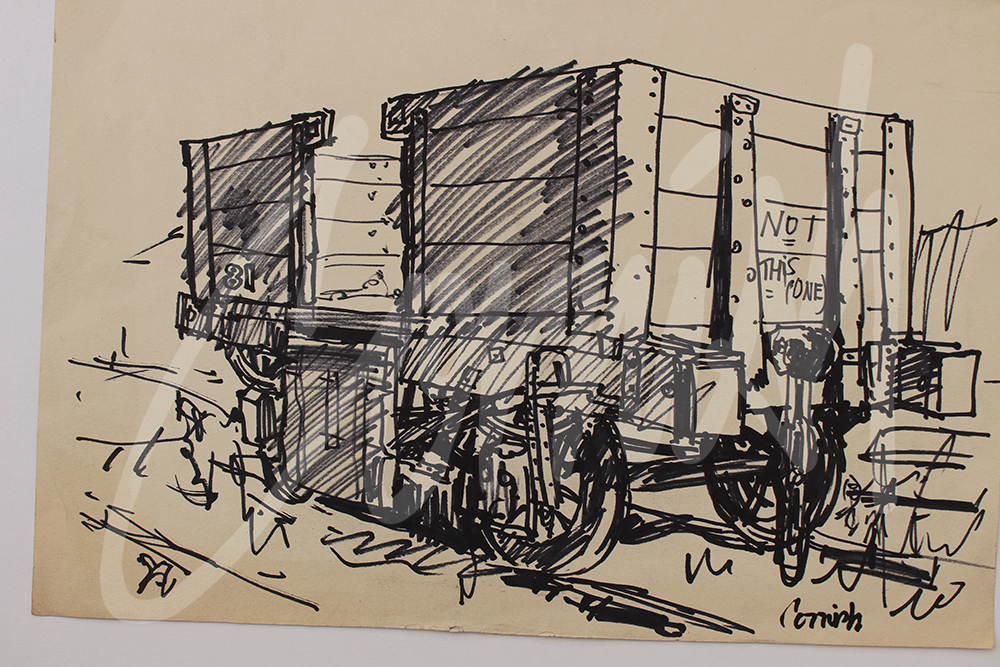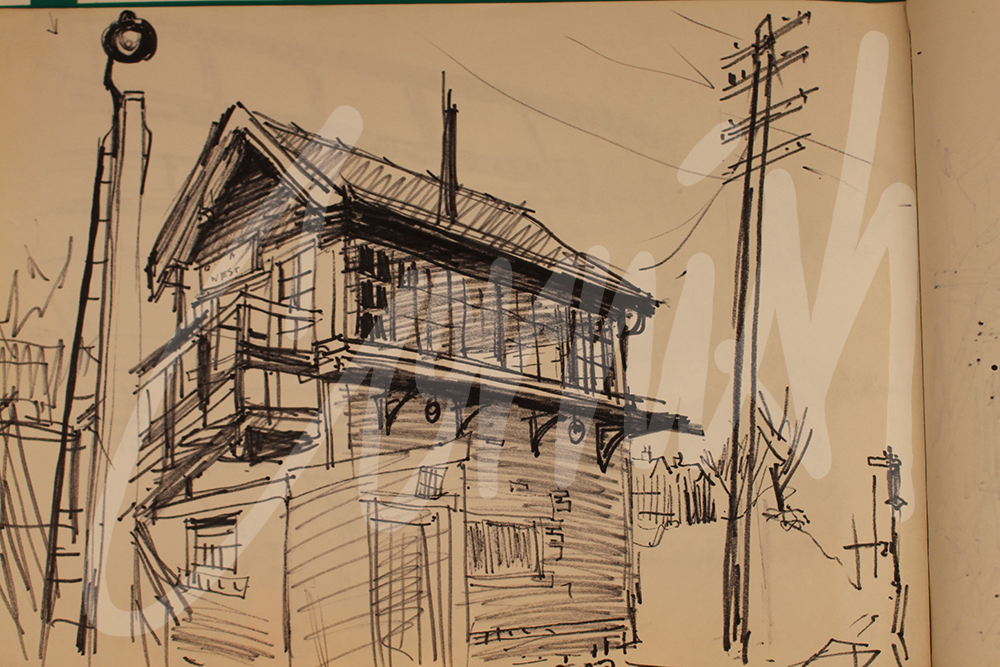 Cornish Centenary
Throughout the centenary year, an interesting range of themed exhibitions is planned in order to commemorate Norman's life and to celebrate his work.
If you would like to find out more click below:
Stay tuned via social media:
---