Latest News
A Missing Link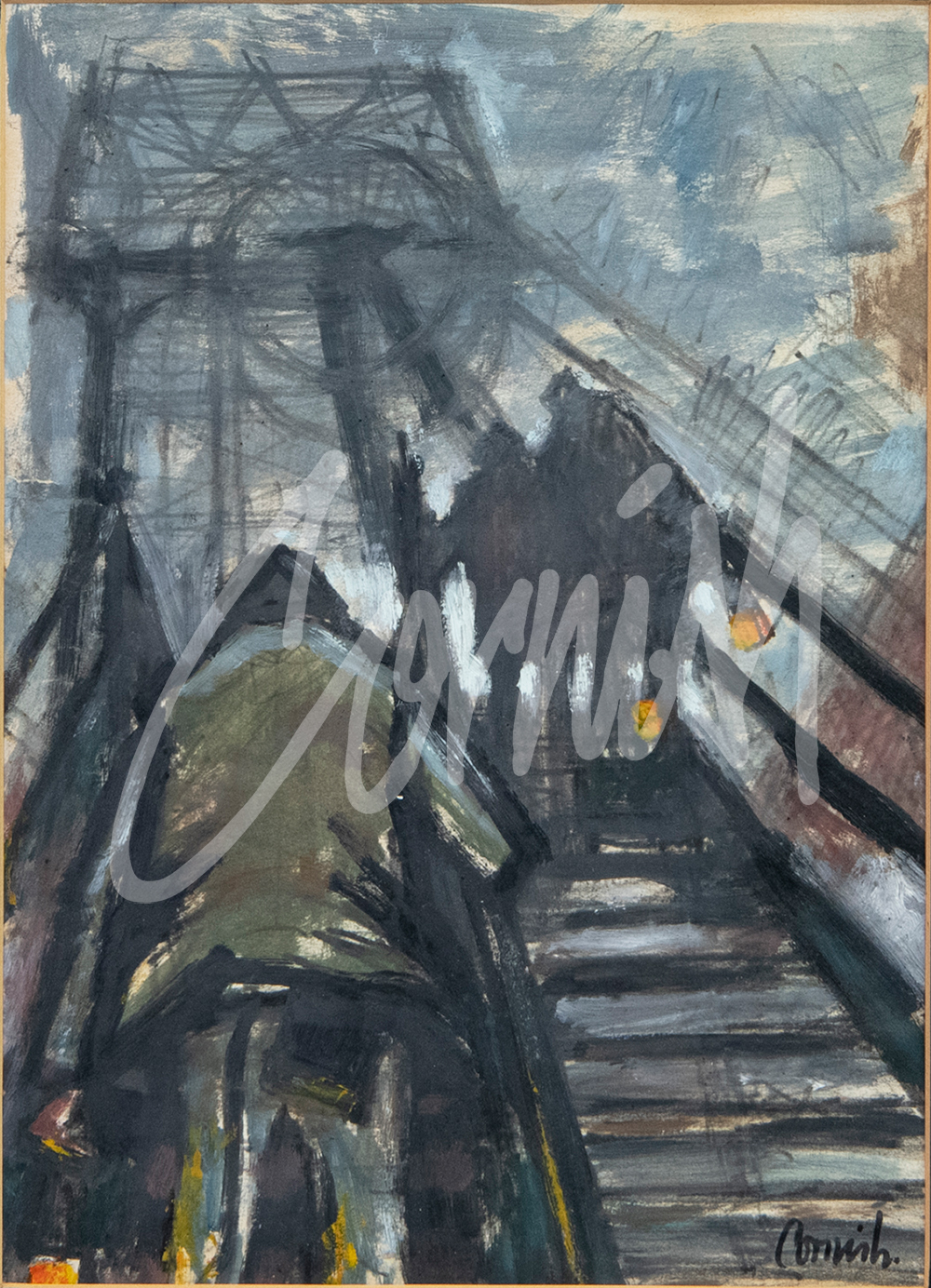 In 1964, a very astute artist added to his collection of paintings by purchasing a version of The Gantry by Norman Cornish. The painting cost 30 Guineas (equivalent today of £2,000+) in an exhibition at The Stone Gallery in Newcastle, and the buyer was Laurence Stephen Lowry.
Lowry was an English artist and many of his paintings and drawings depict Pendlebury and the vicinity of Salford, Lancashire, where he lived and worked for 40 years. Lowry depicted scenes of life in industrial NW England and he was a lonely man depicting loneliness. He began his working career as a rent collector and he was perceived as an outsider in his community looking in on his subjects. Cornish painted life in the NE of England but he was immersed in his community where he recorded everyday life. At work – working underground as a miner during the day, and in the evenings and weekends, spending his leisure time in the pubs of Spennymoor with his marras (workmates). The beer in Cornish's glass became the passport to be able to share, observe and record the life around him. Because he could blend in, this gave him the opportunity to produce so many character drawings in different settings.
Mr. Cornish and Mr Lowry (always formal) were well known to each other and they first exhibited together in Carlisle in 1951 at Tullie House: 'The Northern Realists', and thereafter on a number of occasions in London. They shared the same agent at The Stone Gallery in Newcastle and during the 60s continued to exhibit together along with other regional and leading British artists.
At various times, both artists had connections with Sunderland. Lowry was a regular visitor to the North East and he enjoyed painting coastal scenes when he stayed at the Seaburn Hotel near Sunderland. He was also a frequent visitor to Berwick upon Tweed where there is a Lowry Trail in his memory. Cornish was a part-time lecturer at Sunderland Art College from 1967 and he was awarded an Honorary Doctorate by Sunderland University in 2012. Each artist has a picture hanging in the National Glass Centre at Sunderland: Lowry's drawing of Monkwearmouth Church is there and on the opposite wall is Cornish's Pit Road in Winter, currently on display at The Bowes Museum extended exhibition.
On 16th August 2020 , McTears Auctioneers Glasgow: The Scottish Contemporary Art Auction Lot 668
Gantry, A Mixed Media by Norman Stansfield Cornish MBE 1919-2014
Label verso Stone Gallery, Catalogue number 42
Purchaser inscribed on label 22nd February – 21st March 1964 LS Lowry Esq.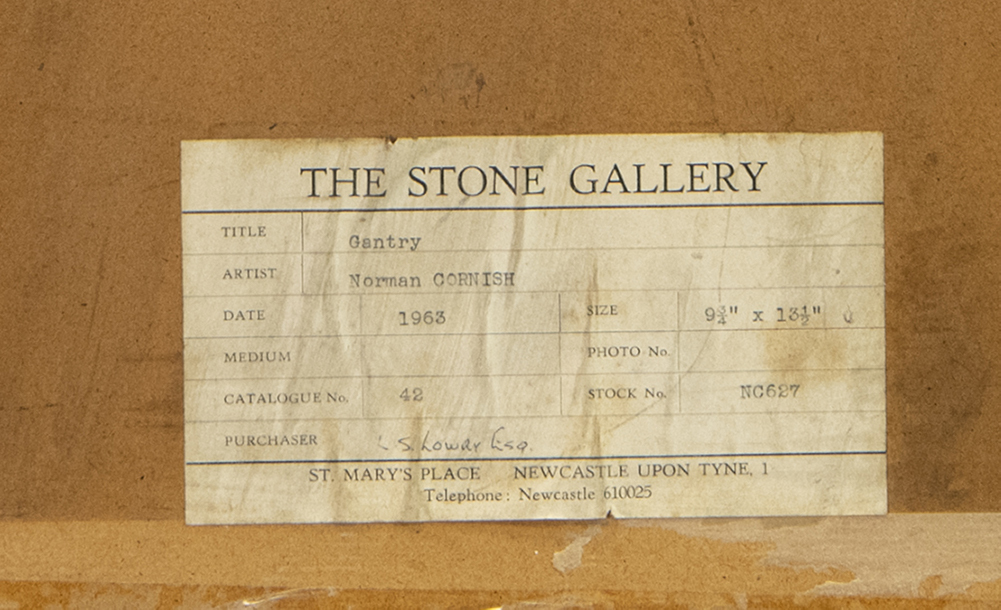 Bishop Auckland Town Hall open.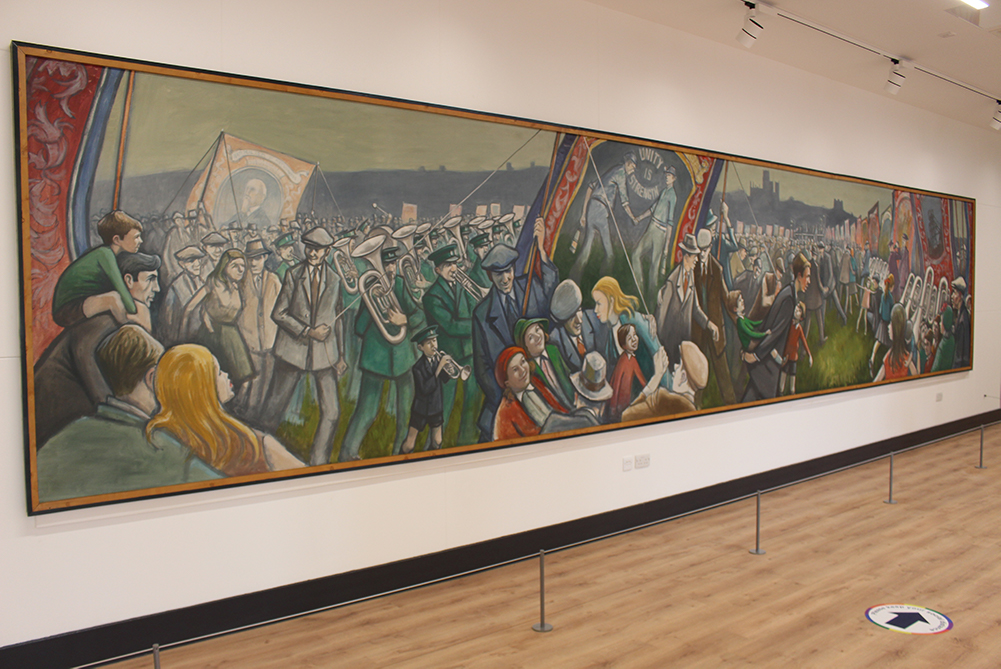 You can now visit and see the Norman Cornish Mural in its new location where it looks simply stunning.
The Bishop Auckland Town Hall was originally planned to open in April 2020 following its £1.5m refurbishment of the café, library, theatre and gallery spaces. However, due to social distancing guidance and restrictions on the reopening of theatre venues, the staff are currently only opening the café to the public.
During the past few weeks, they have been preparing the building and have undertaken a full Covid-19 risk assessment, including clear signage for customers and seating arranged to allow lots of space to move around.
On Monday 3 August, the new café/bar opened to the public and is now much bigger, brighter and relocated at street level at the front of the building, as well as temporarily in the gallery and library areas in order to create more space.
Regular opening times will be Monday to Saturday 10am - 4pm. There is no need to book and the new menu will include a wide selection of fantastic locally sourced produce.
Although the library space will continue to be closed for access to browsing and PC use, the new Pick and Collect service will be available at this site.
For more information on Pick and Collect visit www.durham.gov.uk/pickandcollect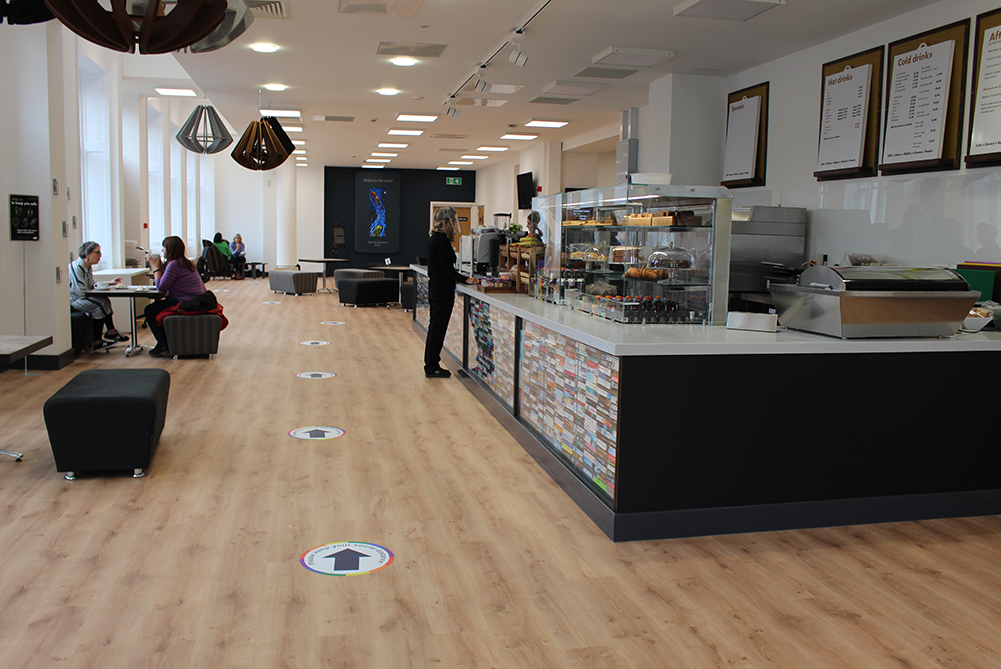 A Hidden Gem: The Norman Cornish Trail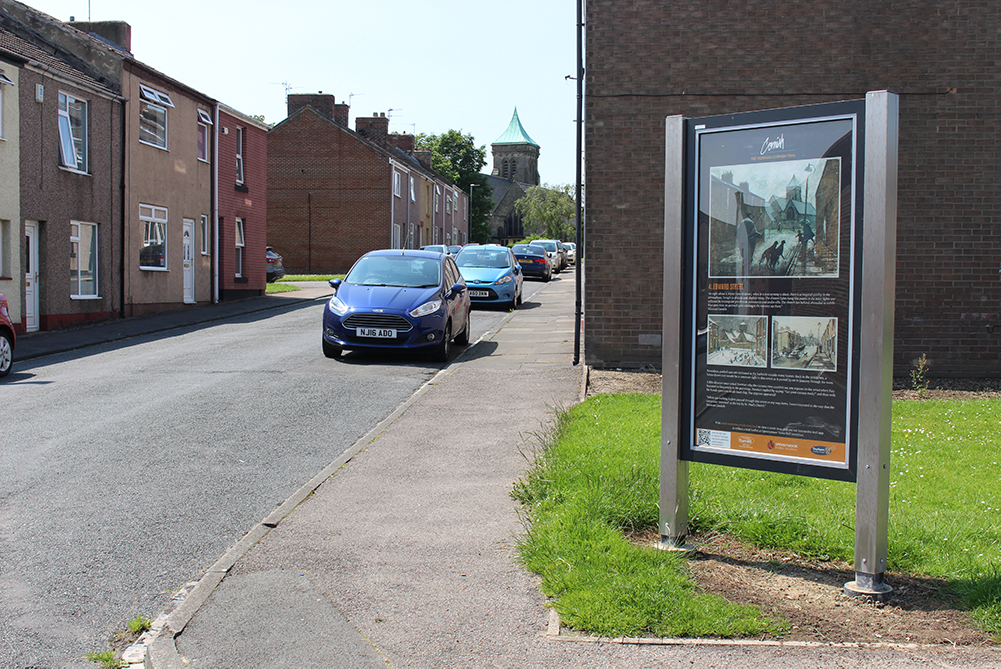 The Norman Cornish Trail in Spennymoor opened in April 2019 to launch his Centenary Year. Over 10,000 visitors have enjoyed this fascinating walk of 1.5 miles visiting 10 of the famous locations which inspired some of his most iconic paintings.
Follow in the footsteps of one of the leading 20th Century British artists in his home town and also visit the Coming Home exhibition at the Bob Abley Gallery in Spennymoor Town Hall. Free parking is available at the back of the Town Hall and the journey begins at the John Kitson Achway where a selection of Cornish's images, wonderfully illuminated on glass panels, can be viewed. Here you can collect a free souvenir brochure guide to the trail or download a version at www.normancornish.com/trail
There are ten locations to visit and the walk takes about one hour. An audio version of the information on each panel may be accessed via a QR code at each point of interest.
In his own words:
"Spennymoor has all that a painter needs in order to depict humanity"
The Norman Cornish Trail was recently featured by Visit Durham for the July edition of North East Living magazine and if you follow the link below you can read the featured article : Discover Durham's hidden gems this summer.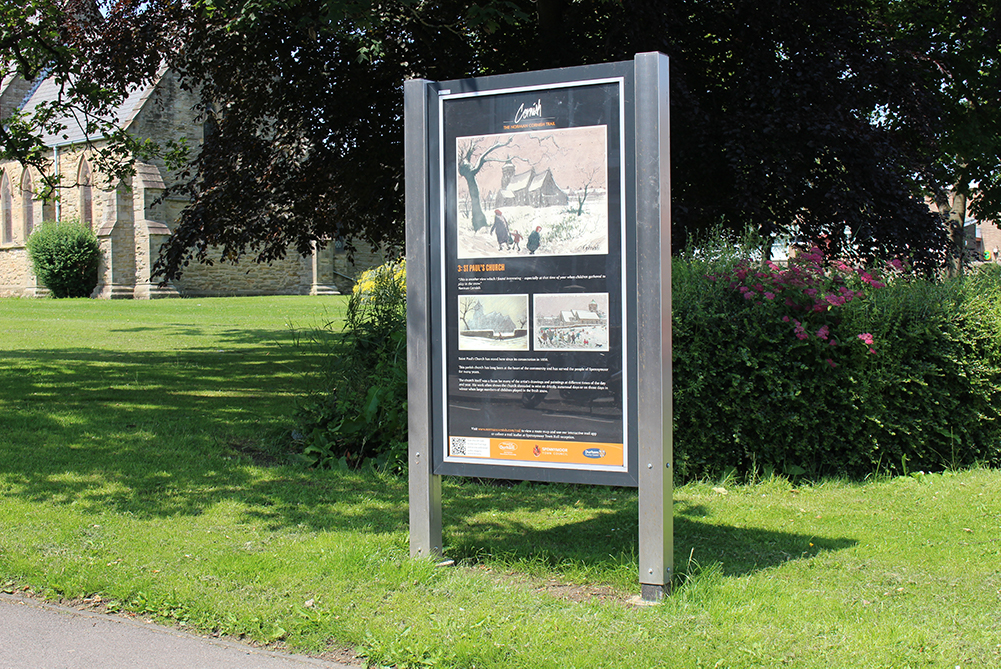 The Busy Bar: Human Drama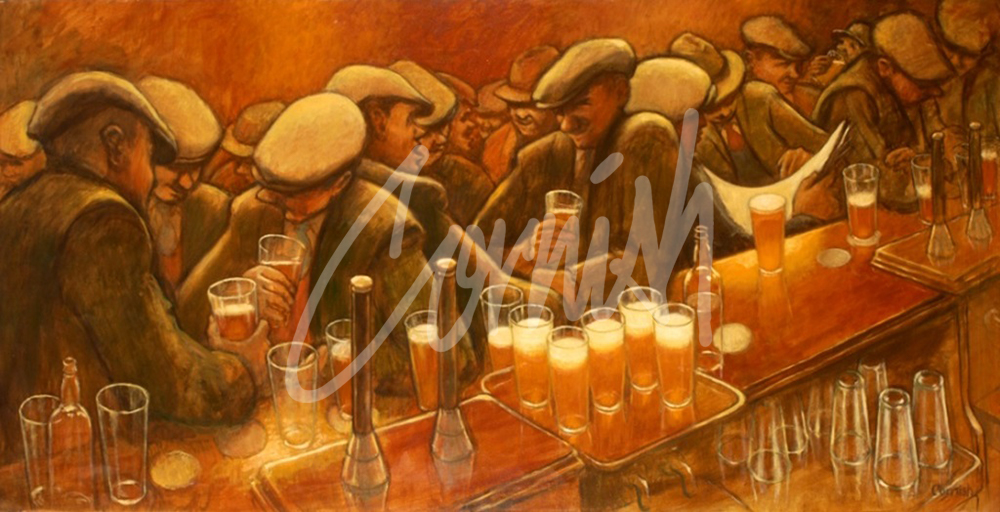 Norman Cornish's studio is currently on long-term loan from Beamish Museum to Spennymoor Town Council, and is the centre-piece of the Coming Home exhibition at the Bob Abley Gallery. In 2014, a scrap of paper was discovered in the back of a drawer in the studio table.
The scrap of paper revealed for the first time a preliminary rough sketch of a bar scene. More significantly, there were three statements setting out the underlying principles which Cornish employed to develop the composition of The Busy Bar, which became one of his most admired and appreciated paintings.
It is human drama based on gesture and attitudes.
It is monochromatic.
The accent is on atmosphere which contrasts the earthy humanism with the mysterious glitter of the beer and the glasses.
A fascinating insight, which discloses his deep thoughts about the underlying geometry of the picture. A clear and carefully considered structure, with a highly complicated design and unusual perspective from the barmaid's view helps to invite us into this busy bar full of activity and animated conversation.
In his own words:
Again, the bar is a big diagonal shape – wide bar coming along half way up the right-hand side down to the section area of the base. Then, of course, there are other shapes teetering away from his hand, down to under the bar. It's not too obvious, but it is two diagonals, one against the other - rather like when you see someone playing a violin. You need a violin and you need a bow to cross in order to get music. If you don't do that, you don't get a lot of music – it helps to create feeling. Of course, the actual men themselves created circular rhythms within the group. The circular rhythms knit together like a jersey.
As an underground miner, Cornish was fully immersed in his community. The beer in Cornish's glasses gave him the passport to be able to share, observe and record the communal life in pubs because he was easily able to blend in and this gave him the opportunity to produce so many character drawings of his subjects.
In 1989 The Busy Bar was purchased by Scottish & Newcastle Breweries to be hung in their boardroom. In 2007, the painting was donated to The Permanent Collection at Northumbria University and it forms part of the Norman Cornish: Definitive Collection at The Bowes Museum extended from August 1st to January 17th 2021.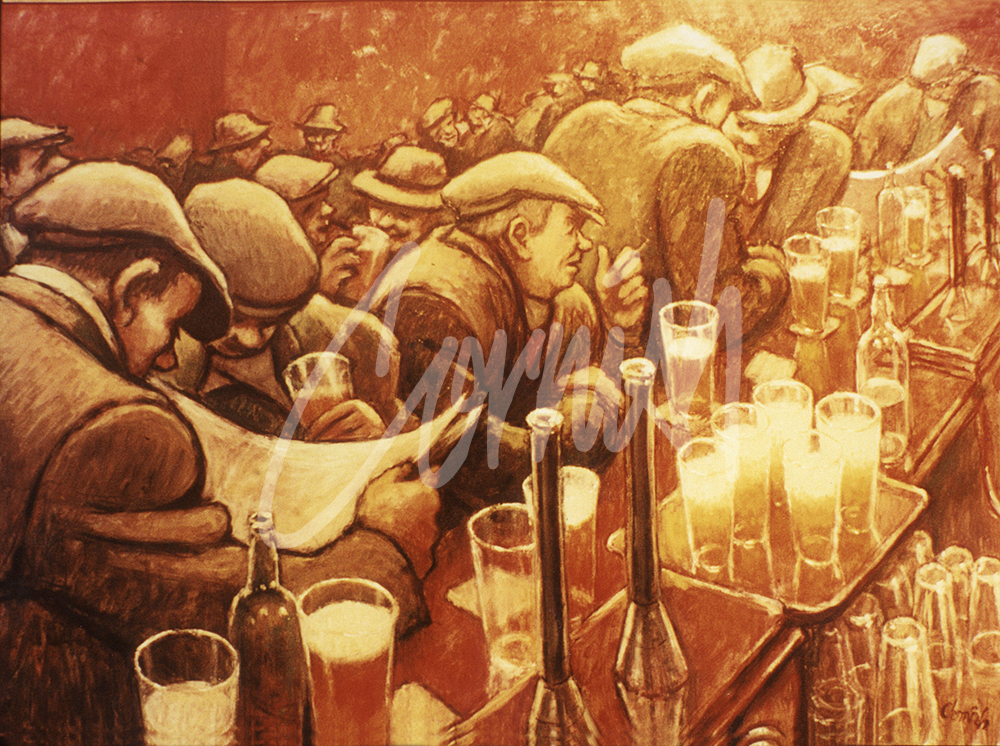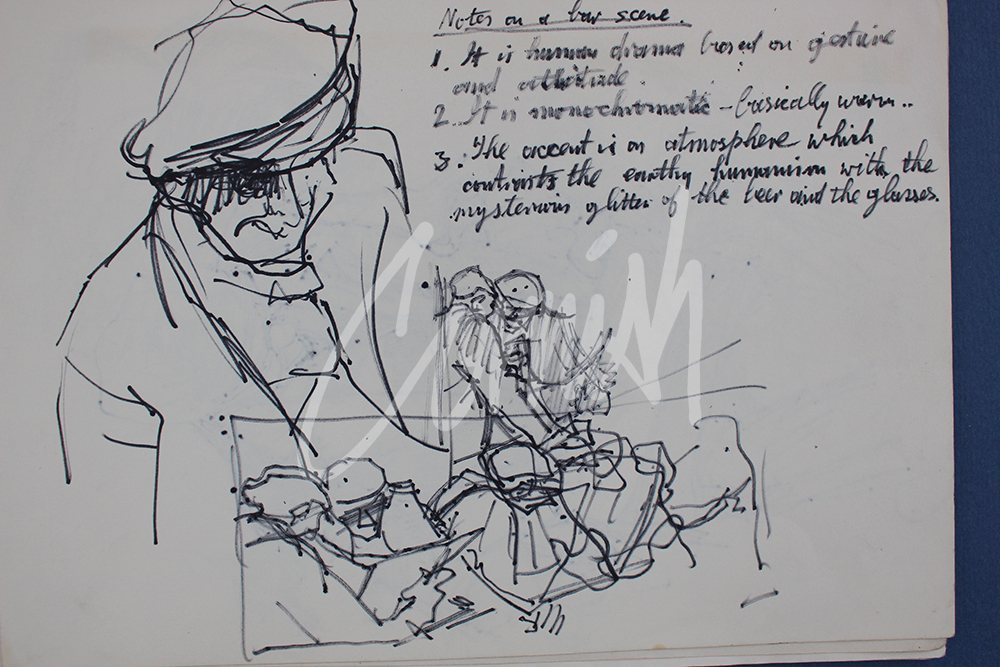 Classic Cornish: The Pit Road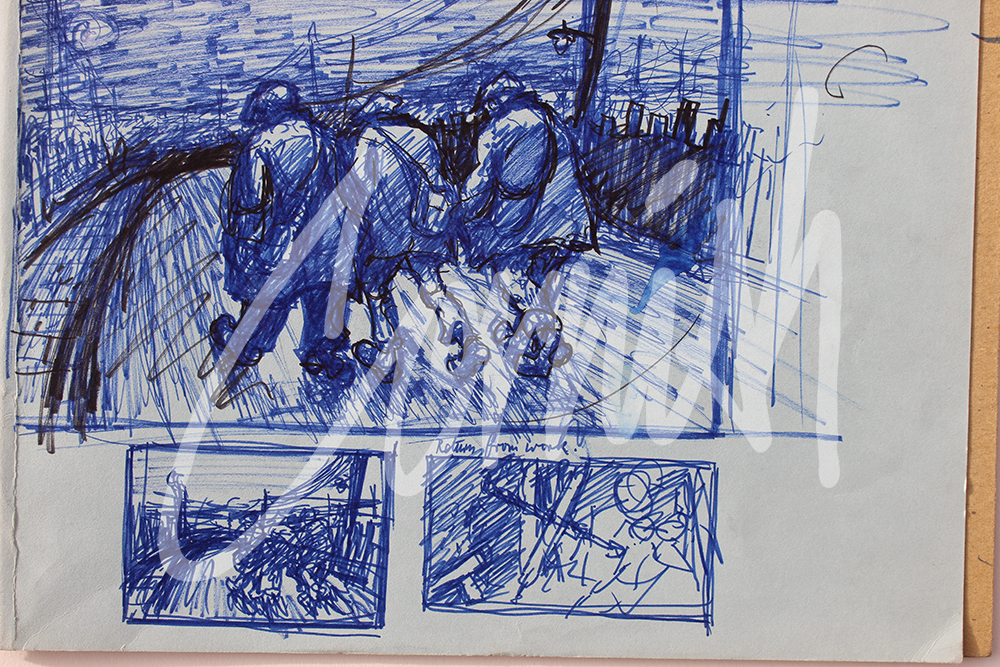 The Pit Road is perhaps Cornish's most iconic image, often repeated, with numerous variations throughout his career. Cornish started work on Boxing Day 1933 and walked the pit road every day for the next 30 years. The journey began as he left the front door of his home at Bishops Close Street and continued immediately through the tunnel under the railway line and onward to the pit. It was a journey of three miles each way, which he travelled along with hundreds of other men, in all weather conditions, and at different times of the night and day. Within five miles of Dean and Chapter Colliery there were some 135 collieries at various stages of working, closing and re-opening. The impact of the environment was pervasive.
The pit road provided everything Cornish needed for inspiration:
"After walking along this road, winter and summer, it naturally becomes a significant part of one's life. To watch the man ahead of you plodding resignedly through this man- made world is a subject which demands to be drawn again and again."
The dip in the path, depicted in some versions of this subject, was caused by subsidence owing to underground workings shortly after Cornish started work in 1933. The painting is graphically accurate except for the colliery itself which he has moved to the right for reasons of pictorial composition.
Cornish found huge symbolism in the many shapes encountered on his three miles walk to work. He often said that the men were treated like slaves; telegraph poles along the route reminded him of crucifixes and on every one of them was a miner hanging crucified.
"One wonders with the passing of time, when no present-day pitheads actually exist, if pictures of them might one day be thought of as picturesque and as socially significant as old windmills."
Behind the Scenes: The Norman Cornish Sketchbooks, contains a chapter which appraises Cornish's work in the context of life in the Durham coalfield. There are 58 drawings and completed works showing the variations in this iconic image, along with carefully selected quotations which disclose his personal thoughts and the challenge of being caught between two very different cultures – coal production and aesthetics.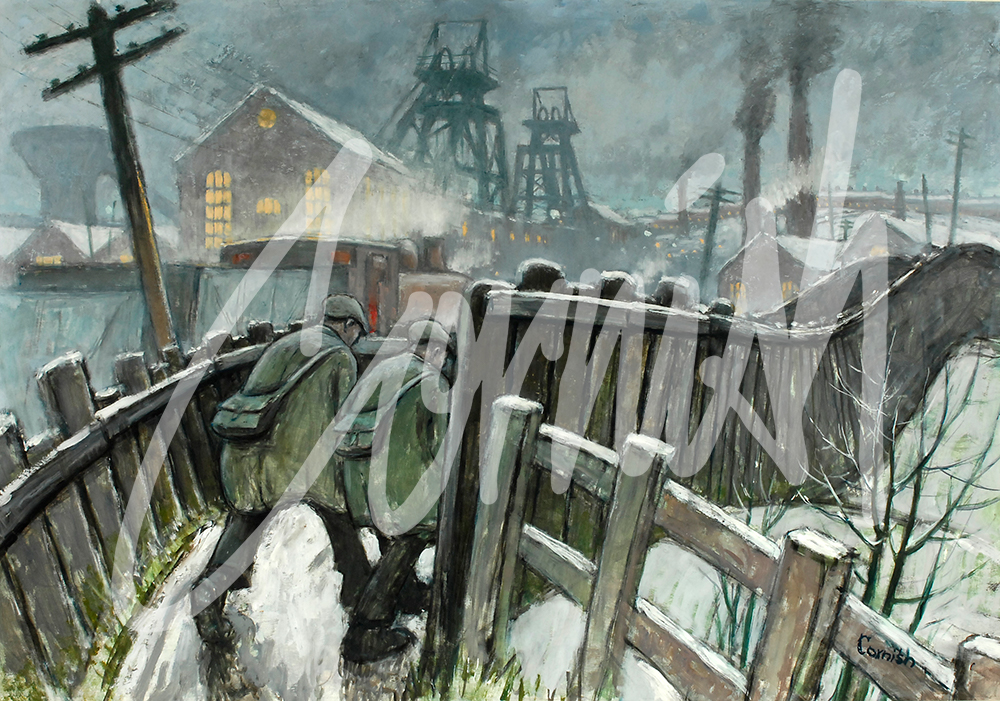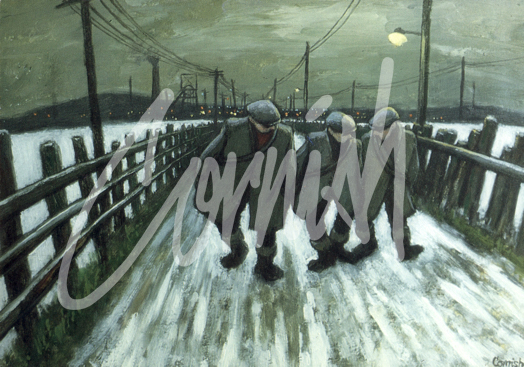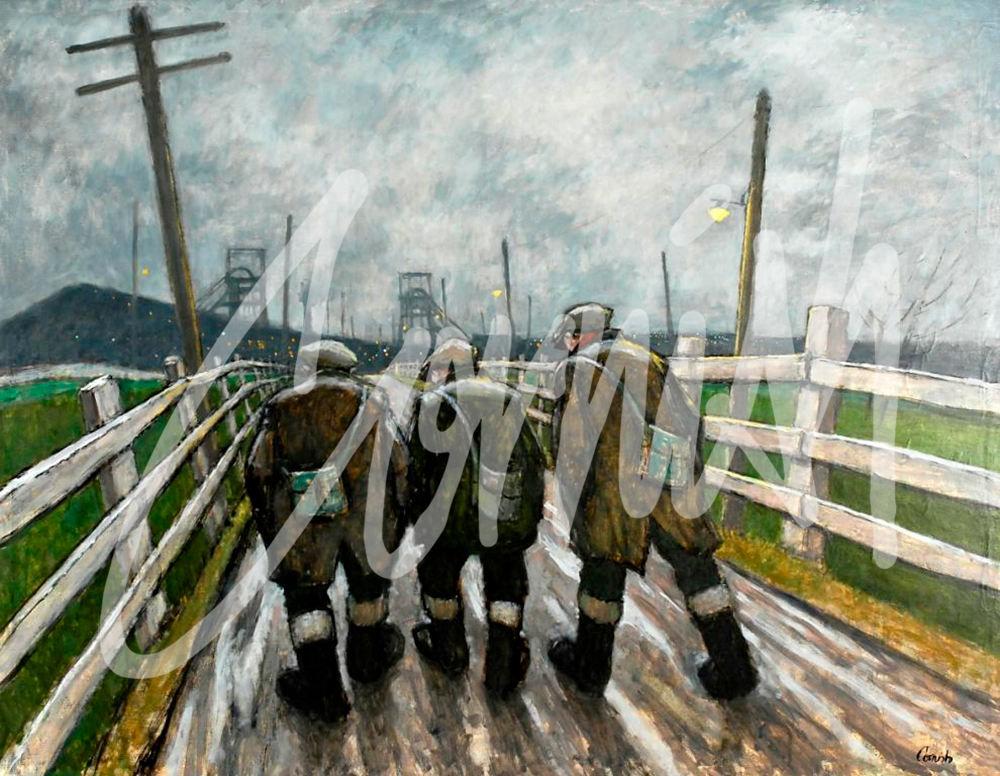 Cornish Centenary
Throughout the centenary year, an interesting range of themed exhibitions is planned in order to commemorate Norman's life and to celebrate his work.
If you would like to find out more click below:
Stay tuned via social media:
---