Latest News
A Canny Hand: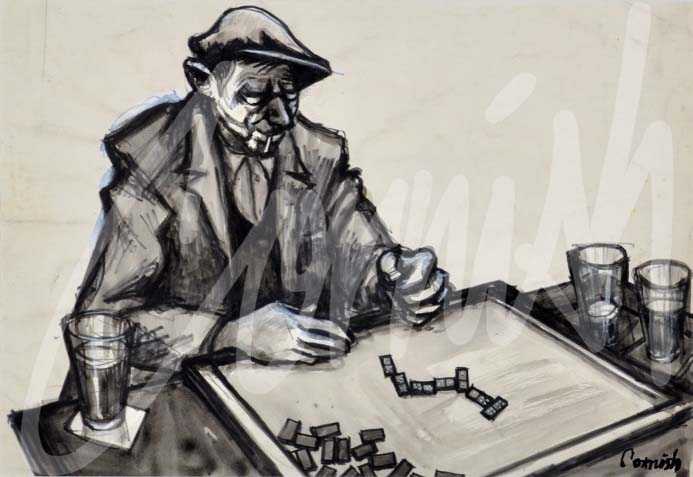 Cornish's work is noted for the quality of his drawings, often made quickly to catch a moment in time. His jacket was adapted by his wife Sarah who created a 'poachers pocket' on the inside, large enough to hold his sketchbook and Flo-master pen so that wherever he went his sketchbook and pen were always with him. During his era there were over 35 pubs in Spennymoor and at times they were busy with men not only 'enjoying the craic' but often playing dominoes or darts, which were a common feature in all of the pubs in the region and beyond.
A canny (good) hand would be a common term used by domino players in the pubs where the game flourished and sometimes involved competitions amongst the men. The 'doms' would often be held in both hands to shield the numbers on the domino pieces from other players. Experienced players could quietly guess the dominoes held by other players as the games progressed. The hands would deliberately rest on the edge of the table to avoid disclosure of 'the hand'. Powerful hands from working men would nevertheless create a study in concentration, assessing the next move and a big decision.
Cornish blended in, he was 'one of the lads.' A few hours earlier he would most likely have been working underground, and when he sat down in a pub with his favourite bottle of Newcastle Brown Ale he would immediately begin to observe and absorb whatever human interaction emerged unscripted. A treasure trove for an artist of his calibre and uncanny ability to quickly record what was happening all around him. His ability to sketch and draw with speed and accuracy, to capture a moment in time, was fundamental towards his future success.
Cornish returned to the theme of the pub throughout his career. Bar scenes with individual character drawings, men playing dominoes, convivial conversations, and drawings of darts players. He also made detailed drawings of the beer pumps, furnishings, pint glasses and posters to ensure accuracy in his work. These features sometimes appear as individual component pictures because of their own special qualities and occasionally they are brought together in large composite paintings. Most of Cornish's larger works involving many characters are constructed in this manner.
Behind The Scenes: The Norman Cornish Sketchbooks is available at www.normancornish.com The book contains examples of the drawings and preparatory sketches alongside many of the completed paintings in bar scenes. The Foreword was written by Melvyn Bragg.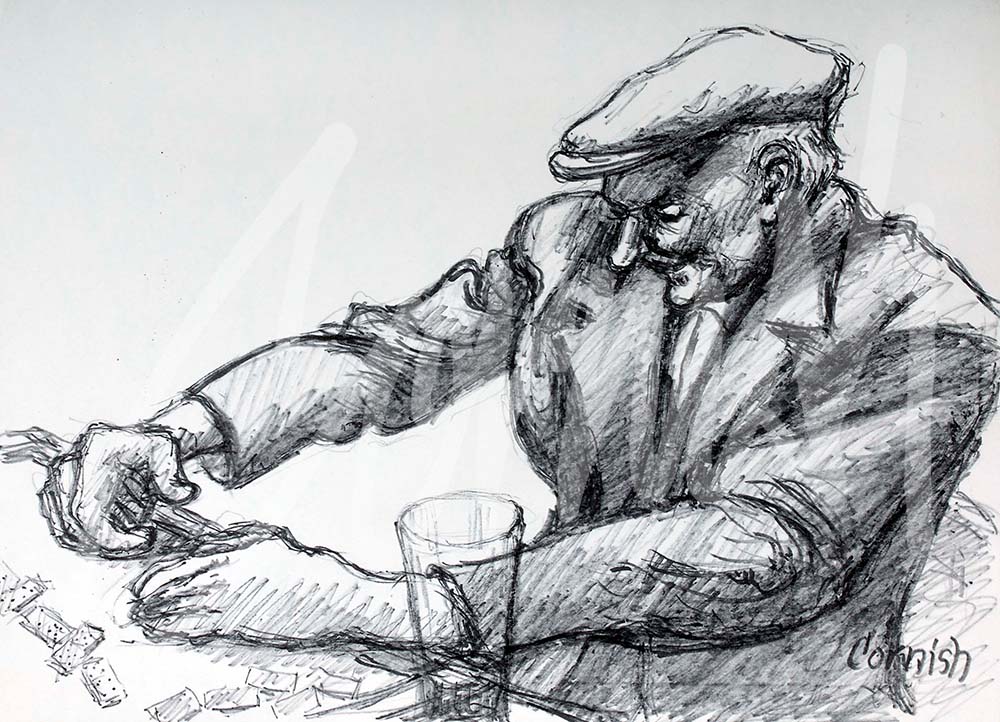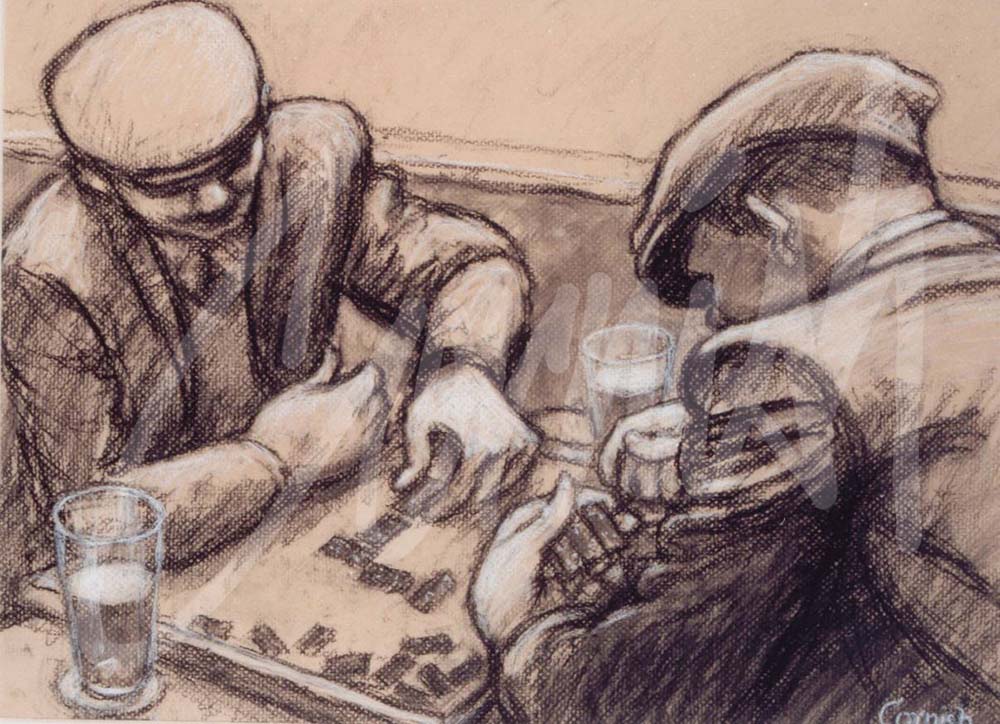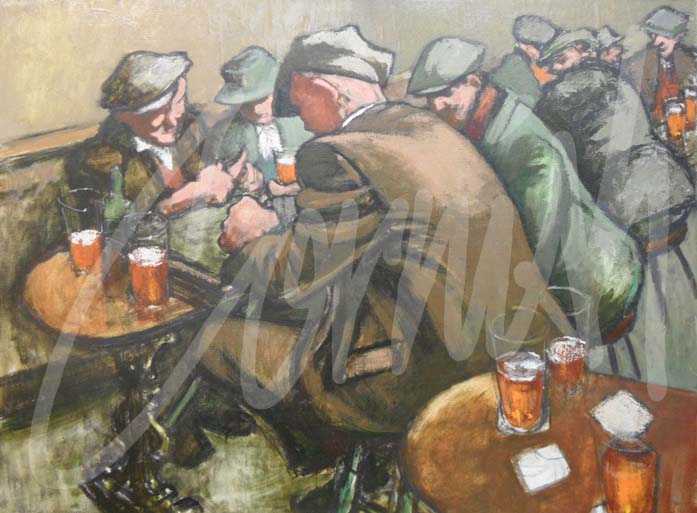 John Peace Exhibition: Tyne and Tide - South Shields Museum and Art Gallery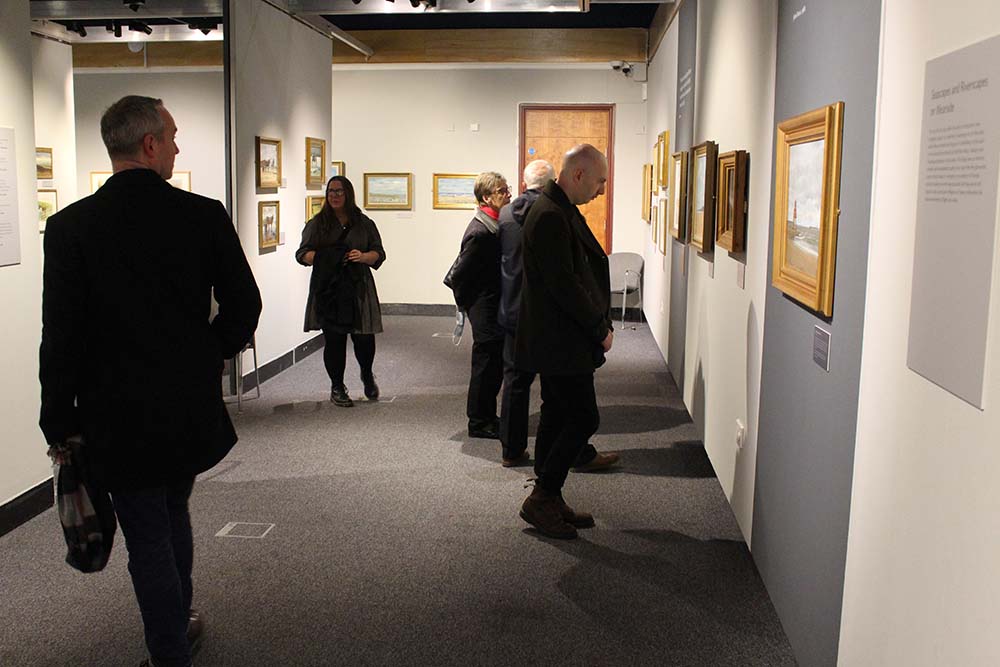 Last year we were delighted to feature an article on behalf of the family of John Peace who have been working very hard to establish the Back Catalogue of his extensive range of work held in many public and private collections in the UK. Cornish and Peace were contemporaries who exhibited together during the 60s and 70s at The Stone Gallery in Newcastle, along with many other leading British artists.
John was from Lemington and taught at Sunderland Art College at the same time as Cornish who worked there from 1967 for a few years after leaving mining. John Peace's work records the NE from a different perspective and may be viewed at www.johnpeacepaintings.co.uk
John Peace studied at the South Shields School of Art from 1949-51, then at Leeds before gaining a place at the Slade School of Fine Art in London. He had a lifelong career in painting, as well as teaching art, and produced hundreds of paintings many of which captured the landscape and aspects of social life in the changing region around him. It was a career deeply influenced and shaped by his time in South Shields.
This major exhibition opens on November 13th until May 7th 2022 and brings together a significant selection of some of his finest work. It focuses on landscapes, many depicting the region's coast and rivers, as well as the area around Lemington, where he spent most of his life, and includes paintings of South Tyneside and Sunderland. Landscape was Peace's main interest but he also produced many paintings of other subjects and a section of the gallery will present examples of his portraits, still lifes and scenes of family life.
Above all Peace was interested in capturing the effects of light. His compositions were often simple and painted with a narrow range of colours to create a powerful striking view of the world around him. Tyne and Tide provides a unique opportunity to see many of his best paintings including those owned by his family, alongside a number of loans from private collections.
An exceptional exhibition.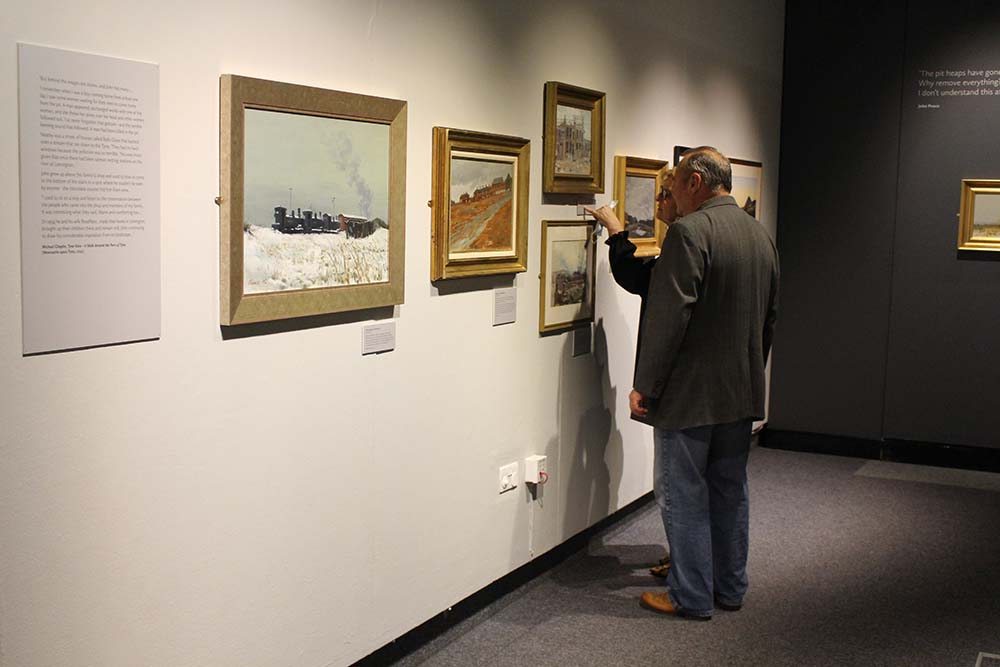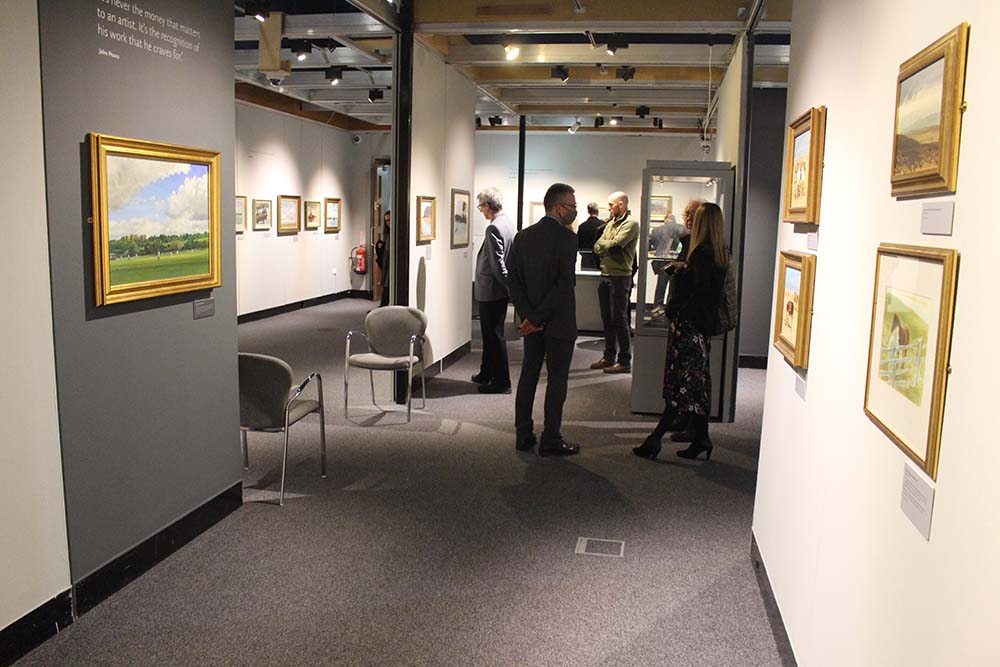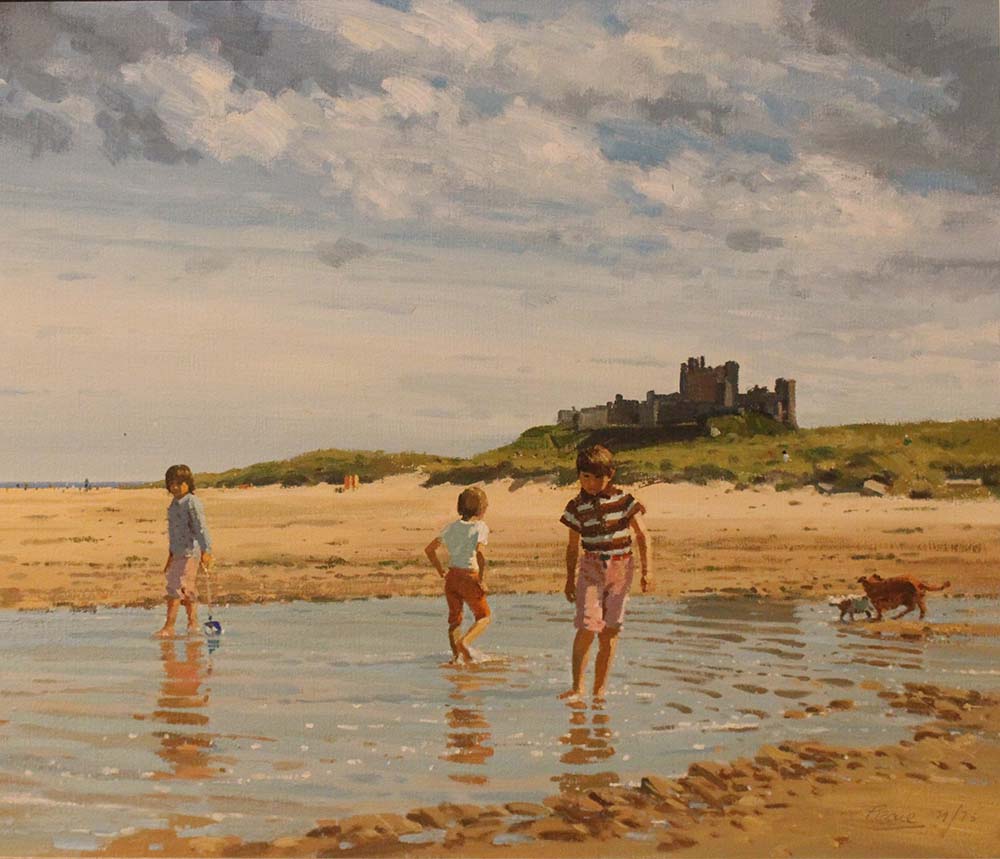 The Signal Box: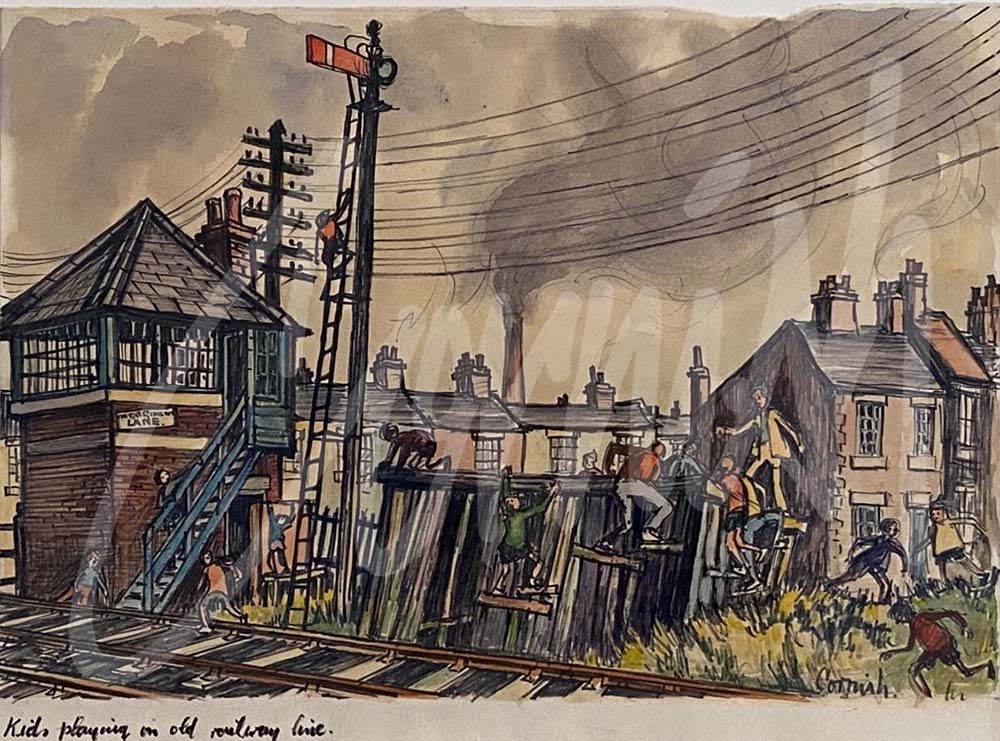 The featured map is an extract from 'Behind The Scenes: The Norman Cornish Sketchbooks' and shows the layout of rail tracks and the industrial landscape around Bishops Close Street, along with the beginning of the Pit Road to Dean and Chapter Colliery. There was a complex arrangement of tracks prior to the 'Beeching Axe' in the early 1960s which resulted in thousands of stations and railways being closed.
The web of rail tracks connecting collieries, as well as towns, required a control mechanism and signal cabins played an enormous role in ensuring the trains were guided onto the correct section. Numbers 1, 2 and 3 refer to images in the book but are not included in the detailed extract. The scene was most likely repeated in most of the industrial areas of the UK but Cornish rarely used the train apart from travelling to his exhibitions in Carlisle and London.
His first encounter with a signal box outside of Spennymoor was most likely at the Trimdon Crossing, waiting in the bus, on his way to meet his future wife Sarah, who lived in Trimdon.
Bishop Auckland was also a hub for connecting rail lines and immediately adjacent to Bishops Close Street was the Merrington Lane signal box. As the collieries closed in the early 60s the lines and buildings became redundant, but simultaneously they became an adventure playground for children with structures to climb and crawl all over.
The redundant rail lines were features within themselves and to the unwary a 'trip hazard.' Alison Servant (nee Veitch) was one such casualty. During a visit in 1962 to 'play out' with Ann Cornish Alison recalls tripping over one of the rail lines at the end of Bishops Clos Street. Sarah Cornish took Alison to see the local Doctor to have her head stitched and she still has the scar on her forehead! Her abiding memory though is of sitting listening to Ann's dad playing his banjo to help cheer her up following the unfortunate accident. A few weeks later there was a special treat for the girls. Ann's dad took Alison and Ann to visit the Stone Gallery in Newcastle. Alison recalls being introduced to an old man dressed in black sitting in a corner – LS Lowry. To be continued …….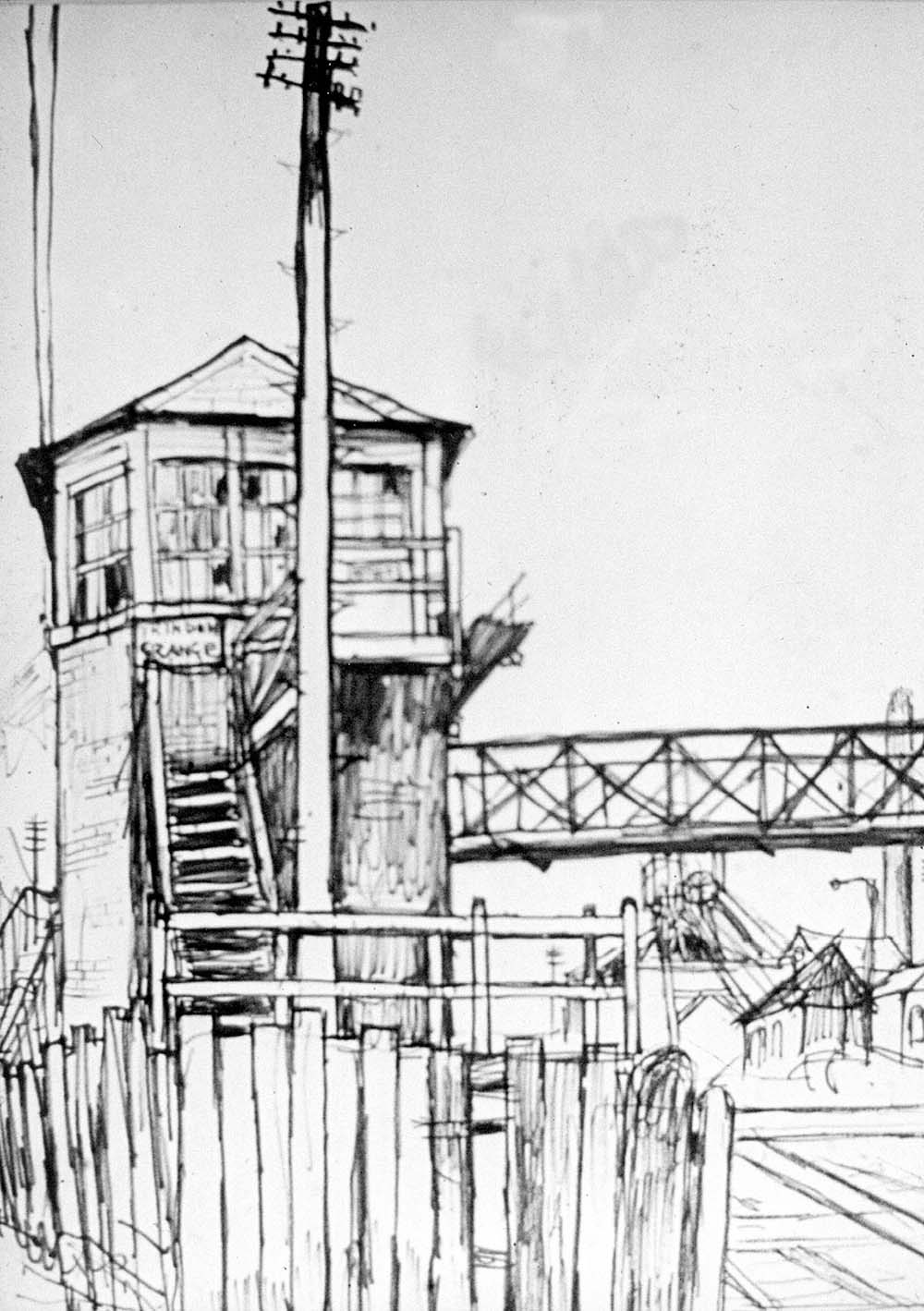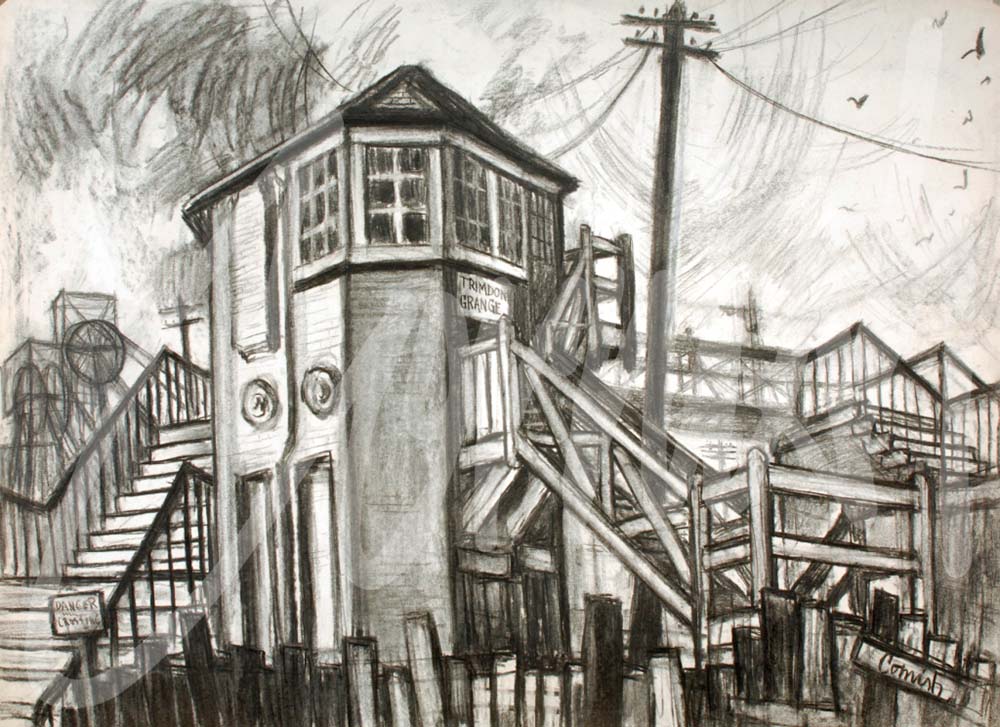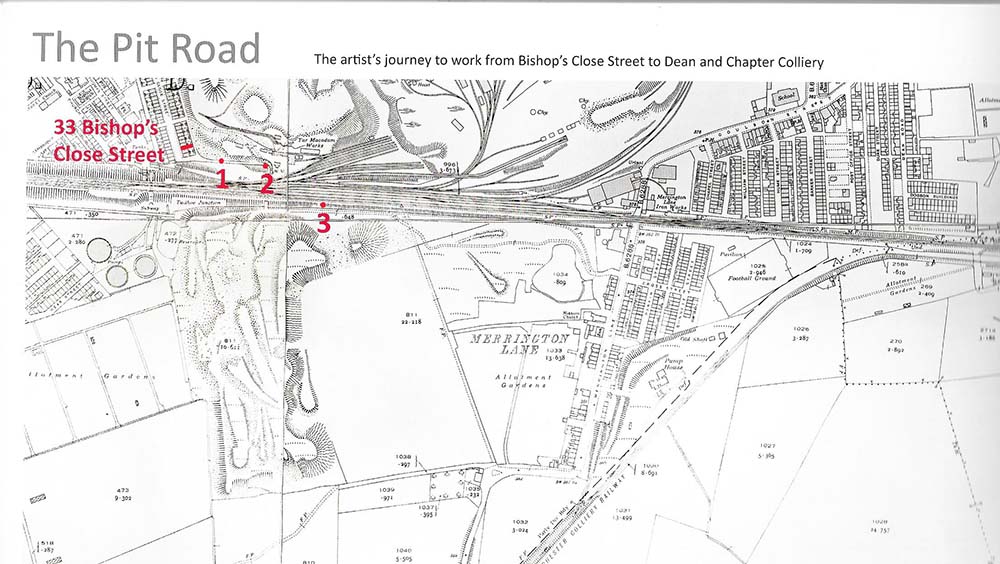 The Band Played On: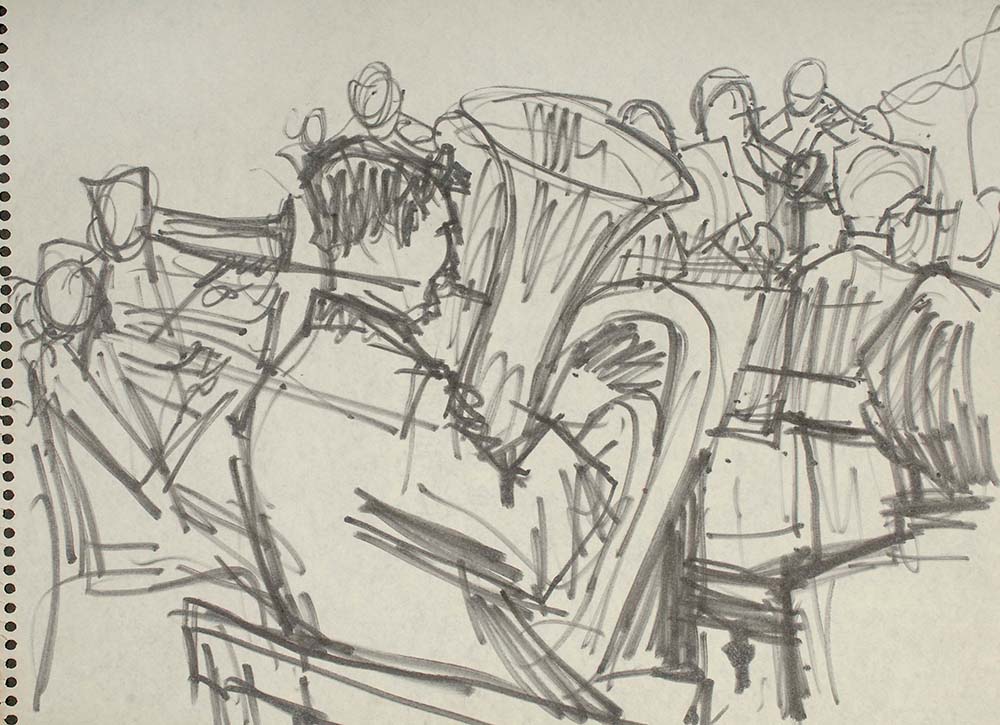 Spennymoor Town Band recently made the headlines when it represented the North of England at the National Brass Band Finals of Great Britain in Cheltenham. The article, featured in the Northern Echo during September by former editor Peter Barron, covered the band's history and the steps taken to overcome the lockdown restrictions as they prepared for the big day representing Spennymoor on the national stage.
In 1962 Cornish was commissioned by Durham County Council to paint a Mural depicting life in County Durham. During his research for the composition of the Miners' Gala Mural Cornish immersed himself in many of the Spennymoor Town Band rehearsals to observe and draw the instruments and musicians playing. He would 'sit in', watch and listen as he made his drawings during these sessions. He also researched the marching formation of the band to ensure absolute accuracy.
The Miners' Gala Mural is a highly significant work of art that goes to the very heart of culture and heritage in County Durham. Many people in the area identify with this inspirational record of a bygone era.
A detailed account of the story of the Miners' Gala Mural may be found by clicking on the Home button of this website and opening Durham Miners' Gala.
In March 2020 the Mural was re-located to Bishop Auckland Town Hall to become part of a permanent display. If you make a visit, then take a few moments to reflect about the attention to detail in this picture that became a cornerstone of Cornish's career, and the commitment of the members of the band.
The Spennymoor Town Band finished 6th out of 14 finalists and did the region proud. The future looks promising indeed. Michael McDonald, aged 12, who plays the Cornet, is one of the rising stars and won 'Youngest Player Award' in the finals.
Congratulations to all of the members of the band and if you would like to hear the band in action, the 'Christmas Concert' takes place at Spennymoor Town Hall on December 4th at 7-30pm. Tickets: www.spennymoor-tc.gov.uk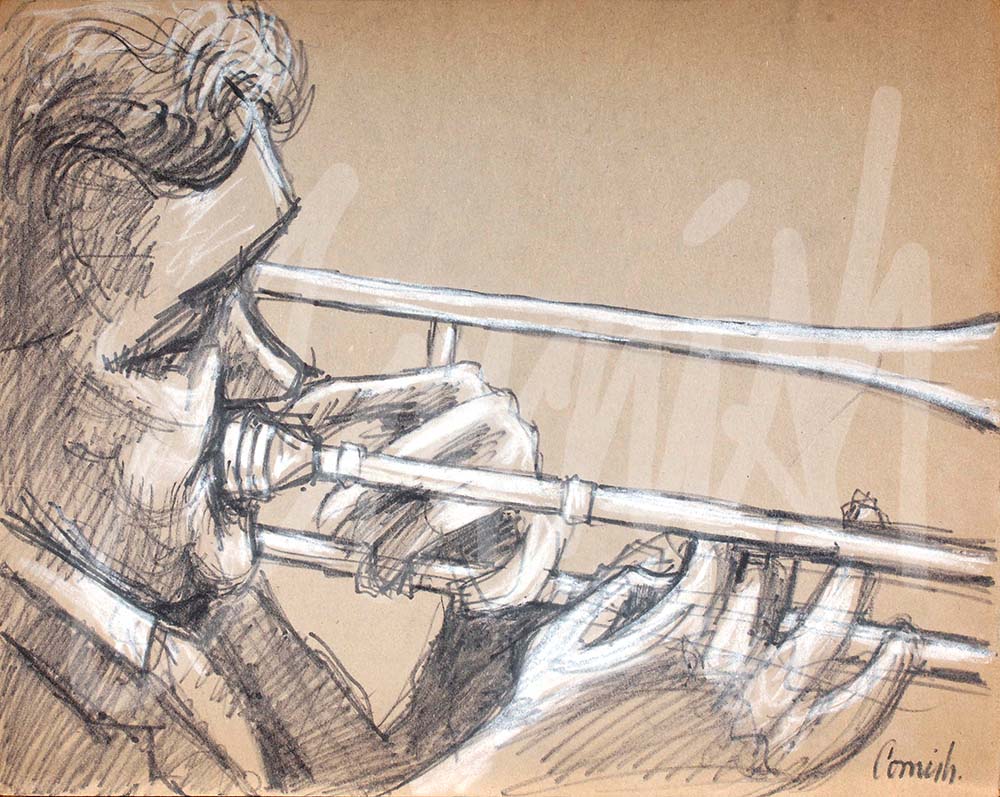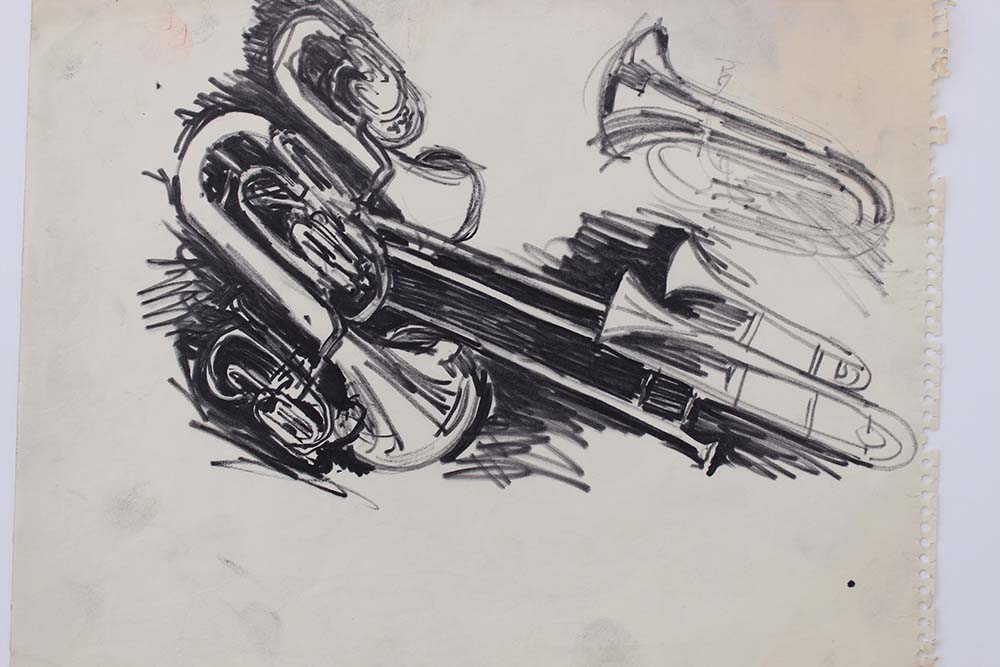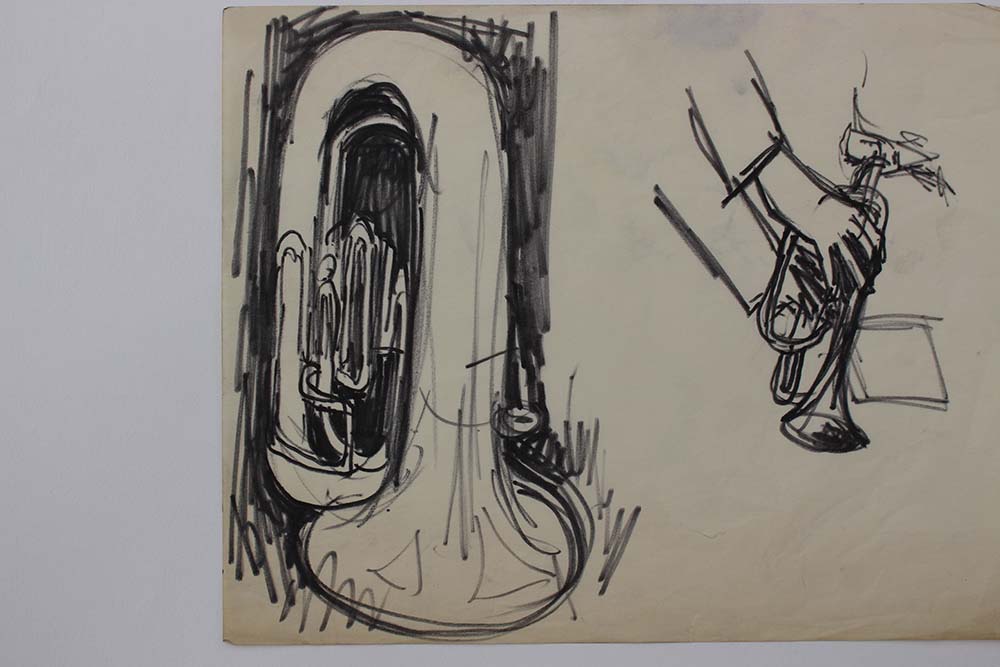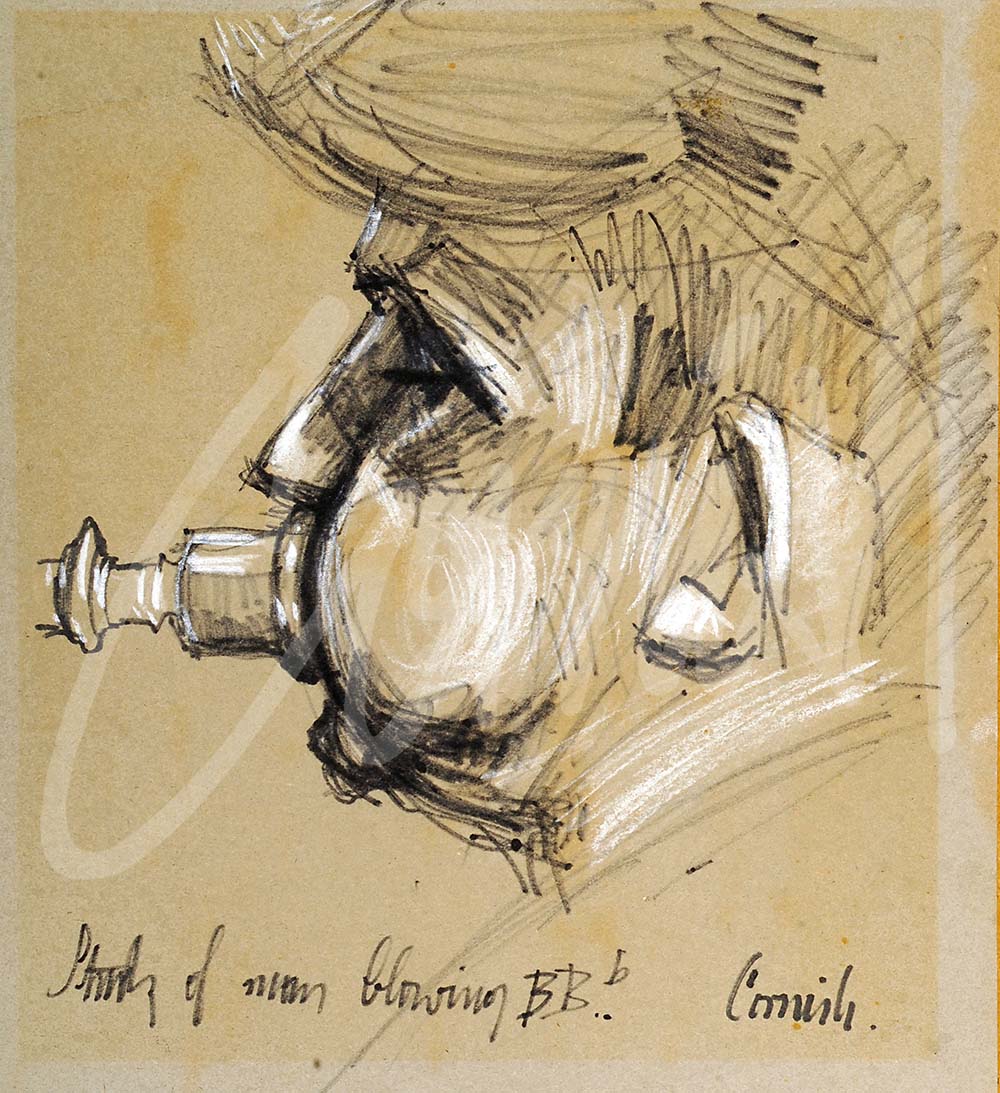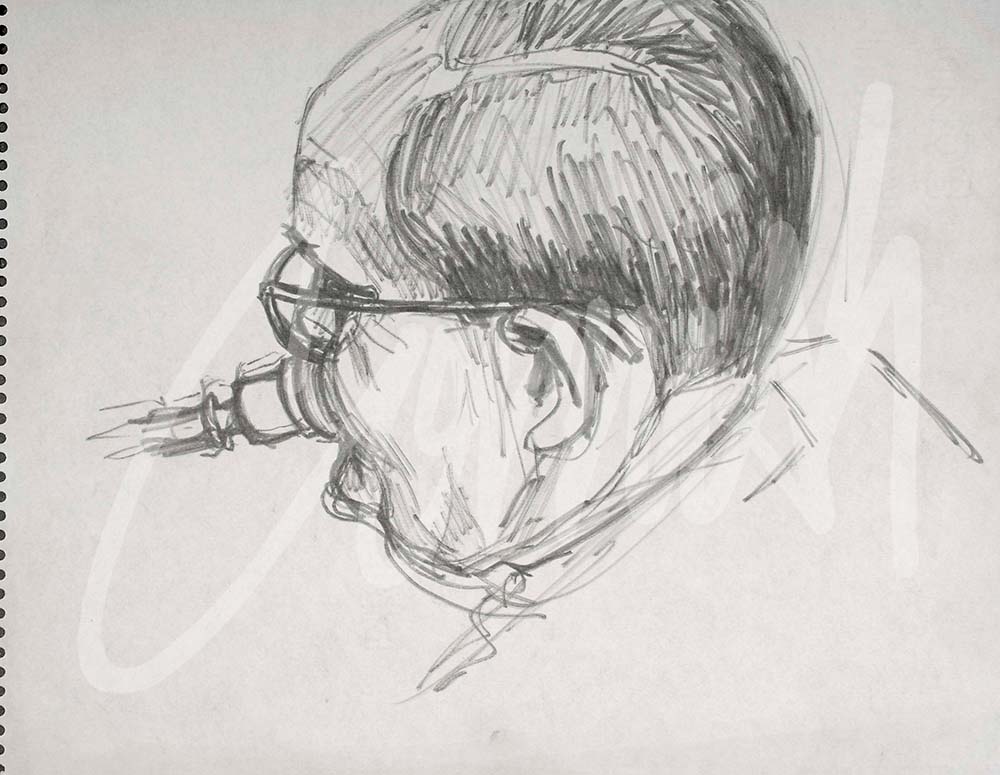 Playing Out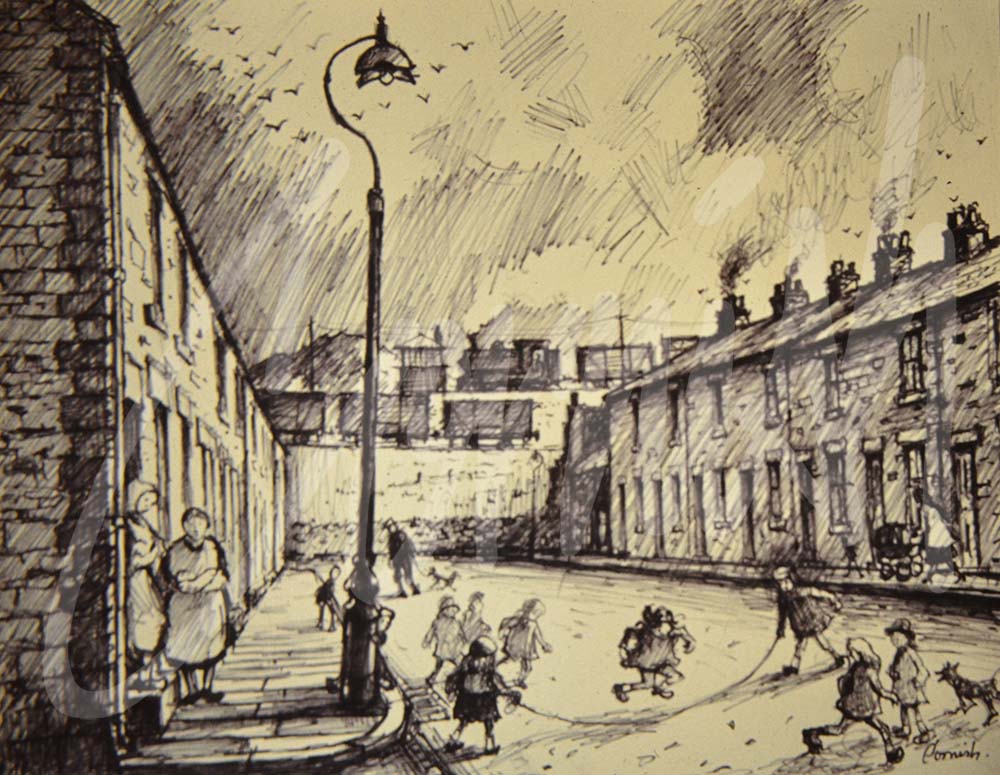 Norman Cornish was born in Bishops Close Street in 1919 and lived there for many years until 1967, apart from a short period between getting married in 1946 and 1953 when he and Sarah 'lived in' with his maternal grandmother. The street consisted of blocks of 'two up two down' colliery houses with a railway line and steep embankment at the end of the street, nearby gasworks, a slag heap and the start of the pit road to Dean and Chapter Colliery.
For children growing up in Bishops Close Street the immediate environment by any standards would be declared unsuitable for habitation and potentially dangerous for 'bairns' and 'grown ups'. John Cornish often commented that, 'to the children it was like a large adventure playground,' but not without hazards.
The safest place for children to 'play out' was the street, and not just in Bishops Close Street. With very few vehicles, some horse- drawn traders, and the ice-cream van on a Sunday. The streets became the playgrounds for 'the bairns.' For an artist advised early in his career to 'paint the things around him' the children 'playing out' at all times of the year was an obvious interesting subject.
A skipping rope became a magnet for activity. 'All together girls' would be played with a rope or sometimes a washing line. This would turn faster but risked hurting the back of the legs if the timing of the jumps wasn't synchronised. Sometimes there would be a 'turner' at each end of the rope or one end could be tied to a lamp post. One mistake and it became your time to be the turner. For the more accomplished 'Double Dutch' with two turning ropes became the big challenge.
There were other games too; 'Scissors, Paper, Stone', 'Two ball against a wall,' Chucks and different games using a ball and tin can. Girls would do handstands and cart wheels with skirts tucked into knickers, and of course - marbles. The lamp posts became an early version of floodlights for the activities including football.
Little Sheila (as she was known) became the subject of a portrait. One day in 1961, Sheila was 'playing out' when Cornish asked her 'if he could paint her portrait'. The picture was started as a rough sketch which became the finished work on the rear of a box of Cadbury's chocolates. Sheila lived in Bishops Close Street and she concentrated by watching Andy Pandy on BBC children's TV.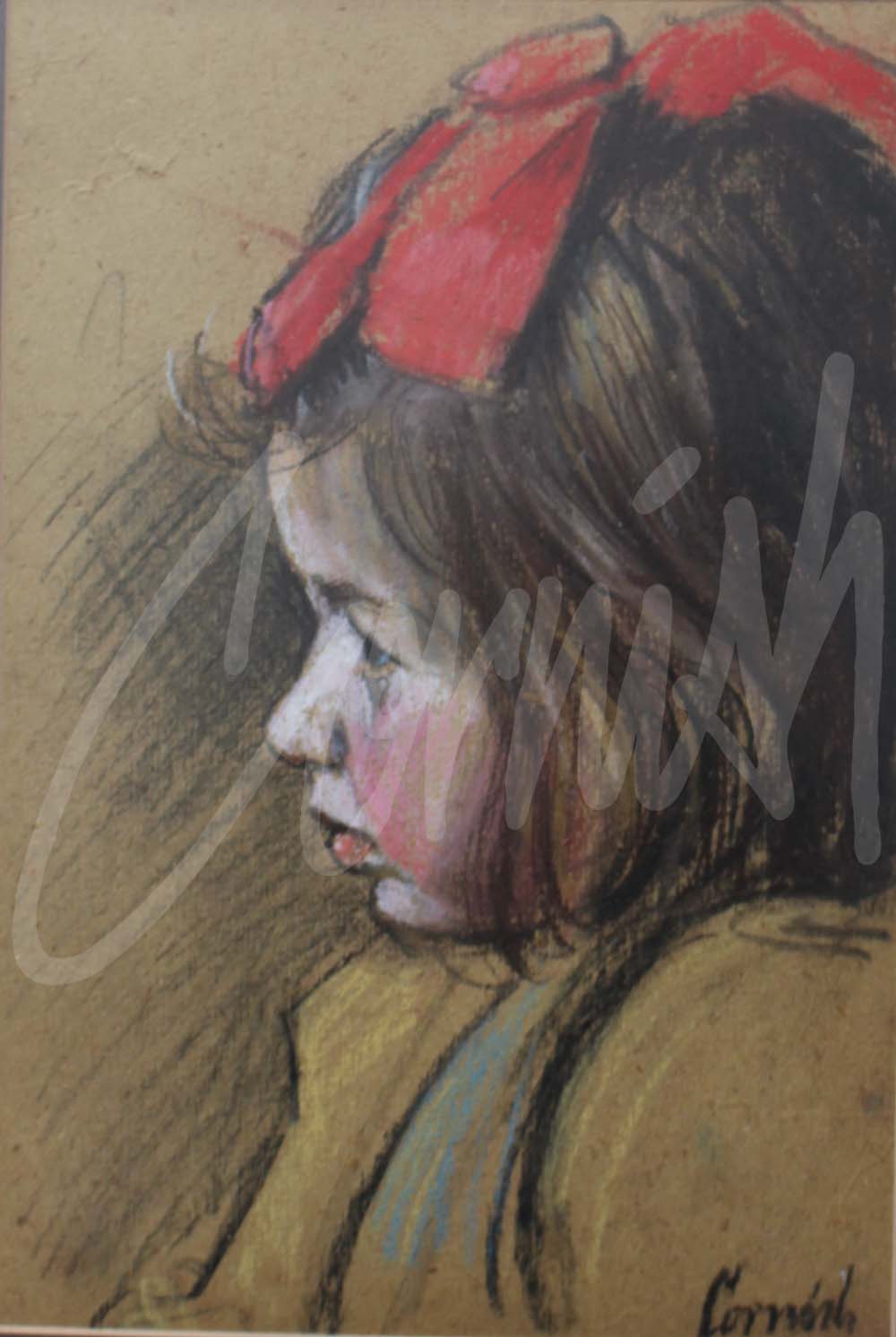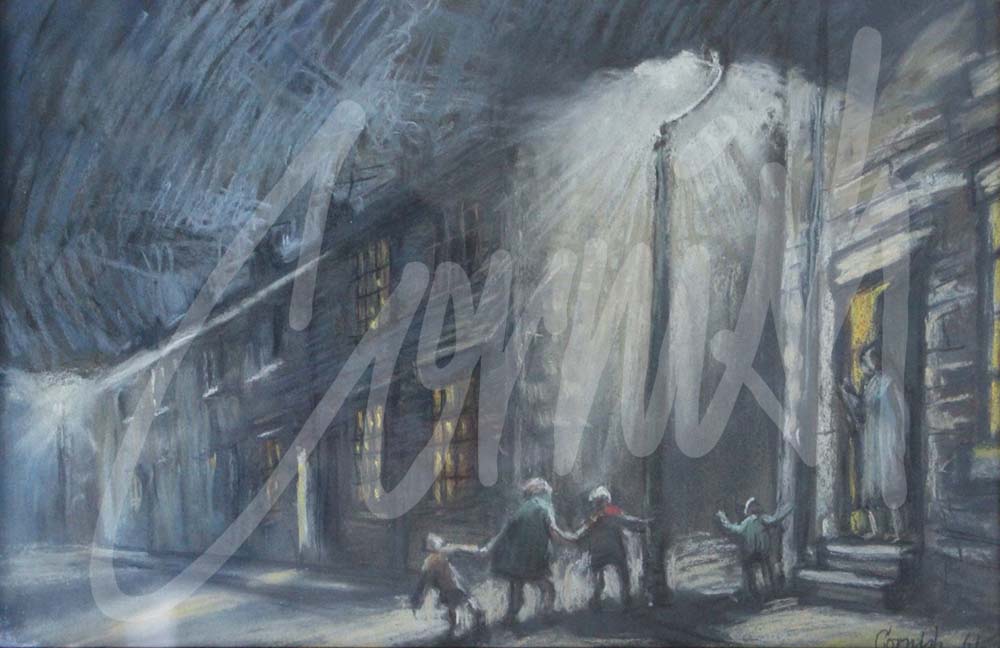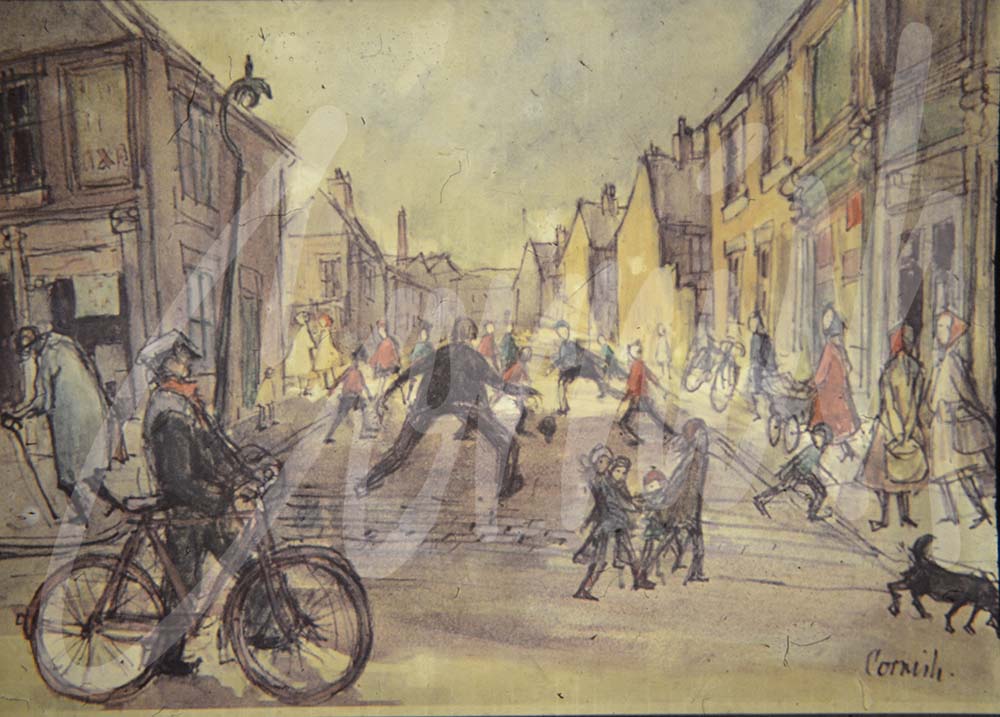 Cornish Centenary
Throughout the centenary year, an interesting range of themed exhibitions is planned in order to commemorate Norman's life and to celebrate his work.
If you would like to find out more click below:
Stay tuned via social media:
---