Latest News
Umbrellas: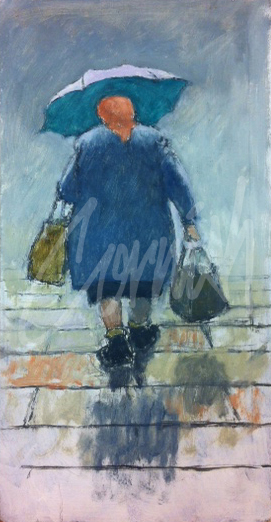 Accompanied by a family member in his later years, Cornish would occasionally make the journey to Newcastle to visit either the Northumbria University Gallery or to Details, an art materials shop, situated near the Central Railway Station, within the Newcastle Arts Centre on Westgate Road.
The journey by car always travelled along the A167, through Low Fell, past the junction for the Shipley Art Gallery and along Durham Road, whereupon, without exception, on every occasion, he would point out the location of one of his favourite paintings. The former pedestrian crossing, subsequently removed, was the subject showing a lady with an umbrella, struggling against the wind. Interestingly, there is a large and rather ominous pointed shape extending vertically at the side of the picture, simultaneously intersecting the horizontal lines of the pedestrian crossing and vertical lines of the railings.
The pointed shape is actually the steeple of St Mark's Methodist Church at the roadside and a short distance from the Shipley Art Gallery. Cornish's fascination with the shapes of umbrellas, their owners and the many different occasions and situations which provided inspiration for him, is very well represented in 'Behind The Scenes :The Norman Cornish Sketchbooks,' where 16 examples are included in the section about observations of people, including preliminary sketches and completed paintings.
In his own words: On a wet day in Spennymoor, waiting for a bus and talking about Spennymoor and painting, he looks at the queue, mostly young women; "Les parapluies, look at that petrol puddle on the road. Pure Renoir."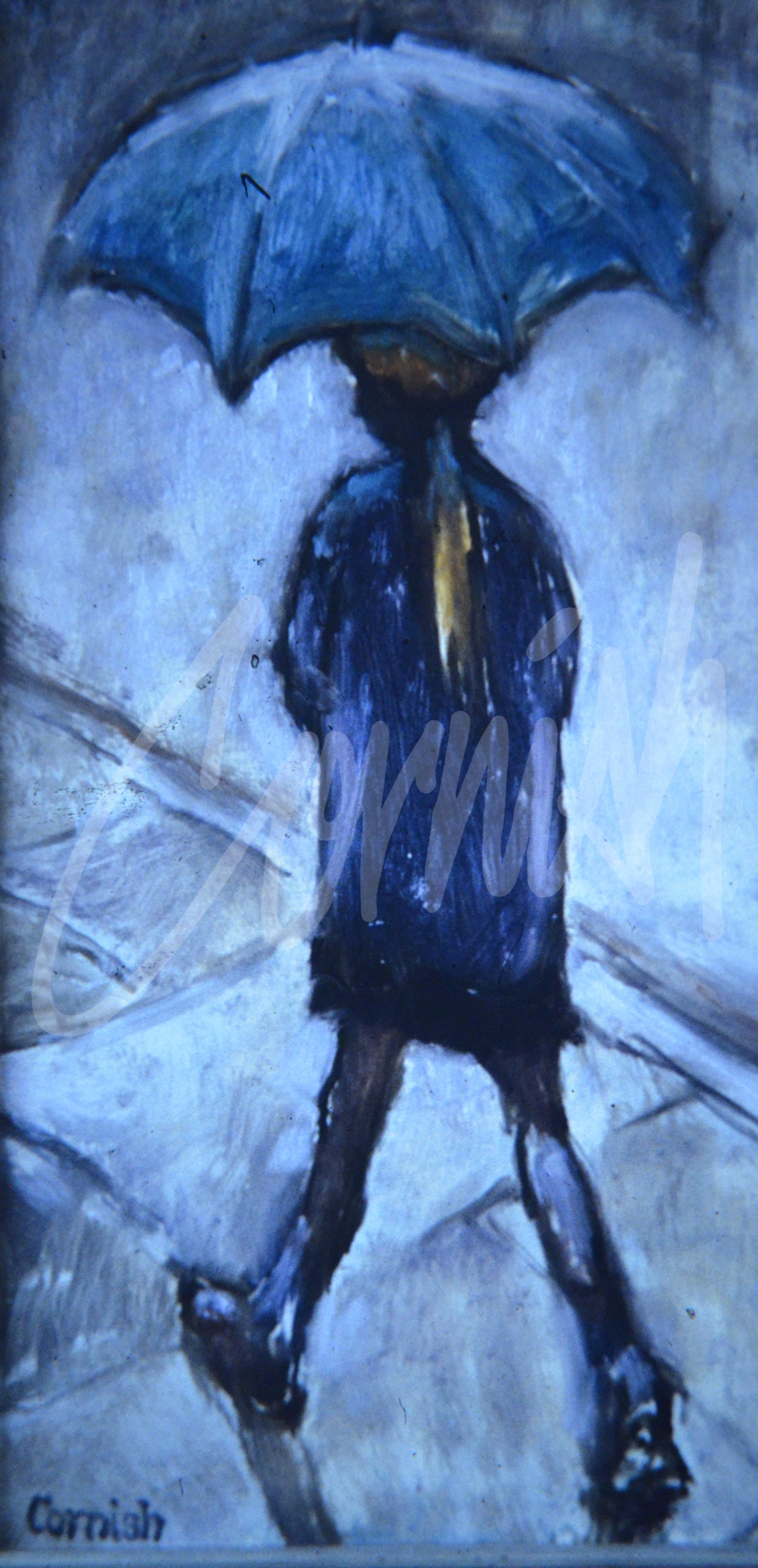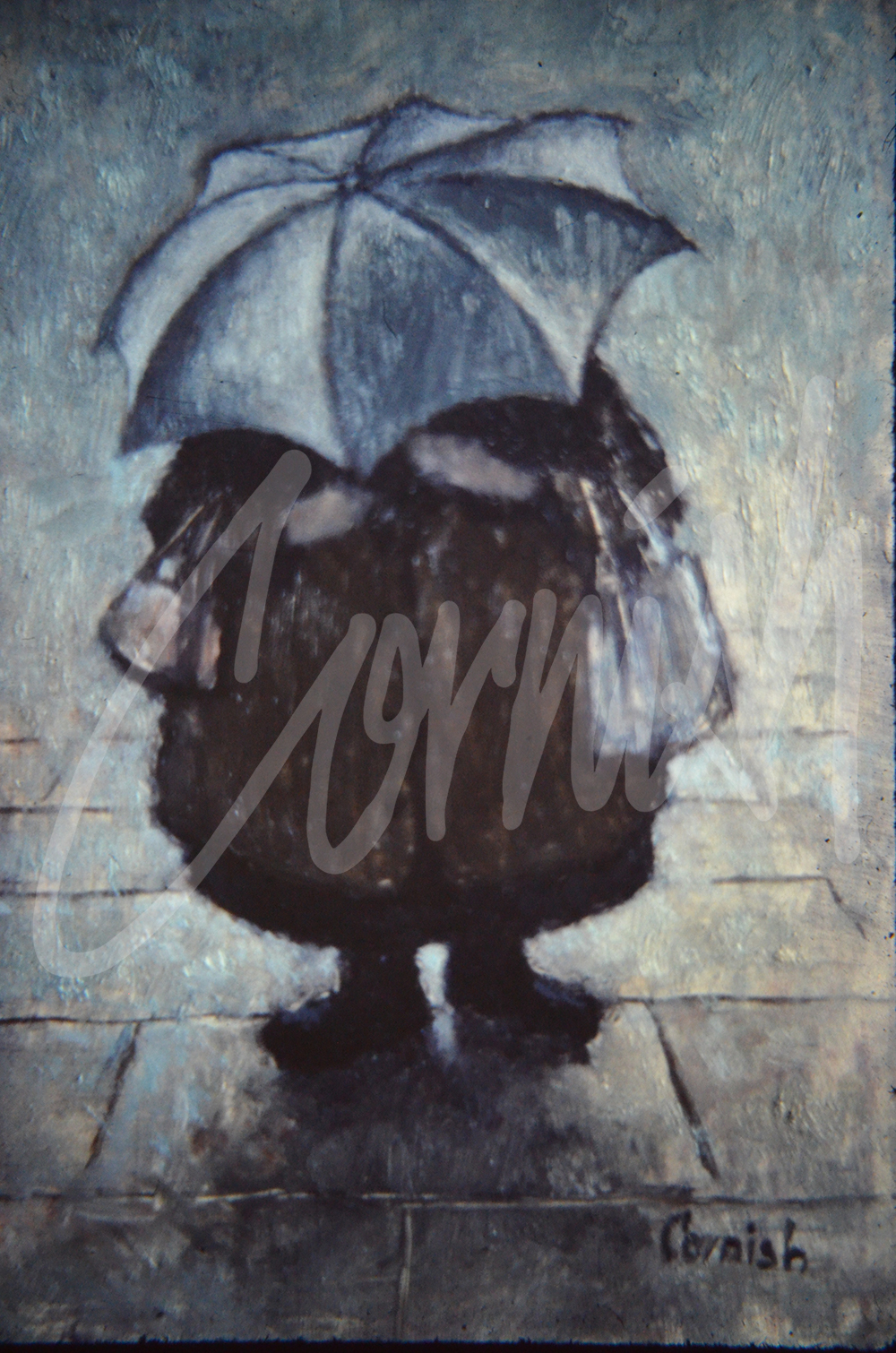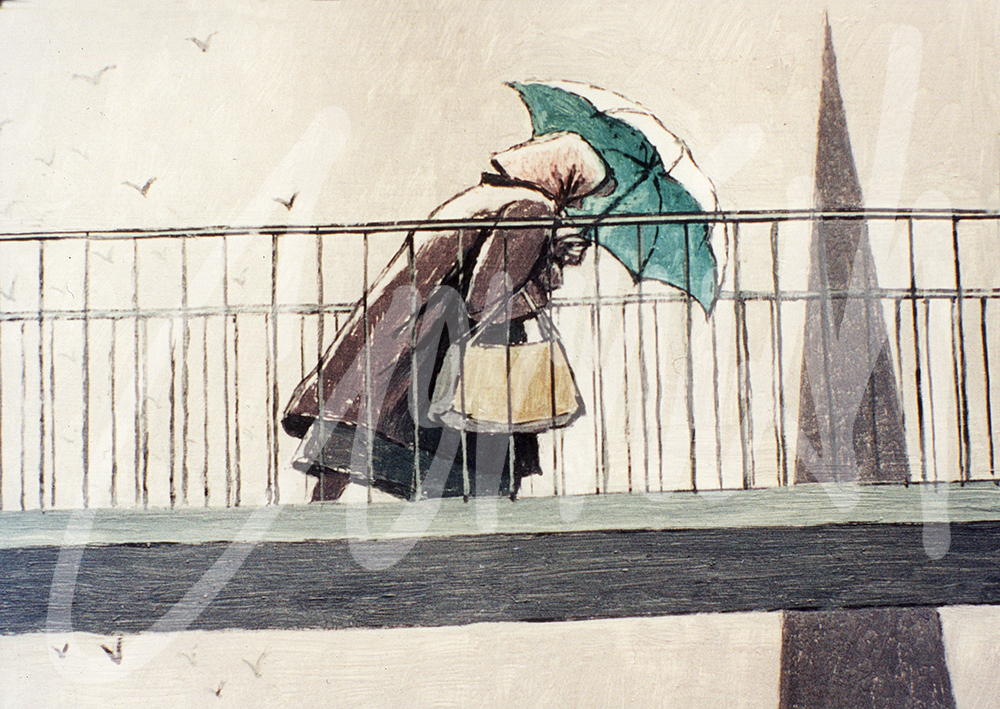 The Crucifixion: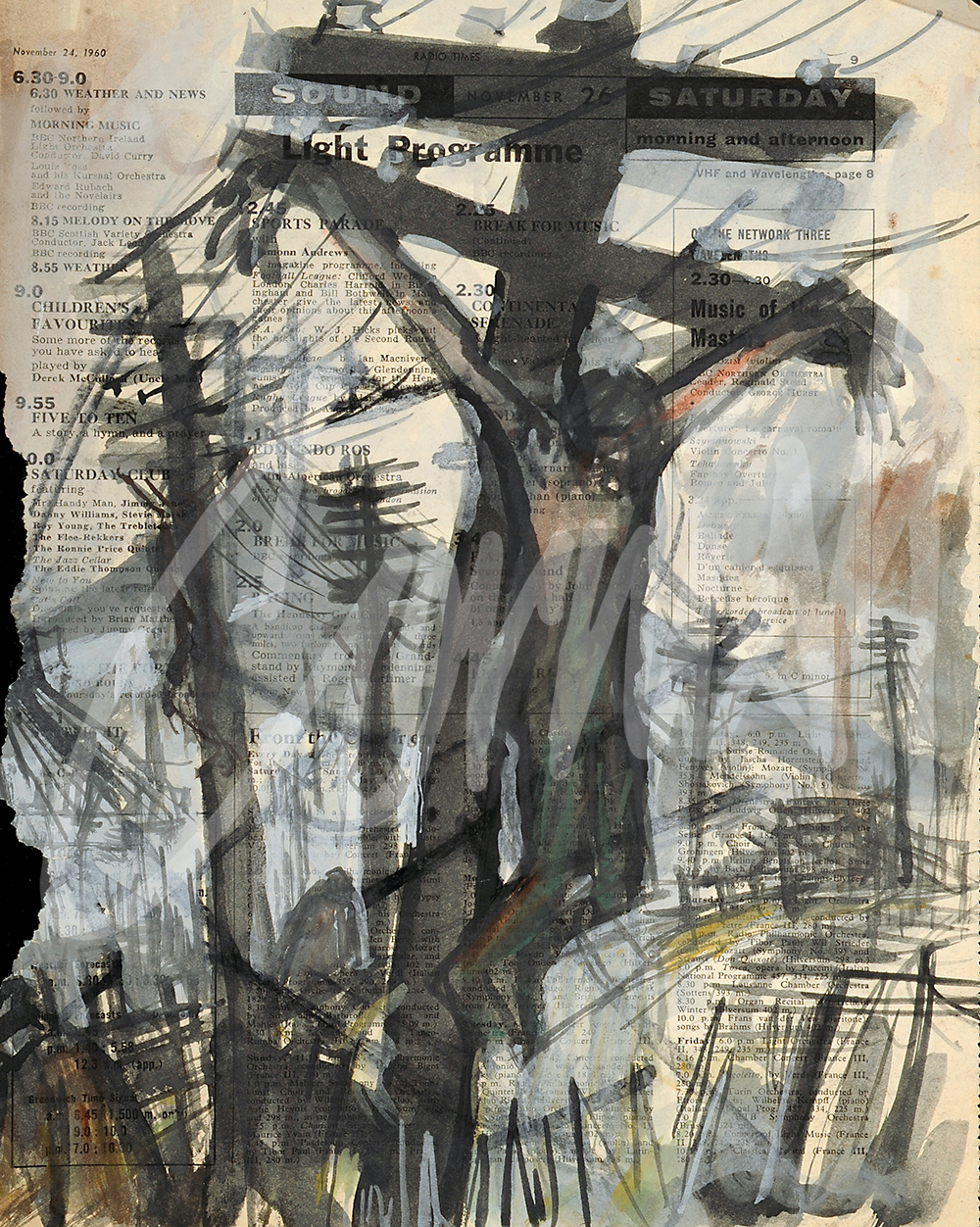 In 1919, the year of Cornish's birth , there were a million miners in Great Britain. Almost a quarter of them , some 223,000, worked in the North east of England. The landscape was dominated by mining and the Dean and Chapter Colliery employed 2,135 men working underground and 538 above ground working three pits extracting coal from five different seams. Three thousand tons of coal were produced every day with only a third of it machine mined and the rest hand hewn. During the lifetime of Dean and Chapter Colliery there were 177 fatalities and the pit was known locally as 'the Butcher's Shop.' Cornish worked for most of his 30 years as a miner, underground, and it is hardly surprising that the impact of this experience was to shape and influence his perception of the life and times around him.
His record of the journey to work and working underground is captured in so many variations of the mining themes synonymous with one aspect of his broad range of subject matter.
In his own words: "Suddenly, the man comes to a telegraph pole, it leans menacingly above him. It is an arm holding up many voices, He now also looks like a crucifix, and serves to remind him somehow of the price that man pays for his apprenticeship. Mankind has to suffer many accidents in his quest for technical miracles."
"All of these poles thrusting up at the side of the road –they're like a series of crosses and sometimes I look at them as I walk along and they're not telegraph poles anymore- they are crucifixions and on every one of them there's a miner hanging crucified."
Cornish's work has been described as genre painting, social realism and impressionist, with expressionist tendencies, but the labels become irrelevant when there is honesty and emotion in his depiction of everyday life in mining communities. There are also examples of symbolism where his feelings about the experience of miners are represented by his depiction of a crucifixion, as his emotions evolved from his shared experiences of being 'treated like slaves,' and 'spoken to like convicts.' His depiction of a crucifixion was quickly drawn and coloured onto a ripped sheet of the Radio Times (1960), probably during a period of high emotion, mental anguish and deep frustration.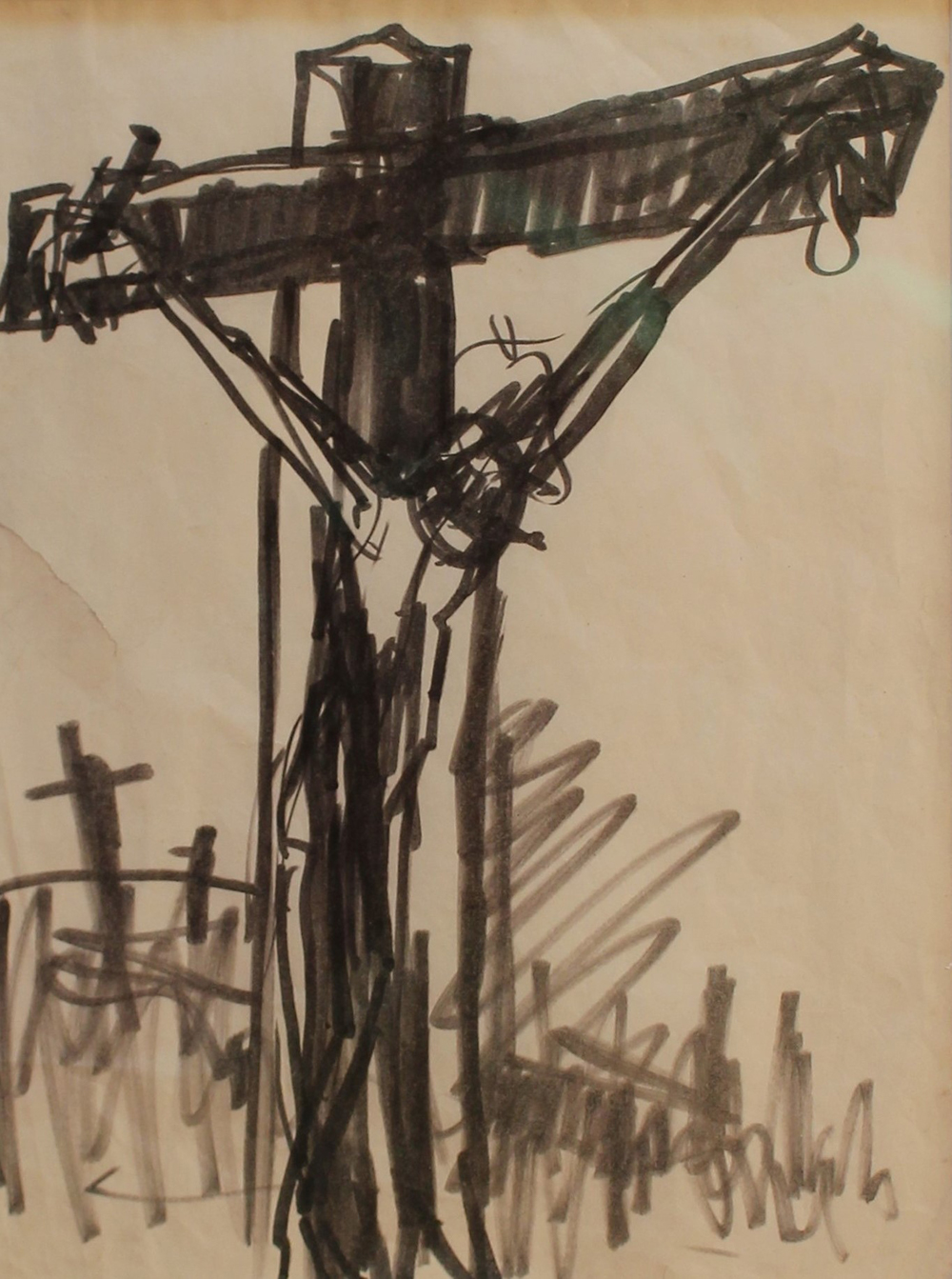 The Shapes of Cornish: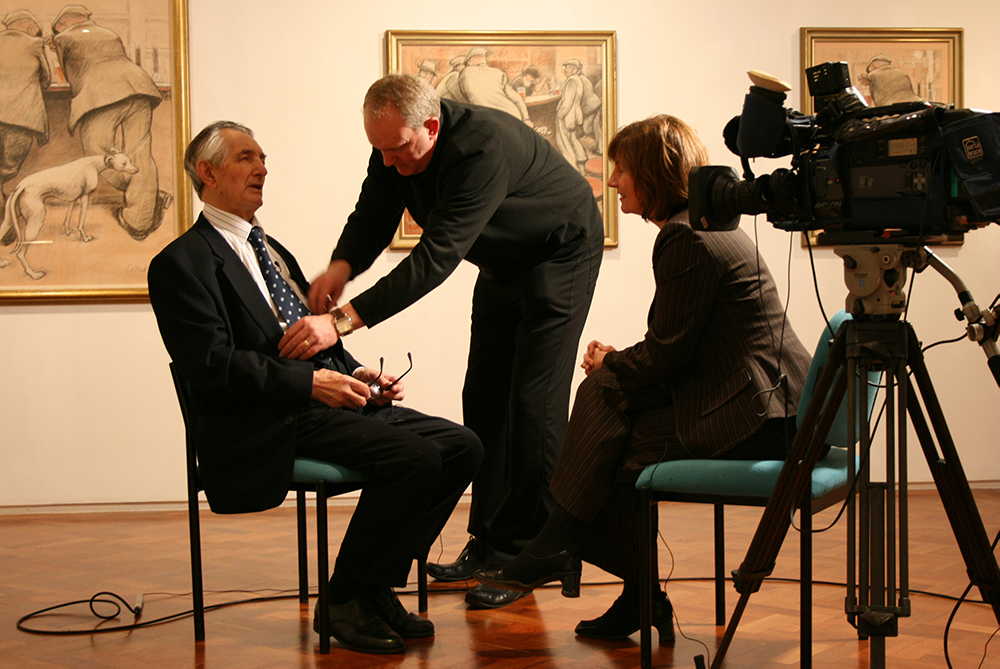 The post war era was a period of expansion and interest in the arts which were provided regionally and nationally by an ongoing series of public exhibitions. Some were promoted by organisations such as CAMDIN (Council for the Encouragement of Art, Music and Drama in Northumberland) and others by emerging arts organisations such as The Cumbria and Borders Artists Association.
In 1947 Cornish exhibited 7 paintings in the exhibition, 'Art by The Miner', Academy Cinema, Oxford Street ,London as part of a broader exhibition, and 'The Miner Comes to Town' which was opened by the Prime Minister, Clement Attlee. This visit to London also marked Cornish's first TV appearance on the BBC programme, 'Picture Page', broadcast live from Alexandra Palace Studios.
Further television and radio broadcasts were to follow throughout this period with interest from the BBC and the emergence of Tyne Tess Television in the late 1950s.This was a time of increasing exposure and public interest via exhibitions and both regional and national media. This was a deepening dilemma, as Cornish continued to work underground as a miner. There was increasing public demand for his time, his paintings and drawings. The following examples illustrate the TV and Radio interest from the days when the number of TV stations was limited and radio programmes restricted to the BBC.
1961 – Tyne Tees TV, 'Your Kind of Music '– compared by Spike Milligan, Cornish's works compared to those of Toulouse Lautrec.

1963 – BBC Radio, 'A Good and Comely Life' interview with John Braine, Sid Chaplin, Len Doherty and John Peace.

1963 – BBC Monitor- 'Two Border Artists' Norman Cornish and Sheila Fell, introduced by Sir Hugh Weldon, produced and directed by Melvyn Bragg.

1965 – Tyne Tees Television - 'The Richer Life The Artists and The Region'

1966 - Tyne Tees Television – 'Cornish in Paris' produced by Frank Kilbride, presented by Bob Langley.

1968 - Tyne Tees Television – 'Abroad with Behan' interviewed by Dominic Behan.

1975 - BBC One Omnibus - 'Shafts of Sunlight'.

1976 - Tyne Tees Television - 'Shapes of Cornish' Lifestyle programme.

1977 - Tyne Tees television - 'About Britain Shapes of Cornish' broadcast nationally.

1988 - BBC 'Scenes from Working Lives' - Melvyn Bragg.

1989 – BBC - 'Two Border Artists' re-launched with Stanley Spencer, Graham Sutherland and NS Cornish.

2006 – BBC series 'Flog It!'

2010 - Tyne Tees Television Studio Interview with Robson Green.

2011 - BBC 2 documentary with Dan Cruickshank studio interview.
Several exhibitions at the University of Northumbria Gallery also featured 'live broadcasts' across the region, and Cornish was always very grateful for the support he received from the broadcasting media. The complete collection of radio and television programmes forms part of the archive at Northumbria University and at some point in the future the material may become available for research projects.
Meanwhile – in 2016 The British Film Institute released 'Shapes of Cornish' as part of the Tyne Tees television archive and it is available to view on line (free) by clicking here or via the player below.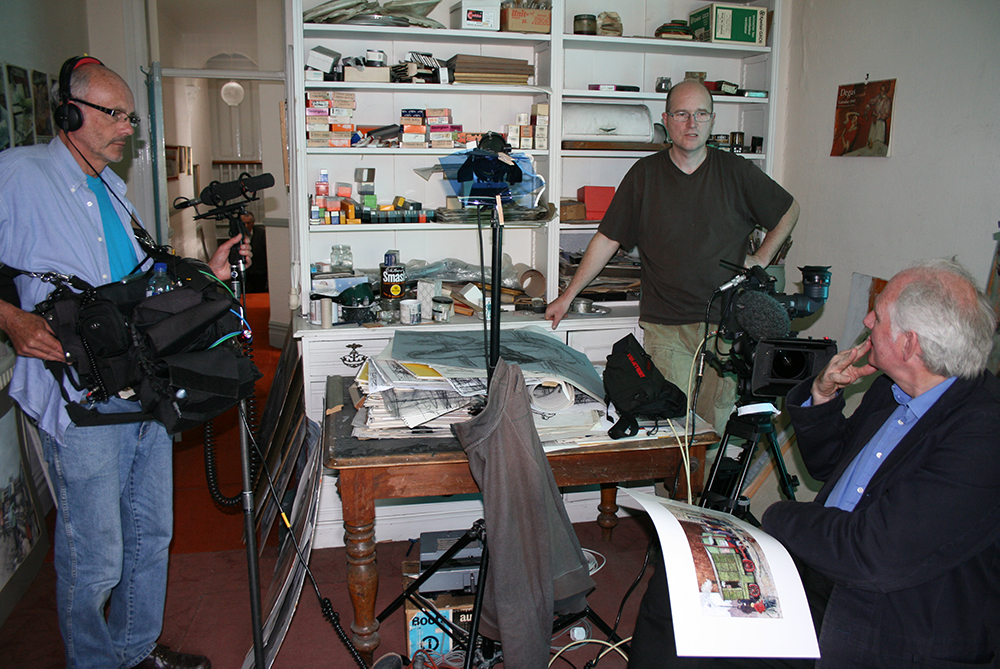 The Gossips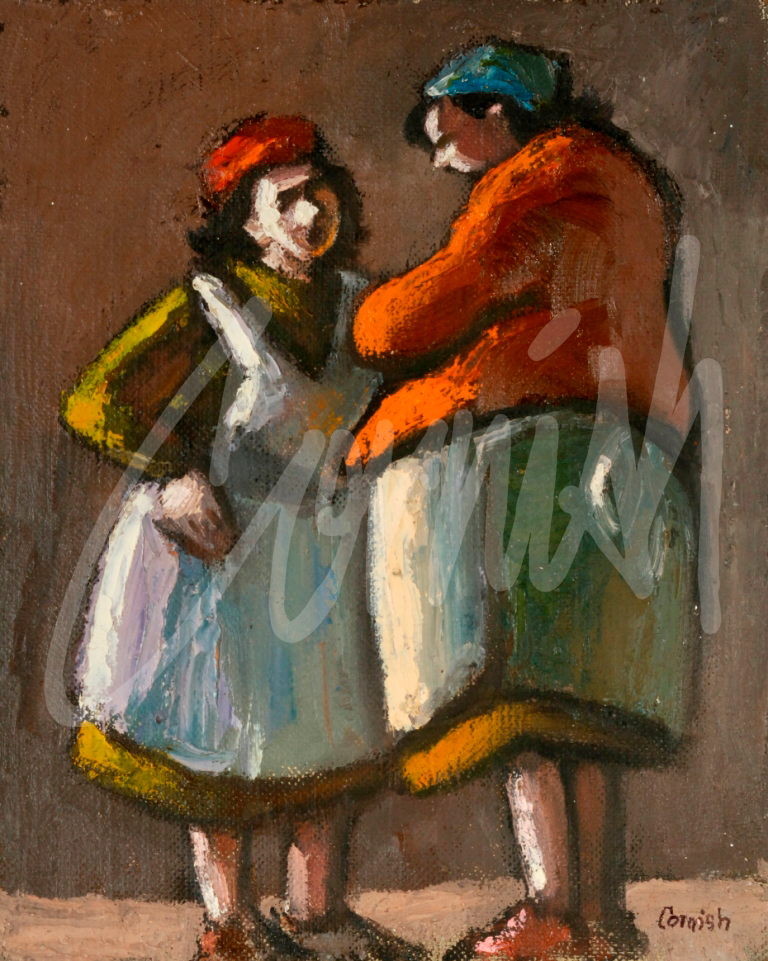 The inscription on the Blue Plaque at Cornish's former home in Spennymoor reads:
"The images are created by the people. I am just the medium."
Whenever Cornish was out for a walk he always had his sketchbook and Flo-master pen in a specially crafted 'poachers pocket' that his wife Sarah had sewn into his coat. This meant that whenever something of interest captured his imagination he was quickly able to access materials to record a particular moment in time.
Rembrandt's influence on Cornish's development is well documented and consequently his attention to the humble and mundane activities of everyday life appears in so many of his street and bar scenes, as well as observations of people.
Imagine a life without social media. Many years ago very few people, if any, possessed telephones, and news was obtained via the wireless, and for some, via television. The menfolk would be able to talk at work, or in the pubs, clubs and allotments. Women would gather on street corners, near shops, school gates and wherever else they could congregate, to talk and catch up with the gossip!
Cornish possessed a deep understanding of human behaviour and social interaction. He recorded local people going about their daily tasks, living real lives. Sometimes the drawings would become paintings and on other occasions included in the many street scenes synonymous with his work. Throughout his career he was conscious of his contribution to a sociological and historical record of people and places, in his 'slice of life.'
Further examples of his observations of people may be found in Behind The Scenes: The Norman Cornish Sketchbooks available on line from our online shop.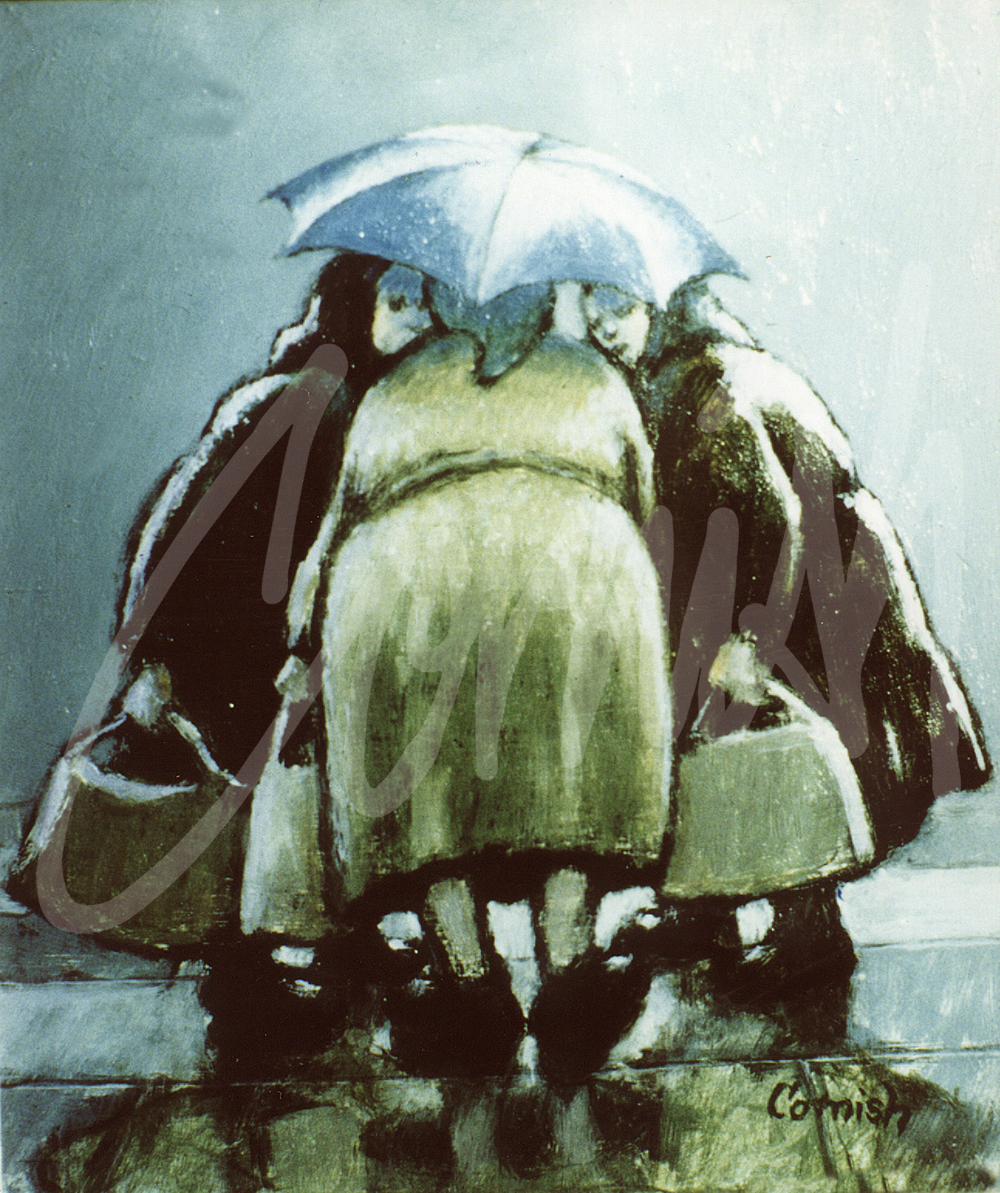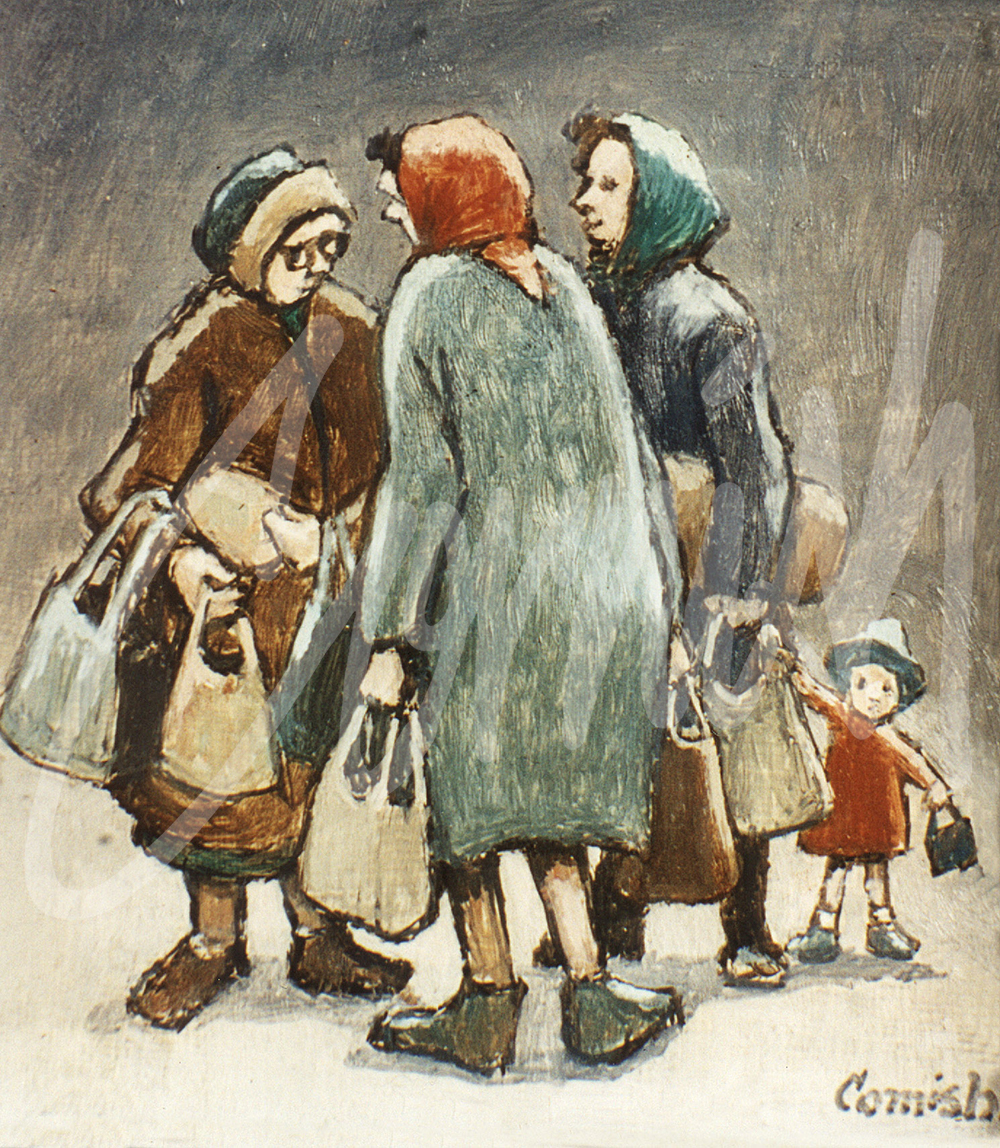 The Stone Gallery Years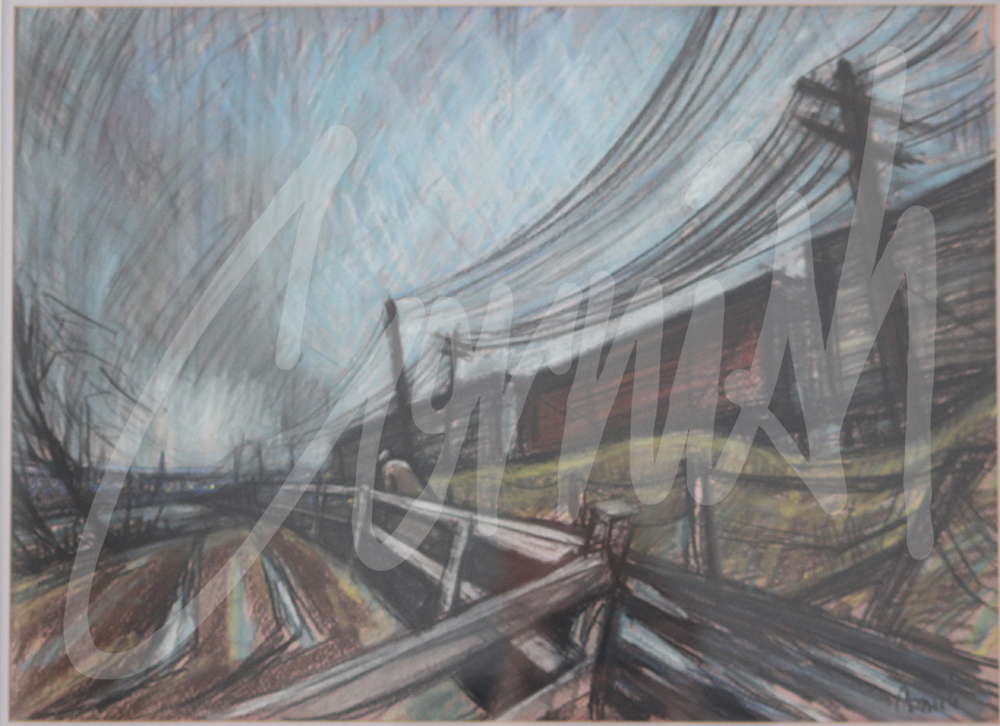 Cornish always said how important it was to be associated with a reputable gallery to promote an artist's work and in 1959 he began a relationship with The Stone Gallery, Brunswick Place, Newcastle upon Tyne which was to last for 21 years.
Prior to this significant step his early work had been shown in the Spennymoor Settlement Sketching Club annual exhibitions from 1935. His first oil painting, which was a portrait of his sister Ella, appeared at The Laing Art Gallery in 1940 and thereafter he exhibited regularly in the northern region including Tullie House in Carlisle, The Shipley Gallery in Gateshead and in London on three occasions in 1950,1952 and 1956. Such was the culture of the era that exhibitions in public galleries was the dominant means of exposure to the public.
The owners of the Stone Gallery, Mick and Tilly Marshall, were to play a significant role in not only enabling solo exhibitions, but also acting as his agents to manage enquiries and promote his work going forward. Their gallery re-located to St Mary's Place in Newcastle (near the Civic Centre) in 1962 to begin to build a reputation as the leading private gallery in the region and beyond. Aspiring artists acquire status by exhibiting (hanging) alongside those with established reputations and the following examples of mixed exhibitions at the Stone Gallery illustrate this point with details from the archive catalogues revealing who Cornish was hanging alongside.
1959/60: including John Piper, Joseph Herman, Tom McGuinness, John Peace.
1966: Painters of the North including Sheila Fell, LS Lowry, Theodore Major.
1966/67: including Jacob Epstein, Sir William McTaggart, LS Lowry, John Piper, Augustus John, WR Sickert.JM Whistler, George Roualt, Maurice de Vlaminck.
1967: including G. Romney, J. Constable, William Etty, W.Holman Hunt, D.G. Rossetti, Sir E. Burne Jones, Sheila Fell, LS Lowry, Sir William McTaggart, Ben Nicholson.
The solo exhibitions were also very successful and the mixed exhibitions attracted many visitors in the days prior to exposure on TV and before the internet. Without a telephone, contact from his agent was by post and a recurring theme from the many letters in the archive was the pressure he was under to take the big step from being a miner to becoming a professional artist which eventually happened in 1966.The Marshall's also acted as agents for Lowry who was to purchase two of Cornish's paintings. Another prominent collector was Prime Minister Ted Heath who also purchased two works by Cornish, one of which was a classic Man at Bar. During one visit to the Stone Gallery by Ted Heath, Cornish declined a group photo opportunity by Brian Forbes (film producer) which would have included Sheila Fell and LS Lowry. Cornish was delighted his work would hang in number 10, but equally nervous to appear in a newspaper alongside the PM!
Exhibition catalogues from this era summarised the works for sale and a list of contributors in mixed exhibitions. Cornish only began to photograph his own works from the late 60s and many produced earlier in his career have started to emerge in auctions and private collections. At the end of public lectures, many owners have kindly offered to allow the provenance and images to be recorded retrospectively. A longer term project via Northumbria University is to establish a definitive back catalogue which will be quite challenging from an artist who was both long lived and prolific. Four previously unseen examples from the Stone Gallery are included.
The relationship with the Stone Gallery continued until 1980 and the gallery closed in 1981.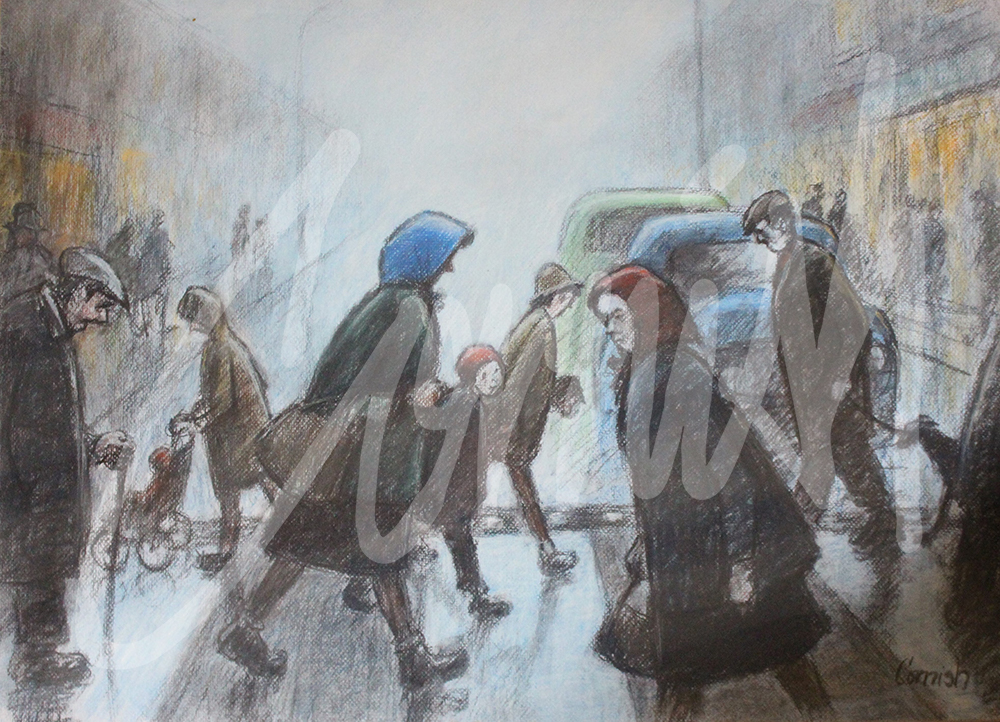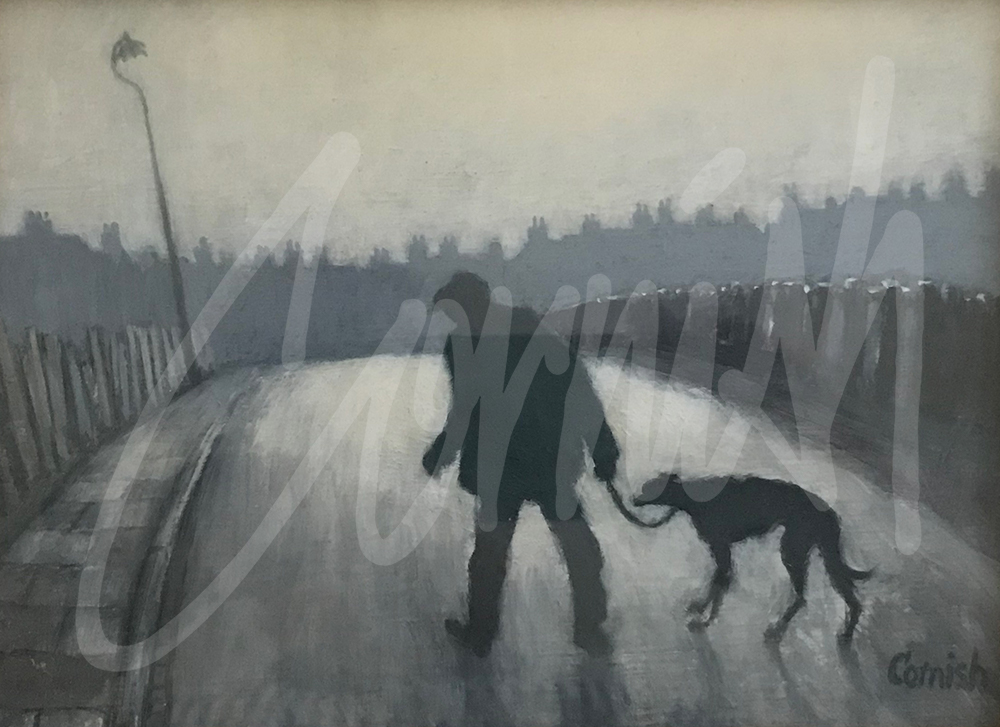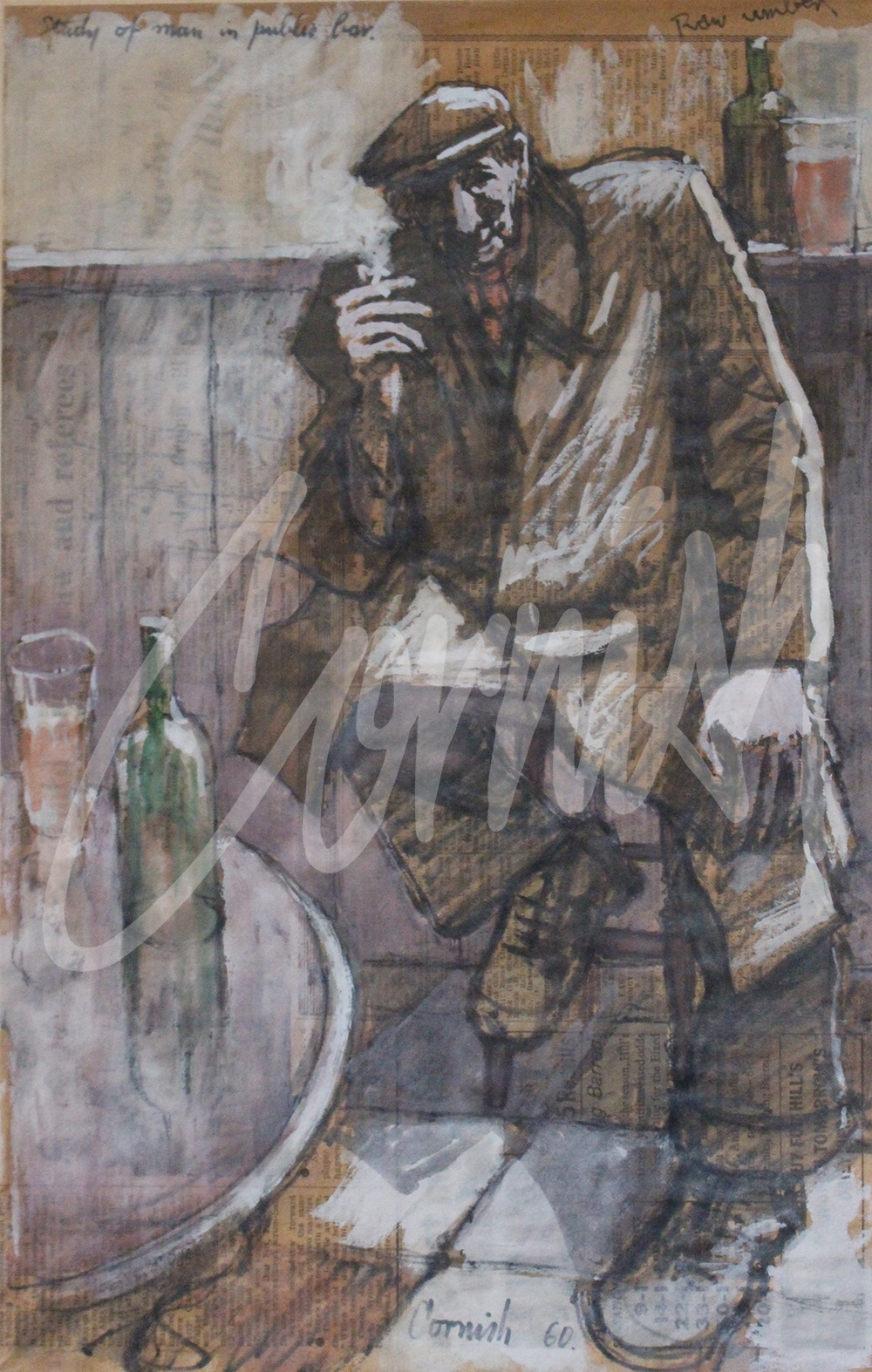 Cornish Centenary
Throughout the centenary year, an interesting range of themed exhibitions is planned in order to commemorate Norman's life and to celebrate his work.
If you would like to find out more click below:
Stay tuned via social media:
---